Will banning drivers from parking in city streets solve our traffic problems?
Senate President Vicente Sotto III sure thinks so
Aug 13, 2019
I won't be the first one to point out that our traffic situation is dire. Movement comes to a halt during rush hour, with streets so gridlocked that you could conceivably watch a whole movie in your car and remain virtually in the same place. For reference, I live near the heart of Makati, and just leaving the city on a bad day can take upwards of an hour. It's way worse for the people commuting from the Southern- or Northernmost cities. Suffering through traffic is an indignity and it's costing us greatly. (Read: How much money are we losing every day because of traffic?)
There's been a lot of solutions proposed to fix this through the years. One of the most recent ones is a provincial bus ban, the hearing for which is happening this week. Under the ban, provincial buses will not be allowed to load or unload along EDSA, entailing the closing down of numerous bus terminals along the highway. (Read: Provincial buses will not be allowed to load and unload passengers along EDSA)
See any problems with this? For one, the ban won't do anything to deal with private vehicles, which is really one of the biggest causes of traffic. It's also been derided as anti-poor since it directly affects commuters from the further off provinces. (Privileged people tend not to ride buses, ya know.)
At the hearing, another solution proposed as an alternative to ban is to ban drivers from parking in all of Metro Manila's streets. Yes, all of them. "Ang talagang solusyon to decongest EDSA is 'no parking' in Metro Manila. Buong Metro Manila, i-'no parking' mo,'" said Senate President Vicente Sotto III, adding, "Can you imagine if we remove all these parking areas, 'yung Edsa maluwag 'yan dahil hindi na sila [private vehicles] dadaan 'dun."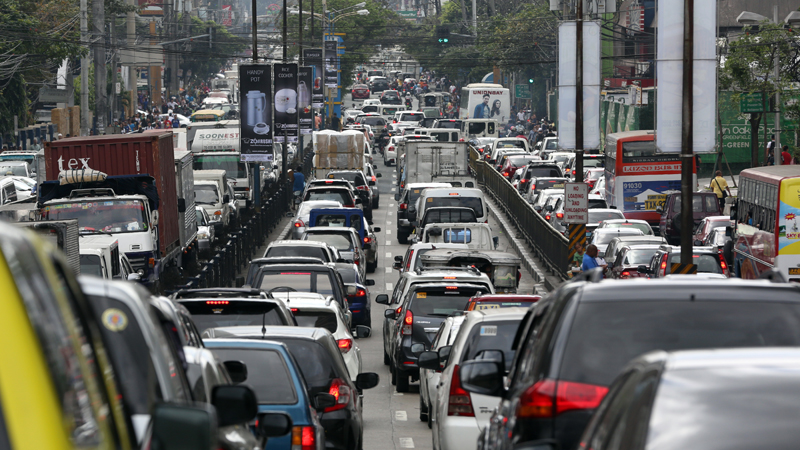 It'll obviously be a bold move, and it's one that Sotto has proposed before. "Noong araw pa ito, walang nakikinig; may nakinig konti lang," he pressed. There's a kind of sense to it though: How many times have you had to navigate through an already narrow road made even narrower because a big SUV was parked on the street, taking out an entire side? How many times did that kind of parking cause a huge gridlock? The answers to both questions are larger than I'm comfortable with.
Without parking areas, people will be discouraged from buying new cars, too, especially if they don't have the garage space for it. In connection with this, Senator Sherwin Gatchalian reiterated the need to enact into law his proof of parking bill. Under the bill, vehicle owners would be required to have their own personal parking spaces for their vehicles, whether by having a garage or purchasing their own parking space.
Still, I'm not totally convinced that this will solve Manila's traffic problems. The less privileged won't have access to vehicles, but what about the upper middle class families who own multiple fleets? If they have enough parking space, what's stopping them from continuing to purchase and drive cars per family member? Without an answer to this, the ban seems like it'd be as anti-poor as the provincial bus ban, too.
Header image courtesy of Inquirer.net
Get more stories like this by subscribing to our newsletter here.
Read more:
Want to beat Manila traffic? Take a helicopter ride. But it'll cost you
You can now file traffic complaints to DOTr's new Facebook page
Landers is having an online piso sale this week
Celebrate local authors at the inaugural Local Lit Fest
TAGS: nolisoli.ph traffic