A self-care guide for working homebodies
Because in this economy, not everyone has the time and energy to go out
Aug 28, 2019
Here's the thing: In this economy, even if you're privileged enough to have the luxury of self- care, you're probably too physically and socially exhausted to actually get out and have a spa day. It'd be easier if establishments had an all-around self-care service where you could get a massage, mani pedis, and hair treatments done, but unfortunately, places like those happen few and far in between. 
Cream Silk just did an event just like this last month with Ultimate Suites, but don't worry if you didn't make it. We at Nolisoli.ph have made a quick guide for those who desperately need a self-care day but also just as desperately need a break from stress. 
1. Put on a face mask 
This is one of the easiest steps you can take. You can get a face mask (or make one yourself!) that addresses whatever skin conditions that bothers you. Dry skin? Get a moisturizing one. Scared your pimples are overtaking your face? Try an anti-acne mask. Just put one on, turn up your favorite podcast, and let the mask do its thing. 
2. Use treatments for your hair 
Listen up, folks: Everyone deserves good hair, and that involves getting the right product for your hair. People with textured hair need non-frizzing products, people with straight hair need something volumizing. Yet we know fixing bad hair problems takes time and money, but that doesn't mean you can't make restorative fixes at home. One good fix that wouldn't take all day, nor all week, is to deep condition your hair. To do this, you can try Cream Silk's new Triple Keratin Treatment line (keratin! saves! hair!). This new line comes in two forms: the Ultimate Treatment créme or wrap, both with two variants (one geared towards dealing with straight hair and another one for restoring damaged hair) and triple times the keratin. 
For ease and convenience, use the Treatment Créme once a week for only three minutes after conditioning. While for a more luxurious time, wear the Treatment Wrap for twenty minutes once a week, and let the triple keratin do its restoring action. It's a great way to treat yourself, and one you can add to your weekly routine. 
3. Get a foot massager 
Alright, hear us out. Getting a foot massage is so relaxing but also anxiety-inducing if you don't have perfect-looking feet. Just a few weeks ago, a coworker waffled on getting one because they were insecure about how their feet looked. So here's our compromise: Invest in an electric 
foot massager. That way, you can get a massage any time you want and don't have to be scared of masahistas judging how your ankles look. 
4. Do home yoga or pilates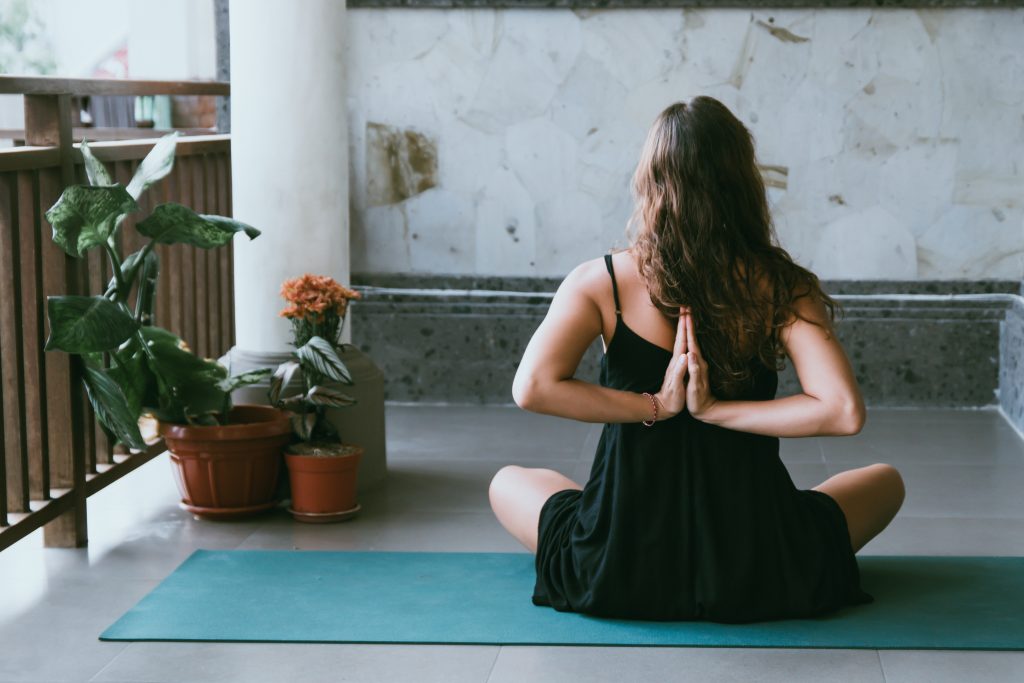 Taking care of your body and exercising is essential for self-care. But we get it: preparing for and going to the gym can take more time than the actual exercise itself, and seeing other people work out can trigger your own insecurities. When the "don't wanna go out, don't wanna see people" blues hits, you can take out a mat and work out alongside a yoga or pilates video on Youtube. Plus, yoga and pilates have the added boost of shaping you towards being reflective and meditative, so you're soothing your psyche, too.
Photo by Natalia Figueredo on Unsplash
Get more stories like this by subscribing to our weekly newsletter here.
Read more:
A yoga retreat might be your best remedy for burnout
Fight millennial burnout with these wellness and self-care apps
Pamper yourself with these home massage services
TAGS: