LOOK: The medals and trophies for UAAP Season 82 are handcrafted from recycled materials
"In solidarity with our brothers and sisters from Marawi, and in thanks to the soldiers and many others who sacrificed to keep us free"
Sep 3, 2019
This year, the winning athletes of the University Athletic Association of the Philippines (UAAP) championship games will be taking home trophies crafted from recycled materials.
Ateneo de Manila University, who is hosting this year's UAAP championship games, unveiled the medals and trophies, which were made with the help of communities from Batangas, Marawi, and Ifugao.
According to Junk Not Eco Creatives, an interior design company that partners with local communities, the medals and trophies were made from 340 kilos of plastic waste from Taal, and 265 kilos of scrap metal like bullet shells, door knobs, and pipes for the gold medal. All of the trophies were carved from bamboo and reclaimed wood by an Ifugao carver.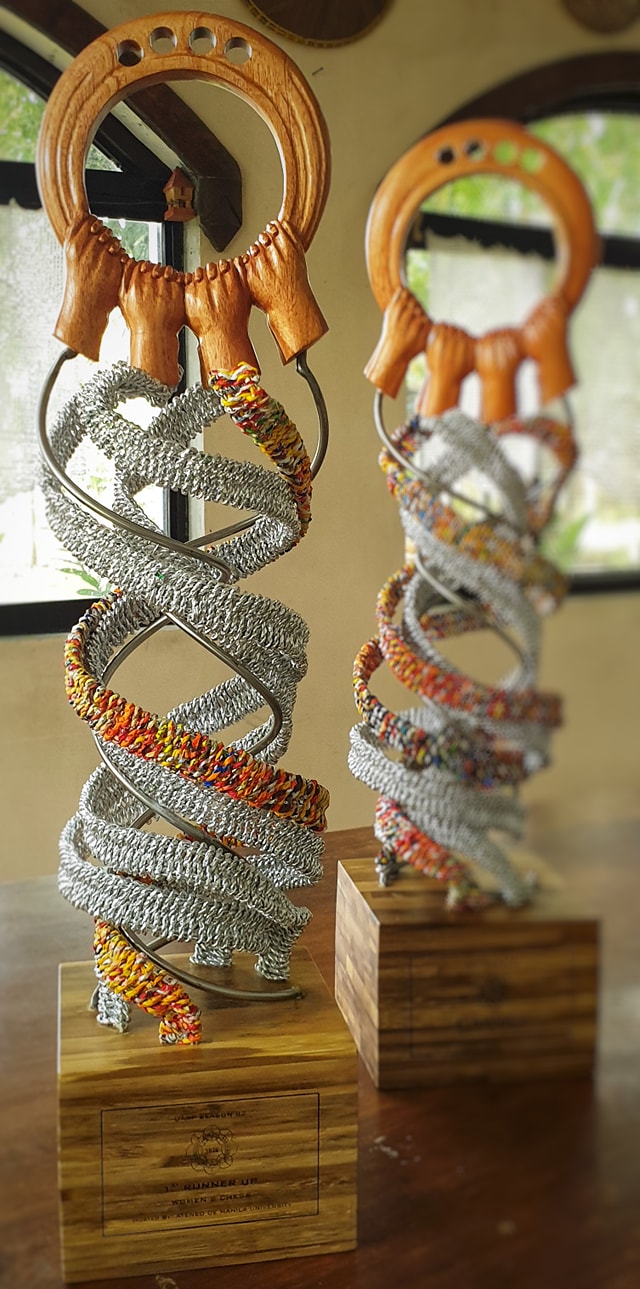 "Your medals and trophies are full of stories: weaving in Marawi has been their therapy after the siege; brass-making is a traditional art for Maranao: they upcycle a lot of the war remnants instead of mining for virgin materials; the JunkNot community in Taal has reduced their littering and became a good steward to the environment; all trophies are hand-carved by an Ifugao. This truly helped a lot of our fellow Filipinos," their Facebook post reads.
Fr. Jose Ramon Villarin, the president of the Ateneo, noted that the recycled medals and trophies are in line with the university's plans for environmental sustainability. The medals were made to symbolize respect for the environment, and victory for the athletes and the partner communities who produced the awards.
"The trophy and medal might be yours if you win in the competition but you will also win this for the community in Marawi, in Taal. They made your trophies and medals out of recycled materials," Villarin adds.
Header photo courtesy of Junk Not Eco Creatives
Get more stories like this by subscribing to our weekly newsletter here.
Read more:
What we don't see: Marawi refugees coping with displacement
These children's books hope to heal scars of the Marawi siege
LOOK: Campaign materials upcycled into bags, school supplies
Roads made of recycled plastic to be built soon in the PH
TAGS: Marawi nolisoli Recycling UAAP 82