The World Health Organization (WHO) stated that although work is good for one's mental health, it can also lead to physical and mental health problems when one is exposed to a negative working environment. 
WHO listed several factors for mental health that may be present in a workplace: "unclear tasks or organizational objectives, inflexible working hours, low levels of support for employees, limited participation in decision-making, poor communication and management practices, and inadequate health and safety policies." 
While there are increasing government programs and organizational developments that push to advocate creating healthy workspaces in the country, the work toward forming and assessing conversations on mental health still continues.
[Read: There's a new 24/7 mental health crisis hotline]  
In an effort to further understand and reduce stigma around mental health, the Mind Museum will be having a talk on creating healthy workplaces. It will be led by psychiatrist Dr. Robert Buenaventura and career management consultant Jo Ann Rosary Asetre. The event is open to public on Sept. 14 from 2 p.m. to 5 p.m. at the Mind Pod 3 of the Mind Museum at the Bonifacio Global City, Taguig.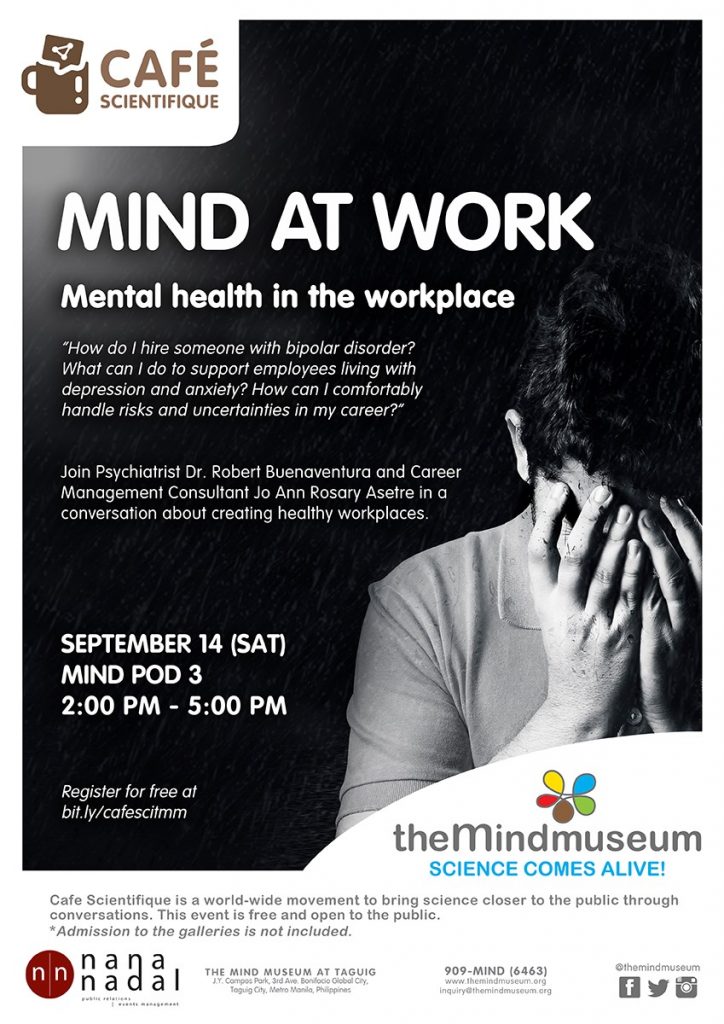 To register, click at bit.ly/cafescitmm
Header photo courtesy of Annie Spratt on Unsplash
Get more stories like this by subscribing to our weekly newsletter here.
Read more:
#HelpIsHere: Mental healthcare is now more accessible to the Filipinos
The rights and services under the recently passed Mental Health bill