Taffy Brodesser-Akner is the funny, smart, feminist writer you should be reading right now
One of the biggest problems in media according to Brodesser-Akner: "I know that if you write a story about a woman, every woman will read it. If you write a story about a man, then every man and woman will read it."
Sep 23, 2019
I hadn't read Taffy Brodesser-Akner's debut novel "Fleishman Is In Trouble" yet, but that didn't stop me from skipping my therapist appointment last Monday and hopping on a crosstown bus to the Barnes and Noble in New York's Upper West Side. It was Taffy's last public reading before the paperback version of her novel comes out and I was all too aware that these were the kinds of encounters that I moved to this city for, or so I justified my flaking. My therapist understood. I mean, I pay her to understand me.
If you don't know who Taffy Brodesser-Akner is, that's okay. Most of the people who watched my Instagram stories that day had no idea who she was either or why I was so excited. Here's what you need to know: After a succession of celebrity profiles that did "bonkers traffic" (her words) on The New York Times, Taffy came out with "Fleishman Is In Trouble," a fictional story about what happens after Toby Fleishman's ex-wife Rachel drops their kids off with him and never returns. 
"I had never read a book that really discussed marriage, divorce, and middle age," she explains after reading an excerpt. "And when I sat down to write this, it was kind of on the wind of wondering why some of these marriages worked, why some of them didn't, and also, knowing that we don't know if the ones that worked really did work. We don't know yet. We'll know later. Much later. Maybe. I don't know."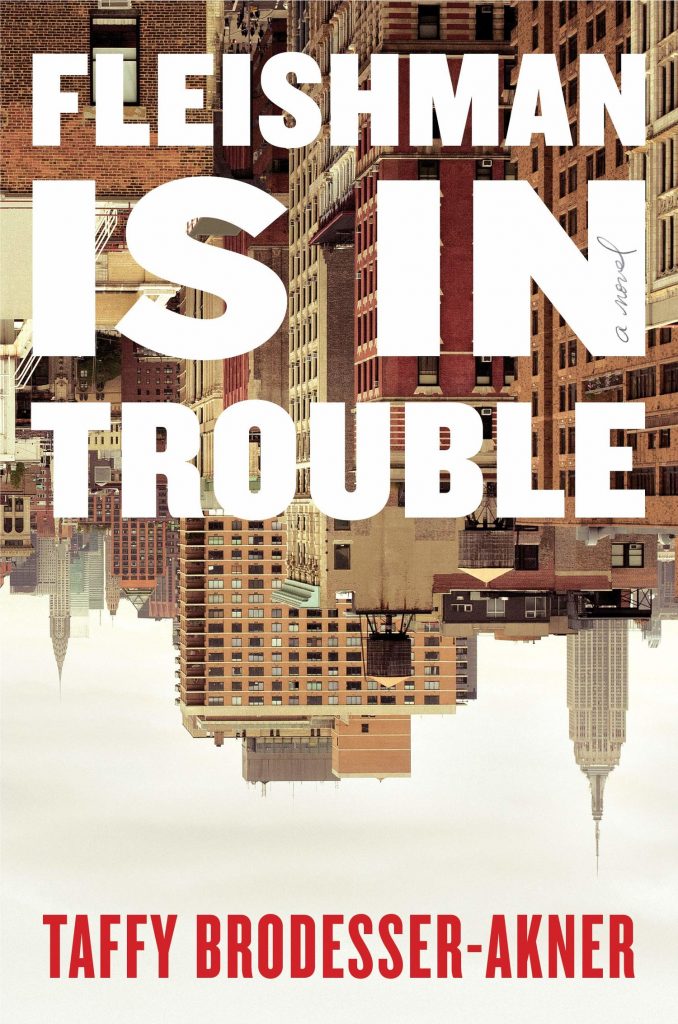 The book, which came out last June, became a Times bestseller within two weeks of its debut. Critics and readers alike loved it. Hollywood wanted it and there was a 10-way bidding war over who would get to adapt it. Last week, Deadline announced that the novel would be adapted as a limited series on FX, which Taffy would be writing (she studied screenwriting at NYU) and executive-producing. This week, she retweeted that it had made the 2019 National Book Awards Longlist for Fiction. She also sold her second book, "Long Island Compromise," to Random House. In other words, Taffy had a real hot girl summer. 
If you've never read her work before, the first thing you need to know is that she is wet-your-panties hilarious. I recommend that you start with her most popular article of all time: A profile of Gwyneth Paltrow that came out at the height of Goop's controversial rise. While the piece wasn't exactly flattering, it also wasn't infused with the usual kind of vitriol directed at Paltrow. Yes, she outrightly mocked G.P. with sentences like "She showed up at a movie premiere with cupping marks on her back; she let bees sting her because I don't know why," but dammit if Taffy couldn't read a bitch.
"Gwyneth loved her story," she clarified when I asked her about it during her Q&A. "Gwyneth, I think, wanted a story in which she was taken very seriously as a businesswoman, and I certainly took her very seriously as a businesswoman. I did not bring up her acting life, I did not say that she was a dilettante. She isn't. She was running what was, at the time, a $250 million-dollar business. It's more now." 
Taffy's answer is indicative of the second thing you need to know about her: She has a lot of compassion for the people that she writes about, fiction or nonfiction: "It's funny, when I first wrote [the book], I had a different agent and I sent the first 30 pages to that agent and she said, 'These people are miserable.' And I thought, 'I love them. I don't hate any of them,'" Taffy says. 
"I think that my only point was that everybody has a defensible point of view. And that people in the last months or years of their marriage are monsters and you would be surprised at the nice people you know who have said crazy things. And I don't know what literature is for if it's for people who just seem really nice because I think deep down, we're all wonderful and we're all monsters, right? At least, I am." She laughs.
See what I mean? She's funny. But also, and this is the third thing you need to know about Taffy, she cries a lot. She cried after Gwyneth Paltrow told her to think about having a third child. She cried twice in her profile of Marianne Williamson, most notably at the end when Marianne whispered something to her about the universe. She cried today and told everyone about it on Twitter. I love her for it and I want her to be famous enough that people make Taffy-Brodesser-Akner-is-crying memes on the Internet. (This will never happen, but imagine it will look like that meme of Kim Kardashian crying, but instead, it's Taffy.)
If you're uncomfortable with grown women crying (I assume you're a man?), I still think you might enjoy "Fleishman Is In Trouble" because the book is kind of dirty, especially in the beginning. I know this because I read the excerpt that was published in The Cut. Go on and read it and if you like it as much as I did, we can finish her book together and talk about it when we're done. I'm really just looking for somebody to be excited about this book with me, but if you'd rather wait for the series to come out, fine. 
Here are the best bits from Taffy's Q&A:
Who would be your dream cast for the series?
I am not allowed to say because apparently if I say now, whoever the person ends up being perfect for it will one day find out that [they were] not [in] my dream cast. So, whoever it ends up [as] is my dream cast. But I will say [for] Rachel, I have a long relationship with Gwyneth Paltrow—longer than she knows about our relationship—and if she were still acting, the reason I can still say this is because she's no longer acting anymore; she's running her company, I think she would've been great. If it gets to her, I don't mind. (Gwyneth Paltrow's new Netflix comedy "The Politician" just came out this week.)
Could you tell us about your journey from journalism to writing fiction?
I guess the difference is the thing I [do is] closer to extrapolating than sticking to the facts, but this is what I'll tell you: I loved it. The thing that bothered me the most was that if you're known to be a good observer, then what do you do now that there's nobody to observe? But that was made up for because I would never have to look somebody in the eye that I had written about. I can't watch "A Star Is Born." It's just not in my future. I had a story with Bradley Cooper and I'm too uncomfortable. I don't think we should ever see each other again, even on a screen.
Why did you choose to adapt your book into a TV series as opposed to a film?
I went to film school 20 years ago and it's really shocking to me how the document hasn't changed. It's 115 pages and everything that you really love in a screenplay that isn't related to the story just gets pulled away in the interest of space. I felt like this book had so much ambience that I didn't want to do that. Also, do you know about the TV money? (Laughs) It's better than the film money. (Laughs)
"I know that if you write a story about a woman, every woman will read it. If you write a story about a man, then every man and woman will read it."
In the book, you talk about a certain generation of women that has been sold this bill of goods and all of these opportunities and yet, the world around them has not yet caught up with that. Can you talk a little more about the genesis of that idea?
I wanted to speak to this current moment that nobody has addressed for me, which is that I was told when I was growing up that I could be whatever I wanted, and I didn't realize that nobody had told the men. And so, you have these men who are feminists, who are good people, who all voted for Hillary Clinton, who all thought they were doing the right thing, and they all have this memory of their fathers coming home and being given a martini. And now, you have a generation of women who want to know, where's my martini? Like, maybe there shouldn't be a martini. And you can't begrudge men too much for the fact that nobody has taught them how it's supposed to be now that this other thing was taken away from them.
Did you decide to tell Rachel's story through a man's perspective to make the story more profound or taken seriously?
The thing I was doing there was showing the problem, right? That a man's story is always taken more seriously than a woman's story. How do I know that that's true? I worked at GQ for a long time, I worked at women's magazines. I know the traffic numbers. I know that if you write a story about a woman, every woman will read it. If you write a story about a man, then every man and woman will read it. So, by the way, if you're writing a book and you're playing the numbers, I don't know, maybe write about a man. 
But just think about it. Look at this cover: If it were "Rachel Fleishman Is In Trouble," do you know how many bunny rabbits would be on this cover? Do you know, like, how many swirly hearts and emojis would be on this cover? A lot. I think the thing that I'm making a point of in this book—which is also very true—is that people will listen to you if you're telling your own story through a man. There's no mistake that my success in my career came from writing about men. I have no doubt about that.
Get more stories like this by subscribing to our weekly newsletter here.
Read more:
Viet Thanh Nguyen on decentering American narratives and offending everybody
What's on writer Mara Coson's reading list? Historical fiction, humor, and dogs with their humans
7 independent online bookstores to shop secondhand reads from
TAGS: books Cai Subijano feminism Fleishman Is In Trouble Gwyneth Paltrow interview novel profile Taffy Brodesser-Akner The New York Times