Artist Paulina Paige reflects on "home" from miles away through creation
For artist Paulina Paige, her creations are more than just "pretty things"—it's also a lifeline back home
Nov 18, 2019
"ET home phone." 
Before you correct me on this, it was actually these exact words (in that order) that the extraterrestrial protagonist of the 1982 Steven Spielberg film said after. That was before it learned Earth syntax and properly said it the second time around—thanks to the genius that was seven-year-old Drew Barrymore.
But what did it do before the clueless children figured out what it wanted to say about the telephone? It dressed up—or at least Drew Barrymore dressed it up, in a floral dress and maximalist accessories: a bowler hat with a flower on the brim, velvet scarves, a pearl necklace, and a wavy blonde wig to pull it all together.
Despite not knowing what these articles of dressing amounted to (or if it amounted to anything at all!), it is fair to say that it made ET's stay on earth worthwhile. And that even if it had nothing to do with what they (presumably) have back home, it's a source of comfort (but don't get me wrong, we're all for self-determination here).
I'm not going to go at length about the Barthesian systems of fashion and meaning, nor will I argue for the existence of the extraterrestrial here, simply that Sydney-based designer and visual artist Paulina Paige, is sort of like the ET.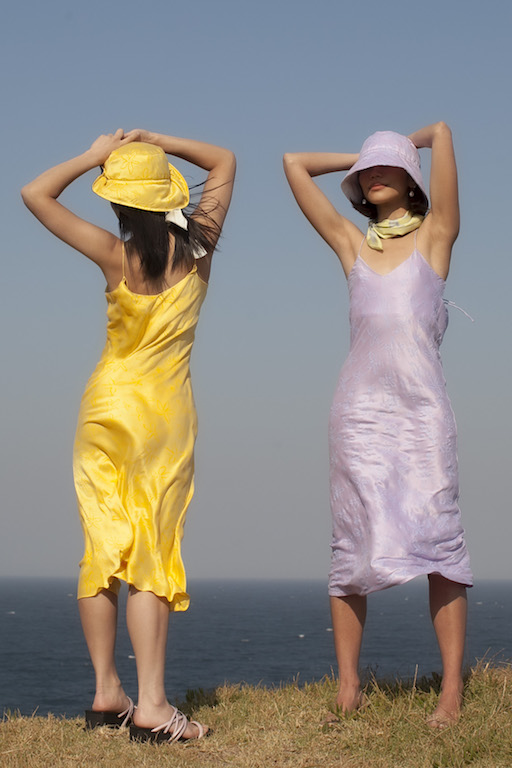 Separated from home, in her case, from the Philippines, Paulina resorted not to flying a bicycle but to creation to reconnect. Much like the lovable creature that was ET, Paulina busied herself with making "pretty things" that reminded her of home: wearable art.
This is not the first time, though. Last year, she collaborated with clothing brand Uniqlo to come up with a collection of minimalist t-shirts that evoke the sunny tropical beaches of the country. And in July that same year, she released a line called "Things You Call Home" of limited-edition silk scarves hand-dyed and hand-painted with motifs like mangoes, sampaguita, and palm trees.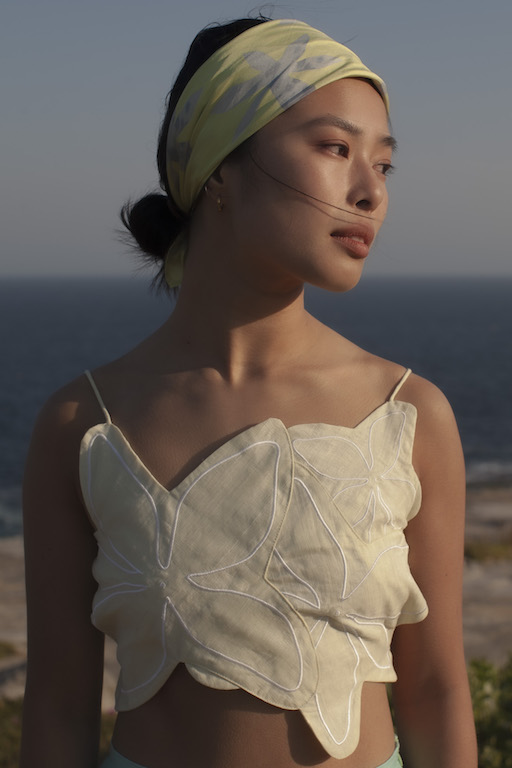 A natural instinct would be to take off from the success of these mementos of home, but Paulina does the converse. For the "Things You Call Home" sequel, the design transcends motifs as bare decor and surface-level evocations. In its lieu are collages of "foreign imagery that still felt like home."
She's also partnered with a few friends for two other collections of jewelry and clothing.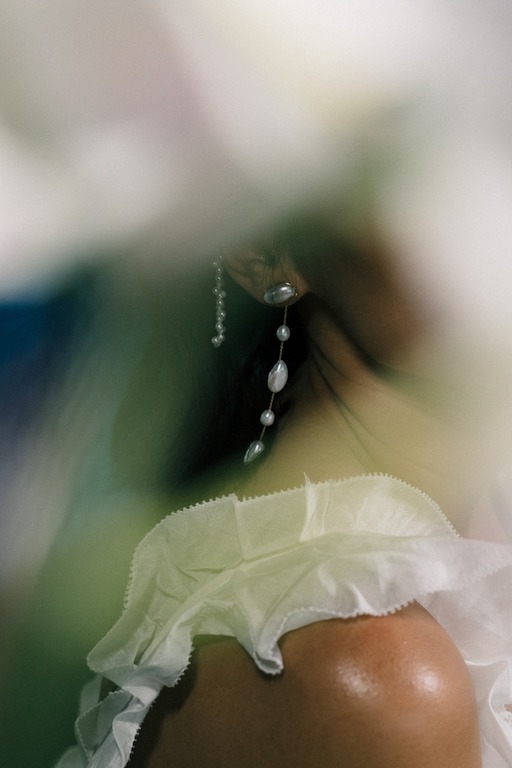 Collaborating with homegrown jewelry brand Namì, Paulina created a fine jewelry line translating sampaguitas and santan friendship bracelets to pieces made out of gold, diamond, and pearl. While with long-time collaborator and friend Carla Sison of Áraw, she designed silk slip dresses, a piña embroidered cut-out top, and bucket hats, all printed with sampaguita drawings.
We caught up with her about these collections, her creative process of evoking a sense of belonging 6,000 km away from the homeland, and being the balikbayan who bears the gifts.


First of all, congrats on the new collections. Emphasis on the 's.' That's three collections in total, two are in collaboration with Nami and Araw. Can you talk briefly about each collection? We know that the first one is a follow-up on a previous silk scarves capsule you've done before, but the two others—jewelry and clothes—are entire new lines, right? What are your inspirations for each one? 
Thank you! Emphasis on the 's' indeed. 
Really, all of this started with the scarves. This is the second collection of silk scarves I'm releasing as part of an ongoing exploratory exercise, if you will. The collection is called "The Things You Call Home" because through it, I try to work with imagery and motifs that call to mind the Philippines. The first collection I released last year featured a smaller set of hand-painted scarves that lifted directly from Filpino imagery (local flora, our beaches, Philippine mangoes). But for this second set, I wanted to progress the idea of 'home' a little and take a new visual approach to reflect the conceptual development. 
 

 

View this post on Instagram

 
For this second volume, I lean into my collage practice and make use of drawings and imagery found in a foreign place (Mexico), that reminded me so much of the Philippines. Sort of exploring what it means to find a sense of home while being away. 
The collaborations with Araw and Nami came as an extension of the scarves. They grew from the same desire to see how Philippine motifs could be integrated into beautiful objects and clothing we could wear every day, in a contemporary context.
If anything, I think it almost took me moving outside of the Philippines to really reflect upon my heritage and culture in a deeper and more nuanced way.

You seem to gravitate a lot towards sampaguita? Even at your wedding, right? Didn't Gabbie Sarenas make you a veil embroidered with these flowers? What about these white dainty flowers attracted you? 
I never thought of this in the context of my wedding. Funny you should say that. 
For the Araw and Nami collections, I wanted to jump off of one of the scarves I did for my first ever set last year, which featured local flora. I suppose I wanted to work with something so commonplace in clothing and jewelry (floral prints/floral motifs) and turn that into something we could identify with more as Filipinos. Sampaguita and santan are ubiquitous in the Philippines, not just in gardens at home, or in flower garlands sold by churches, but also in the friendship bracelets many of us made as kids. These flowers are very much a part of our cultural milieu so I thought, 'why not use them?'

It's sort of a homecoming for you, don't you think? Although, we know, of course, that you go back quite frequently. You're like that balikbayan kin who comes back for Christmas bearing gifts for everyone. Do you always come home to the Philippines this time of the year? What do you look forward to most during the holidays? 
This is so funny. I love this analogy. 
I don't always, but I do so more than I don't. I most look forward to the company of family and friends, as well as stuffing my face with all the food. Christmas in the Philippines is unparalleled elsewhere in the world. 

You're based in Australia and yet you manage to get inspirations rooted in the Philippines and successfully evoke and translate them into tangible objects. How do you stay connected to local culture while living in an entirely different land? 
If anything, I think it almost took me moving outside of the Philippines to really reflect upon my heritage and culture in a deeper and more nuanced way. Almost like I had to more intricately examine who I was and where I came from once I was situated in completely foreign environments. It's forever an ongoing process and learning experience, but I'm happy I've been able to channel the reflection into creative pursuits (and also align them with my proclivity for pretty things). 

In connection to this establishing a connection to your Filipino roots through your creative outputs, what's a dream project that you hope to execute or realize soon?
I think at some point I'd love to bring all of the pieces to Sydney (which is home for me now, too). Share a slice of that Filipino culture with this side of the world. 
Get more stories like this by subscribing to our weekly newsletter here.
Read more:
This Filipina designed Uniqlo's new line of minimalist T-shirts
This is modern Filipiniana you can wear with jeans
Personalize your jewelry with these 5 local brands
TAGS: artist australia paulina paige scarves things you call home