What Peppy Olive got right about healthy eating on-the-go
The Glorietta food stall hopes to bring customers closer to affordable food options that are "healthy, whole, fast, and fresh"
info
Peppy Olive

Mediterranean

Mon-Thu, 10 a.m. to 9 p.m., Fri-Sat, 10 a.m. to 10 p.m., Sun, 10 a.m. to 7 p.m.

₱

P 200-300
Here's the thing: Budget-friendly and healthy food options aren't always available for everyone, especially for working professionals. Despite the fact that there have been more food spots dedicated to a greener lifestyle around the city, office-based folks tend to gravitate towards fast food places because it's closer, faster, and it fits their budgets better.
Jamie Koa and Myka Perlas, however, show us that it is possible for healthy food options to be just as accessible as fast food through Peppy Olive: a Mediterranean food stall that produces dishes that are fresh, affordable, and healthy. The pair initially opened a food stall in Salcedo, Makati, and recently branched out to Glorietta 4's newly revamped Food Choices.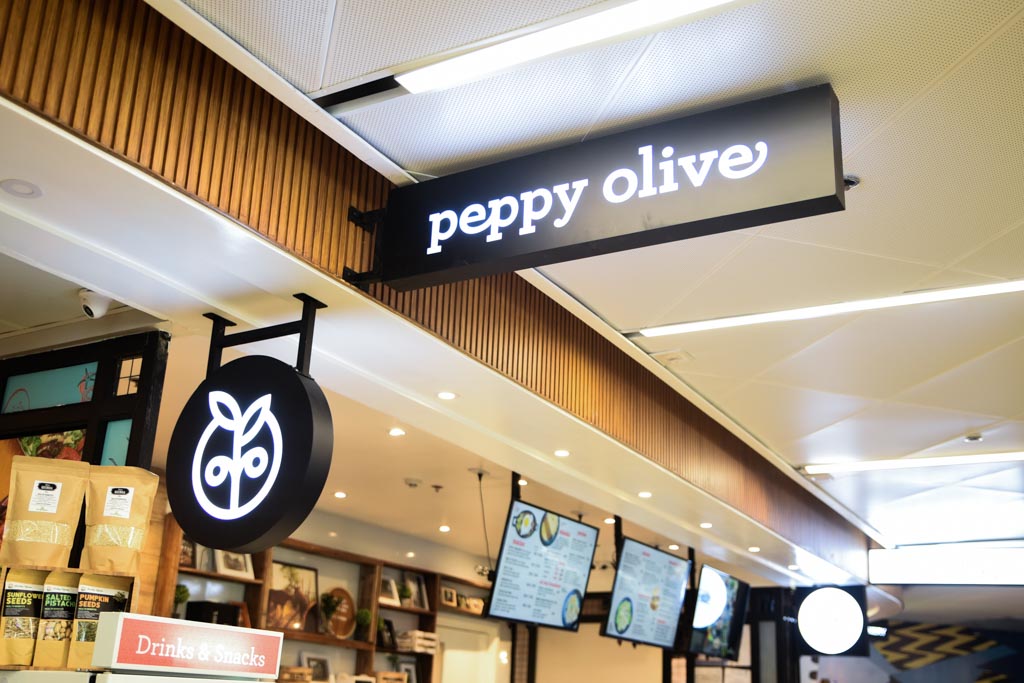 Peppy Olive prides itself in delivering fresh food for people from all walks of life. "We cater to different lifestyles and the broad Asian market," Koa shares. "It's for everyone talaga, hindi lang for the rich kasi how can you live a healthy lifestyle if you can't afford the food?"
To achieve this, the food stall allows its customers to play with proteins and flavors through their "Create Your Own Mediterranean Meal," which lets people customize their own meals. They offer three bases to choose from: multigrain rice, salad, or a pita; which can be combined with proteins such as pan-seared chicken, braised pork, beef or fish kebabs, and vegetarian falafel.
Their meals come with different kinds of side salads: tomato and cucumber salad, cabbage slaw, Moroccan chickpea and carrot salad, couscous salad, chorizo and lentil salad, and hummus. To top off their meals, customers can choose between roaster tomato sauce, honey balsamic, green vinaigrette, charmoula, and white garlic sauce.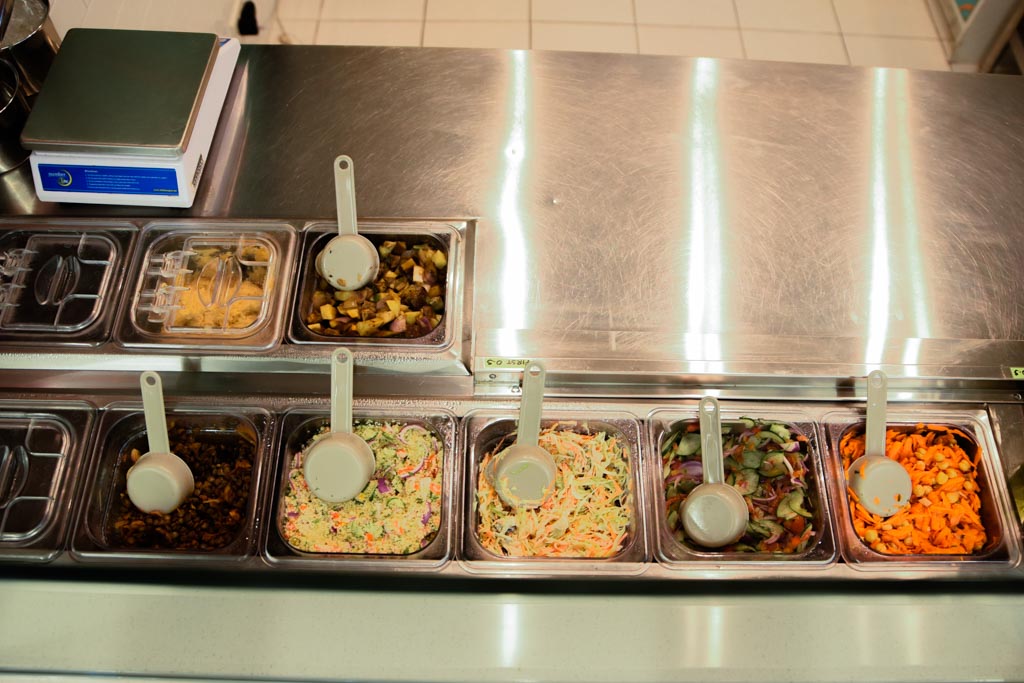 For diners who prefer set meals, they have the Peppy Specials: which offer a wide range of salads, rice, and pita dishes. One of these is the Kebab O'Fish Rice Bowl, which is fish kebab served with chorizo and lentils, couscous salad, topped with white garlic and roasted tomato sauce.
Another rice meal that diners can enjoy is the Braised Perky Pork, which is braised pork served with roasted vegetables and moroccan chickpea salad, and topped with charmoula sauce.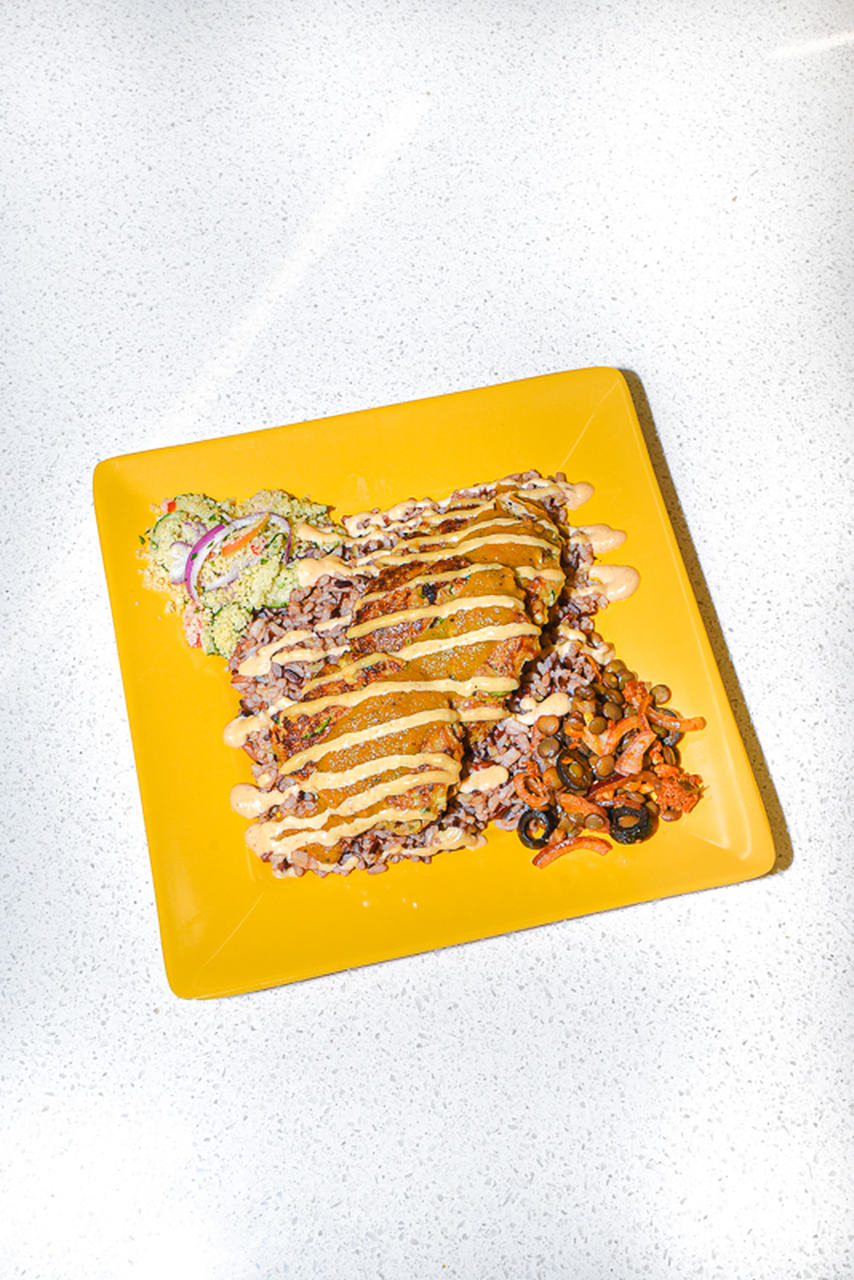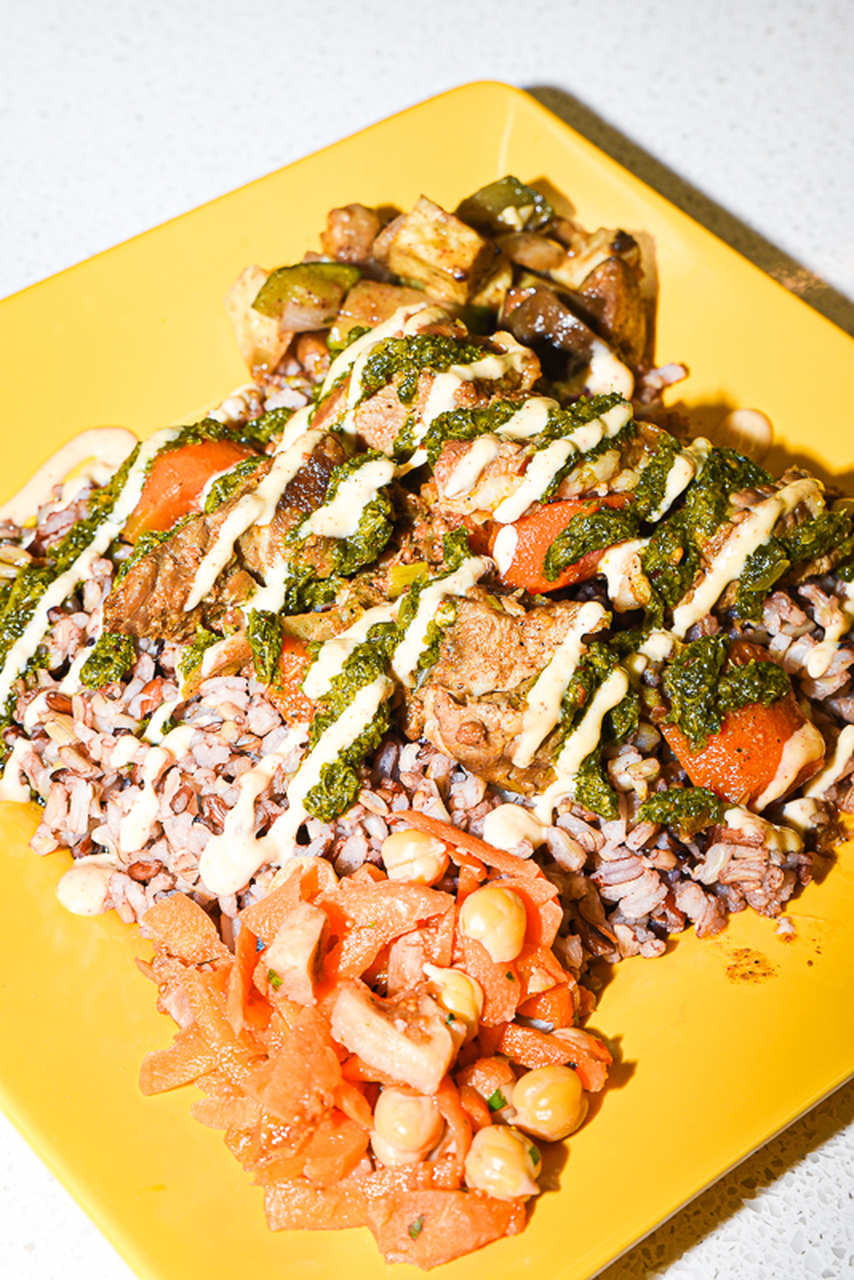 Dishes like the Falala-fel and the Be Happy Beef Kebab are more customizable, offering diners the option to eat the dishes with salad, rice, or pita.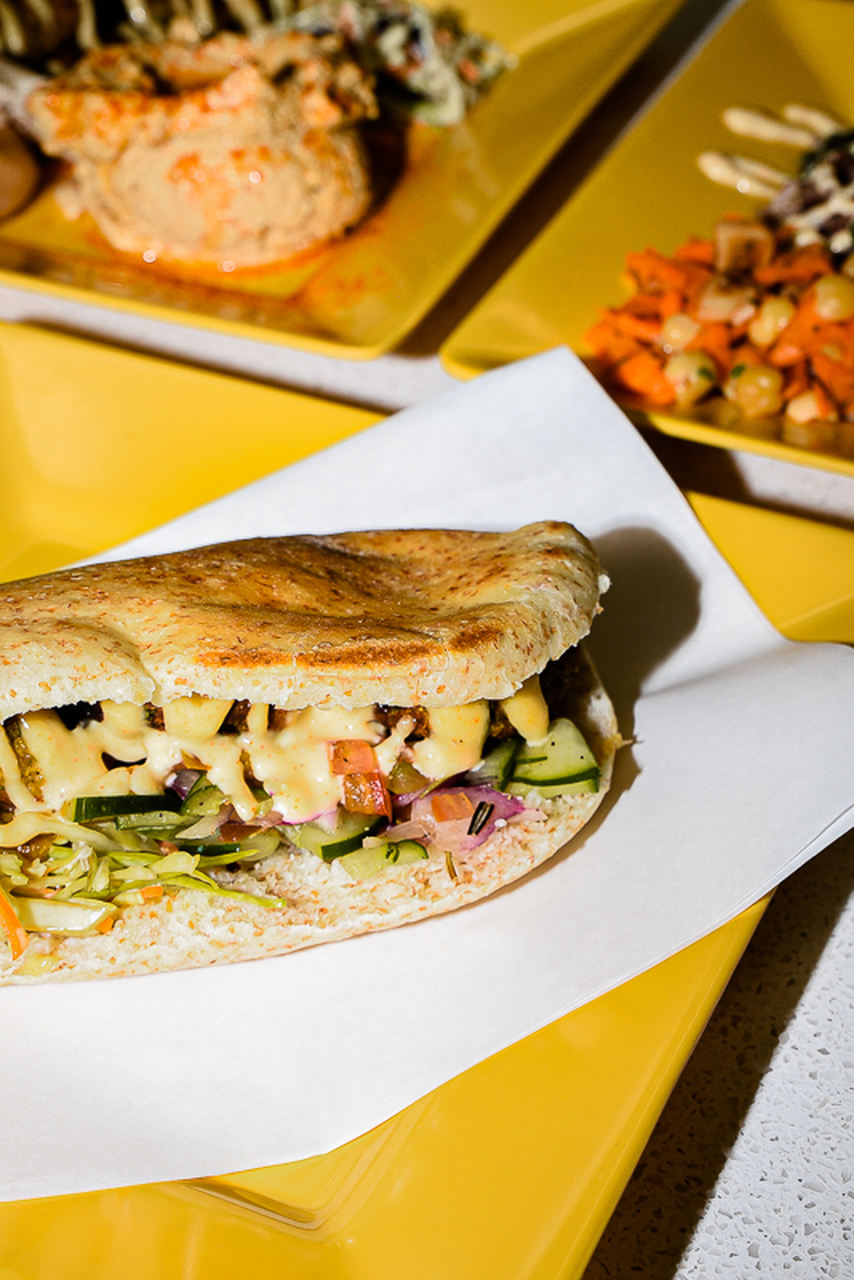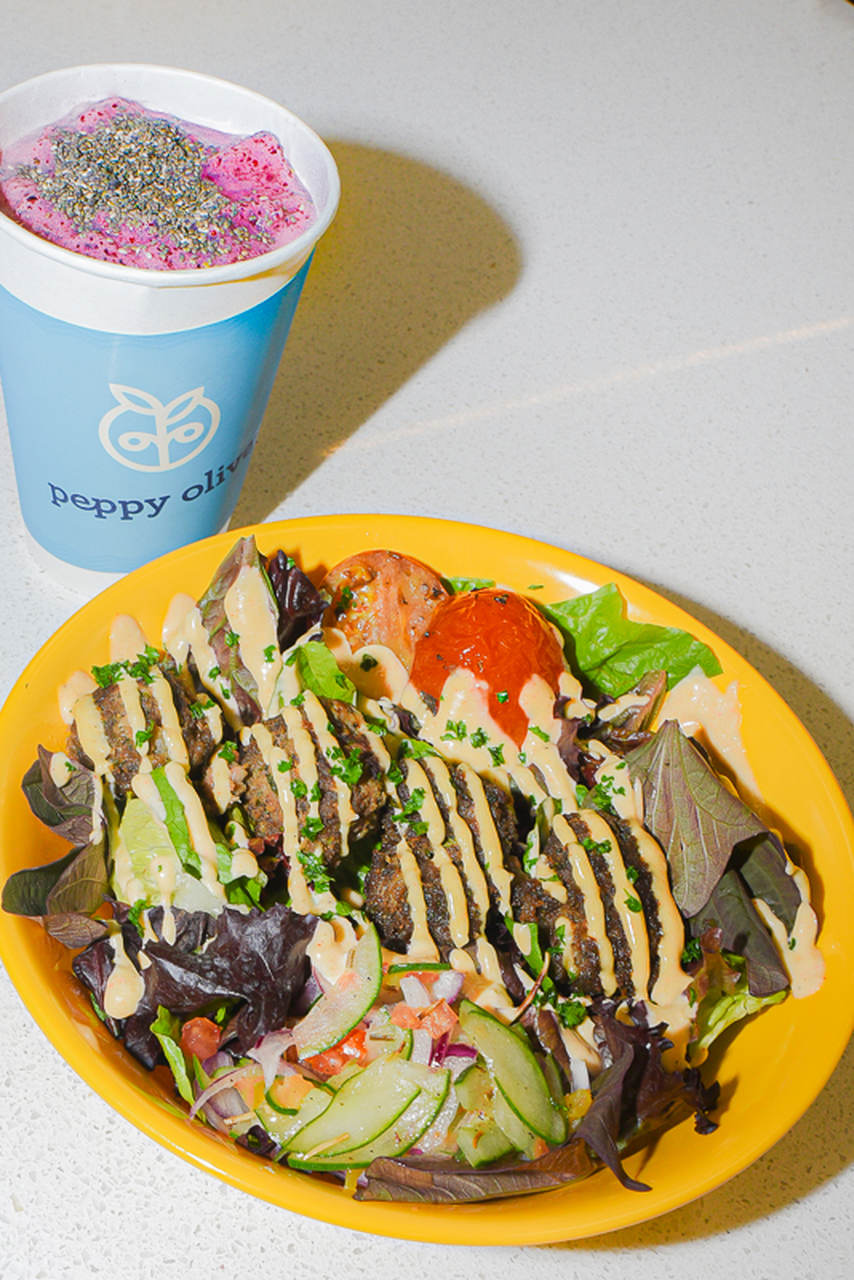 For vegan diners, Peppy Olive also offers hummus bowls. Their hummus bowls are served with pita and your choice of a side salad. People also have the option to add either pan-seared chicken or falafel to their hummus bowls.
"At least here you can just choose, or for those who are loyal and they keep coming back, they can just customize their own," Koa adds. "Parang, oh kahapon I had salad so I'll have rice today."
Their wide selection of dishes can be paired with their equally healthy selection of milkshakes. Their milkshakes are made with fresh mangoes, bananas, pineapples, kamote tops, blueberries, and strawberries, as well as chia seeds and flax seeds.
Get more stories like this by subscribing to our weekly newsletter here.
Read more:
Have falafel 4 ways at this new Mediterranean grab-and-go in BGC
8 Mediterranean restaurants to try this 2019
Where to go and what to eat this World Vegan Month
Don't know where the vegan places are? Try the HappyCow website
TAGS: mediterranean mediterranean cuisine mediterranean restaurant nolisoli Peppy Olive
WHY GO?
If you're working in the Makati area, Peppy Olive offers Mediterranean meals that are affordable and easily customizable.
MENU