LOOK: Storybook teaches children how plastic endangers marine creatures
Adarna House's new book "Bayan ng Basura" tells the story of Pawikan, a turtle stuck in a plastic-polluted part of the sea
Nov 20, 2019
By now, we all know (or at least, should know) how plastic—microplastics and huge chunks alike—have been floating around the marine ecosystem, suffocating unsuspecting sea creatures.
How many whales have washed ashore dead after choking on tons of plastic? Turtles strangled by six-pack holders? Even worse, we humans are already consuming plastic by eating seafood and sea salt.
[READ: Shopping bags, rice sacks found inside dead whale in Mindanao]
But do the kids know this?
Sure, Gen Z knows this. Perhaps better than most millennials or even boomers. After all, they are the ones going out into the streets to protest for immediate response to climate change.
[READ: Climate change inaction violates children's rights, says Greta Thunberg and other young activists]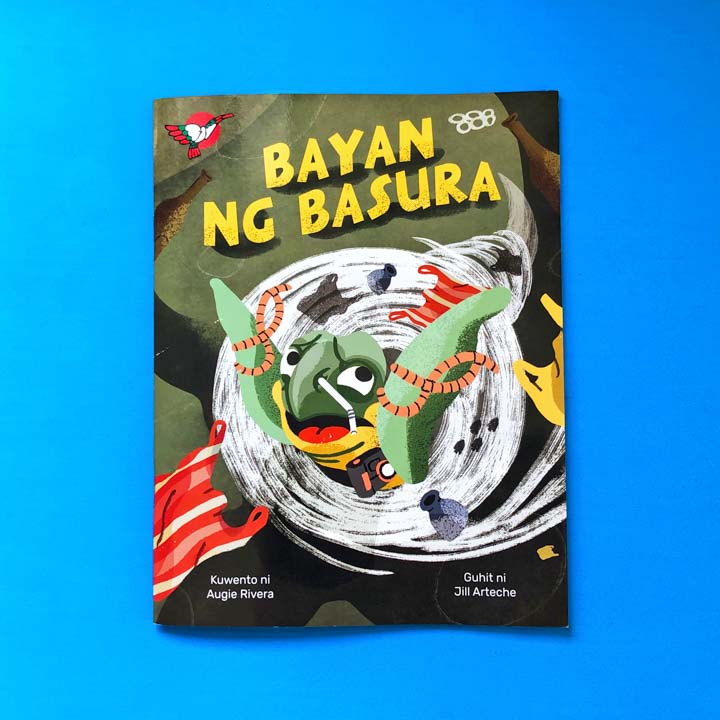 How early do we need to tell our kids about a future they may not have? A sea they may not see or creatures they may only know through books and the internet?
Adarna House, which has been known as a pioneering publishing house for a generation of Filipino kids, has long been integrating these radical issues into the storybooks they produce. Remember when they put out a children's book about the perils of an authoritarian regime called "Ito and Diktadura" or that explainer about the different class strata called "Uring Lipunan"?
[READ: Even this Spanish children's book can't deny the Marcos dictatorship]
Their latest one in collaboration with Greenpeace Southeast Asia-Philippines called "Bayan ng Basura" by award-winning children's book author Augie Rivera with art by illustrator and designer Jill Arteche touches on the environmental effects of the growing plastic problem. Told through the perspective of a sea turtle named Pawikan, the book starts with a peaceful, fiesta-like, and lively marine ecosystem, a town where the protagonist lives.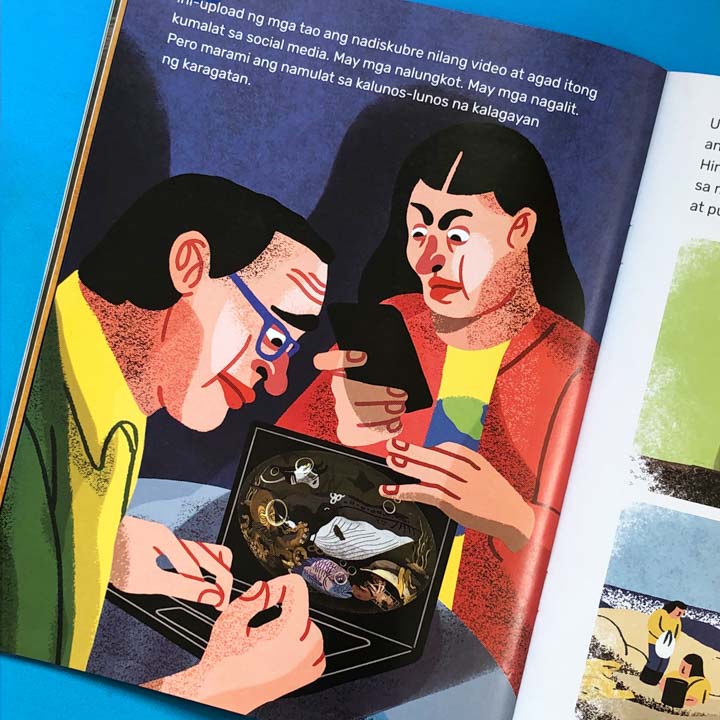 But after a storm, Pawikan finds himself stuck in another town that's filled with plastic waste. Think "Finding Nemo" but with a scrutinizing view of the effects of the massive irresponsible waste management of humans on land.
We spoke to its author and illustrator about how the project began and the message they want young readers to get from this book.
Hi Augie and Jill! Congrats on the new book. First off, we want to know where you got the idea for the plot and the visual look of "Bayan ng Basura."
Augie Rivera: In developing my story for "Bayan ng Basura" (Basuratown), I drew inspiration from real-life cases of animals that fell victim to environmental abuse and neglect. We have done several 'animals-in-the-news' episodes in our long-running infotainment show, 'Ang Pinaka,' and it was there that I came across stories like that of an olive ridley sea turtle caught off the coast of Costa Rica with a plastic straw lodged in its nostril, and even the local news of a dead Cuvier's beaked whale washed ashore in Compostella Valley that had 40 kilos of plastic waste in its stomach. The story's almost-post-apocalyptic world under the sea is based on a shocking footage of a diver swimming in a Bali ocean teeming with all sorts of plastic garbage.
Jill Arteche: We sketched the character and background studies making sure that we were portraying a somehow realistic idea of a 'Bayan ng Basura' underwater. Overall, the setting became inspired by the movie, "Mad Max Fury Road," which was suggested by Sir Augie. With this, we were able to illustrate a gritty and grimy wasteland that makes you feel nothing but hopelessness and desolation. We also illustrated different kinds of trash but emphasized plastic wastes to make a point of it being the major source of marine pollution. 
I also did research and gather a lot of references to sea creatures and the underwater environment. The references were photos from the internet and real life. Some were from my imagination, too! I was also inspired by movies such as "Finding Nemo" and "The Little Mermaid" for the different settings.
Hopefully, the story will make the readers empathize with these poor creatures, root for them, and care enough to dream and participate in making a better world for them to live in.

Knowing how vast the topic of marine pollution is, what were some of your considerations to ensure that a younger reader can fully grasp this concept?
AR: Yes, it's a vast topic so I just focused on the story of the lost Pawikan and his struggles to get out of Basuratown, and find his way back home. I tried to make use of familiar marine creatures as characters and make their experiences relatable to the young audience, but at the same time, I also took the opportunity to introduce other sea creatures to arouse curiosity. Hopefully, the story will make the readers empathize with these poor creatures, root for them, and care enough to dream and participate in making a better world for them to live in.
JA: We used a lot of contrasting elements to make it easier for children to understand the direct effects of pollution on our marine life. As for the spreads set in the 'Bayan ng Basura,' we made it dark, bleak and unpleasant looking to set such a contrasting difference from its happy and vibrant counterpart. 
The key to this was the use of a dull and limiting color palette and the presence of grit, grime, and trash. Here, we also gave the characters more menacing and frightening appearances to emphasize their feeling of hopelessness and desolation. We dressed them up in trash to also show how this has become a part of their lives already. Through personifying them, we thought that it would allow children to identify with these characters even more.

What message do you want a kid who will pick up this book to get regarding the current condition of our seas and what they can do about it?
AR: The staggering amount of plastic waste choking the world's oceans is a huge global problem. (In fact, the Philippines is now the third-largest contributor of marine plastic waste). The story hopes to inspire young readers to take action, and do their share in trying to solve the problem. Their small actions like disposing of waste properly, saying 'no' to plastic straws, or refusing the single-use plastics can rile up their own communities to be more pro-active in taking care of our oceans and the environment. 'Think global, act local', 'ika nga. 
JA: Personally, I believe that the release of the book is very timely because of the environmental disasters that have been happening recently. With this, I hope that we realize that this story is one that reminds us that we share a planet with other living creatures that have an equal share on this earth as humans do. This is a truth that a lot of us tend to forget when we make our choices. As the story shows, our obsession to create a 'perfect world' comes at the expense of our already declining ecosystems, making them more vulnerable than ever. It is important to stress the fact that there will be no future for humanity without them. So to all the readers, I hope that this story empowers you to act immediately before it's too late.
Header photo courtesy of Jill Arteche
Get more stories like this by subscribing to our weekly newsletter here.
Read more:
A 200 kg pawikan just washed up dead in Camarines Norte
Huge dead whale at CCP reflects PH's plastic problem
DENR closes Zamboanga Del Sur beach that is home to nesting turtles
TAGS: Adarna House augie rivera children's book jill arteche marine ecosystem plastic turtles