Sambong isn't just herbal tea; a Maginhawa bakery makes their chocolate tart with it
Hiraya Bakery's new Christmas menu features a dark chocolate tart with dalandan and sambong
Nov 21, 2019
In the last issue of Southern Living, we explored the ways to make our lola's favorite straight-from-the-backyard herbal infusions into drinkable refreshments. By "drinkable," we simply meant, somehow taming the bitterness and grassiness often associated with these dreaded remedies and making it consumable even during the days when we feel fine and don't need them.
With the help of the Philippines' first tea master Renee Sebastian, we were able to produce three tea recipes including one of sweet-tasting green tea-sambong hybrid.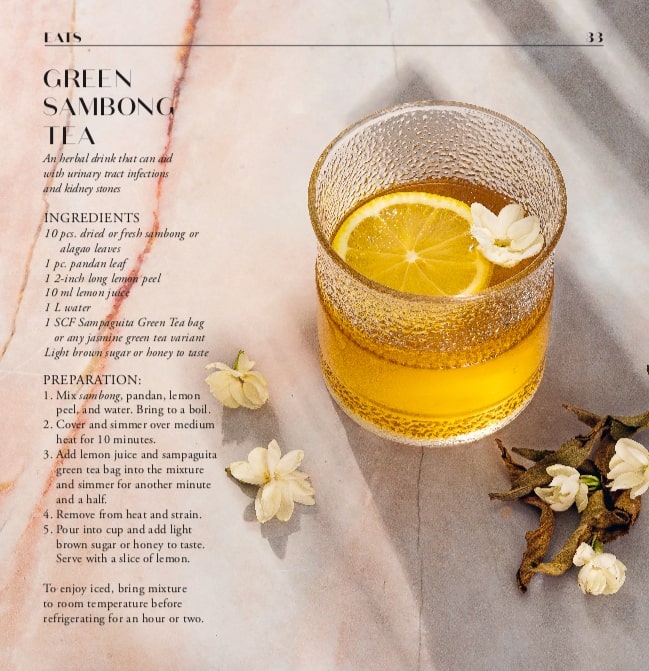 If you haven't had sambong tea in your life, well, good for you. My lola used to drink its infusions every afternoon to aid her urinary tract infection, then one day I remember mistaking it for sabaw ng mais, a sweet hot drink we used to get for free from the next door boiled corn vendor when I was younger. It was so bitter and herbal, it didn't help that my lola makes it with freshly-picked leaves.
So it was a relief, that one of the teas we were able to make did not have the same taste, probably because we used dried leaves and added honey and lemon, whereas my lola's was purely sambong and water.
In Quezon City, Hiraya Bakery hatched another way to make use of this herbal plant, this time in a dessert. Part of their new Christmas menu is a dark chocolate tart with a dalandan custard filling and—get this—sambong-infused vanilla icing.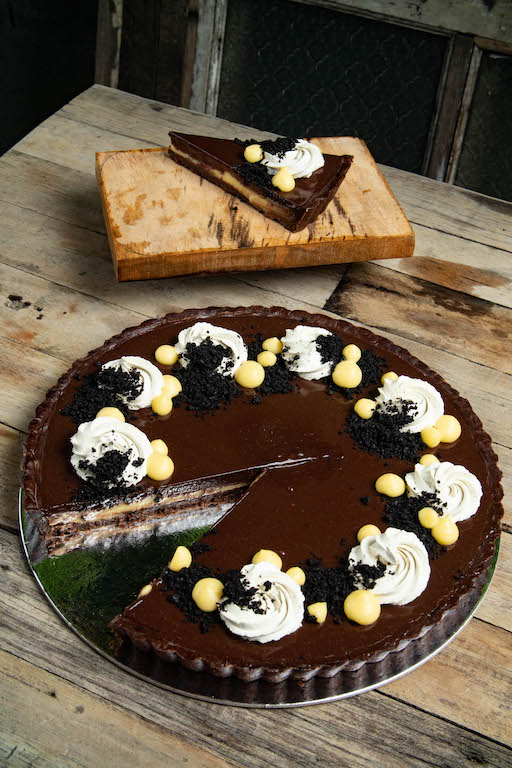 Nicole "Collete" dela Cruz, shares that apart from using in-season local fruits, this time they are also experimenting with otherwise unlikely ingredients for cakes, like the bitter sambong—which she insists reminds her so much of the taste profile of sage and even thyme. This only made sense to me after I had my first bite.
It didn't even occur to me prior to that tasting that sage and sambong actually physically look alike with the felt-like elongated, textured leaves and all. Together with the zesty dalandan curd, the sambong-vanilla icing adds an almost savory taste to cut through the richness of the dark chocolate layers and crust.
The dalandan chocolate tart with sambong cream is priced at P1,700 or you can have it by slice at their Maginhawa branch. You might want to hurry up though, as its availability is widely dependent on the duration of dalandan season.
Hiraya Bakery is located at 3F 195 Maginhawa St., Sikatuna Village, Diliman, Quezon City
Get more stories like this by subscribing to our weekly newsletter here.
Read more:
8 in-season fruits for the holiday break
Here's where you can get a keto-friendly cheesecake
Someone on Instagram said Martha Stewart's welcome cake is "cheap and embarrassing" We beg to differ
TAGS: cake chocolate cake christmas dalandan hiraya bakery maginhawa quezon city sambong