3 Fil-Am chefs reflect on their roots on their return to the Philippines for a gastronomic tour
DOT flew in celebrated Filipino-American chefs Lanai Tabura, Charles Olalia, and Tom Cunanan to retrace their gastronomic roots and to inspire culinary students in the Philippines
Nov 23, 2019
This year has seen a lot of Filipino restaurants making headlines abroad. Filipino cuisine has also been in the spotlight through documentaries such as Cebuano cuisine's feature in Netflix's "Street Food" and Filipino cuisine in restaurants in America in Hulu's "Ulam." [READ: This documentary explains the journey behind Filipino food making it to America] Although Filipino food has been steadily gaining popularity in the US, positive commentaries on mainstream media have helped amplify Filipino food's popularity abroad. Thanks, of course, to the presence of Filipinos all over the globe.
The Department of Tourism (DOT) and the World Food Expo (WOFEX) flew in celebrated Filipino-American chefs Lanai Tabura, Charles Olalia, and Tom Cunanan to the Philippines for "Fun Food Talks," a three-week-long project which enabled the chefs to go back to their gastronomic roots and, at the same time, inspire culinary students in the Philippines. 
Each chef owns Filipino food spots abroad, but the three are certainly more than just their famous restaurants. 
Tabura, for instance, is often in the limelight. He not only hosts cooking shows abroad but has also appeared in TV series and in theater productions. He is also known for being the winner of "The Great Food Truck Race." He has recently won an Emmy for producing a food documentary called "Ramen Yokocho" and currently hosts a cooking show called "Cooking Hawaiian Style."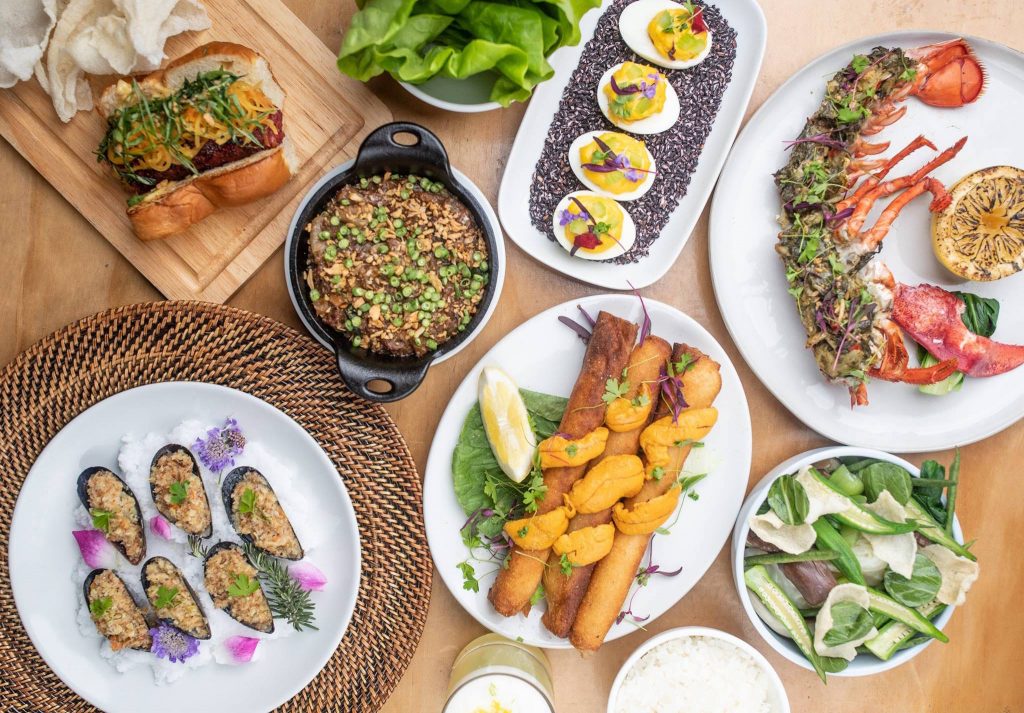 On the other hand, Olalia is the brain behind Filipino restaurants Rice Bar and Ma'am Sir in Los Angeles. A rule-breaker by heart, he ventured into the culinary arts instead of the medical field, which the rest of his family belong to. Up to naming his restaurant Ma'am Sir, he ignored his family's protests. But Ma'am Sir proved itself and was named one of GQ magazine's best new restaurants in America this year. Olalia and his restaurants are constantly featured in the US mainstream media.
[READ: Filipino diner Ma'am Sir is one of America's Best New Restaurants]
Cunanan, meanwhile, started his career in the culinary scene as a dishwasher and a server. After his mother's passing, he created a one-man catering service called Tarsier Catering in his dad's basement. His humble beginnings resulted in award-winning and critically-acclaimed restaurant Bad Saint, which he co-owns. Cunanan was also nominated for a James Beard Award for the Best Chef Mid-Atlantic award twice before finally bagging it in 2019. 
View this post on Instagram
[READ: Olongapo-born chef Tom Cunanan wins big in top US culinary awards]
The Manila leg of the gastronomic tour on Nov. 21 was also its fourth and last. The chefs have gone to three city stops with diverse food profiles, imparting their knowledge to young, aspiring chefs. But it was as much of a learning experience for the chefs as the students who eagerly met their culinary icons. 
Tabura shared his frustration about his Filipino roots. Being from Hawaii where the majority of the Filipino population come from Ilocos Norte, he thought he was from the same Philippine province as well. The food he remembers eating growing up were also recipes from Ilocos Norte. However, he eventually discovered that his great grandparents were actually from Cebu. 
[READ: LOOK: Pasalubong cheat sheet to Ilocos Sur]
He admits that he was not fully aware of the distinct flavors each region offered until this trip. "It was a lot of Filipino vegetables and a lot of Filipino styles, but most of the Filipino food that we had was from Ilocos Norte. I didn't know about all these other regions and styles until the past couple of weeks. So this has been an eye-opening experience for me and definitely something I can't wait to take home," he said.
It was also on this trip that Olalia realized what his customers in the US meant by Filipino food served at his restaurant not being what it is supposed to be. "Now, I can understand because there are really more ways than one in making a dish and I respect them more now. For example, if you see bibingka a certain way and then somebody gives you a different bibingka and growing up all you thought that was the only thing in the world, I'd feel very bad, too."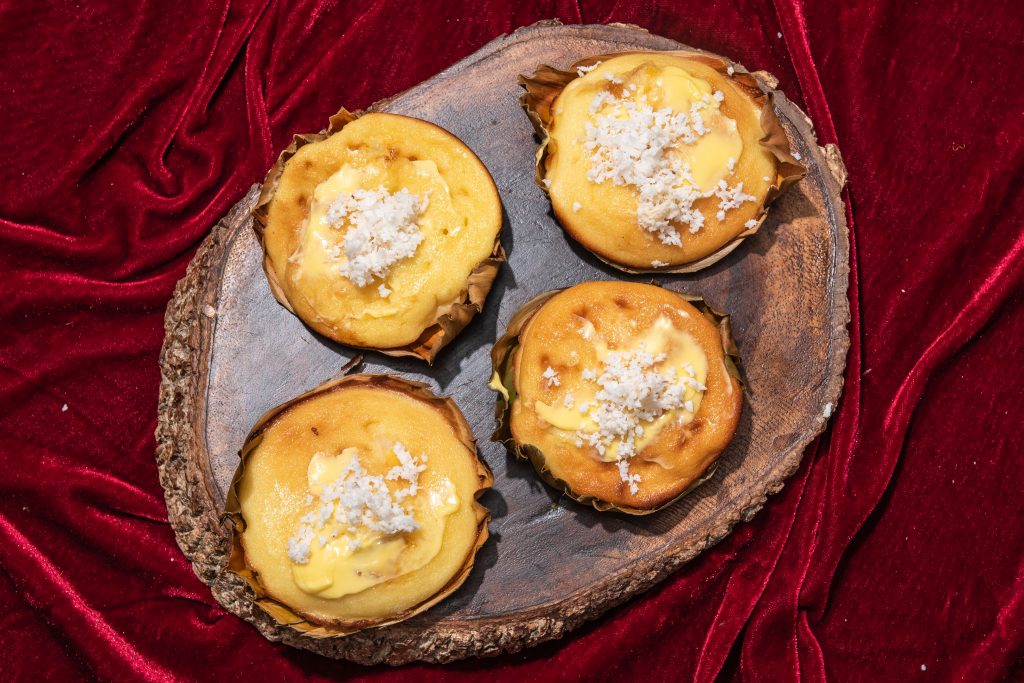 [READ: Beyond bibingka and puto bumbong: 12 kakanin of Christmas]
He also shared that he has only been confined to cooking and eating Kapampangan food at home. He thinks being able to taste other flavors from the Philippines on this trip would allow him to venture more into food from these regions. 
Meanwhile, Cunanan wants to put what he learned from each leg of the tour to use for his own. "There are certain things I take from every chef from every region that I that I visited and I want to add that to my to my arsenal of techniques."
[READ: 4 restaurants in Angeles City to visit for an authentic Kapampangan food trip]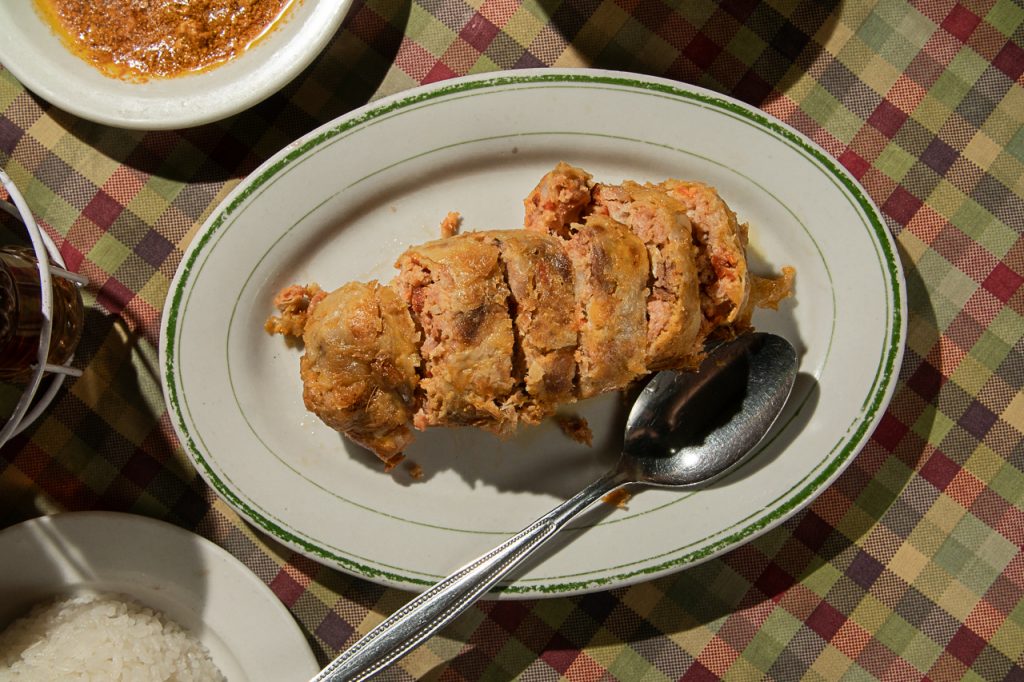 When asked what he was bringing home, Cunanan immediately said durian, as he felt intrigued and challenged by the fruit. "I ate so much durian, like in my mind, I know, I'm not going to like it. I'm not used to [the smell]. It's really pungent. I was trying to find a way to trick my brain to say, 'I like it. I will embrace it, I want to use it one day.' So the whole time and I was trying to figure out what I can do with it. Our dish was supposed to be sinuglaw, so I did a durian coconut turmeric purée."
All three chefs gave a demo of a dish of their own at the venue. Tabura cooked longganisa pinakbet, which uses patis instead of the usual bagoong. He stressed that the recipe was modified to suit his personal preferences. At the same time, he shared that he learned to modify the ingredients of his dishes to whatever was available in their yard back then. Cunanan also cooked Labanos at Sunog Niyog, a vegan dish serves at Bad Saint, while Olalia made longganisa from scratch and used it as a burger patty as he would do in his LA restaurants. Although the chefs used unconventional ingredients and methods in cooking, their dishes were still essentially Filipino.
Tabura thinks putting twists in Filipino food is a good thing. "I think, in this day and age, it's inevitable that things are going to evolve. Twist is good. What these young guys are doing is a whole other level and making it look good, too, because we live in such an Instagrammable social media world. Everyone eats with their eyes first."
One of the moderators of the talk, 2016 Asia's best female chef Margarita Fores, imparted the importance of the event to the future of Filipino food abroad. "Food is what allows people to discover a country and fall in love with it. I guess this project is the best evidence of what we can do for our country. By eating through our country and inviting these wonderful Fil-Am chefs to come to the Philippines and discover what we have here, I guess [they] will promote us even more."
Get more stories like this by subscribing to our newsletter here.
Read more:
Sisig, inasal, and other Filipino dishes wow at gastronomy congress in Spain
Filipino cookbook by Maharlika restaurateurs vies for top US food award
Pinoy barbecue wins people's choice awards in world's biggest European street food competition
TAGS: Charles Olalia department of tourism Lanai Tabura Tom Cunanan World Food Expo