One of the things we might find ourselves doing to get into the holiday spirit is to indulge in something. Our sense of taste is a good avenue to explore the complexities and nostalgia that Christmas concoctions can bring, but since Dec. 25 is still a little less than a month away, you might want to hold off on the carbs until then. Instead, have a go at these holiday beverages brimming with flavor and tradition. 
Hot Chocolate
Let's start with a classic. I'm sure all of us have fond memories of waking up on a cool morning and being greeted by a hot cup of cocoa. It's warm, rich, and welcoming atmosphere represents a whole lot of what this season is about, but let's face it, these days, hot cocoa has been standardized to the point that a simple cup itself tends to lose its sparkle without that aforementioned cool morning setting. 
But to get an uplifting cup, drop by Xocolat, a cafe that specializes in recreating hot chocolate in all its forms like this S'mores hot chocolate that's ready to be taken to a campfire. If you can, that is. 
Cookie Lattes
Then again, the season is also the perfect excuse to navigate through unconventional beverages that don't just aim to be something you gulp down but also one that offers a full-on snacking experience. Gingerbread lattes may come to mind even though these are a little hard to find in the Philippines. But The Coffee Bean and Tea Leaf's cookie butter latte does have a sense of reckoning about it as the heavy cream balances the cookie butter's sharp and sweet tangy taste in every sip (or munch)
Eggnog Latte
To be honest, this list is inspired by the thought that it is, well, the season of eggnog lattes. This oddly satisfying (I'm really drinking egg?) and frothy mixture that a good friend of mine in college introduced me to was what got me into all of this. While it's a mystery that only a few cafes in the country have it on their menu, you can DIY your way into your own concoction (just coffee, milk, and egg). But if you don't have the time, the Coffee Library in Pasay serves something close to it—an egg coffee—albeit woven with Vietnamese influences.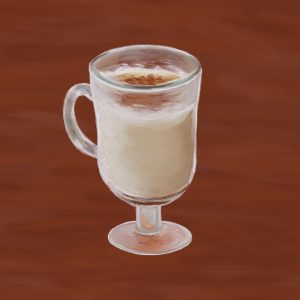 Green Beverages
Contrary to food, going for a lot of green in beverages can be quite appealing. The color palette of a product or a drink is also something establishments highlight probably because of the ornamental feeling they evoke. This adds up to the Christmas vibe and you honestly can't complain since vibrant beverages are, more often than not, a pleasant surprise anyway. 
The most popular, and well cliche, choice is probably that of good ol' Starbuck's peppermint latte. Sure, they may have released new Christmas beverages to their lineup like the Wishing Star mocha or the toffee nut crunch latte but the peppermint latte is a Christmas classic that's ready-made for casual holiday catch-ups. 
Meanwhile, underscoring a growing number of Filipinos who have been acquiring a taste for anything matcha, FRNK's Uji Kyoto Maccha, a strawberry-infused matcha drink with kiwi tapioca, is quite frankly, a Christmas party in the mouth. And although not as bright as the others, Wildflour's pistachio latte is still a beautifully subdued festive drink. 
A Sangria or Two
Lastly, of course, a holiday beverage primer list wouldn't be complete without some alcohol and a fruity sangria just ticks all the boxes (flavor, alcohol content, color) when it comes to helping you set an easygoing flow and outlook towards the holidays.
Get more stories like this by subscribing to our weekly newsletter here.
Read more:
We have to support our local coffee farmers and here's how
5 bills that seek to ban single-use plastic in the country