A young designer's mission to deromanticize piña fabric
Gabriel Bustos Santos' debut collection is a study in dark romanticism and the fragility and limits of piña
Dec 11, 2019
When you think of dark, romantic fashion, British designer Alexander McQueen's imagery comes to mind; his macabre runway shows often incorporated grimness and gore, exposed bodies and apocalyptic scenes, even blood. This is intensified by his tragic passing almost a decade ago.
You may also think of John Galliano whose opulent designs ushered in a new Dior; haute couture that transcend wearability and most of which are now part of the collection of the Costume Institute or the Victoria and Albert and many more. His down spiral to addiction leading up to a scandalous end of an era at Dior and his eventual return to the avant-garde label Maison Martin Margiela also helped cement his status as a fashion rebel.
But only a few think of the Dutch designer Josephus Melchior Thimister, who was at the helm of Balenciaga for five years in the '90s. Known for his twisted, melancholic yet elegant silhouettes, Thimister was, along with McQueen and Galliano, "among the last in a line of designers who came of age in the late 1980s and '90s still believing in purity of concept," wrote The New York Times' fashion critic Vanessa Friedman on the eve of his death last month.
"A talent who was able to balance on the knife edge between poetry and a grungy kind of power, who was fond of tattered romance, a sweeping Byronic trench and the perfect line," Friedman said.
In the Philippines, vanguards of the avant-garde have long existed, but not so much for the dark romantics. There's Joey Samson, who despite his inclination to minimalism channel darkness that one can argue can only come from purity and the contrasts of putting side by side delicate materials with rugged ones. Ivar Aseron, too, with his geometric tendencies and gravitation towards the monochromatic. 
[READ: What it means to be a designer, according to minimalist designer Joey Samson]
Younger designers are braver in a sense to venture into the complete opposite of prevailing trends, which right now threads on the deconstructed side of things. Designers who from the get-go know their style and are unmoved by trends are rare. Their graduate collections may deviate so much from the norm and exude so much outre energy but don't age well or sustain itself enough to last in the industry.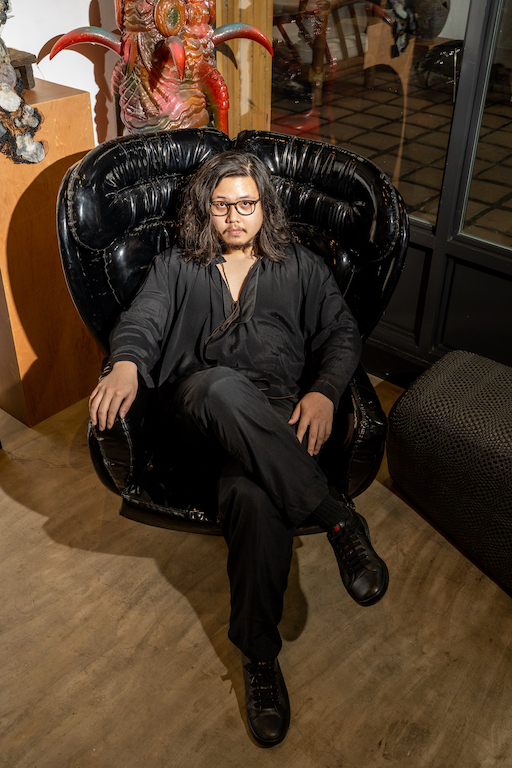 So it's very interesting to find these days, up-and-coming designers like Gabriel Bustos Santos do exactly that and go straight to market.
Clean and unsophisticated lines rule most pieces in his first collection with the exemption of the piña ones: the bib, the reversible asymmetrical dress, and a piece made of many piña handkerchiefs tied together, which can also be transformed into a top.
And while all of it is monochromatic, the textures are there, brought about by the choice of fabrics and its manipulation. Taffeta, for example, under normal lighting looks nothing different from a wool-made number, or say a cotton blend material. But when you look closely—this is especially evident in the tiered dress lined with slashed piña—the volume and the distinctive sheen are there.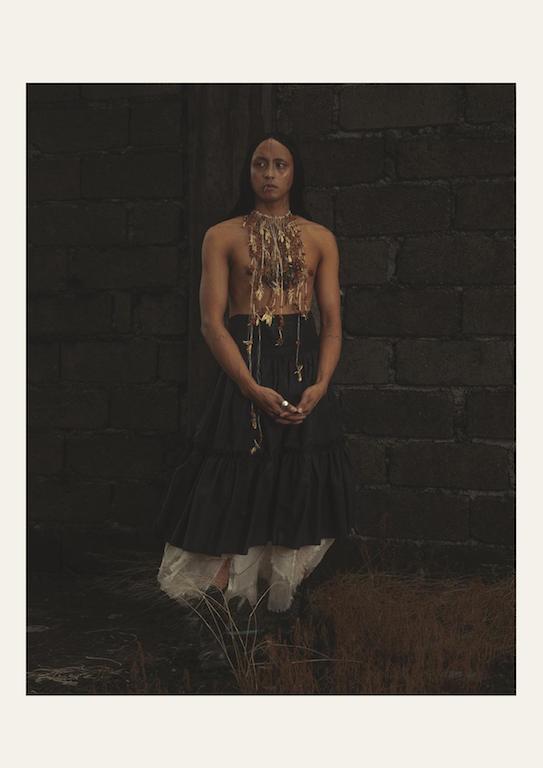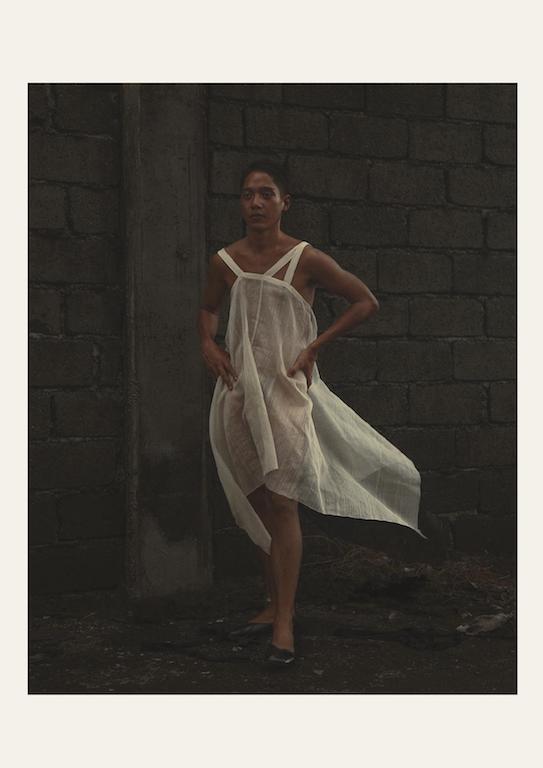 On the day of his debut show/exhibit at the Aphro store at the Karrivin Plaza, we caught up with the young designer about his brand: an assemblage of bare objects made out of mostly black fabrics with an occasional ode to fragility with the use of piña.
True to his brand, Bustos with his wavy mane swept on one side wore a simple black shirt and pants and a subtle Rick Owens sneakers. His guests nonetheless share the same aesthetic. One of them, a "muse" of his and one of the earliest goers (the launch started at 6 p.m. and lasted till dawn next day), artist Miguel Aquilizan, don a bright orange visor, a tchotchke from a recent trip to China.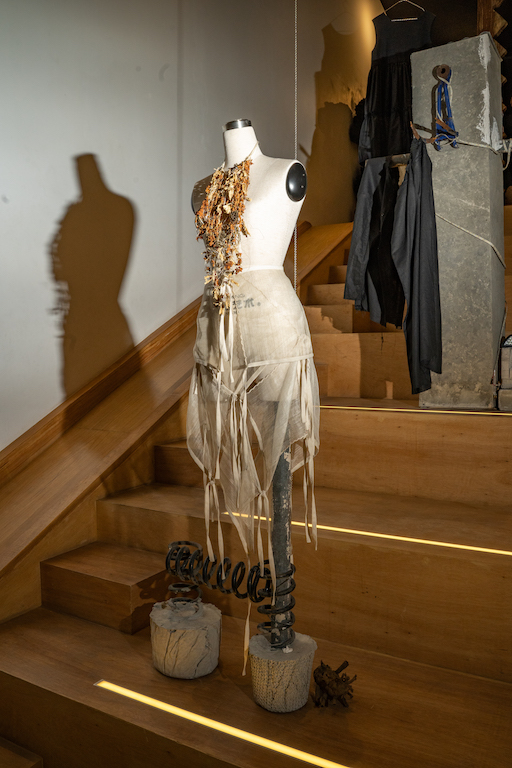 Speaking in a rather calm manner, opposite to the seemingly screaming persona of his clothes, Bustos talks about his inspirations (however trite that question was, he gamely answered), his sudden switch of paths from music to design, and his unexpected treatment of piña, a revered fabric in Philippine culture, which he managed to tatter despite its relative stiffness.
You graduated with a degree in music, right? And then you're also a skater?
Yes, I graduated from Benilde. And I was a skater back in highschool.
How did that influence your design?
I guess it's a sense of rebellious spirit. That's why the concept of this collection was to take something traditional, and not destroy it but to subvert it. And both in music and fashion, there are rules and theories that you study. You learn those first and then you break them.

When did you decide to take that leap from taking up music to pursuing fashion?
Ever since cause in Benilde we have three choices of courses. Fashion was always the second choice for me. So the story is, while I was doing music, in the middle of taking the course, you know how when you lose the drive when you study and you just have a hard time getting back to it again? That's when I decided to try fashion.
Apart from music and skating, what were some of your other inspirations in putting together this collection? 
Definitely art. I go with my girlfriend, who's also an artist, to art galleries all the time. And we're always actually here at Karrivin Plaza!
Oh, so it's kind of a natural choice to put up your debut show here? And your "muses" in the campaign are mostly artists, too like Miguel Aquilizan and Kiko Escora. 
Yes, they are my friends.
Your first collection is called "Exercise on Reminiscence" like a sort of play to memory, right? So what kind of memories do you intend in evoking through your clothes?
It's not necessarily about bringing a kind of nostalgia to people who wear it or see it. It's more about a personal exercise of taking the past and playing with it. Like how the initial inspiration for the designs was old Filipino clothing, I took that reference and tried to play with it.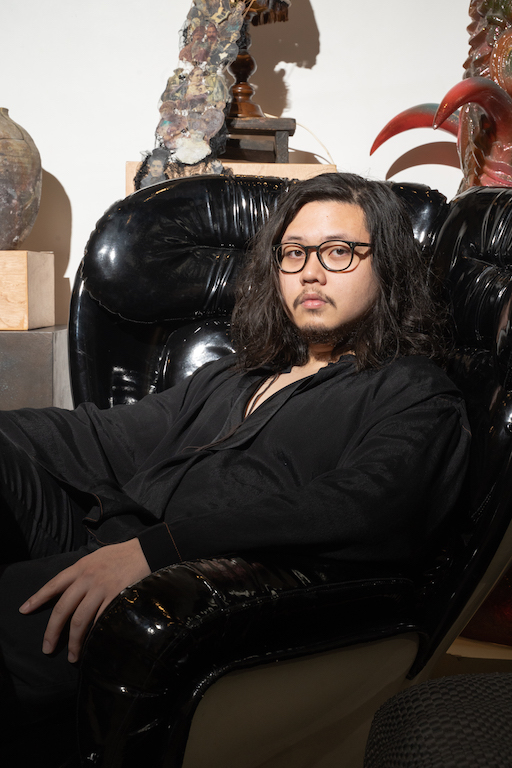 "[B]oth in music and fashion, there are rules and theories that you study. You learn those first and then you break them."
There are lots of hints to dark romanticism and ruggedness that the pieces exude. But apart from the obvious allusions to these themes—the black and white colors—the addition of the piña adds something else. Why piña and the choice to tatter it?
Because I wanted to question the romanticization of piña as a fabric. It's a great fabric. It's more durable than I thought it would be. It's actually hard to rip. I just really wanted to treat it in a way that one wouldn't normally do.
To add to that overall theme, your campaign images are also set in a dystopian-like place. Where is that and who came up with the concept? 
That's actually Paul (Jatayna)'s idea. He was passing by this neighborhood at the back of Taguig and he spotted this abandoned lot overgrown with vines. That's also where we filmed the video.
Based on the campaign photos too, the clothes blur gender. Is that your intention?
I wouldn't say it's my intention. For me, clothes are inherently unisex even before those labels for formalities came along. I'm not just trying to use it and throw it there and call it a concept because for me it comes naturally.
Technically, I am more connected to maleness as a man, in a man's body. So trying to incline me to something, say, feminine silhouettes, is more challenging.
After this week-long show, will the clothes be immediately available for purchase? If yes, where?
We are working to launch our website by the end of this show for potential buyers. But right now, we are currently on a pre-order basis through our Instagram page.
Get more stories like this by subscribing to our weekly newsletter here.
Read more:
Artist Paulina Paige reflects on "home" from miles away through creation
The terno is back from the baul. Now what?
Your trusty market bayong gets transformed into cute everyday bags
TAGS: avant-garde design designer fashion gabriel santos bustos goth piña profile