Is the Jollibee Champ being phased out?
Or is this just a phase?
Jan 2, 2020
Following the recent pullout of Jollibee's garlic pepper beef, it seems like the iconic Champ offerings are also on the verge of exiting the famous fast food chain's menu.
The Jollibee Champ with its hefty and juicy patty has been living up to its triumphant name ever since 1984. So much so that it can stand face-to-face with international variants like the Big Mac and has even had several variations like the Amazing Aloha Champ. But if you've recently been craving it, you might have already experienced the struggle and confusion of getting your hands on one.  
After a quick visit to Jollibee's delivery site, you can seemingly clarify these rumors with ease: The Champ is still on the menu.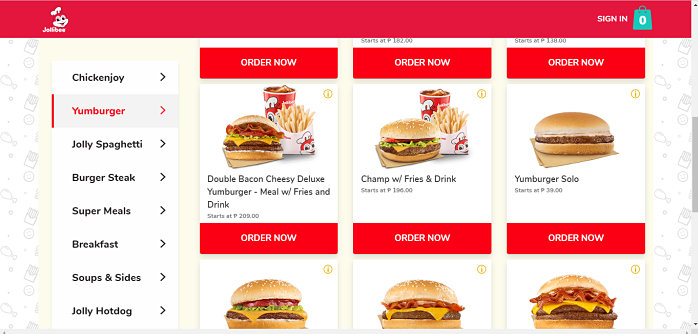 Then again, there is also the possibility that Jollibee hasn't updated its online offerings. This is because aside from the fact that these meaty options are now nowhere to be found in Grabfood and Foodpanda, multiple reports of its unavailability in stores have also been making its way to social media. 
While Jollibee has yet to confirm the potentially saddening news,we've gathered up queries and reactions of netizens that may help us piece together the puzzle. 
We don't know when its unavailability started but one of the earliest public queries dates back on Dec. 23  from netizen Buds Conti on Twitter. Even though this wasn't the post that got us looking into the possibility, we may as well be this confused when we found out about the issue, too:
Phased out na ang champ?! @Jollibee

— Buds (@budsconti) December 23, 2019
We're not saying that we agree, but the possibility of never being able to feast on such a distinctly savory burger again helps us understand where this post is coming from. 
Another Facebook post from Dix Perez, however, set a lot of burger fans into curiosity and investigation. It came about after he was supposedly trying to order a Champ burger in Jollibee's Dona Soledad branch drive through.
If you look at the post's comments section, you will see people relaying their different and conflicting experiences. Anton Sheker and Flip Corpus' are cases in point.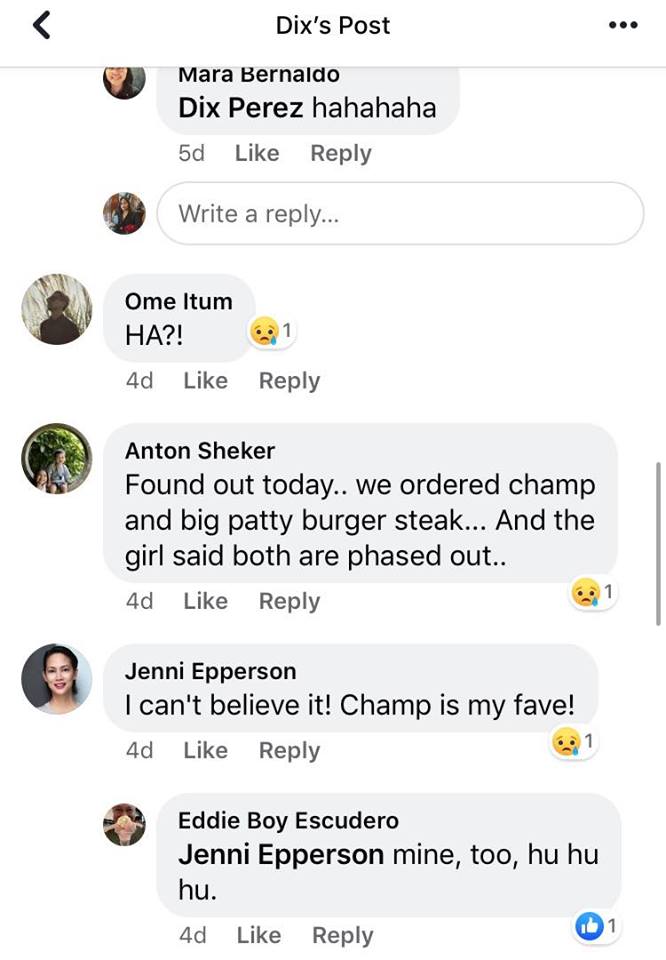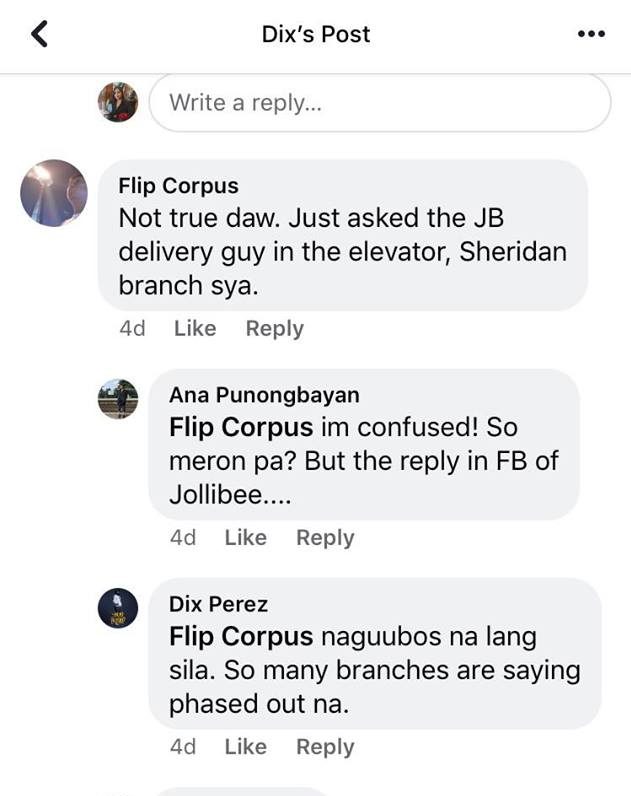 Perez even went to the lengths of messaging Jollibee's Facebook page, but sadly just got a cryptic and most likely, automatically generated reply from the busy bee.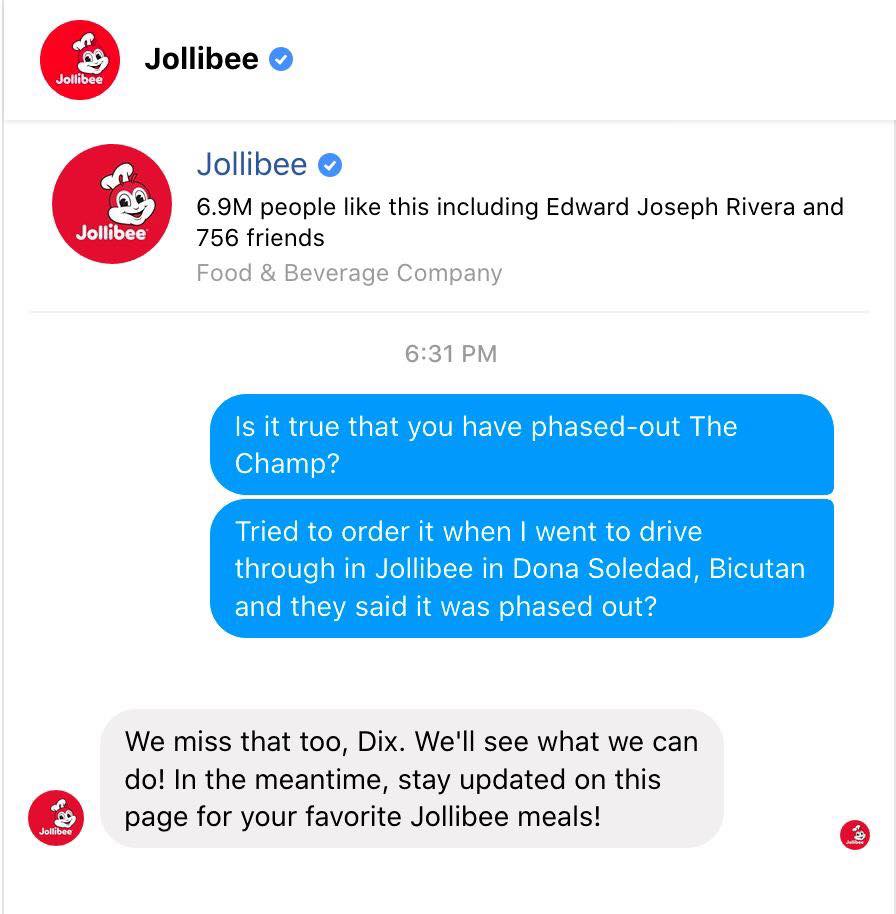 But this comment from Vince Diy might give us a clue about the reason behind it.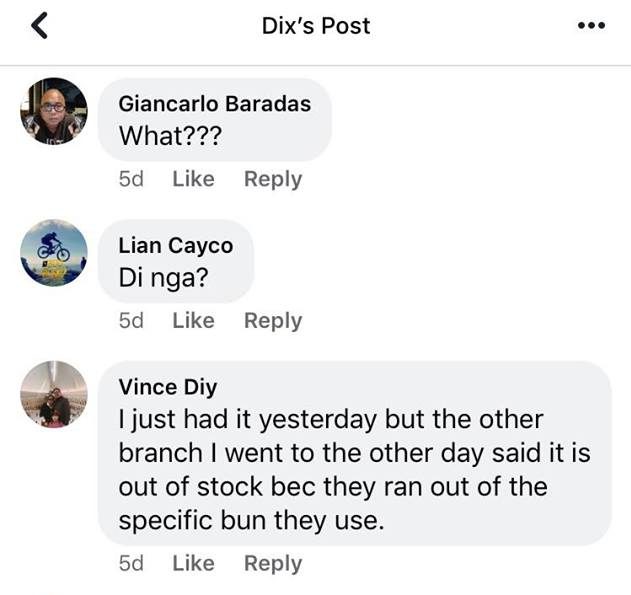 Taking from all of these and probably many more unpublished stories, @Flipperator on Twitter couldn't have said it better as he demanded answers.
Reports are coming from multiple locations that @Jollibee Champ is "phased-out". Just spoke to their delivery guy in the lift and he said di naman daw. Malaking kaguluhan 'to?! We need answers Jabee! #ChampGate

— Flip (@Flipperator) December 28, 2019
Actor Guji Lorenzana also took to Twitter to voice our collective concern.  
@Jollibee is the champ not available anymore!?

— Guji Lorenzana (@GujiLorenzana) December 27, 2019
And like Joylyn, we're left to wonder if we should also spare a moment of silence for what once was Jollibee's hero patty?
Ultimately, the massive fast food chain will have the final say (we're hoping soon) whether we've seen the last of the Champ or if this shortage is just a phase we have to get through for now. But until then, we're sure we'll be seeing more remarks like this.
@Jollibee phased out na po ba talaga ang Champ? ☹️

— Shaker Agab Jr. (@ShakerBonbon) December 30, 2019
Update: In an official statement released on Twitter, the Champ burger will be phased out in all Jollibee branches.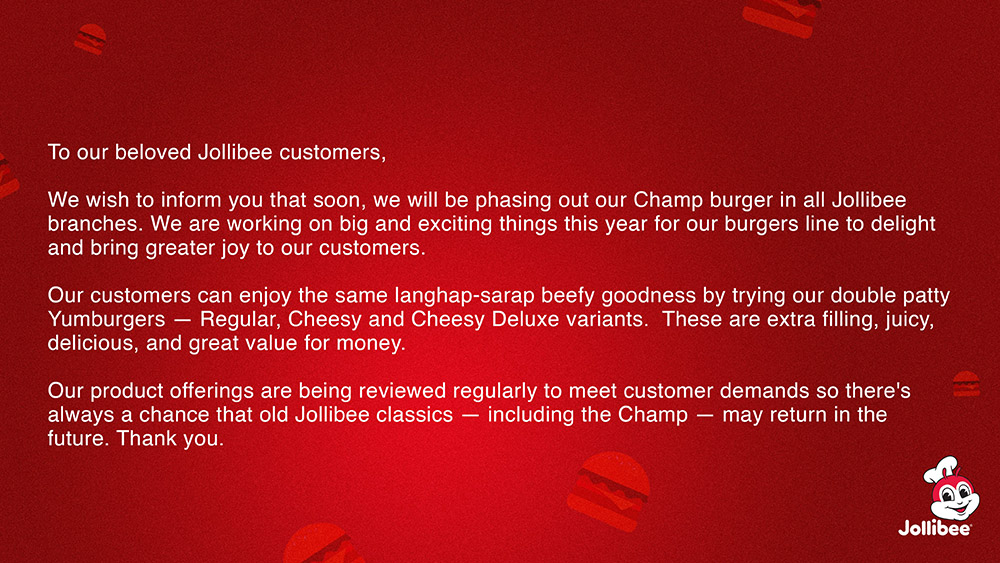 Get more stories like this by subscribing to our weekly newsletter here.
Read more:
Panda Express, Shake Shack to open at SM Megamall this December
Here's how to cook all the adobo featured in the new 'Chef's Table'-inspired DOT-Jollibee campaign
The Beyond Burger, a meatless wonder, now in Sweet Ecstasy
TAGS: big mac burger champ Fastfood Filipino Food Filipino food in America GujiLorenzana Jollibee Jollibee Champ