If there's one thing we can all agree on, it's that it's natural instinct for us to always be on the lookout for where to eat next. Once breakfast is done, it's time to consider where we're having lunch. Maybe even plan out where to grab a drink after work. Chef Mikel Zaguirre is taking advantage of this mentality to create a new restaurant that caters to virtually everyone—from the moment you wake up to the final hours of the day.
Found on the outskirts of Poblacion, Ovo is a dynamic restaurant that changes its operations to fit the different times and settings of the day. In the morning from 6 a.m. to 10:30 a.m., it's a breakfast buffet for Y2 Residence Hotel. During the day, it continues as a lunch and dinner spot, serving brunch plates and hefty à la carte meals. Then, as the clock strikes 11 p.m., the space transforms into a cocktail bar. In a few months' time, Zaguirre will also launch an "after-midnight breakfast buffet" starting at 2 a.m. that will continue until the morning to complete its 24-hour operation.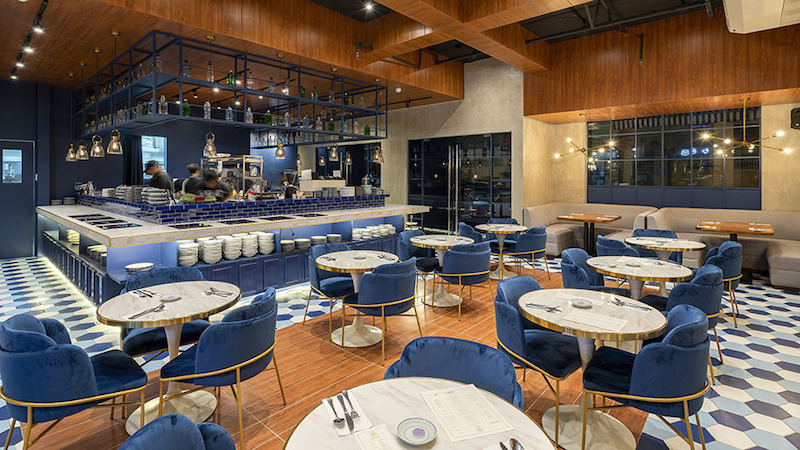 Inside, it's as comfortable as a home, making it a spot where anyone, no matter what their background, can be themselves. "It's not regal, but it's not street. It's in between," says Zaguirre. The restaurant follows a Modern Mid-century design with a high ceiling and rustic elements splashed with royal blue hues and warm lights. There are booths, high tables, a bar, and an alfresco dining area that's suitable for any person or group to enjoy the space at any given time of the day.
"We want to cater to everyone, the hotel guests, foreigners, backpackers, kids, yuppies, millennials. Anyone is welcome here. You can put your feet up, and just be yourself whoever you are."
On top of its all-encompassing environment, its menu is a selection of familiar favorites. There's no specific cuisine being followed, there's rather a variety of signature dishes taken up a notch with a connective brunch theme. "I wanted it to be different stories of food, a different take on classics but still staying true to what it is. It's a playful version of classics. That's Ovo for me."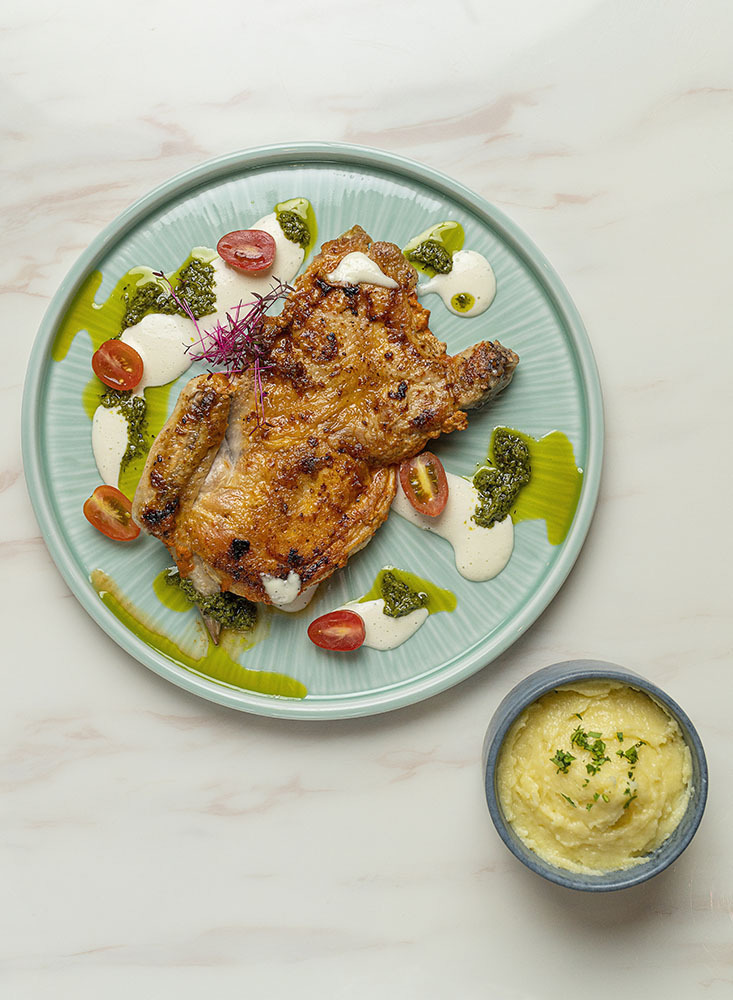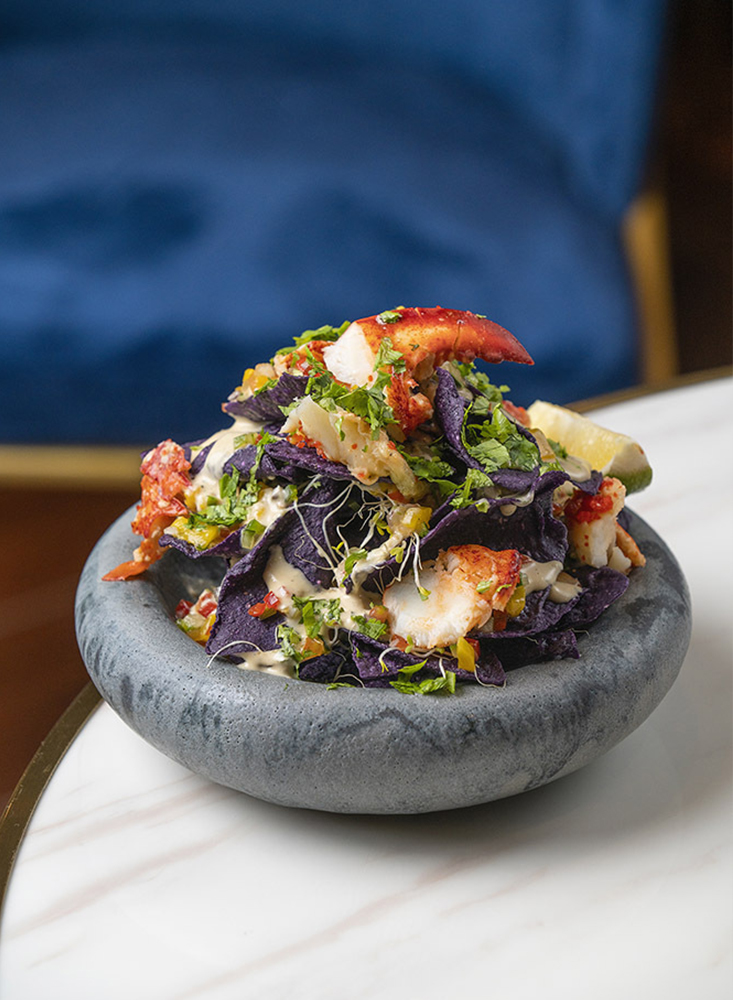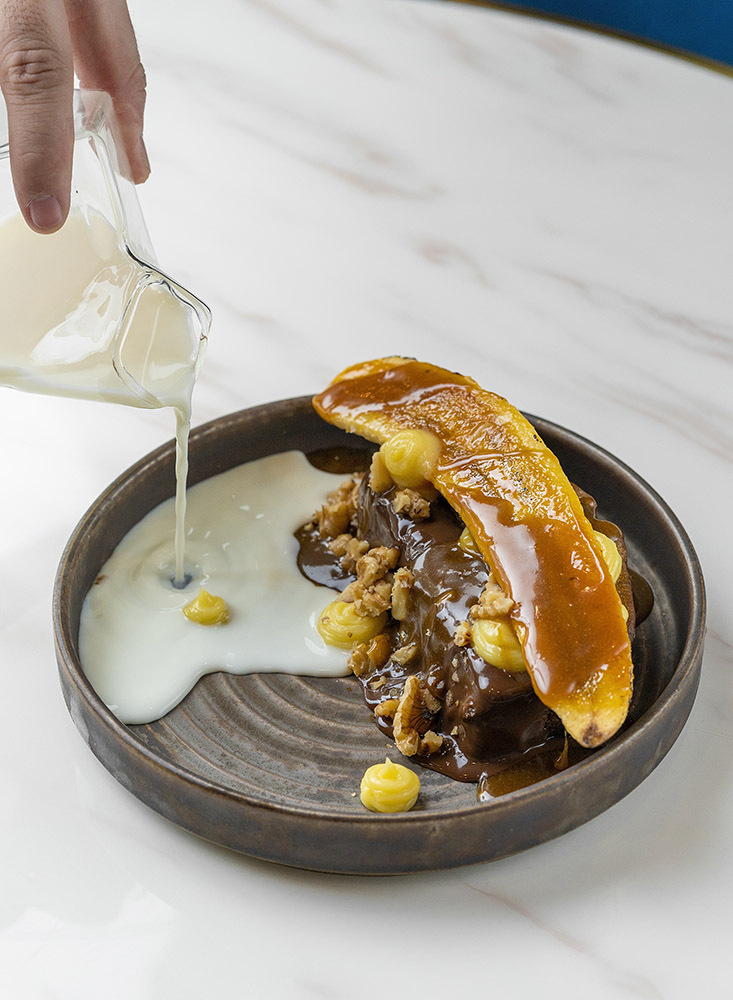 Take the Fried Chicken and Mash, for example. It's a dish we're all familiar with, but this one's fried under a brick and seasoned with piri piri and chimichurri. He also serves nachos, only this time topped with lobster. There's US sirloin "daing," butterflied open, salted, and dried, served with bone marrow and paired with Wagyu rice—a recipe taken from Zaguirre's own in-laws.
Ovo, which is Latin for egg, stays true to its name. There's a handful of egg-based dishes to choose from like the Foie Devilled Eggs, Ovo Florentine (poached eggs with beet-cured salmon), and the classic eggs Benedict. The watermelon, feta, and kale salad is steeped in complementary flavors while the Milkfish Caesar is his version of a Caesar salad using a smoked milkfish belly.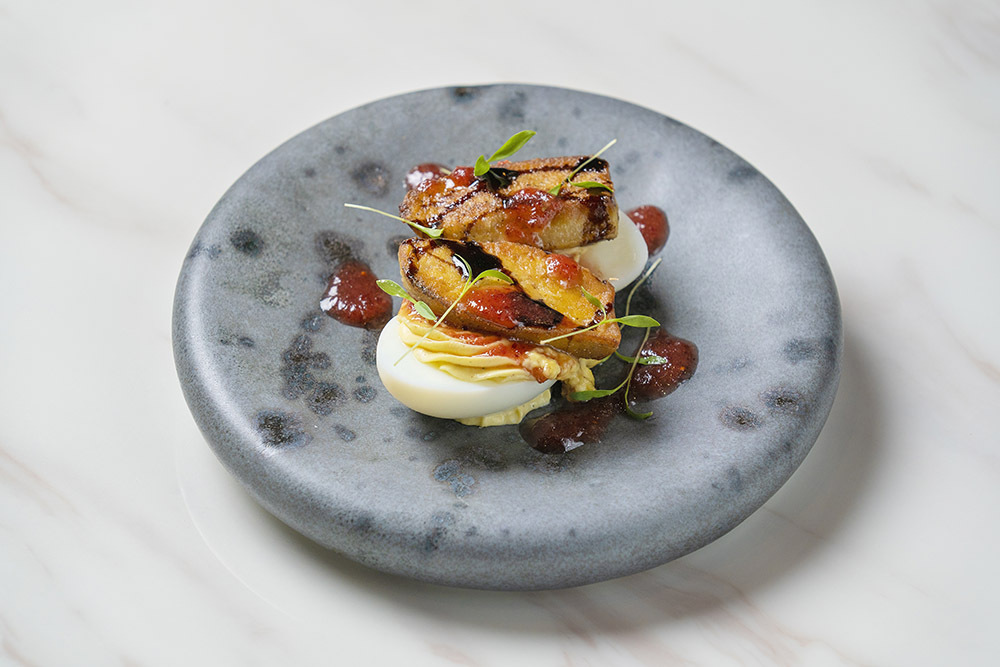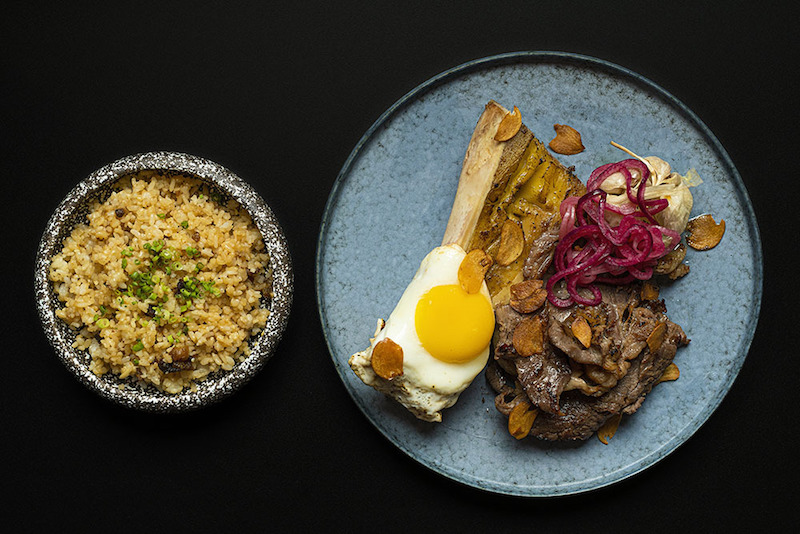 At the heart of Ovo, however, is Zaguirre's pleasing consistency and deft signature of prioritizing a focused Filipino experience. "The menu is Pinoy by heart," he says, pertaining to the unflinching flavors he has played with throughout his career.
But when night comes, the cocktails become the star of the show. Zaguirre worked with mixologist Aliuss Abrazado to develop a complementary beverage mix. Taking inspiration from breakfast food, they both created the Bacon Whisky Sour, which achieves the smokey flavor of bacon in a citrusy drink, and the Butter Irish Coffee, which tastes just like regular coffee at first but is actually strong on the alcohol.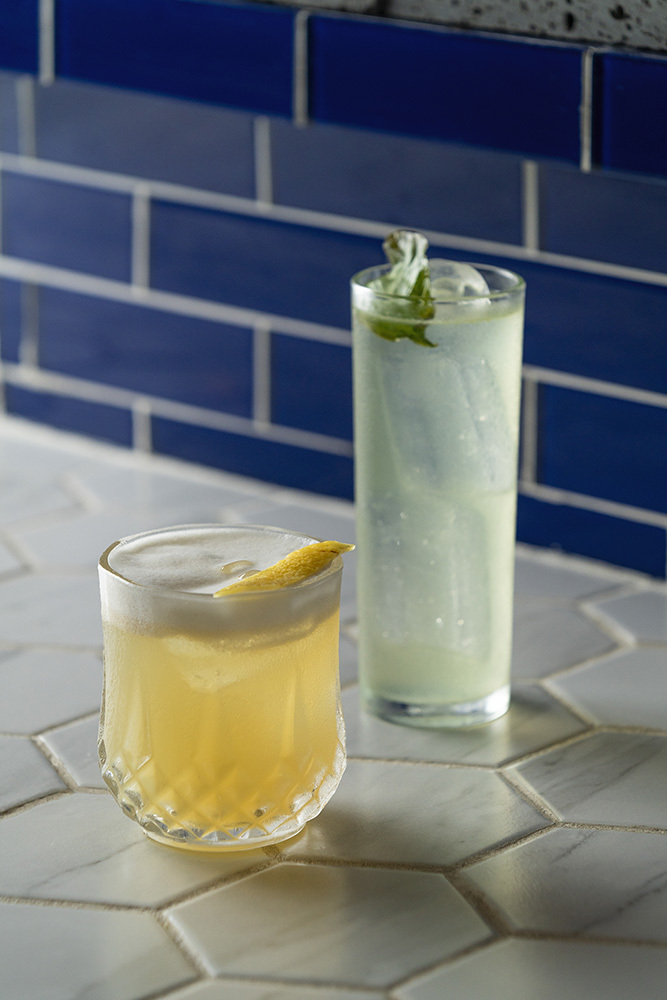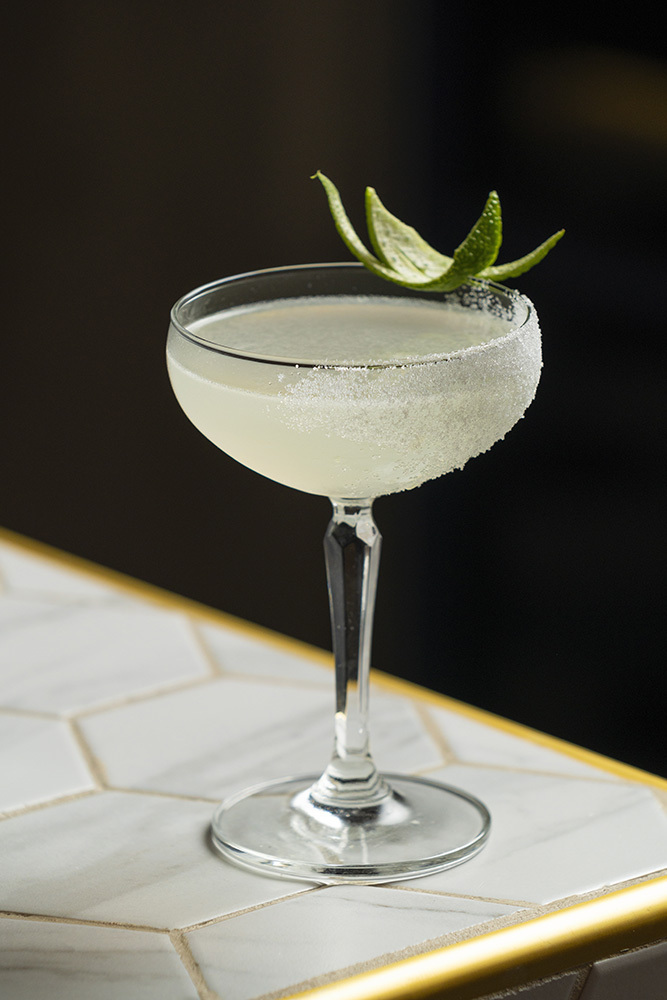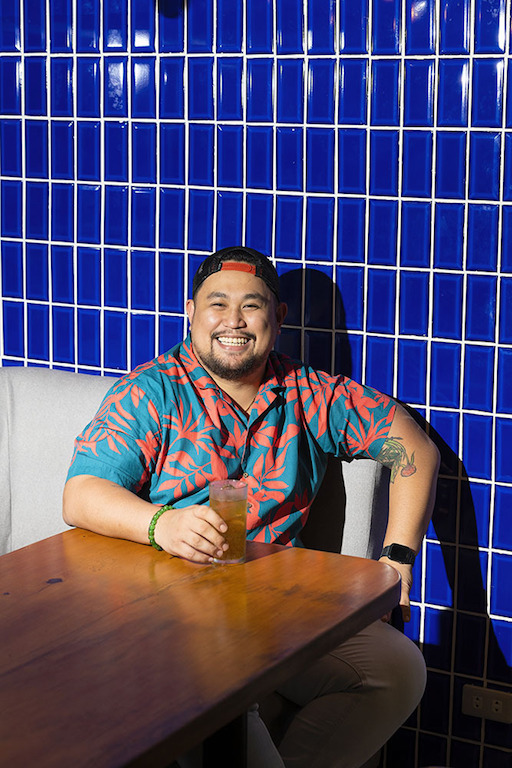 What Zaguirre and his team have done is to pay homage to the life and essence of Poblacion. The restaurant encapsulates the different moments you'll experience in Poblacion—the family dinners, the Sunday lunches, the late-night drinking sessions, and the morning-after cravings.
Other than the deliciously creative dishes and homey atmosphere, it reminds us that food is an experience, one shared over memorable conversations and lively stories. And what's best is that at the end of your day, they're ready to start it all over again.
Get more stories like this by subscribing to our weekly newsletter here.
Read more:
Mijo Comfort Food serves every dish with a tinge of nostalgia
At Japanese restaurant The Kushi Bar, rum is a key ingredient
Rebolucion by Chef Laudico: Poblacion's new buffet brings out the best in Filipino cuisine
Writer: THEA TORRES
PHOTOGRAPHY RG MEDESTOMAS