When your job involves eating a lot of food, you end up being everyone's go-to-person for restaurant recommendations. And with healthy eating steadily continuing to rise, we've been fielding more questions than ever about healthy food in Manila. 
To save everyone time, I've decided to ask the team what their favorite healthy dishes are, and where to get it.
A necessary disclaimer: "Healthy" is tricky to define. It's not measured by whether a dish contains less calories or not (in fact, defining health through low calories encourages calorie counting, which is often harmful), or if it contains meat (The New York Times includes a roast chicken recipe on their healthy recipes list). For what it's worth, I'd define healthy food as clean, nutritious, and packed with protein.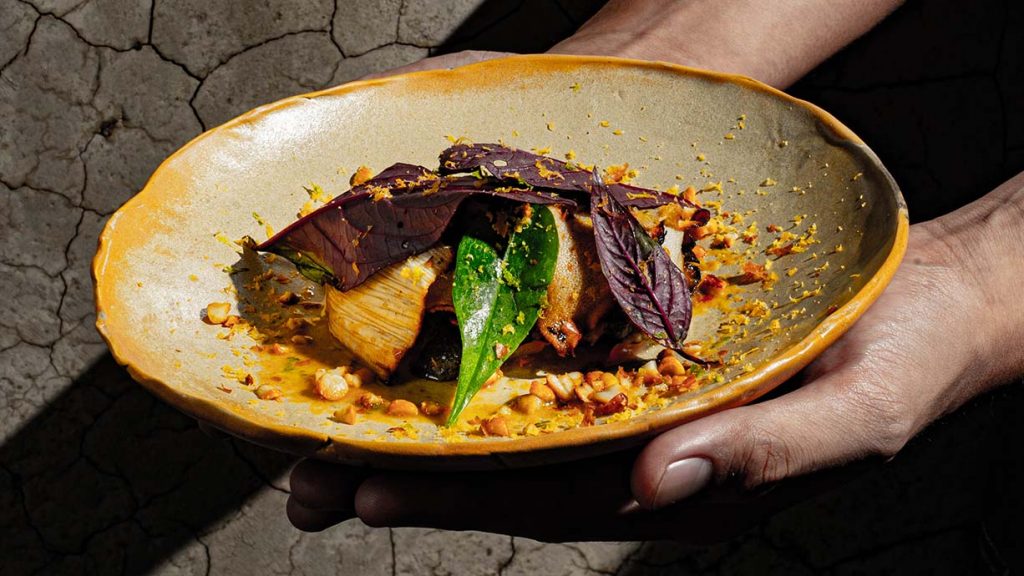 "I love eggplants except maybe when they're used in soups or when they turn soggy. The best one I've had was from Metiz, a restaurant at Karrivin Plaza. Part of its five-course tasting menu is a grilled eggplant with ubod (heart of palm), pomelo, peanuts, and pickles doused in coconut vinegar dressing, a clean-tasting and crisp appetizer. I will also vouch for its healthiness because chef Stephan Duhesme mostly uses in-season ingredients and the condiments he pairs it with are made and fermented in-house," Christian San Jose, content creator
Hummus Elijah's falafel sandwich
"I would say Hummus Elijah's falafel sandwich in which 'meaty' chickpea balls and salad are enclosed in a puffy pocket of pita (or a laffa flatbread if you wish). Top it with tahini and you're good to go. Sure you can get healthier options out there (falafels are still fried after all) but it's a nice first step towards appreciating wholesome choices versus more convenient fast food fare," Eric Nicole Salta, editorial manager
Peppy Olive's braised perky pork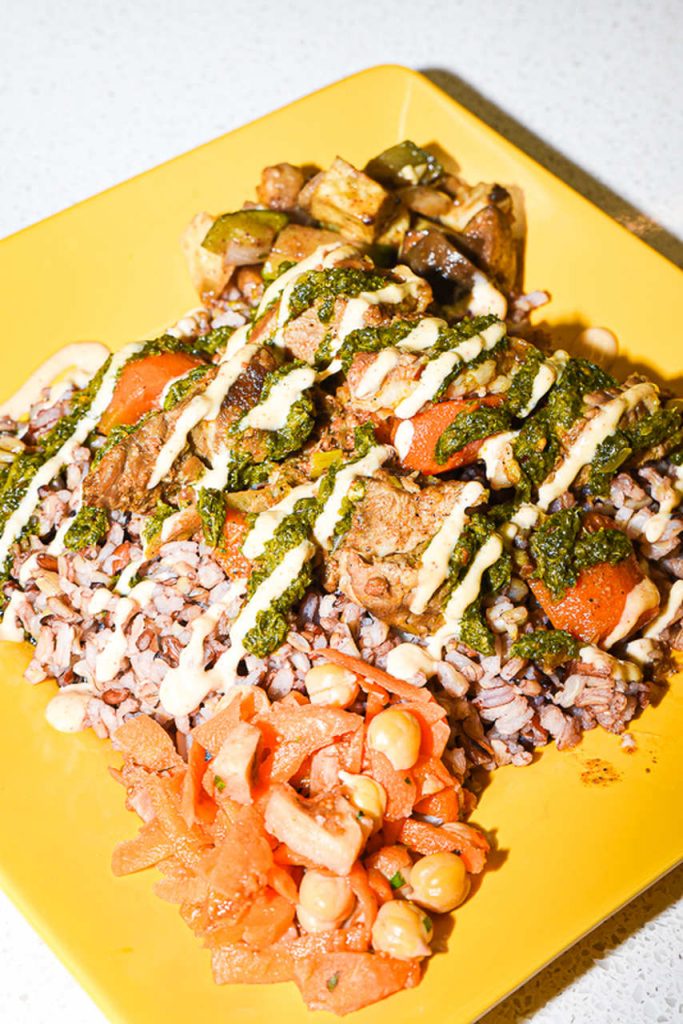 "The braised perky pork from Peppy Olive has a little bit of everything: You get vitamins and fiber from the vegetables and chickpea salad, and you get protein from the pork. It's a very flavorful dish, and the meal itself is pretty affordable," Angela Suacillo, junior content creator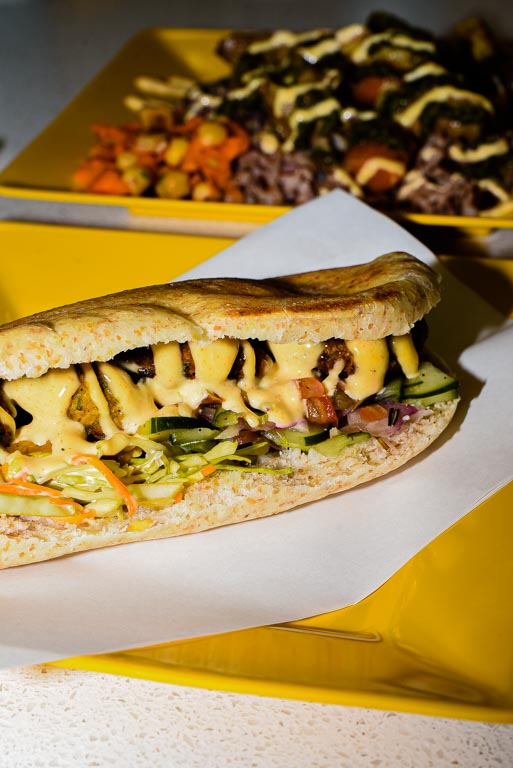 "Peppy Olive's falafel with pita bread, which is called falalala-fel! I like it because it's so easy to grab (especially when you're in Glorietta) and pretty affordable considering how good it tastes. Great if you're looking for a quick healthy bite that isn't fast food or anything," Clarisse Alfonso, junior designer
Crying Tiger's som tam

"Spicy Thai papaya salad with peanuts and salted egg… It's probably healthy eaten on its own, but I almost never eat this without fried rice and salty tofu skewers and beer. The acidity of the dressing and the crunchiness of the papaya can cut through all the fat and alcohol, so at the very least I'm certain that it can do one thing most healthy food can, which is to counter the sad, lingering aftertaste you get from unhealthy—by which I mean, oily—food," Catherine Orda, copy editor 
Swagat Indian Cuisine's baingan bharta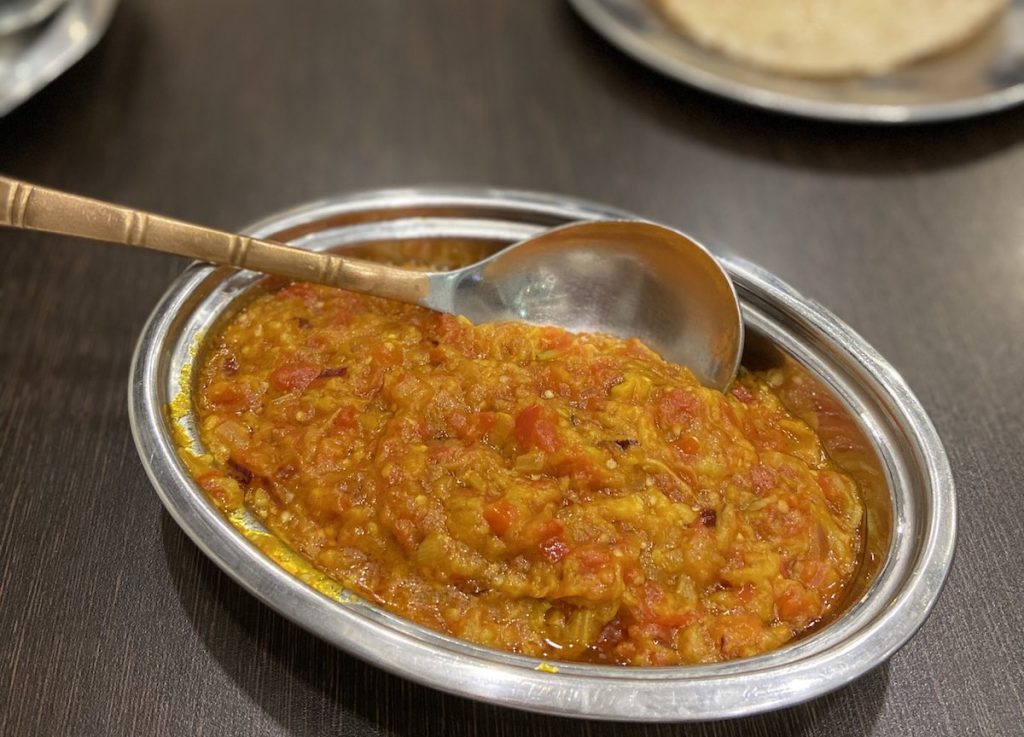 "Second eggplant on this list! Baingan bharta is a Punjabi dish with minced eggplant (baingan means eggplant while bharta means mashed), which makes it similar to baba ganoush, except the former is cooked with onions and tomatoes. Swagat's version is flavored with ginger and goes well with jasmine rice or buttered roti. If you're feeling spicy, tell the waiter to up the spice level to the max," Zofiya Acosta, content creator
Ono Poke PH's miso salmon bowl 
"I love poke bowls because it's perfect for people who are on-the-go. They're healthy and have many flavors and textures that make them a treat to eat. Ono Poke is one of my go-to places in Makati since it's accessible. The Miso Salmon Bowl, my personal favorite, has salmon, nori, sesame seeds, and green onion; I use cabbage as the base so that it's extra healthy," Thets Torres, junior content creator
Get more stories like these by subscribing to our newsletter here.
Read more:
10 of the best tacos in Metro Manila
10 of the best fried chickens and where to get it in Metro Manila