The 7 most romantic restaurants to celebrate Valentine's Day
Because Valentine's Day calls for a date that makes you feel like you're in a movie
Feb 13, 2020
It's that time of the year again when hopeless romantics are extra giddy over random acts of love and couples surprise each other. When single friends prepare for a self-love dinner or a wild night with the barkada, and even the brokenhearted ones are finding new ways to love. Yes, Valentine's Day is just a few days away and love, any kind of love, is in the air.
Whether you're in a relationship or not, Valentines is the perfect day to make the people we love feel special, so don't be the negative nelly that skimps out on the festivities. To help you find where to celebrate, we've rounded up the best restaurants in Luzon where you can spend Valentines at. In the words of Charlie from "The Perks of Being a Wallflower," "We accept the love we think we deserve," so when someone invites you to any of these restaurants (even if the invite's from yourself!), go ahead and accept the offer.
The Nest Dining in The Sky
5102 Bridgeway Ave, Filinvest City, Muntinlupa
Found on the 31st floor of Vivere Hotel in Alabang, The Nest is a restaurant that is sure to set up the romantic mood for the night. It's broadly divided into different spaces, like the bar, in-room dining area, function rooms and the al fresco that will give you a majestic view of the Alabang skyline. The food is a mix of international cuisines in order to accommodate both locals and foreigners. Have a go at the crispy catfish salad or the sizzling beef salpicao, and finish sweetly with a molten lava cake. If you've been saving up for a memorable Valentine celebration, this spot is an experience you won't forget.
Pinot
The Spa Building, Lane P, Bonifacio High Street, Bonifacio Global City 
At Pinot, fine dining doesn't have to be all posh where you're expected to have royal etiquette. Rather, the restaurant boasts a laid-back atmosphere that makes it feel more like home despite luxurious servings of modern European cuisine. For Valentines, treat your significant other by availing of its prix fixe (fixed price) options of a two- to four-course meal, or give yourself some self-love with the classic whole roasted dishes. Either way, you'll be satisfying your appetite European delights like the oyster and caviar, roasted maple leaf duck, and tuna crudo salad.
Blackbird
Nielson Tower, Ayala Triangle, Makati City
If you're a couple (or self-loving individual!) who lives in the heart of the city, then Blackbird is your oasis in the middle of the concrete jungle. The restaurant used to be the passenger station of the first Manila International Airport, and with its structure still in tact, the ambience is riddled with interesting bits of history. Its cuisine also makes you feel like you're traveling overseas as well. 
The restaurant has two menus, Day and Night, so whether you're on a casual morning stroll or having an intimate dinner date, Blackbird's dishes like the twice cooked beef short rib and Wagyu hanger steak, will make you feel like you've got butterflies in your stomach, both from the flavors and your date.
1950 Restaurant
12 Castillas, Quezon City, Metro Manila
A quiet restaurant tucked in the busy streets of Quezon City, 1950 Restaurant guarantees a dining experience reminiscent of a traditional family lunch. If you're planning to take your family out on V-Day, this is where you should be. This Valentines, they're offering an eight-course meal promo, starting off with foie gras brulee, tuna taco, bone marrow bruschetta, and a choice between buratta or lobster bisque. The main dishes include a ribeye steak, and the aburi sablefish or beef cheek bourguignon, and a molten chocolate lava cake or elderflower cheese puff for a sweet finish.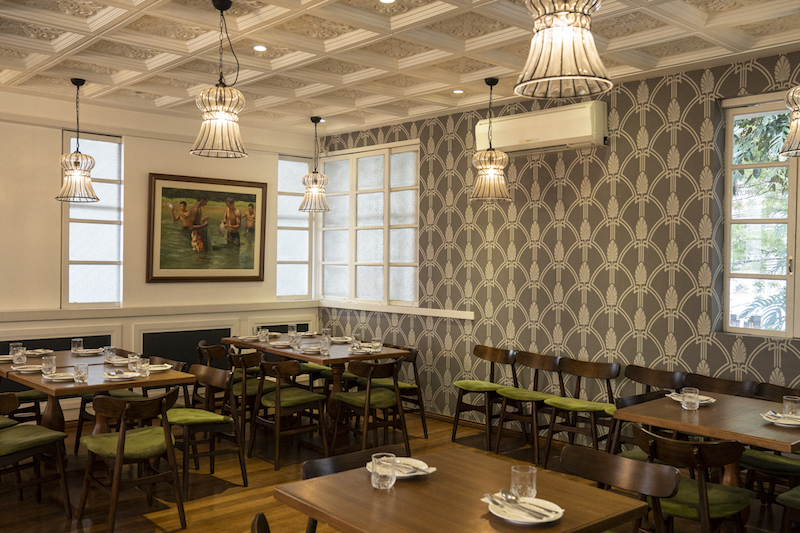 19 East Bar and Grill
Km. 19 E Service Rd, Sucat, Muntinlupa, Metro Manila
For the young and young-at-heart looking for a rush of adrenaline for Valentines, 19 East Bar and Grill is a casual restaurant with a bar where you can enjoy good food and good music. The outdoor garden gives it a calm and serene ambience at first, but the place is actually fiery with energy and makes for a memorable night. Enjoy the wide selection of Filipino classics paired with live music and beer or wine.
Pic by Jeremy Caisip Photography- Facebook: http://facebook.com/JeremyGigsATBP, Instagram: http://instagram.com/JeremyGigsATBP

Posted by 19 East on Monday, November 26, 2018
Antonio's
Purok 138, Barangay Neogan, Tagaytay City
If you're looking to get away from the city, Tagaytay is an easy destination to get to. Antonio's, considered as one of the best restaurants in the country, offers a wide range of Filipino and European dishes inside its elegant and homey atmosphere. On Feb. 14, they'll be celebrating a night of music and love with jazz music in its signature romantic setting at the Lanai Lounge. But make sure to call for reservations!
Foggy Mountain Cookhouse
San Carlos Heights, Baguio, Benguet
For a full-on adventure that will send you and your date to greater heights, Foggy Mountain Cookhouse is a private dining restaurant that overlooks the majestic view of Baguio's natural scenery. The dishes are inspired by Mediterranean cuisine with savory meats that fall off the bone like the Greek peasant lamb and tasty, healthy dishes like the vinaigrette salad. You'll have to reserve at least a day ahead, and pre-order your preferred dishes specialized just for you, – perfect for an incomparable Valentine's Day. Now that temperatures have dipped more than usual, a trip to Baguio would make for the perfect cuddle session or simply a peaceful date on top of the mountains, sipping Foggy Mountain's hot chocolate after a hearty meal.
Header photo courtesy of Antonio's
Get more stories like this by subscribing to our weekly newsletter here.
Read more:
Vintage Valentine: 10 Instagram stores for vintage jewelry and watches
Why spending Valentine's with friends is just as good, if not better
7 chocolate shops you can splurge on this Valentine's Day
TAGS: antonio's blackbird restaurants romantic Valentines Valentines Day