Look: Casa Buenas, a bahay-na-bato-inspired restaurant in Pasay
Casa Buenas is a Spanish-Filipino concept by chef Godfrey Laforteza
Feb 28, 2020
The bahay na bato is a uniquely Filipino design. Its influences reflect Philippine history: capiz shell windows, wooden balustrades and open floor plans are some characteristics that meld Spanish, Filipino and Chinese architectural traits.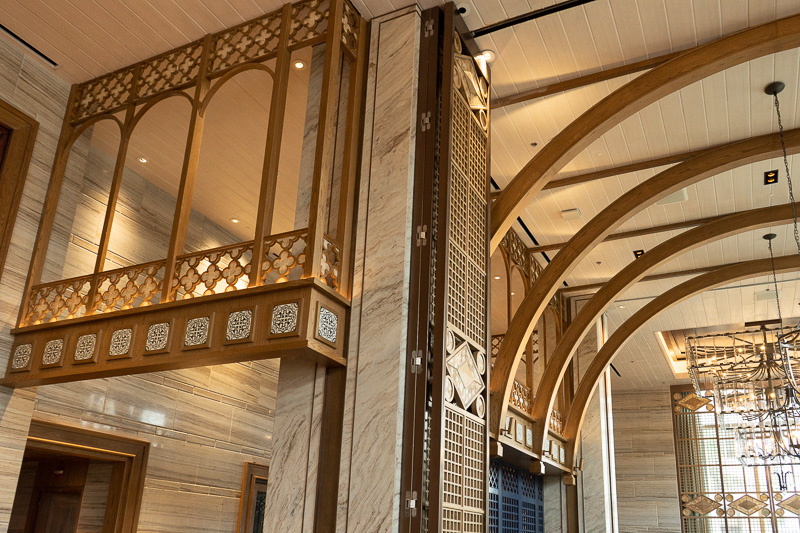 Casa Buenas, a new Spanish-Filipino restaurant at Hotel Okura in Resorts World Manila, pays tribute to that edifice. Its name literally translates to "good life," the restaurant's interiors are a "modern impression of bahay na bato." It has all the signature fixtures: capiz shells on the wooden lattice window dividers, solihiya furniture and hand-carved hardwood floors with Machuca tiles.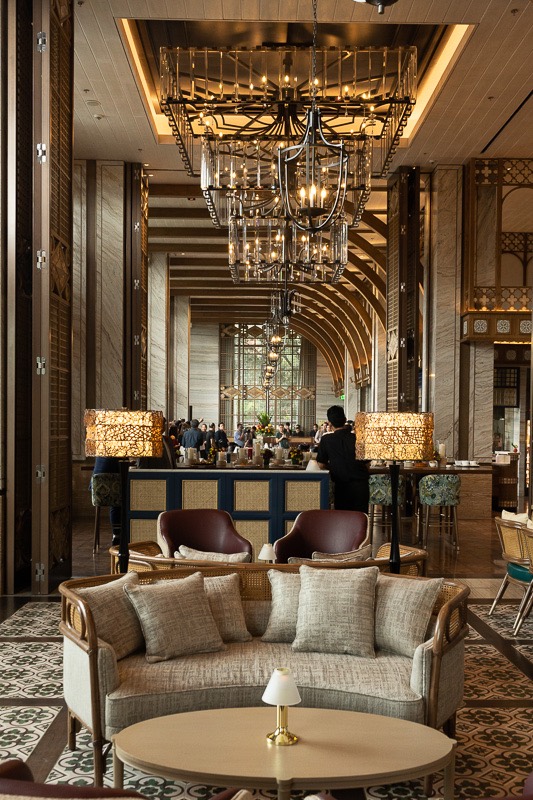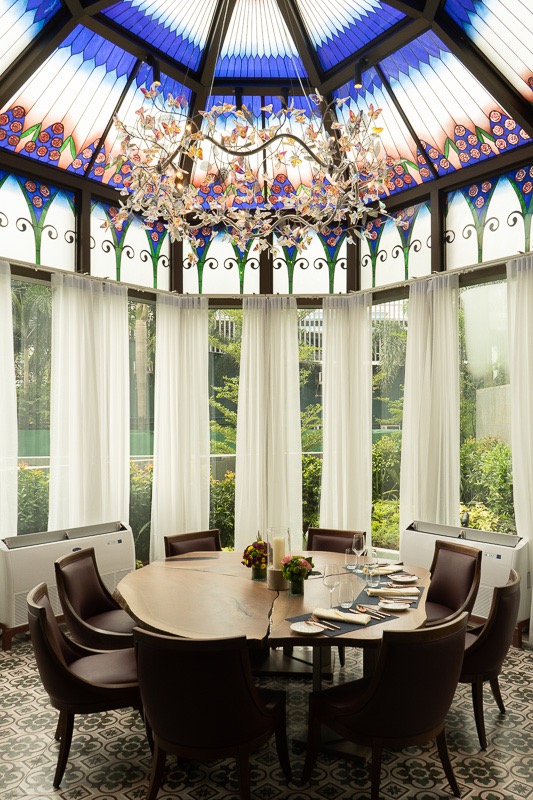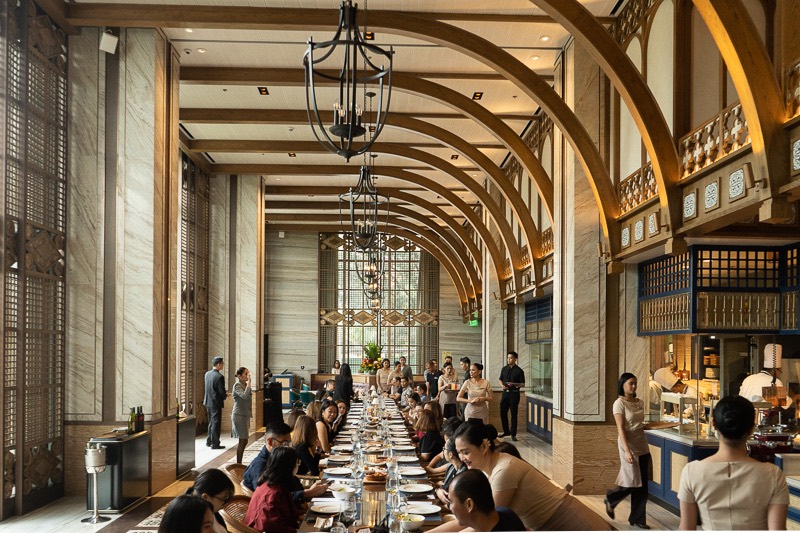 The first area you visit upon entering is, fittingly enough, the sala, a little waiting lounge with rattan seats, that sets the tone for the remaining five sections: There's the tapas bar where you can order appetizers like cheese and charcuterie; aguador where you can order drinks; comedor, the dining area; pamilya, a long table for a large group; and la cupula, the private room. The latter is patterned after a conservatory, with glass windows overlooking a garden and a stained-glass roof with floral panels.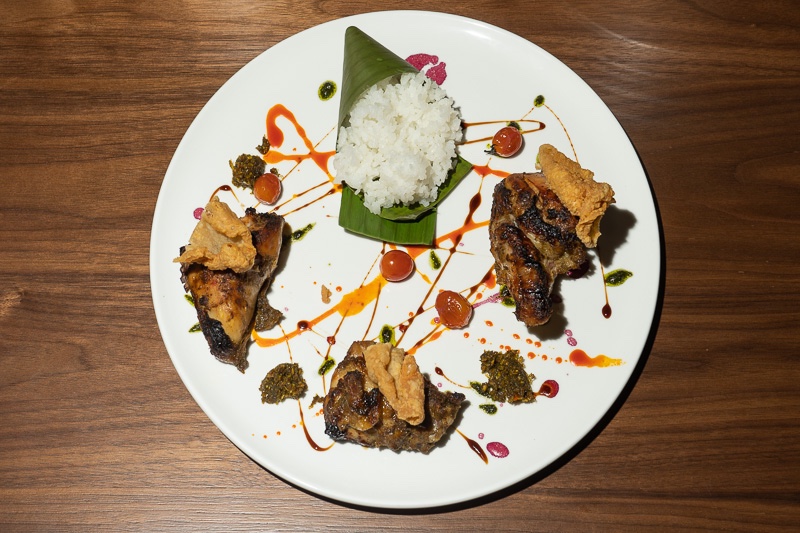 The restaurant also borrows from elements around the Philippines. The sinulog-roasted lechon manok is emblematic of this. Inspired by the Cebuano festival, the roasted chicken dish uses lechon stuffing.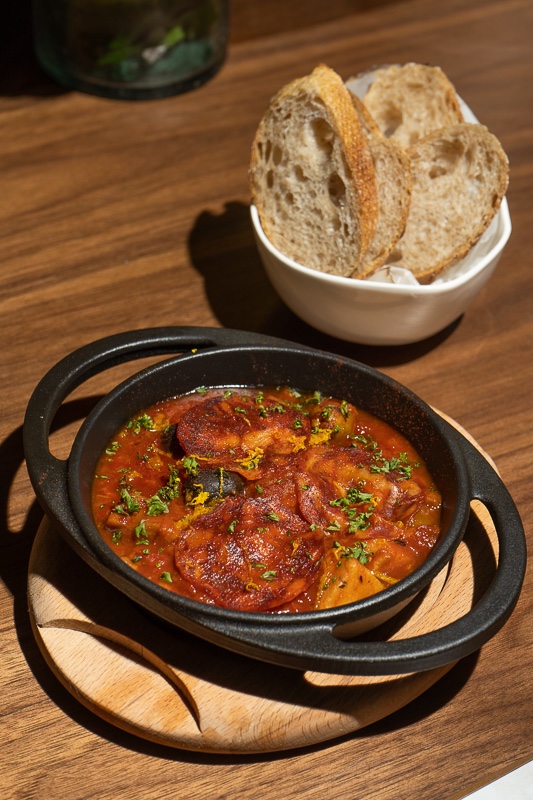 There's a homeyness, a domesticity to the restaurant, and not just from the interiors: many of the dishes here are family recipes. The Callos De Monserrat, a fox tripe stew, is a recipe from executive chef Godfrey Laforteza's mother-in-law, while the garlic noodles with crab meat is a rich noodle recipe developed by his wife.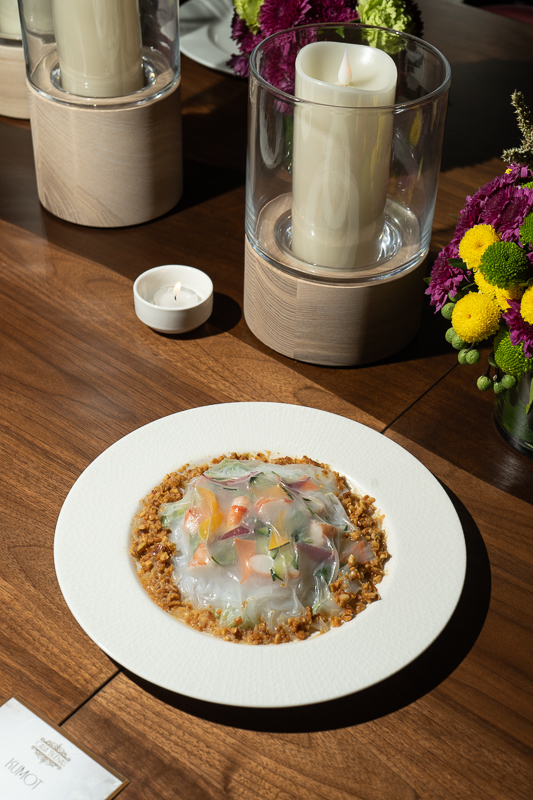 Even the dishes that aren't connected to the chef's family carries a sense of familial ties. The kumot, for example, is a version of Vietnamese spring rolls with Laforteza's favorite ingredients (vermicelli noodles, shrimp, lime sauce, peanuts) swathed with rice paper, almost like, well, a blanket. The chef calls it his love plate. "Parang kinumot [ang ingredients]," explains Mae Bernardo, a representative of RWM. 
The feeling that chef Laforteza conveys with the restaurant is that very same atmosphere of visiting your abuelita at the ancestral home on a Sunday, Bernardo explains. It's an incredibly specific image, but even as someone who can't quite relate to it, I can see it. 
Get more stories like this by subscribing to our weekly newsletter here.
Read more:
Cangrejos Locos wants to change the way you see and eat Spanish food
Get to know the fun side of Spanish cuisine at Hola Bombòn
This Spanish restaurant's version of beef katsu has jamón ibérico and blue cheese inside
TAGS: casa buenas nolisoli.ph Resorts World Manila Spanish-Filipino cuisine