AI could be in the future of Philippine cinema
But movie-going culture has to change, too
Feb 22, 2020
A hundred years in and Philippine cinema has surely evolved. 
Just a few months ago, I saw the first few episodes of a docu-series on our film industry called "Habambuhay" produced by TBA Studios. In it, industry legends spoke, recounted their experiences in the early days of their careers and shared their observations and insights gained over the decades, giving viewers a glimpse into just how much had already changed in the state of our film industry—from genres to approaches to films and even to how actors are discovered and trained.
Moving into a new decade (and perhaps even a new era) of films, there remains a lot to ponder. There's a bit of hopefulness considering the waves Asian cinema is making across the globe (look at South Korea's "Parasite"), but for local filmmakers, there's still a lot of work for us to put in before we get to the level of our neighbors.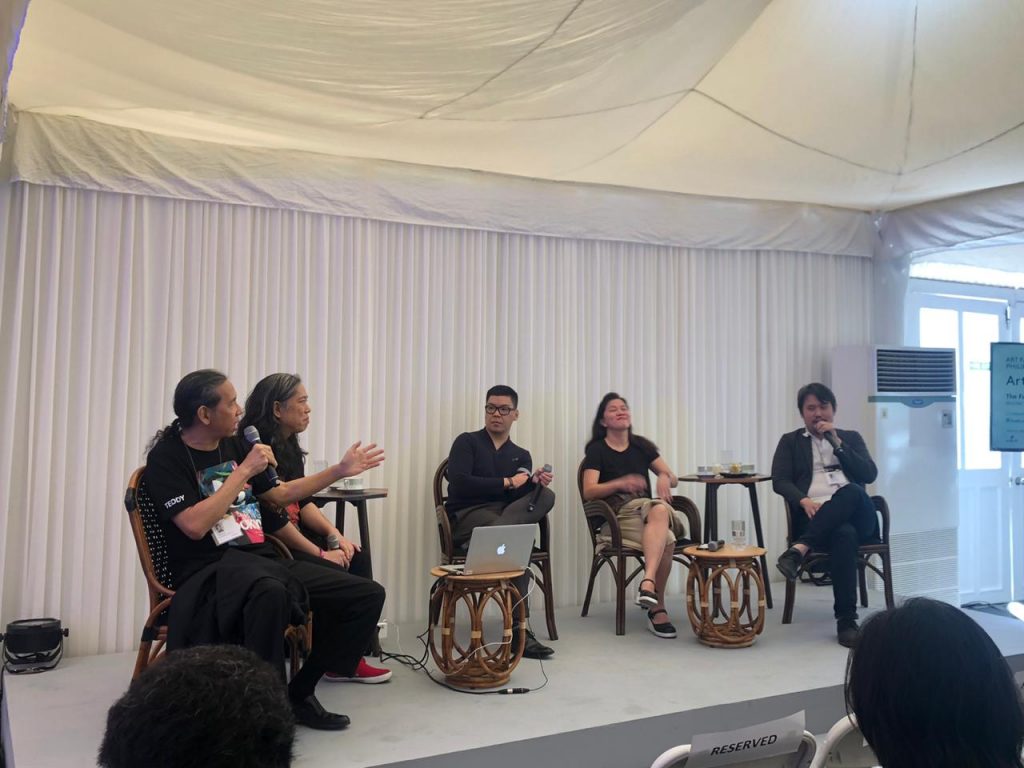 In a recent talk at this year's Art Fair Philippines, renowned filmmakers Monster Jimenez (writer, director, producer whose works include "Apocalypse Child" and "Respeto") and Moira Lang (writer-producer whose filmography includes "Zombadings," "Ang Pagdadalaga ni Maximo Oliveros," "Norte, Hangganan ng Kasaysayan" and "Patay na si Hesus"), along with National Commission on Culture and the Arts (NCCA) commissioner Teddy Co, film critic Philbert Dy and entrepreneur and Dataschool CEO Carlo Almendral discussed the future of our film industry.
Jimenez kicked off the talk sharing an interesting sentiment: that "there's a glut" in the industry right now, where although we do have a lot of film festivals, there isn't enough dialogue between industry stakeholders, from film producers to the government and its agencies who also have a hand in sponsoring or commissioning these film festivals.
Lang seconds this, saying this makes the film industry unsustainable. While film festivals "spur production," there is still much to be desired when it comes to promoting the wider distribution of these films and in ensuring that economically these films perform, too. 
This all points to a problem with the culture surrounding the industry.
For one, Lang points out that while festivals do help in promoting more films to be produced, it doesn't give ample time, as festival submissions are usually only given several months to complete their films. Not all stories can afford such a fast-tracked production. 
The future of cinema isn't in the cinema anymore
The current behavior of theater managers is also a factor in the unsustainability of the industry. Jimenez recounts how although several local (independent) films have shown success in the box office during their runs, theater managers tend to favor "sure" blockbuster hits (even if numbers would prove that the independent films have been performing better at a given week).
For both filmmakers, there is a need for theater managers to look beyond the established ideas of "what already works" (in terms of sales). 
The panel also agreed that because of this, the future of cinema may include the growth of various new ways of film distribution. With the rise of microcinemas and on-demand streaming services, they foresee that many filmmakers will continue to explore the trend of self-distribution for their films.
[READ: 6 independent movie theaters where you can catch your favorite local films]
Technology making production cheaper
With the continuous developments in AI, Almendral demonstrated how film production could be made cheaper and easier through technology. AI is now able to create "people" using image data, pulling elements from numerous photographs and melding them together. This is already seen in the film industry abroad—Carrie Fisher's CGI-recreated image in the recent "Star Wars" films is a popular example. On Twitter, "deepfakes" where characters of old films are "recreated" using faces of more current actors are also becoming popular (a viral recreation of "Back to the Future" featuring Tom Holland and Robert Downey Jr. is an example).
But aside from this, AI technology now also allows for colorizing of black and white films, and for adjusting film frame rates (for example, 15fps to 60fps seamlessly), which can spell advancements especially for film restoration.
There is also technology that can help make post-production work easier especially for editors, as AI can help remove unnecessary elements in frames much more instantaneously. 
Through AI, Almendral shares, technology can make production cheaper because it will fill in gaps made by the lack of equipment, which many filmmakers experience.
An interesting use for this technology, Lang notes, would be in producing period films, which is usually the most expensive genre to make. 
A movement towards the self
Our film industry is also taking another noteworthy direction: regional cinema. NCCA commissioner Teddy Co notes that for the past 15 to 20 years, our film diet has evolved from being Manila-centric to one that's more regional. Festivals like Cinema Rehiyon, and different regions' own film festivals, have spurred production of films from and about the rest of the country.
Lang agrees, noting that Filipinos are more receptive to watching films with subtitles. She cites her film "Patay na si Hesus," which uses both Bisaya and Tagalog dialogue, but leans more heavily on Bisaya.
This movement towards the regions also begs that filmmakers challenge the existing notions and impressions of how films should be made. Lang and Jimenez both agree that filmmakers and producers have a responsibility, now more than ever, to tell compelling stories that need to be shown (not just because it's a formula that works, or it's "what people want to see").
Cinema needs to be more personal again, Lang notes. 
Header photo by Julien Andrieux on Unsplash
Get more stories like this by subscribing to our weekly newsletter here.
Read more:
Overheard at Art Fair 2020: "I want to either go home or get drunk here"
Art Fair 2020's most exciting newcomers aren't foreign galleries but Visayas-based art collectives
TAGS: AI art fair philippines 2020 Carlo Almendral moira lang monster jimenez National Commission on Culture and the Arts philbert dy philippine cinema Teddy Co