Oori at Sheraton Manila serves sisig bibimbap and a premium grill menu—sans the smoke
Helmed by chef Kibum Park, Sheraton Manila's multi-concept Korean restaurant makes up half of the hotel's fourth floor and can hold a crowd of 156 individuals, fully lending itself as an all-around place for people who want everything Korean
info
Oori at Sheraton Manila

Korean

12 p.m. – 2:30 p.m. , 6 p.m. – 10:30 p.m.

02 79021800

₱

Bibimbap by Oori: P 500, Korean grill: P 1500
I once saw a meme depicting a timeline of countries that have colonized the Philippines, which humorously ends with South Korea being the current nation taking over us. It was witty because our fascination with the culture is far-reaching. Whether Korean dramas or beauty trends, we've been adapting a lot of "K's" in our routines lately. 
What concretely stands out among all these is the rise of South Korean cuisine and its domino effect across the country. It started with kimchi and was then followed by sweet and savory comfort food in japchae or tteokbokki. But lately, we've been seeing samgyeopsal left and right. 
The latest Korean kid on the block is Sheraton Manila's multi-concept restaurant Oori, which translates to "ours" in Korean, making up half of the hotel's fourth floor and showcasing a comprehensive menu.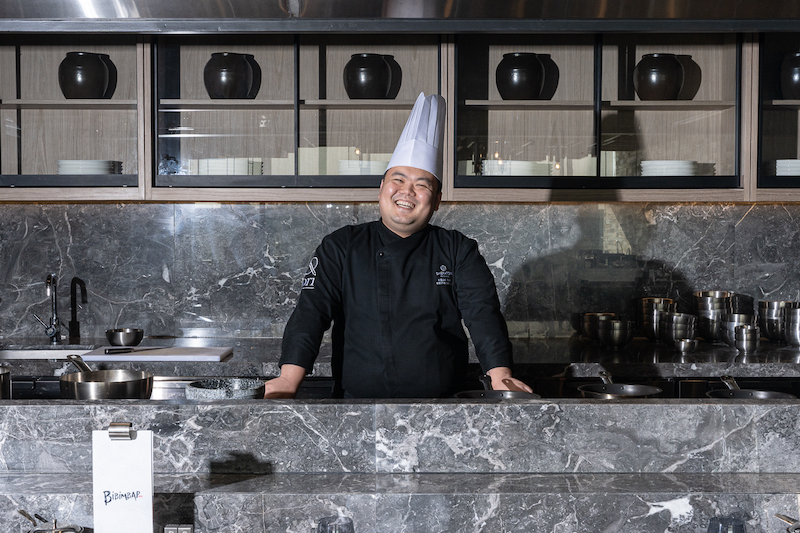 The massive establishment in Sheraton Manila is headed by chef Kibum Park who has managed several Korean hotel restaurants in Cebu such as Imperial Palace and Crimson Hotel. It was also here where he met his Filipina wife whom he married. Now, the executive chef leads Oori's aim of bringing a wide selection of authentic Korean dishes and a first-of-its-kind premium Korean grill concept.
"We knew that we wanted to do a Korean restaurant but the menu only started when chef Kibum arrived because we wanted a special and personal take on it," says marketing manager Hope Velasco. 
Bibimbap, for Casual Fare
The restaurant exudes a sophisticated look with wood interiors and natural light. But in Oori by Bibimbap, the first part of the establishment, you might think that the people running around in oversized black and white T-shirts and bucket hats are fellow guests. 
"This concept is more casual, more street food so more pancakes and light dishes you," Velasco says, adding that the server getup encourages a more laid-back experience.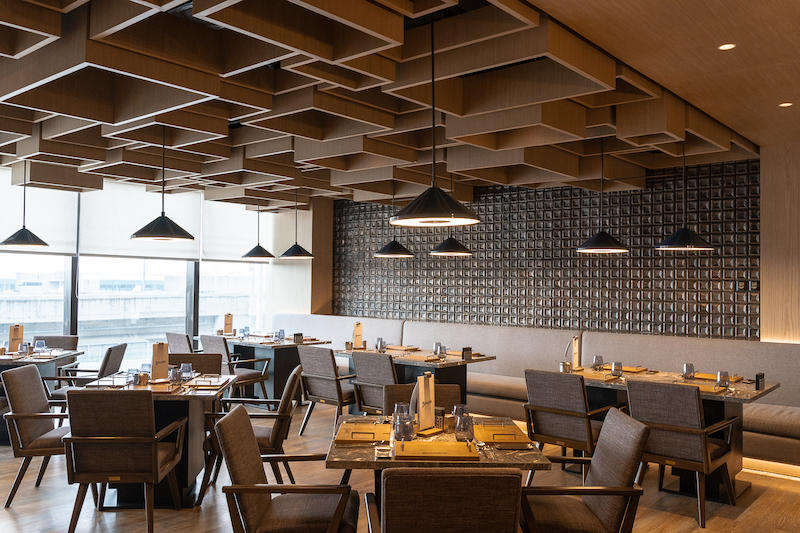 Being the restaurant's namesake, Bibimbap by Oori offers eight kinds of bibimbap: hoe (fresh sashimi), yuk hoe (marinated beef tartare), yachae (vegetables), bulgogi, haemul (spicy marinated seafood), dak (sweet soy marinated chicken) and sisig bibimbap, which is the sole local iteration. 
Contrary to usual servings of bibimbaps, Oori's selections are placed on wooden trays with the vegetables and sauces left on the side to allow you to adjust the flavors and spices to your liking.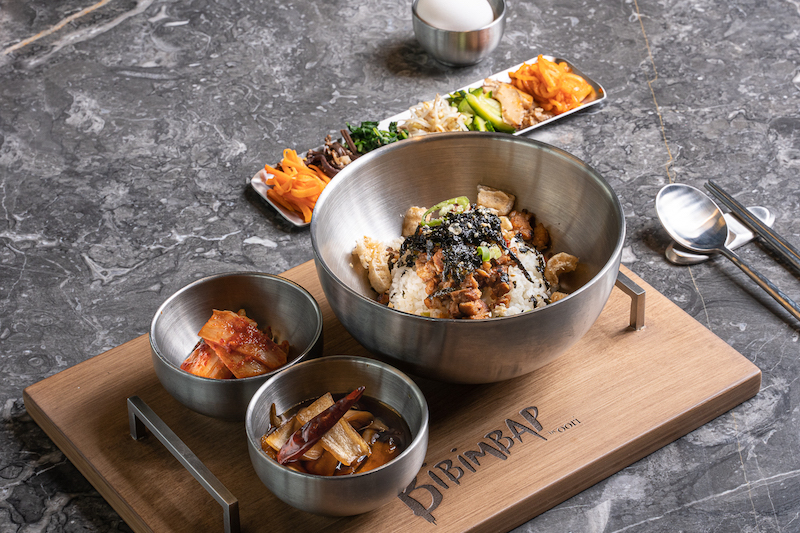 Each order comes with two side dishes. Kimchi is a mainstay but the other depends on what they have from their rotation of 15 other side dishes or banchan such as soy-marinated eggs, fishcake, pickled onions, stir-fried anchovies, spinach with bean paste, seaweed, sauteed mushrooms and sweetened black bean.
The overall quality of Oori's menu is what they are most proud of as the preservation of traditional Korean dishes largely stem from keeping the ingredients as fresh as possible. "All are homemade and all our ingredients come from Korea but the vegetables we buy from the local market," chef Park explains.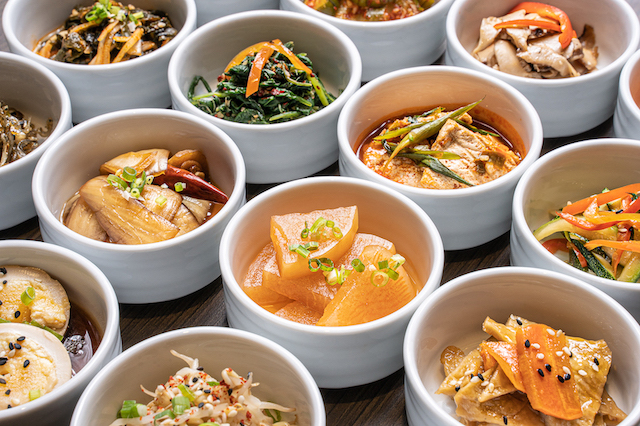 Despite being one of the cheapest items on the menu, the dakgangjeong or Korean-style fried chicken is a bang for the buck. The well-marinated crispy chicken strips carry a rich caramelized barbecue flavor that lingers until the last bite.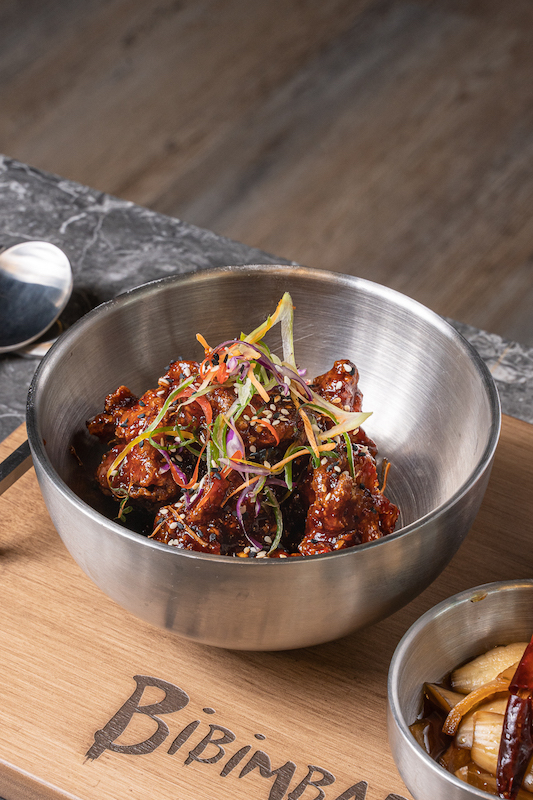 Korean street food staples like tteokbokki (rice and fish cake in sweet and spicy sauce) and panjeon (Korean pancakes mixed with all sorts of ingredients ranging from kimchi to prawn) also grace the menu and become full-blown meals themselves.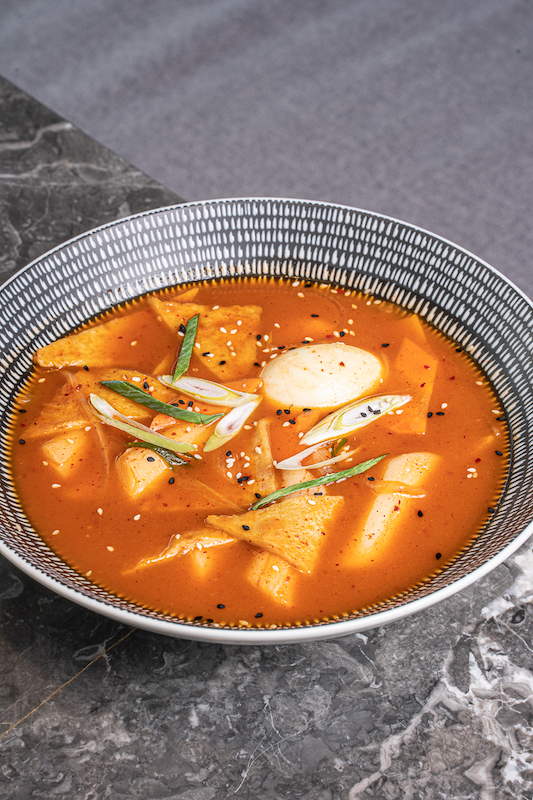 A Sophisticated Korean Grill
The servers on the other side of the establishment meanwhile sport more formal button-downs with aprons, signaling a change in concept.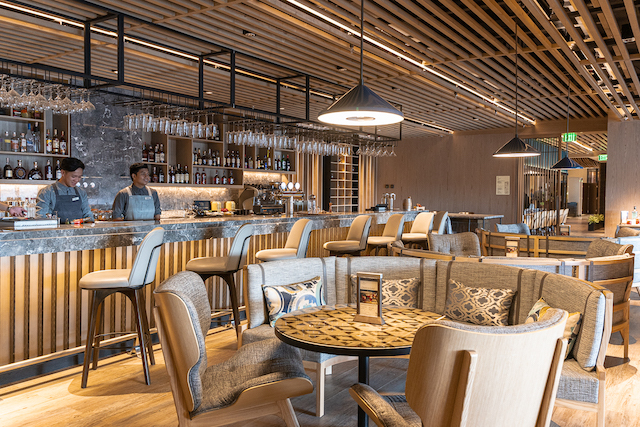 Posh lounges and tables make up this part of the area, which also houses the bar that serves an eclectic mix of coffee and cocktails. Though there's still a great deal of communal tables similar to the other side, the tables now have their own respective grills. 
Going further into the space reveals semi-private and private rooms complete with their own personal grill stations and with a server ready to cook the meat for you.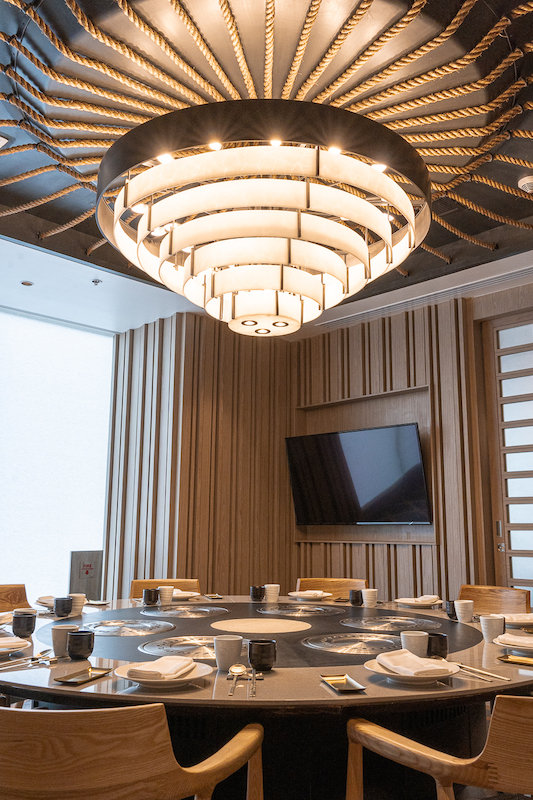 You may notice that there are only overhead lamps or centerpieces but none of the exhaust pipes usually seen hovering above the grill. This is because Oori uses a system of down traffic exhaust fans that prevent smoke from wafting around the room and the scent of meat from sticking to your clothes.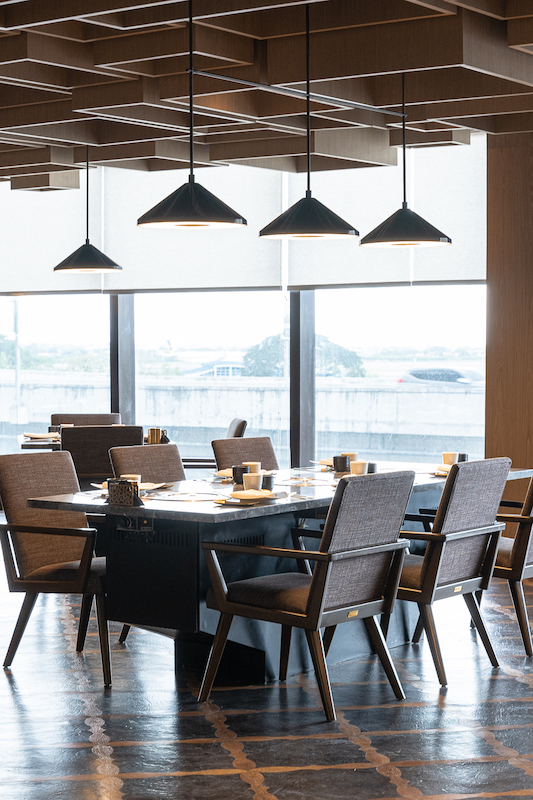 All of this excitingly adds up to the whole experience of feasting on their grilled menu, which features premium selections such as Australian Mulwarra Wagyu, with the highest marble score of 5+ or 9+.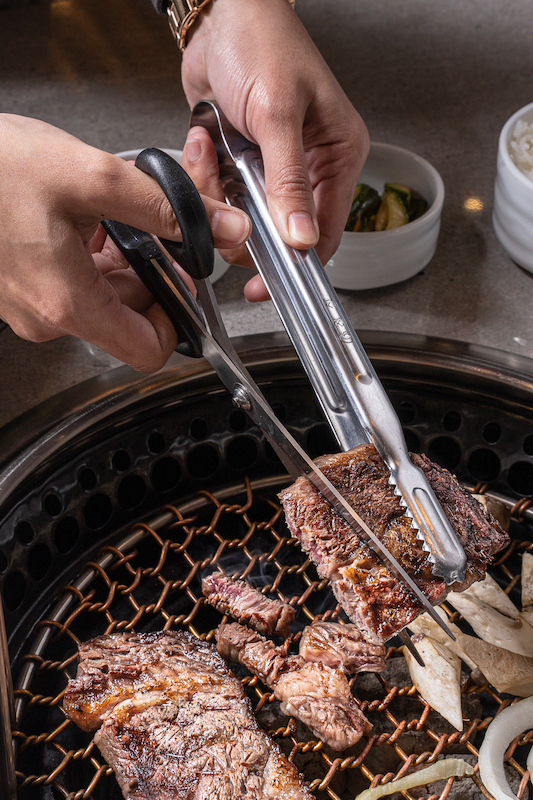 What I didn't know before this was that having this kind of grade in your meat contributes to a softer, silkier and more flavorful dining experience. While I was wary of the placebo effect after learning this, I must say that this kind of grilled Wagyu beef was one of the juiciest meats I've ever tasted. Moreover, I was also witness to its astonishing grill time–it took less than a minute before it was ready to be eaten. 
The Spanish-branded duroc pork, which supposedly has the finest fat marbling and lean meat, took a bit longer to cook but was nonetheless delectable.
The set menus include either beef, pork or a combination of both that are perfect for two to three persons. Though Oori doesn't offer unlimited meat options, each order on their grill menu comes with unlimited servings of five side dishes, assorted vegetables, rice and soup. If it happens to be on the banchan rotation that day, chef Kibum's special meljorim sauce made from anchovies and soy bean paste goes perfectly with their meats.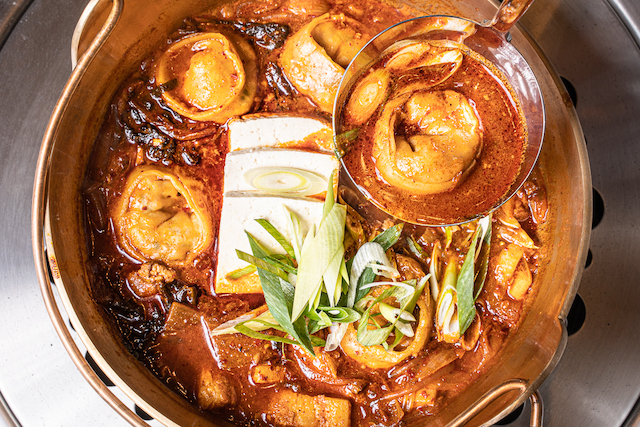 You can also find many Korean signature plates, soups, hot pots and stews on the grill menu. One of these is the mandu jeongol stew, a literal melting pot of pork, kimchi and Korean dumplings that can taste overwhelming at first but not long after I figured that the chunks of tofu were there to balance the flavors out.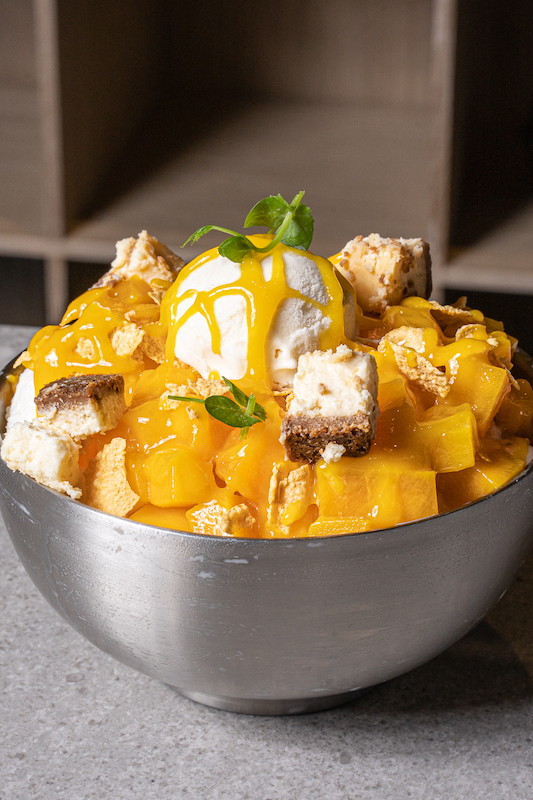 Something that Oori didn't forget is bingsu, which is easily one of the most popular Korean desserts out there. Oori's hefty serving of this inherently creamy dessert (with either mangoes or berries) proves that even after a heavy meal, you can always make room for dessert.
With all of this and probably not even covering half of their menus combined, we can't help but think that no one literally and figuratively has this range when it comes to Korean fare and Oori could very well be a Korean dining district put together on the fourth floor of a hotel. 
Get more stories like this by subscribing to our weekly newsletter here.
Read more:
Washable paper towels, Korean food favorites, and other finds at the first No Brand Korean store in Manila
Have this edible rabbit for dessert at this Chinese restaurant in San Juan
Eat chicken and beer the Korean way at Karrivin's newest joint
TAGS: bibimbap bingsu Dakgangjeong korean barbecue mandu jongol samgyupsal Sisig tteokbokki wagyu beef
WHY GO?
The premium meat options may not be unlimited but their exceptional quality will sweep you in one go
MENU