7 cafes in the North for when you need to get some work done
As opposed to typical workspace cubicles, cafes offer more casual and liberated working experiences.
Mar 2, 2020
Minus the dilemma of not knowing where to leave my laptop when I need to go to the comfort room, if I were to choose an ideal workspace, it would be a cafe. Good food and specialty coffee? Check. A casual and freeing environment as opposed to usual office cubicles? Ticking this off. The feeling that you're the protagonist of an indie film working for something bigger than yourself? An immediate strikethrough. 
And I'm sure I'm not the only one who dreams of having a coffeehouse as their constant workspace. Though with the growing abundance of different hybrids of cafes [Read:10 hybrid cafés for those who want more out of their coffee break], some are evidently more conducive for working than others for a lot of reasons. So, here are some really great ones in the North that's proven to encourage productivity. 
Borne out of its owners' passion for reviving Manila's food scene, this neighborhood cafe's minimalist and predominantly wooden interiors give off a serene atmosphere that's perfect if you're catching up on reading or studying at your own pace. The cafe's menu is also curated with unique local and foreign dishes like ube cheesecake, longganisa pasta and tuyo puttanesca.
Toby's Estate (Ortigas)
It's evident that the Ortigas branch of this Australian coffee brand aims to stand out as a working space compared to other branches around the city. The cafe located on Ruby Road takes up a wider, well-lit space with larger tables for coffee, food and laptops. It even has sockets in every corner for all your electronic needs.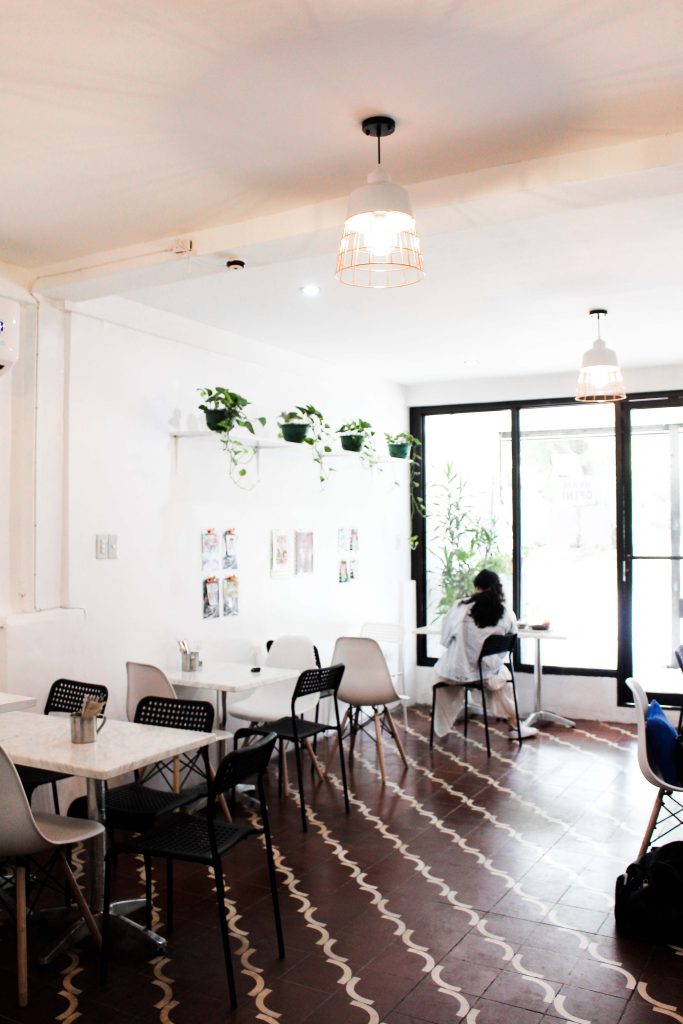 This quaint cafe in Kapitolyo, Pasig will give you more reasons to love Mondays and keep gloomy feelings that come with returning to work at bay. Case in point is its all-day brunch menu inspired by the owners' travels destinations from Saigon to Seoul. Also adorned with colorful artworks and motivational quotes at every corner, Love Monday Cafe may just be the convenient support system you need to take on all your workloads for the day.
Jiro Coffee Studio (Mother Ignacia, Quezon City)
Although being a bit hidden in the streets of Mother Ignacia in Quezon City, the cafe inspired by the craft of master sushi chef Jiro Ono is something worth traveling to. Its defining factor is that it is in fact a 'studio' or a workspace that lends itself to artists and creatives. The cafe also didn't hold back when it comes to experimenting with a wide variety of java and cocoa blends.  
Mad Cafe (Congressional Avenue, Quezon City)
Mad Cafe is a massive multi-concept coffee shop on Congressional Avenue that houses a playground and a board game hub, and serves alcoholic drinks as well. While the main dining area tends to be bustling, its coworking space is adequately separated and provides a cozy and peaceful stay complete with overhead lamps and sockets. 
Quark's and Quills (Banawe, Quezon City)
If the ambiance of this "tutorial and work" cafe won't help you get in the zone, we don't know what will. The place is basically a freelancer's playground with its array of seating options all equipped with the necessary facilities and an affordable, well-reviewed menu of comfort dishes.
The Lib (Katipunan, Quezon City)
The Lib Cafe caters to students of the universities around the Katipunan area looking to get some school work done, but its two-floor expansive living room-library setup is welcome to anyone who needs to get their productive juices going. What's more is that the menu is equally extensive with hearty rice bowls and tropical smoothie bowls to help power you through your workload. 
Get more stories like this by subscribing to our weekly newsletter here.
Read more:
The Black Bean: Melbourne coffee culture inspired this new Makati café
At Japanese diner Gram Cafe, pancakes are served with chili con carne
Tokyo Milk Cheese Factory now offers sweet and savory dishes at its first cafes
TAGS: all-nighters blocmanila cafe cakes coffee cookies coworking spaces madcafe pastries PRODUCTIVITY Quarks and Quills The Lib toby's estate