On Feb. 26, the Senate approved the Senate Bill 1083 or the proposed Anti-Terrorism Act of 2020 on its final reading with a voting of 19-2. The bill aims to repeal the Human Security Act (HSA) of 2007 in order to strengthen the government's campaign against terrorism. While the HSA defines terrorism as anything that "causes widespread and extraordinary fear and panic among the populace," the new anti-terror bill expands this definition in order to include anyone who can be considered a threat to the state.
The Anti-Terrorism Act defines terrorism as actions that can incite fear, including causing death or serious injures to any person, extensive destruction to public and private facilities, extensive intereference with critical infrastructures, and meddling with weapons and explosives. Anyone who proposes, conspires or participates in these acts will lead to a lifetime of imprisonment. 
The bill also states that a 12-year imprisonment will be imposed upon anyone who is "threatening" to commit terrorism, inciting others to commit acts of terrorism, voluntarily joining terrorist groups and being an accesorry towards it. 
There will also be anti-terror courts for each region in order to have quick processing of anyone who is deemed to be a terrorist. Law enforcers are given the legal tools to carry out these arrests at their own volition.
This then begs the question: Who does the government consider a threat of terrorism?
Vague accusations
How the bill uses the word "threatening" is a threat towards democracy in itself. Because it is under the government's consideration and decision, any act that the government is threatened by is already a criminal offense. The act also allows the Department of Justice (DOJ) with the authority of the Anti-Terror Council to file any group as a terrorist organization as long as they provide probable cause within only 72 hours of application to the Court of Appeals.
With the widespread of previous cases of red tagging individuals and groups and defamation of the government's dissenters, this vague description of terrorism can be used as a weapon to incriminate those in the opposition.
Students and faculty from University of the Philippines Diliman have been actively rallying against the cases of red tagging that the government has placed upon them. In a hearing that also included the Armed Forces of the Philippines, they named the National Council of Churches in the Philippines as a communist front organization. They have also brought these accusations to schools by presenting to students names and logos of various national democratic mass organizations.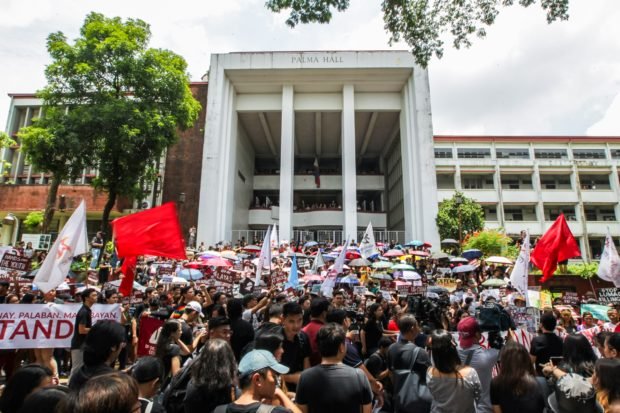 The problem is that the government has not pinpointed actual communist rebels. These are political organizations and activists simply voicing their beliefs against the administration's injustices. They conduct organized and sanctioned demonstrations to express their disagreement with issues like the extrajudicial killings, the press shutdown, the violence occurring in contractual employments, the growth of corruption and many more. However, since it is simply against the government's actions, they are considered enemies of the state and are red tagged.
What this means is that anyone can be a terrorist in the government's eyes—media, journalists, activists, lawyers, the marginalized and to an extent, a mere civilian critically posting their views against the government on social media.
Red tagging is done as a means to address the people or organizations that the government is threatened by. The anti-terror bill allows these cases of red tagging to legally become cases of terrorism. And as it is controlled by the hands of law enforcers, there's a high probability of unjust accusations that can follow the narrative of Kian Delos Santos's "nanlaban" extrajudicial killing. Will this possible act also make way for easier access for law officials to accuse and create evidence afterwards?
Prioritized as guilty
If a person is suspected of these acts, they can be detained without a warrant for arrest for 14 days or be placed under 60 days of surveillance. If evidence is not strong enough, the government can place the suspects under house arrest, and if it is deemed strong enough, their passport will be cancelled. The government can also examine bank accounts without a court order and they are granted the power to freeze assets for 20 days to six months.
Through this bill, there is an exploitation of the people's rights, freedom and belongings in the expense of an unwarranted but legal accusation by law enforcers. And if a person is wrongfully detained, there will no longer be a P500,000 compensation for every day of detention, a provision which was previously guaranteed in the 2007 HSA. 
This hastened and weak profiling of suspects is an indication of the administration's venomous upper hand. A simple suspicion is enough ammunition to vilify and condemn any person—an easy win for an unjust regime.
A simple suspicion is enough ammunition to vilify and condemn any person—an easy win for an unjust regime.
Silencing freedom
As if a biased selection of terrorist groups and a hurried legal process isn't enough, the bill also allows the government's self-insertion to people's personal lives. Law enforcement agents can subject persons or groups to intense surveillance: they may secretly wiretap suspect's gadgets. This means that they can legally intercept, overhear, read and collect any private communication a person has on any technological device. State agents only have to file an ex parte application (meaning that the suspect will not be informed) and telecommunications and internet service providers will be required to give all customer information and records. 
This is the most potent power of the government against the masses. It is now completely evident that there is an intrusion of privacy and a suppression of the freedom of expression all under the guise of a misconstrued face of terrorism. The enactment of this law feels like the key ingredient to the administration's authoritarian regime. Through this, a de facto martial law ensues. The possible act provides a bias for the government to finally criminalize anyone who is against the government. No need for a suspect to carry guns and destruction. This time, the government is attacking the intangible, the values that people hold, the ideas and beliefs.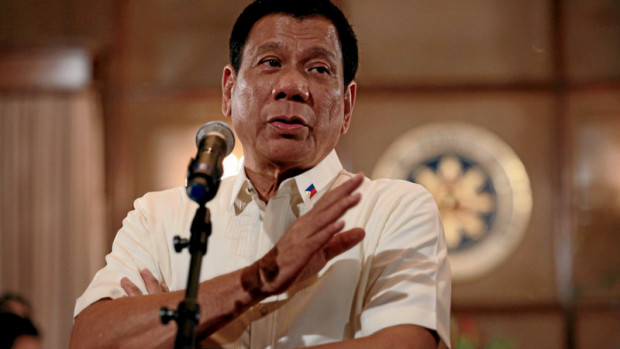 This is also an act of fear mongering among the people. It's a method that can lead to the citizens pointing fingers at each other, at those they suspect, when the real evil is actually seated at the top, fiddling with puppet strings tied to the masses. It is now more than ever that we must not fall blindly into these strings. 
…the real evil is actually seated at the top, fiddling with puppet strings tied to the masses.
Expect the worst. Expect precincts filled with activists shouting for justice. Expect the unfortunate who stole bread out of poverty and the privileged who spoke out against the country's inequalities side by side in their prison cells. Expect violence in demonstrations and rallies, a modern civil war for justice. Expect fear and hopelessness, but remember morality, remember kindness and selflessness. We must remember that this is an act born out of the fear of the progressive, of those fighting for equality. Remember that when we are fighting for our freedom, fear progresses into passion. In a democratic society, freedom of expression is always guaranteed and protected by the law. So while there is still a chance for the bill to be disapproved by the House, it is vital now more than ever to practice what's left of our freedom.
Writer: THEA TORRES
ART CLARISSE ALFONSO