At Tipple Cafe, bar chow is reimagined as casual dining delicacies
Veering away from Tipple and Slaw's reputation of being a party spot, Tipple Cafe is chef Francis Lim and Janus Noval's testament to the delicacy and skill found in comfort food
info
Tipple Cafe

Mixed Cuisine

11 a.m. to 2 a.m.

0917 702 0756

₱

P600 for two
Brimming with youthful energy, The Pop Up in Katipunan has been a popular go-to spot for millennials in the North to hang out for drinks, splurge out on lunch, and even go shopping. Inside, there are shops of anything under the sun: a Korean grocery store, a tattoo parlor, Korean barbeque, bars, and cafes, including a resident many are familiar with: Tipple and Slaw.
Tipple and Slaw is a restaurant that has been around since 2014 with its first establishment at The Forum in Bonifacio Global City. The restaurant's name is an indication of what it offers–tipple is an old English word for drinking and slaw comes from the word coleslaw, a reference to its origins as a sandwich stop. After branching out to Katipunan, it has now long been known as home to eclectic alcoholic drinks and social events. But there's something new brewing at Tipple and Slaw.
Chef Francis Lim and chef Janus Navila, co-owners and chefs of Tipple Café, have decided to add a new wing to the restaurant, something that makes it more of an all-around eat and drink experience: Tipple Café. "The café concept is evolving to allow new food and beverages for both the younger and older market—things you can expect in a café but with a little twist and innovation," says Lim. So don't be fooled into thinking that Tipple Café is your average café serving only pastries and coffee. It's got that and much more.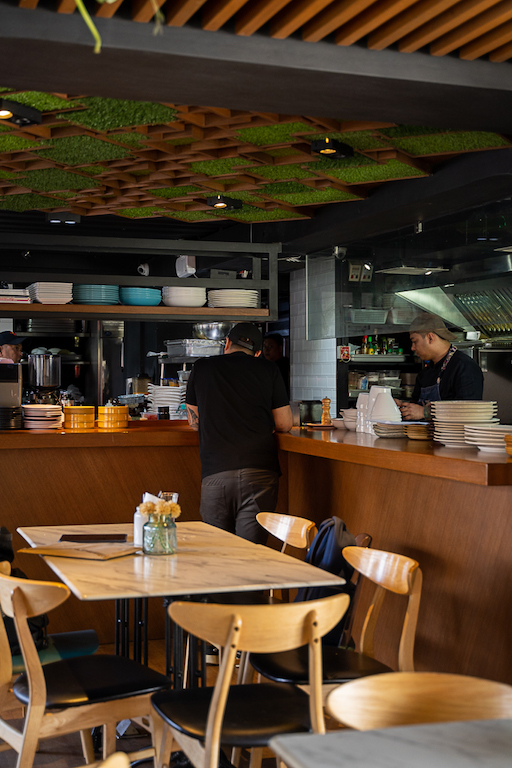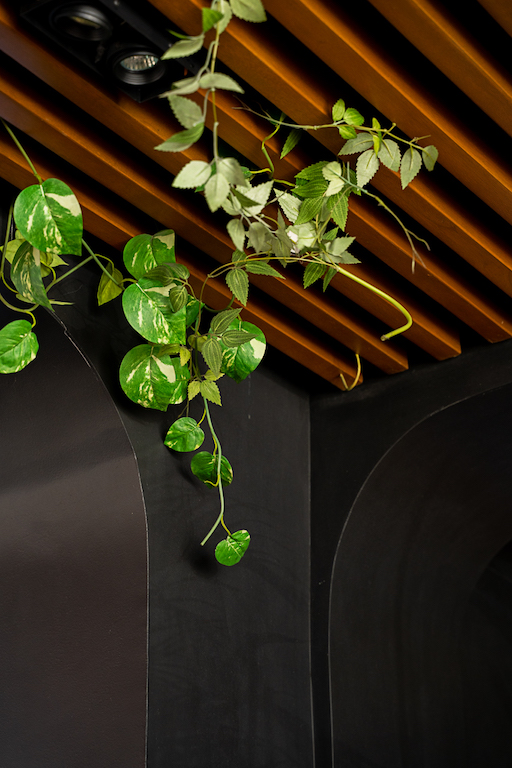 Stepping inside the café, you'll be met with bright interiors adorned with wooden furniture and hanging plants—a turnaround from Tipple and Slaw's dimly lit rooms with neon lights zigzagging through the walls. This is how Tipple Café differentiates itself from the original Tipple and Slaw. With the latter garnering a reputation of being a bar made for parties that last until the morning, the café is meant to be a casual, sit-down dining experience for customers to enjoy during the day or even a peaceful working area for students. 
And sure enough, Tipple Café is all about putting the spotlight back on the delectability of casual dining. The chefs consider their dishes to be "comfort food," and it's all the things we love and are familiar with: chicken, steak, soup, and ice cold drinks, but it can't be any run-of-the-mill can of soup and fried chicken. It's got to be more refined and creative.
That's why the menu has a range of dishes that resemble the elegance of fine dining and the filling satisfaction of bar chow. To start off, there's a wide selection of salads to choose from such as the classic Caesar salad, eggplant salad and garden salad made with fruits, pickles and strawberry dressing. However, what stands out from the rest is the Catfish salad, made with deep fried catfish that breaks apart at the slightest push with a mango salad on the side. The fried catfish gives a scrumptious umami flavor that blends uniquely with the sweet tang of mango slices.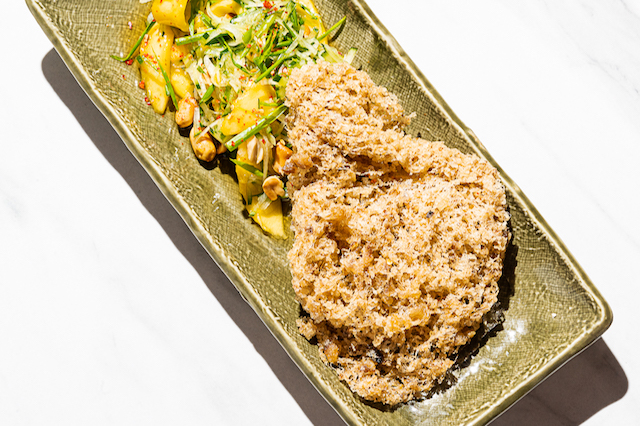 For a dish that can get your appetite running or simply something to pair a bottle of beer with, try out their garlic baby squid and salad spring rolls. One spoonful of the baby squid will keep you coming for more without your notice; it's the chewiness of the seafood along with the richness of the garlic that keeps you going. On the other hand, the spring rolls are a completely new tasting experience. It's presented to look like chunks of lumpia but other than vegetables, it's got quinoa grains, velvety salmon chunks and fish roe on top—a surprising combination of Japanese and Filipino flavors.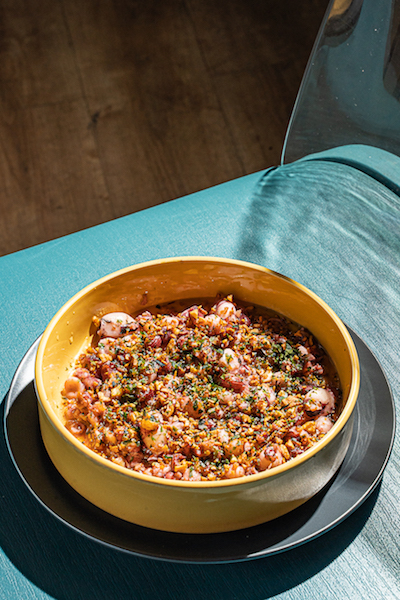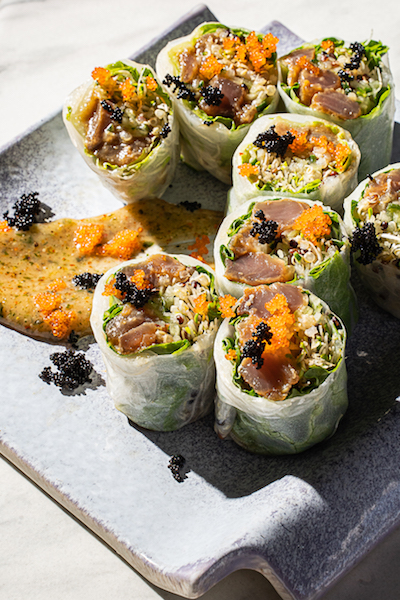 One of Tipple and Slaw's most popular dishes is the Shawarma Rice, and Tipple Café's customers must not miss out on this dish. It is, first and foremost, a visual pleasure; the red and greens from the tomatoes and cucumbers, the brown of the well-done grilled meat, and the white homemade shawarma sauce you can drizzle over the whole dish. Once mixed with the curry rice on the bottom, the spice, sweetness, and sourness of all its ingredients are worthy of a clean plate finish.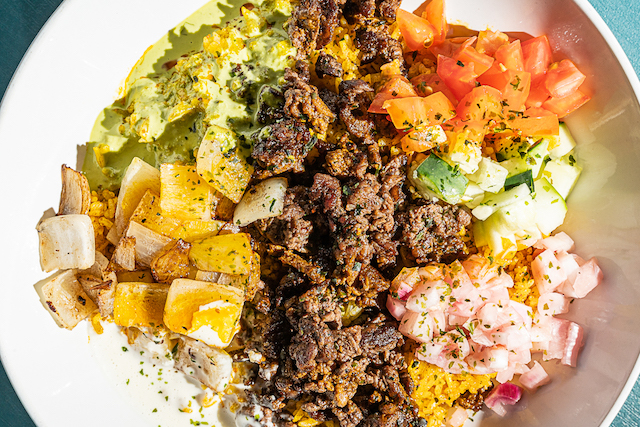 Tipple Café also isn't missing out on any of the sure-fire favorites, and it's one to raise the bar. Its Peri-peri chicken are two cuts of lemony and golden brown chicken breasts over a spicy but zesty sauce. Munch on the crispy chicken skin that comes with it. Another must-try is the steak rice, which has cuts of sirloin steak on top of spiced rice and egg—simple but cooked with a precise and flavorsome technique.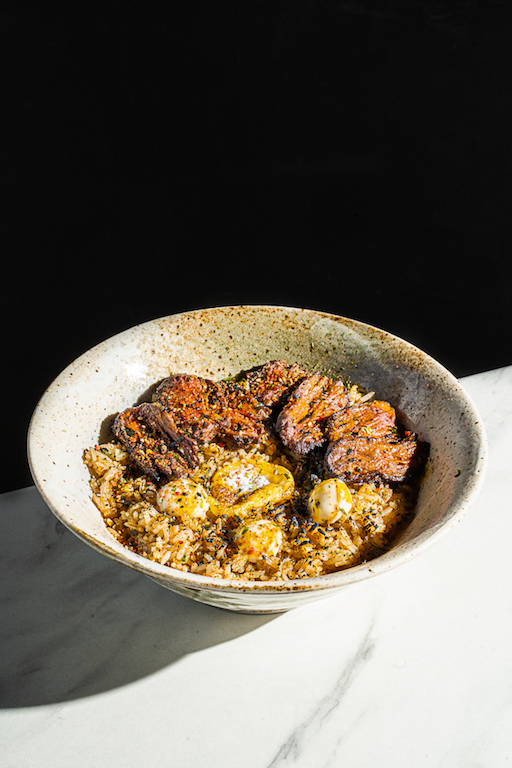 Tipple Café's youthfulness is most notable on their beverage list. Riding on the milk tea bandwagon, it has its own version of the Thai Milk Tea which emphasizes its creaminess, and their Melon Yakult is an instant throwback to your childhood days but with a more fruity flavor. There's even a huge fish bowl of sweet and fizzy sangria best for sharing with your (tita) friends.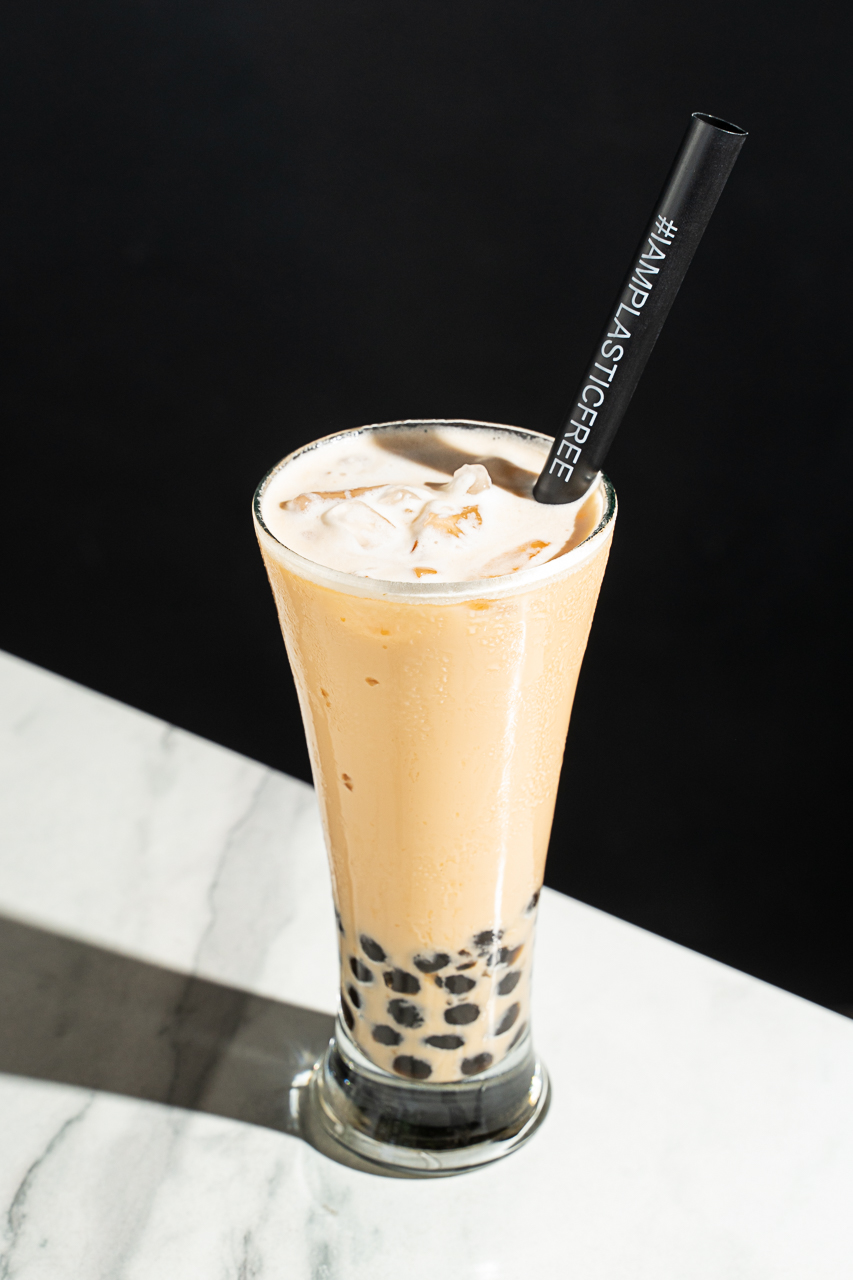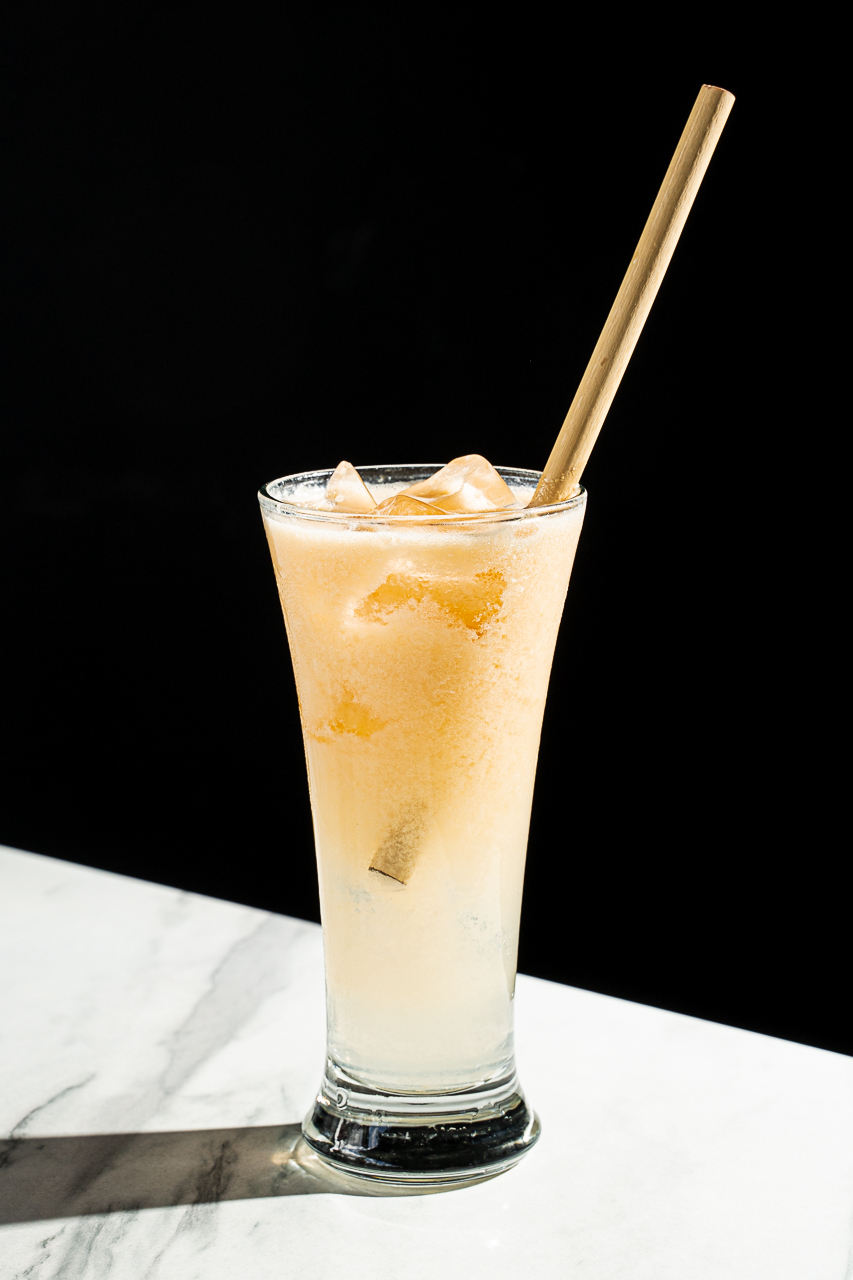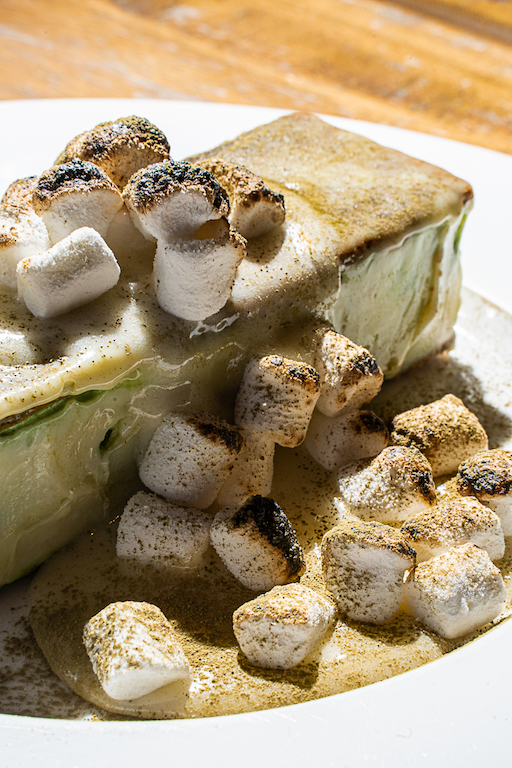 And for the sweet tooth, leave some space in your stomach for their sweet pastries and delights. The white chocolate matcha s'mores is a hefty serving of an ice cream sandwich doused with melted white chocolate and topped with roasted marshmallows, the kind of dessert that's reminiscent of your childhood favorite sweets.
Many restaurants have fallen for the trend of creating outlandish and concept-based dishes, and some have resulted in creating over-the-top flavors that are good on the first try, but too much for a second go. What Tipple Café has done is stay true to what comfort food is—it's familiar and simple, but guaranteed to deliver a taste that you'll keep coming back for. Chef Francis Lim and Janus Naval have provided their customers with authentic fan favorites, the type that's made by professionals who have a true understanding for what their diners are craving for: lip-smacking, savory dishes worthy of having a loyal patronage.
Get more stories like this by subscribing to our weekly newsletter here.
Read more:
Can you handle Tetsuo's spicy fried chicken seasoned with the world's hottest pepper?
7 cafes in the North for when you need to get some work done
At Atilla Meat Bar, you can never have enough steak
TAGS: Bar bar chow cafe catfish food nolisoli tipple and slaw tipple cafe
WHY GO?
The menu has a range of dishes that resemble the elegance of fine dining and the filling satisfaction of bar chow.
MENU