In her 2009 book "Paradise Built in Hell," writer Rebecca Solnit argues that contrary to popular belief that disasters and calamities bring the worst in people, the opposite is true: it is, in fact, during trying times that we showcase our humanity to help each other.
The ongoing COVID-19 pandemic is no exception. While most mainstream media and social media are zeroing in on panic buying and unintentionally inciting unnecessary panic in people, little is known about little acts of kindness, the do-gooders, who bring hope to many despite the situation.
There's the good samaritan at a Makati supermarket who treated an old man to a whole cart of groceries while the rest of us hoarded. 
Of course, there are the heroes, the frontliners who continue to bravely do their jobs despite the risks. They are the health workers and researchers soldiering on to cater to the sick and working overtime to find a cure.
Neglected frontliners
Here, however, where they are most badly needed, many of these unsung heroes are often neglected. News about lack of personal protective equipment hinder nurses, interns, and doctors from doing their jobs without fear of contracting the disease. 
https://www.facebook.com/philippinegeneralhospitalofficial/photos/a.1666387143392518/3079544038743481/?type=3&theater
Yesterday, the Philippine General Hospital through the University of the Philippines Manila Student Council called for the donation of surgical masks, N95 masks and alcohol among others as their supplies dwindle. 
— KPDC ⚓ (@kimpauldecastro) March 14, 2020
Meanwhile, the team of researchers from UP National Institutes of Health who has successfully made a cheaper testing kit now needs financial support to be able to manufacture enough kits to distribute to target locations where it will be field validated.
[READ:
UPNIH testing kits for COVID-19 set to be used starting next week
]
Serving goodness
In the absence of government support, some private individuals and businesses are stepping up to cater to these medical workers' needs.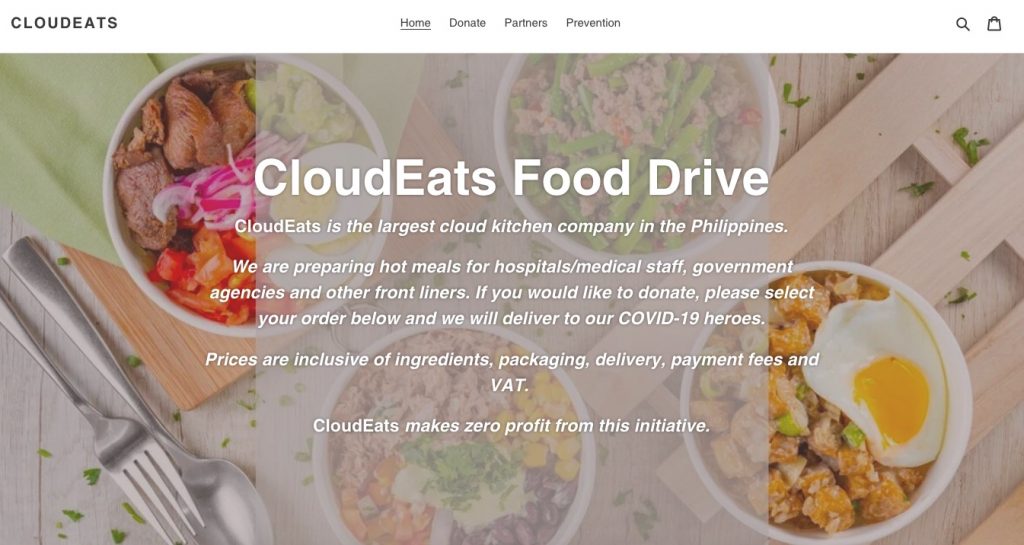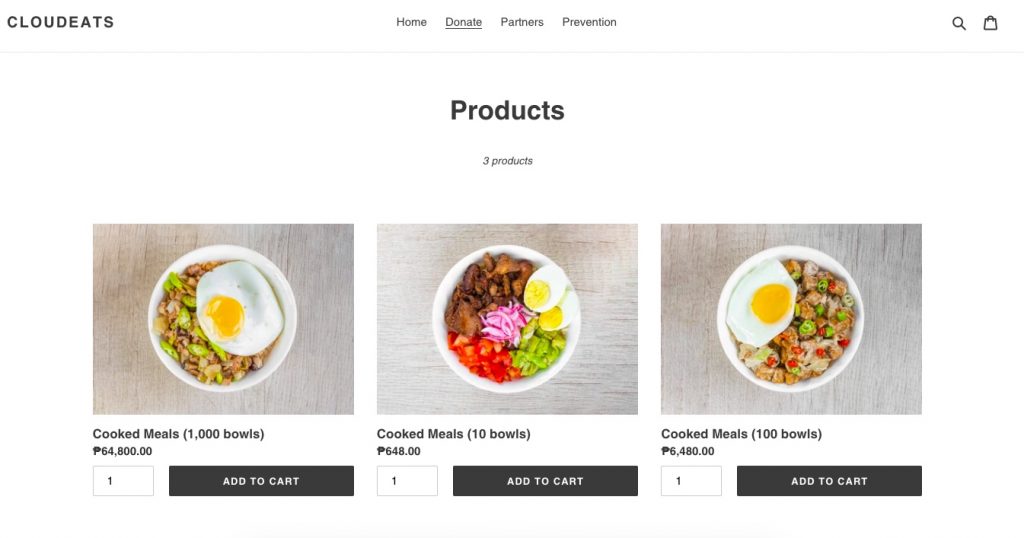 Cloud Eats, a virtual or cloud kitchen company, has set up a website where anyone could order meals that would later be delivered to healthcare workers. Payable through PayPal, they currently offer a selection of meals that comes in the bulk of ten bowls, 100 or 1000 servings. Prices are inclusive of ingredients, packaging, delivery, payment fees and VAT.
In Quezon City, two restaurants are offering free coffee and preparing meals for these frontline workers. 
https://www.facebook.com/PinoRestoPH/posts/3251675054860519?__xts__[0]=68.ARC-uMTjgZnJvpfSyAR_vvBNB7tigN9Bz-iR51_k_EocXHeMrRkq03znzAlykf4T3Pf6PSwTN4Fb3CZbyliBsEFk1F5Nb7z1me6G1JRNP5cxyAlzt94MDYd0pa6308QeHu_xRnPTz1up9t9MI1uDbamhN3j96y2s5aX8NgPyowEejeGqMJCXu_6y516Z278CPM6qxBjZRGCXq5Wbi-POl7nD34cAyjcoCt1BMoPrDtSB5YdrtpKjSTDK7TmQ8vM0zk8cajoiG7XfkQl0FK-XyhBuDprX2hZTco0-HvzM-lbiruZP2v0JwksCLtdVMYmtR0-QeLkNtdSFGD5pnRXUQA&__tn__=-R
Pino Restaurant, a Filipino fusion bar in Maginhawa, announced last Friday that they (along with Pi Breakfast and Pies and vegetarian diner Pipino) will be providing free and unlimited brewed coffee to all medical workers and members of the academe starting Mar. 14.
[READ:
Vegetarian restaurant Pipino will get vegans and non-vegans excited with their new menu
]
Maginhawa St. located at the center of QC is near UP and key hospitals like East Avenue Medical Center, Philippine Heart Center, National Kidney and Transplant Institute, Lung Center of the Philippines and V. Luna Medical Center. Practitioners only need to show their ID to avail of this.
https://www.facebook.com/halfsaints/posts/648353612643004?__xts__%5B0%5D=68.ARBU4N5uHiSDQaazPrdYPXyCcpHmeVNML_dZ-gG-XUyeN7zb_d1Amk7RTgRPaofp5bAeJYwvuxN7dTpQcILDUhWAQkVirTohqX-bDcgTKqG4YiL5W5BlOpPELo5owFDK-Sbqa9PS6sgmvxpSHMJ9Hj59ltEEDnOyfleC_ExXa0fnqf4elSFF1cZmcQUmgVApyd_5JGhw8QvFO_3TQ-Gh5nrzKwIjD9aP-e8A7b5-_xIV49GHya2IzI_y71SqKx0_gALBKm5D9p-bRbG9DZVhrp2DChPhJgMwy_CpACrG0f17m0tTDr-tbdteWHL0tZr_b8iOEKt6fkoZsQN-zogJBas&__tn__=-R
Half Saints, a modern Filipino concept located along Mother Ignacia, has temporarily closed its doors for business. But they are still in operation, preparing meals to be distributed to health workers. 
[READ:
Indulge in bagnet, salted egg, and bone marrow without feeling too guilty
]
"Closing down the restaurant for a week was a difficult decision to make. However, as your trusted neighborhood restaurant, we recognize our role and responsibility to reduce the transmission of COVID-19," read a statement on its social media pages.
The restaurant is also calling onto those who want to help fund its endeavor in partnership with NGO Rock Ed Philippines.
https://www.facebook.com/RockEdPhilippines/photos/pcb.3438492389511006/3438492156177696/?type=3&theater
If you want to donate to this effort, you may deposit to BPI account number 3080 0073 44 under account name Rock Ed Philippines.
Header photo courtesy of Pino Restaurant
Get more stories like this by subscribing to our weekly newsletter here.
Read more:
Quezon City releases quarantine measures in light of COVID-19
Afraid of going out? You can call doctors for COVID-19 with zero mobile charges
Why working from home is a needed precaution during the rise of COVID-19
Writer: CHRISTIAN SAN JOSE