Getting a tattoo to support the farmers was a no-brainer
If you needed a sign to get one, here it is
Mar 17, 2020
The last time I got a tattoo was four years ago, give or take, after—cliché of clichés—a particularly rough breakup. Since then, I've wanted to get another one, but in that lazy, lackadaisical kind of wanting that had no follow through. If I was getting inked again, I needed a good enough reason for it. 
Last week, a coworker provided me with one, after sending me a post from local tattoo shop Good Hand Tattoo about their new flash sheets. The designs themselves were interesting (dedicated to our women farmers, the tattoos covered the long process of processing and harvesting crops), but what caught my attention was the funding: the proceeds of the designs would go to the farmers.
I knew that Minnie Calleja, the designer of the flash sheets and co-founder of the tattoo parlor, was going to be tattooing at a Women's Day gig for women farmers and activists, so, spur of the moment, I decided to hitch a ride to QC and get my second tattoo. 
Support farmers
Why do we need to support farmers, especially women farmers, and the anti-feudal movement? It's an intersectional issue, with the threats on farmer's rights often intersecting with class, women's rights and the rights of national minorities. As SAKA, a collective of anti-feudal artists and cultural workers, wrote:
"Peasant women are bound to landlessness twice over: On top of withholding land from peasant women, the state also withholds state machinery and social services that could empower them to till the land that should be in their possession.
"Since Duterte came to power, 247 peasants have fallen victim to extra-judicial killings. 34 of them are women. Most of them are martyrs of the peasant movement—killed for their membership in civilian organizations that advanced genuine agrarian reform as the means to end feudal bondage. Seven out of 10 farmers remain landless—outrageous for an agricultural country known for the wealth of its land—and the struggle to take back land first seized by colonizers has been shedding the blood of peasants for centuries."
Considering how much support the farmers need and how important they are to the Philippine economy, getting a tattoo to support them is really the least you can do. 
Good Hand Tattoo
Good Hand Tattoo is owned by tattoo artists Ryan and Minnie Calleja, who set up shop in 2012. They have a large roster of artists, with varying styles—some of them do more traditional tattoos, while others have designs more centered on Filipiniana, new tribalism, and so on. 
The parlor itself is based in Pateros, Manila. Walking into it is a bit overwhelming: rows and rows of flash sheets line the wall and the counterspace. A large black and white print of Whang-Od also decorates the counter—I later overhear the artists talk about the mambabatok reverently. 
The shop itself is a huge supporter of the peasant and anti-feudal movement. When I initially hit up the page to ask about the flash sheets, it replied: "These designs are still available after the event so that help is consistently extended to the peasant farmers." Later, when Calleja is tattooing me, she asks me if I write about tribal women.  
If you're wondering about the prices, the tattoos start at P1,000, and they come in black and white and colored versions. I decided to get a blue-colored Gabi—a serene crescent moon—because it reminded me of the Araw at Gabi myth. I got that for P1,500, a price I wasn't expecting at all—I was expecting it to cost much more than that. 
Getting a tattoo
If you've never had a tattoo before, let me walk you through the process: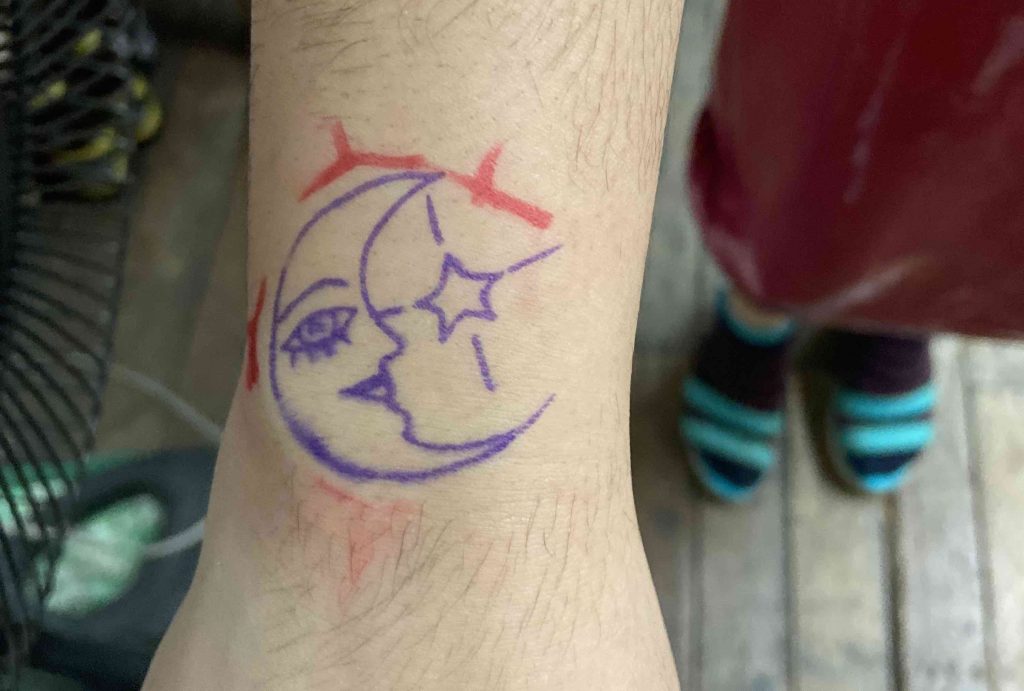 The tattoo artist starts with a stencil so they'll have a guide once they start sliding the needle against your skin. Applying the stencil is essentially like putting on a temporary tattoo: the stencil is pressed onto your skin until the outline sticks. 
This is the part where you can go into the nitty gritty of the placement. If you realize after the outline is placed that you'd rather move it to the side, or if you think it's off center, you can tell the artist. The ink is going to be a permanent feature on your body, so it's best that you talk to the artist about any concerns you have. 
After that is when the actual inking starts. For designs like mine, which have outlines, the outline comes first. Generally though, even for designs that don't come with an outline, artists will start inking the black and darker colors first before they start working on the brighter colors.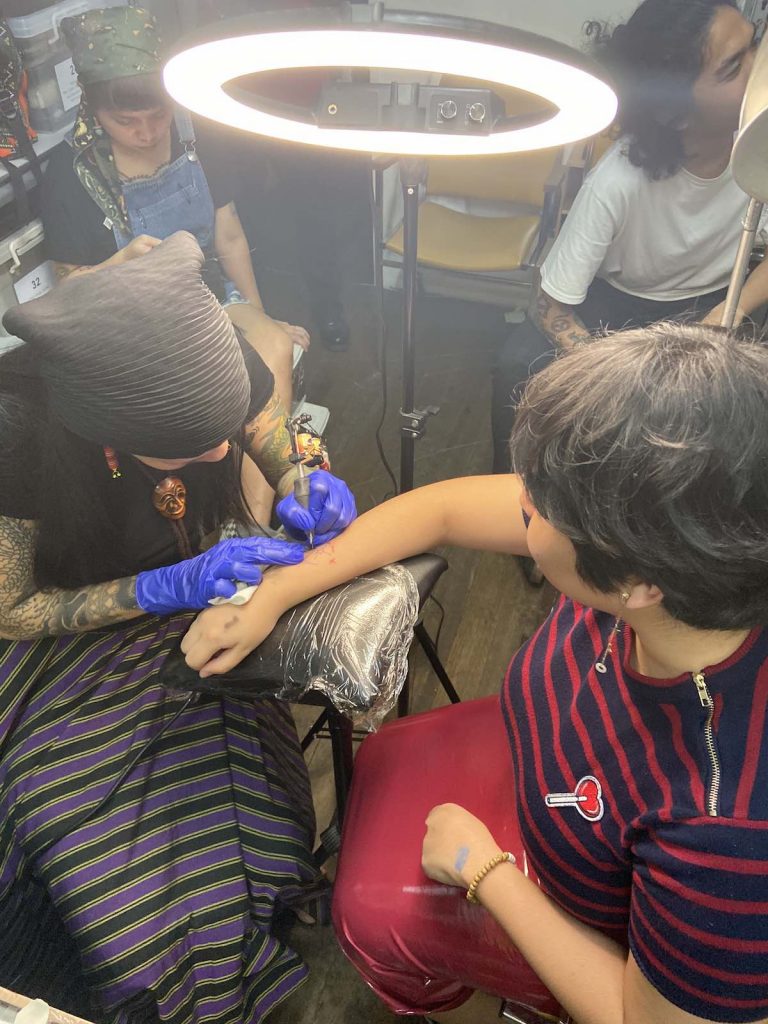 If you're curious about the pain, the level of pain you experience really depends on your pain threshold and placement of the tattoo. I chose to place the tattoo on my outer forearm, so the pain was minimal. I have another tattoo on my collarbone, and it got more and more painful the closer it came to my neck, but it was ultimately bearable. A few weeks after getting Gabi, I impulsively got another one (I know, I know) near my inner elbow, and the pain was so bad I basically swore off getting another piece of ink.
I think my tattoo turned out pretty well, especially given the conditions I got it in. The process was a bit sketchier than usual; after all, I was getting it at a gig, which meant that while I was being tattooed on the second floor, bands were playing on the first. While the needles were whirring against my skin, I could feel the floor reverberate from under me from the heavy force of the drums.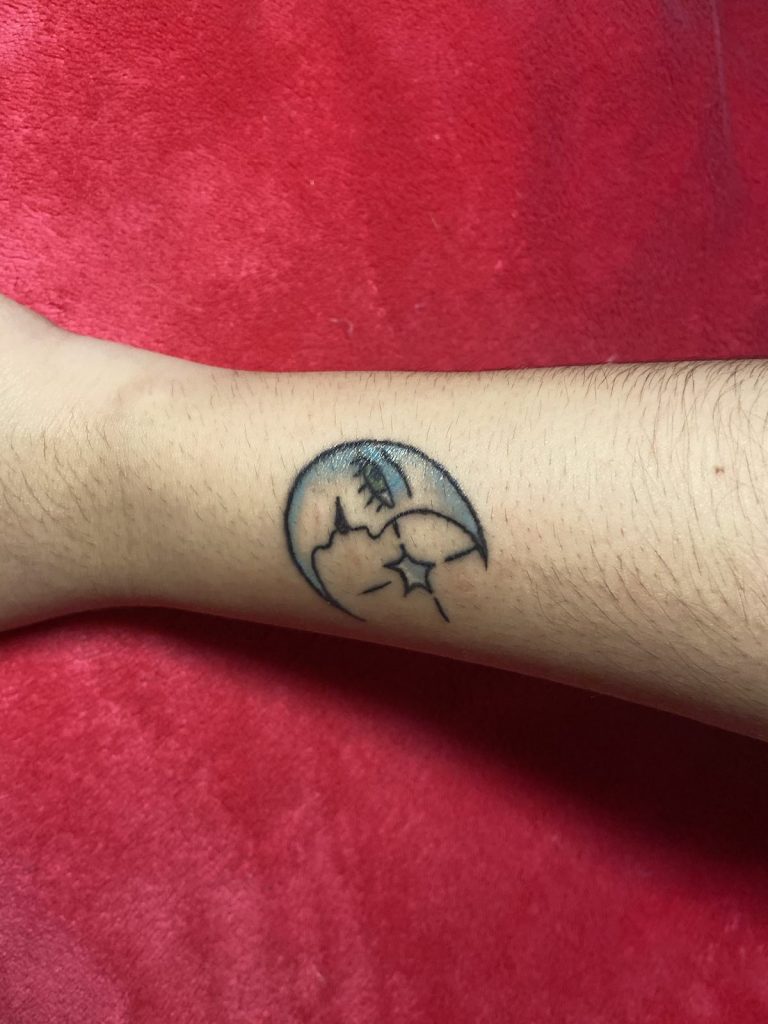 Aftercare talk: Right now, I'm approaching the second leg of the healing process, which means that my tattoo has finally stopped peeling like snake skin but still looks a bit scaly. For a few days after you get your tattoo, it's going to look a bit swollen, and might ooze a bit. Don't worry—it is, after all, basically an open wound—that's normal. During this time, you should constantly wash your tattoo with soap and apply antibacterial ointment on it.
Once it starts peeling, you can start applying lotion instead. The lotion will keep the tattoo moist, and will help with the itchiness. Remember to only apply a thin layer, though. If you add more, the wound won't be able to breathe and the healing process would take longer.
I'm going to be honest: writing this, I can tell I sound a little bit too enthusiastic, a little bit too pushy. I can't help it: these are really good tattoos for a really good cause. It feels almost redundant to write a whole piece about it—just get it! Support local art, our tattoo industry, and the peasant movement! My tattoo is still healing and I was so emboldened by it that I already got another one! I can't emphasize just how much of a no-brainer this is.
Get more stories like this by subscribing to our weekly newsletter here.
Read more:
Get a tattoo to support the anti-feudal movement at this gig
Wiji Lacsamana uses tattoo ink without animal fat
How 3D nipple tattoos help breast cancer patients recover
TAGS: agrarian reform anti-feudal farmers good hand tattoo nolisoli.ph peasant movement SAKA support farmers tattoo