Got COVID-19 questions? Here's where you can ask doctors online for free
To help ease congestion at hospitals, many volunteers are using the Internet to answer concerns about COVID-19
Mar 25, 2020
With more and more hospitals announcing that they are no longer capable of accommodating COVID-19 patients after reaching their maximum capacity, the concern on further overcrowding in medical facilities nationwide continues to rise into a major concern.
In an effort to decongest hospitals to make way for those who are in more critical need of its services, medical volunteers have stepped up to help in answering questions about COVID-19. This is also helpful for those who cannot go out of their houses due to the current lockdown,  especially for those who think that they might be infected by the disease.
Here are places where you can direct your concerns and inquiries about COVID-19 online.
Lung Center COVID Ask Force
In order to ease the burden of their fellow medical practitioners who are currently serving at the frontlines, volunteer doctors from the Lung Center of the Philippines are offering their consultation services regarding COVID-19 concerns conveniently via Facebook Messenger. 
Available from Monday to Saturday, clinic hours are from 8 a.m. to 11 a.m., and 7 p.m. to 10 p.m—with cut-off times at 10 a.m. and 9 p.m. in order to ensure that everyone who asked for consultations had been responded to before they close.
Started by graduates and faculty from the Ateneo School of Medicine and Public Health, the COVID-19 Ask Force is also currently actively seeking more medical doctor volunteers to offer their expertise and time to respond to inquiries from the rest of the nation.
Coalition for People's Right to Health
The healthcare group Coalition for People's Right to Health is also making their services available through Facebook Messenger with Hotline COVID-19: Payong Pangkalusugan. Those seeking medical advice may also reach them via landline through (02) 8806-1306 from 8 a.m. to 5 p.m.
MediCard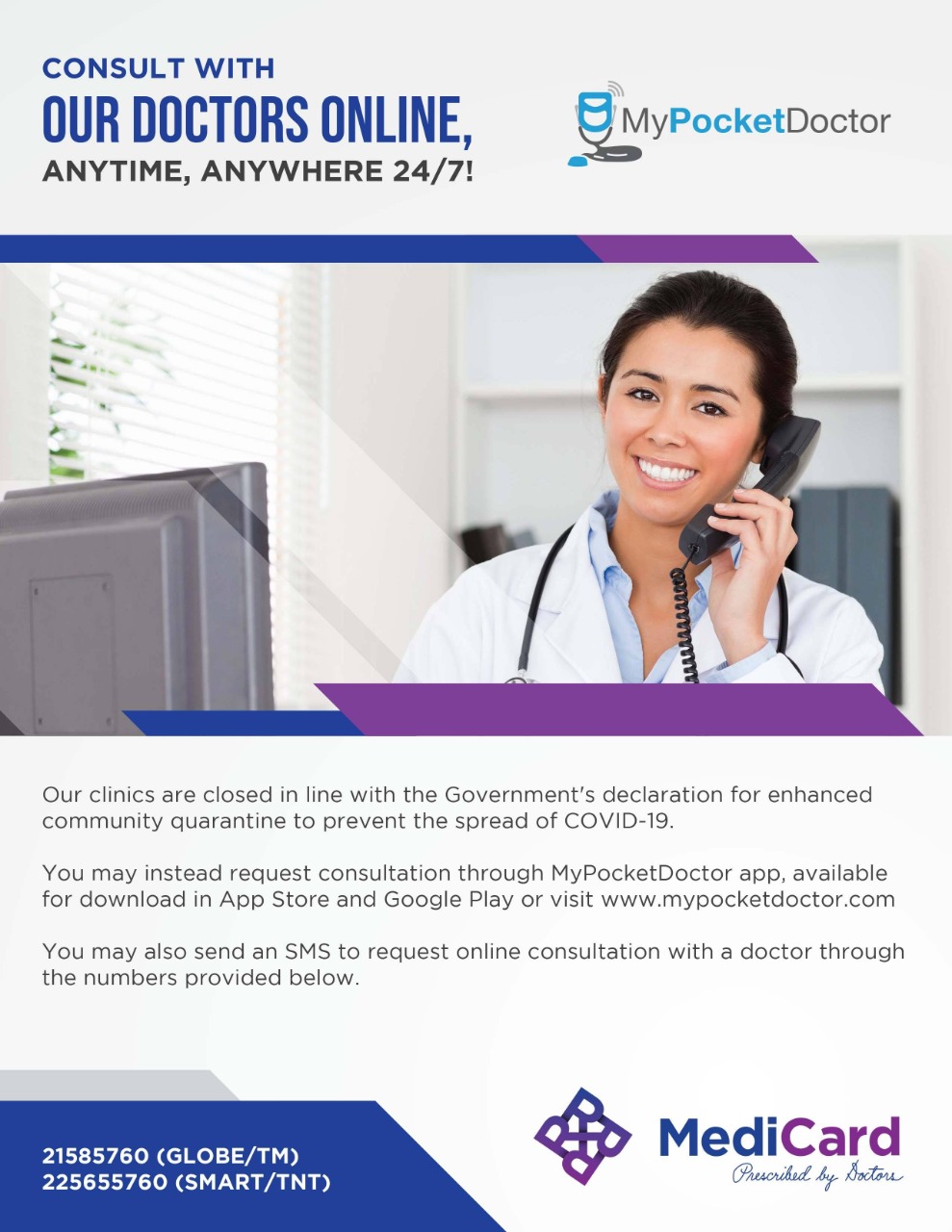 Due to the implementation of the enhanced community quarantine, MediCard's clinics are currently closed—but patients or anyone with medical concerns can reach them for a consultation via the MyPocketDoctor app which can be downloaded from the App Store and Google Play.
You can also gather medical advice from them 24/7 through their official website or SMS through 21585760 for Globe and TM and 225655760 for Smart and TNT.
Department of Health Hotline
Meanwhile, the Department of Health also has its own emergency hotline dedicated to those who suspect that they have caught the COVID-19 virus. They can be contacted via landline on (02) 8952-6843. PLDT, Smart, Sun and TNT subscribers may also reach the department by dialing 1555.
Header photo by National Cancer Institute on Unsplash
Get more stories like this by subscribing to our weekly newsletter here.
Read more:
Get online consultations for free from this mental health care service
Here's where you can get a mental health checkup online or on the phone
Four new COVID-19 testing kits receive FDA approval
TAGS: coronavirus covid-19 covid-19 hotline online doctor consultation covid-19 online doctor consultation philippines