Early today, Mar. 25, President Rodrigo Duterte signed the Bayanihan to Heal as One Act, which effectively puts the country under a state of national emergency and grants him special powers.
[READ: Duterte signs law declaring national emergency, granting special powers vs COVID-19]
Similar to a public emergency and a state of calamity, a national emergency is declared to access additional public funds to suppress the emergency. Any additional powers to be granted to the President must be granted by law or provided and limited by the constitution.
Its policies center on mitigating or containing the transmission of COVID-19, and this is supported by the responsibility of assisting in the provision of basic necessities to people affected by the community quarantine.
Besides undertaking measures to prevent the overburdening of the medical system, the act urges the President to aid in providing healthcare and tests to COVID-19 patients, persons under investigation (PUIs) and persons under monitoring (PUMs) as well.
It will also enable putting policies undertaking a program for recovery and rehabilitation of affected sectors and ensuring funding for these items into effect. Overall, Bayanihan to Heal as One Act's aim is to promote the collective interest of all Filipinos.
The President's authorized powers
Through the Bayanihan to Heal as One Act, the President can issue measures on preventing further transmission of COVID-19 as well as rules, and regulations on anti-hoarding and anti-profiteering plus the implementation of an expanded Pantawid Pamilya Program.
He can also regulate the distribution of power, fuel, energy and water and ensure its supply throughout the quarantine period. Moreover, he can oversee the operation of private and public land, sea and air transportation sectors, where regulations are already in effect prior to the act being passed.
Deadlines and payments for filing and submission of any document, tax payments, fees and other charges required by law are also allowed to be given by the President. Additionally, a minimum 30-day grace period without fees/interests can be granted to all financial private and public institution loans including banks, lending companies, GSIS, SSS, etc. as well as residential rents with dues within the period of Mar. 16 to Apr. 15.
[READ: Rent price freeze and 30-day grace period among provisions in Bayanihan to Heal as One Act]
As for the medical field which sees a rise of concerns especially from the frontliners themselves, the powers authorized under the act include expediting testing kit accreditation, testing of PUls and PUMs, and compulsory and immediate treatment of patients.
He must also ensure that there are no unnecessary delays to the donations and distribution of health products. Temporary health workers may also be employed with appropriate compensation, allowances and hazard pay.
Additionally, help may be enlisted from the Philippine Red Cross in distributing goods and services, which are subject to reimbursement.
Funds for COVID-19 are also to be reallocated from savings on other items of appropriations in the 2020 General Appropriations Act.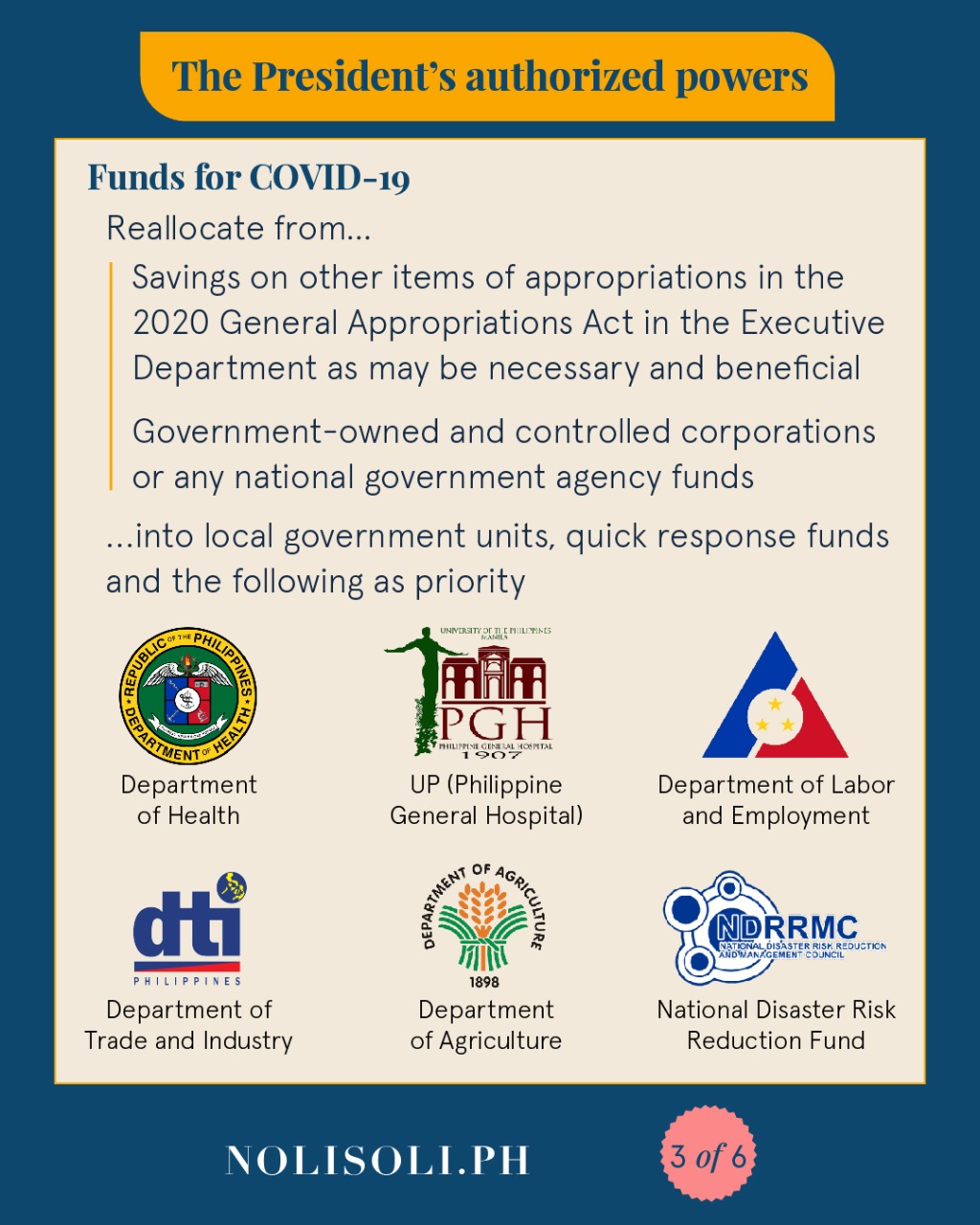 Businesses will also be required to prioritize and accept contracts for necessary materials and services, and when public interest requires, the President can take over any privately-owned establishments such as:
Any privately-owned public hospital;

Medical and health facilities including passenger vessels;

Other establishments to house health workers, serve as quarantine areas, quarantine centers, medical relief and aid distribution locations, or other temporary medical facilities; and

Public transportation to ferry health, emergency and frontline personnel and other persons
Despite being under the President's direction and supervision, management and ownership of businesses will still be retained by its owners. Businesses will also be given reasonable compensation for their operations after stabilization of the situation with full accounting rendered to the President from their owners as basis.
However, if these establishments refuse to cooperate with the government, the President can possibly take over its operations, subject to constitutional limits.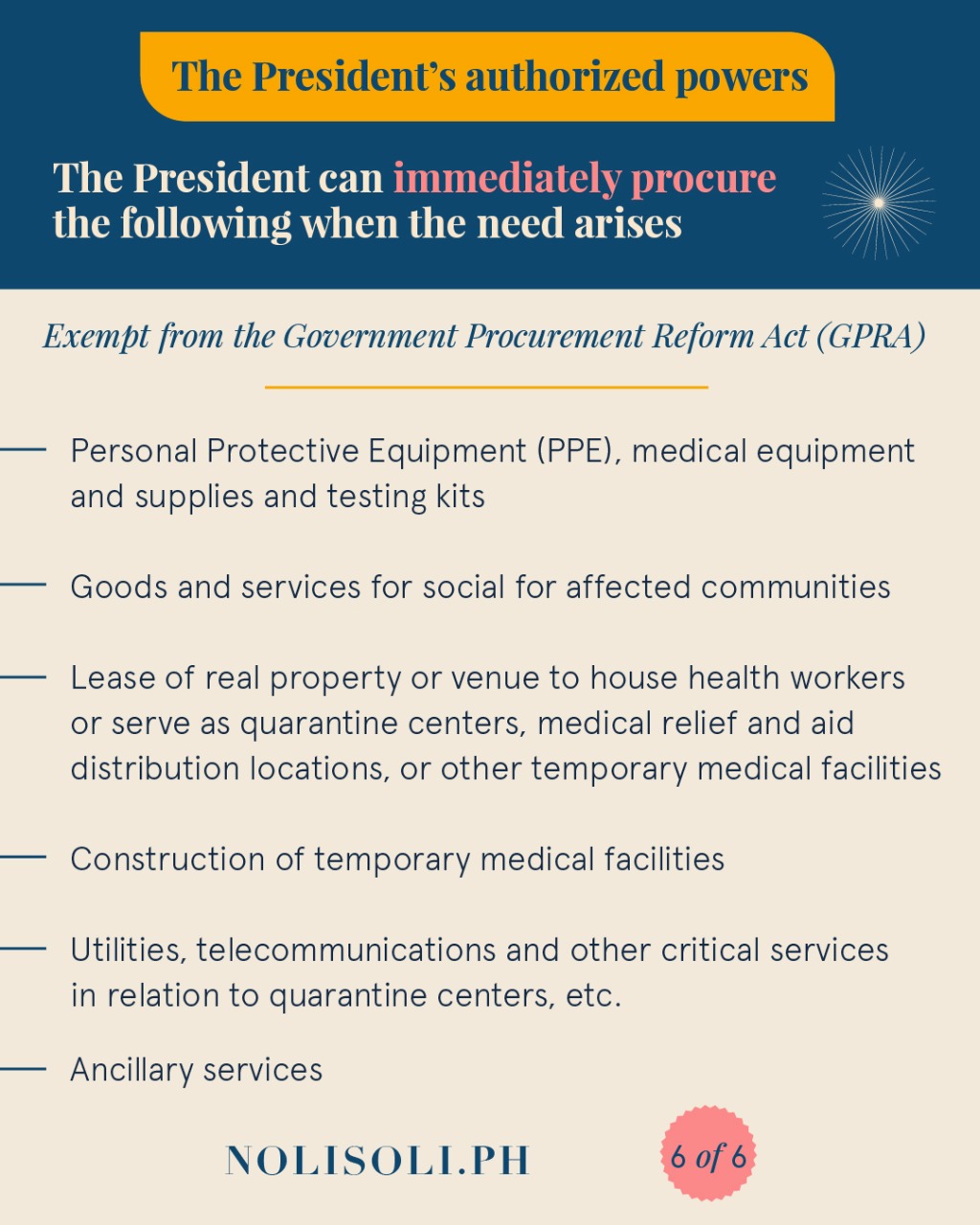 The act also gives the President authorized power to ensure that all local government units (LGUs) follow the directives issued by the national government.
Aside from the ones listed, other measures can be undertaken if necessary and reasonable.
Reports, penalties, and implementation period
The President will report to Congress weekly about its progress and spending.
Moreover, violations of the provisions of this act shall be punishable by imprisonment of two months and/or a fine of P10,000 to P1,000,000.
Currently, the Bayanihan to Heal as One Act will be implemented for three months only, unless this duration is extended by Congress. On the other hand, it can also be terminated earlier by Congress or the President.
Things to note: provisions we need to keep our eyes on
The Act gives the President a lot of power over different aspects of government and policy. While the Act does provide for these, it's worth noting how several of these provisions might go against some already existing laws, codes, or even the Constitution itself.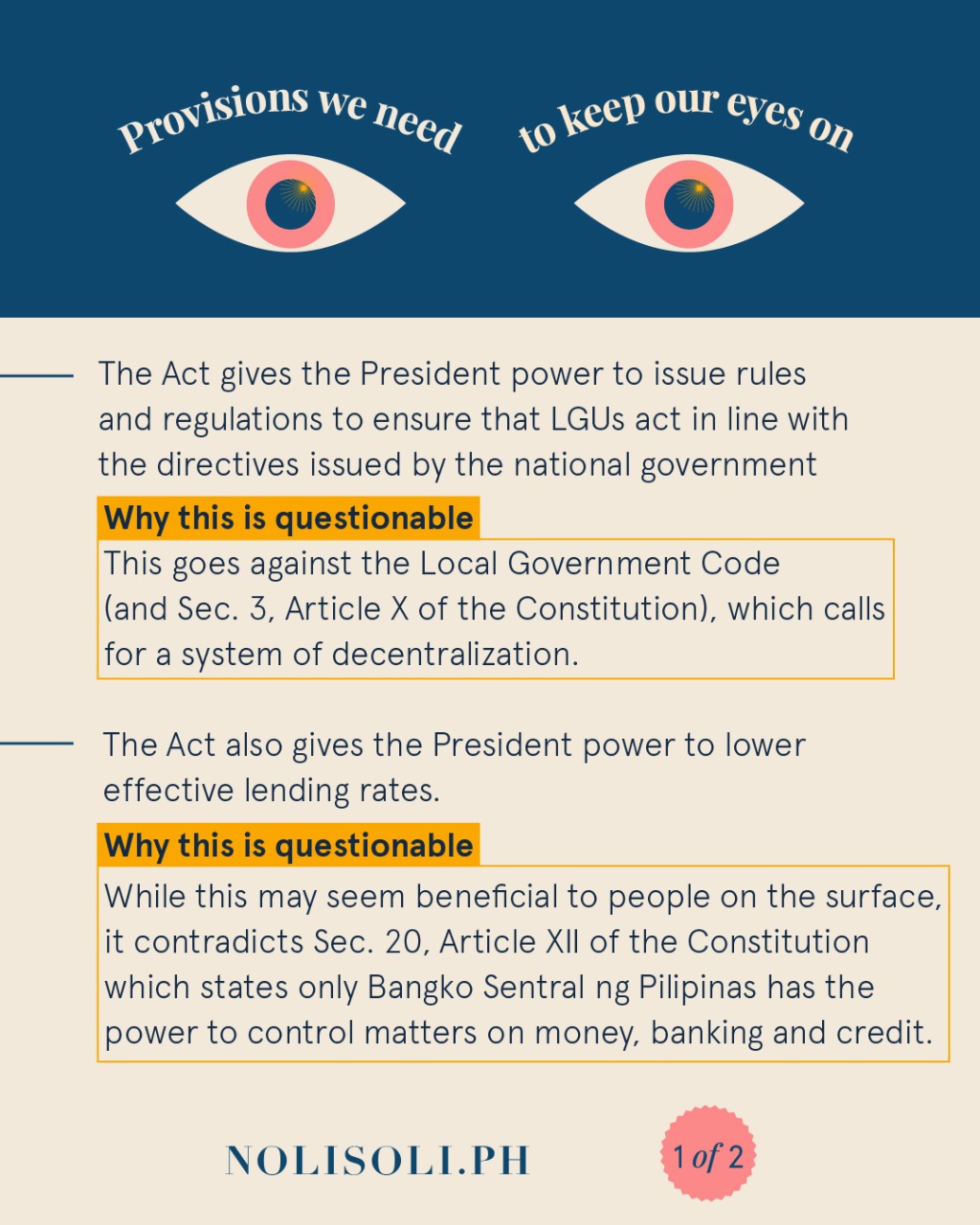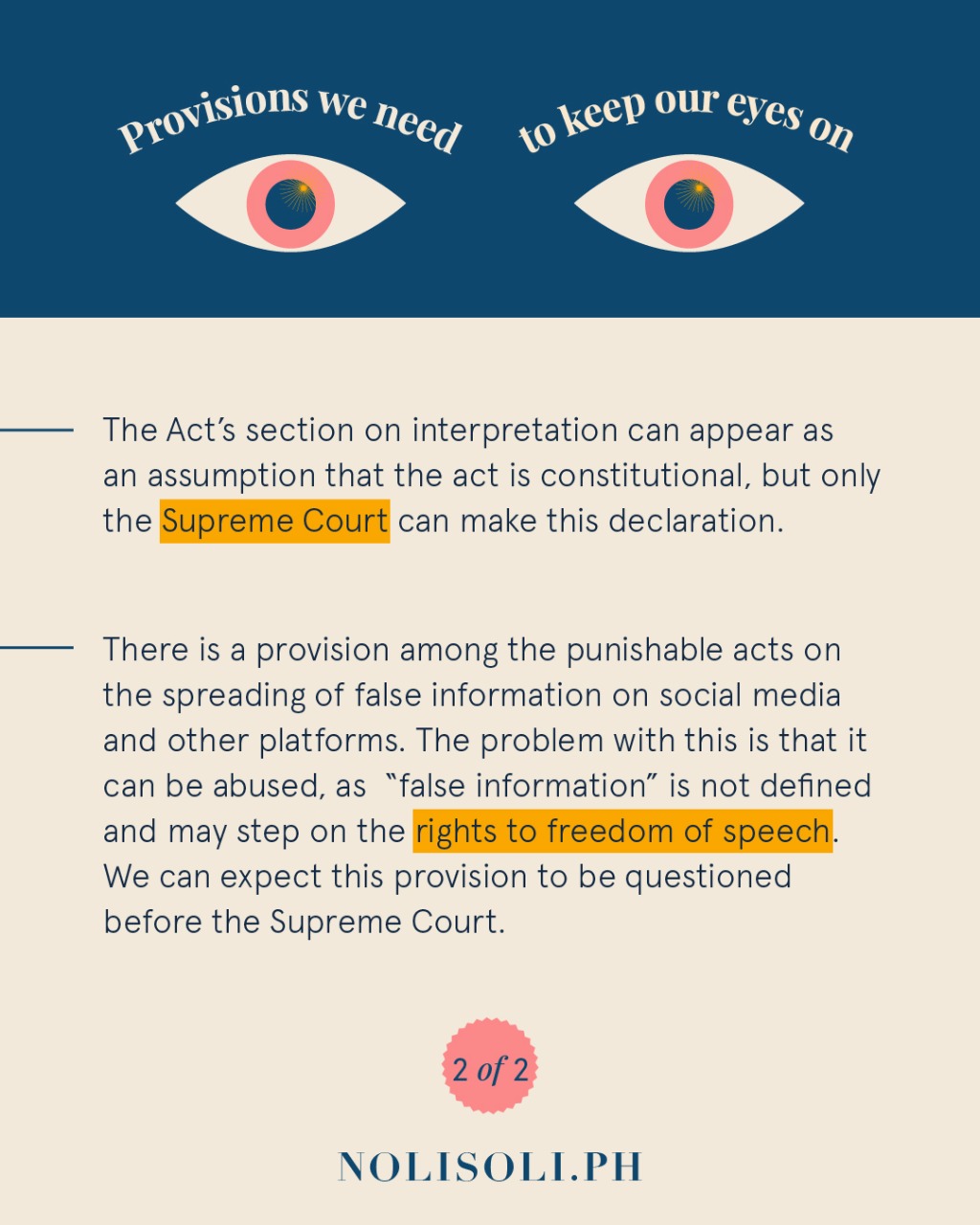 Header image courtesy of Inquirer.net
Get more stories like this by subscribing to our weekly newsletter here.
Read more:
"Wag kayong matakot," Duterte urges Filipinos vs. COVID-19 despite no concrete plans
Duterte signs law declaring national emergency, granting special powers vs COVID-19
Residents of subdivisions are in no need of government help, says DILG