This online exhibit will help fund child cancer patients of PGH amid this pandemic
"Little Left to Lose" is an online exhibit-sale featuring the paintings of Aldron Anchinges for the benefit of child cancer patients
Apr 6, 2020
One of the most alarming things about the virus and this whole pandemic, I think, is the fact that it threatens the most vulnerable in our society. This includes the elderly, impoverished citizens living beneath their means and especially those who have underlying health conditions. 
Imagine already struggling to keep your body alive only for another deadly disease to come around adding a chain reaction of complications to look out for. Although they might not be fully aware of the gravity of this pandemic, this is exactly what the children of Pedia Hema Onco or the children's cancer clinic of the Philippine General Hospital (PGH) are going through. 
"Little Left to Lose," an online art exhibition-sale which launched last Apr. 1 remind us of the continuous battle of over 400 child patients of PGH dealing with serious diseases like leukemia, brain tumors, eye cancer and bone cancer. 
The fundraising initiative is established by Bid for the Future social enterprise in partnership with contemporary artist Aldron Anchinges. It takes into consideration that while consultations are either free or subsidized in the state-owned hospital, many of these children require certain treatments that inevitably need additional funding and support especially in these challenging times. 
Given PGH's need to reduce its patient capacity due to COVID-19, new patients requiring treatment are being forced to move to alternative sites outside of Metro Manila referred by PGH. Thus, a huge portion of the sales from the paintings will go to helping these patients. 
"I chose to support PGH because I realized there were other battles to be fought aside from COVID-19, and I realized the importance of continuing to support these other causes when most charities and organisations were channeling their resources to this pandemic," Bid for the Future's 16-year-old founder Joaquin Lerma explained.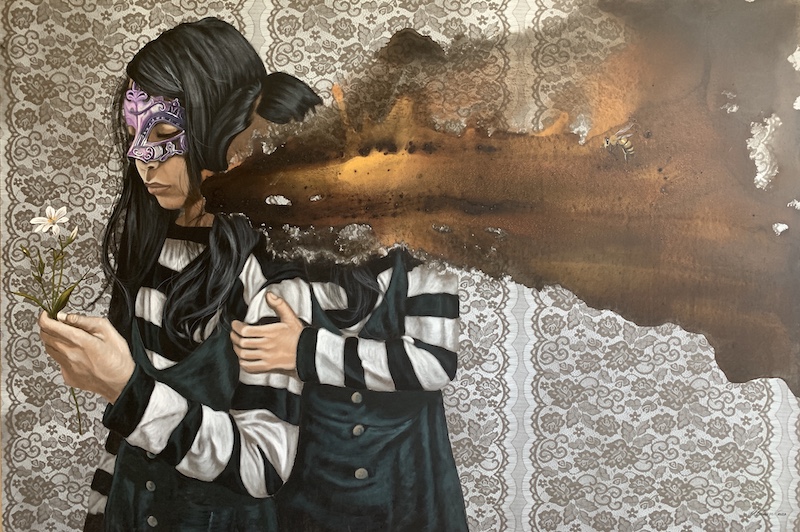 Anchinges, the painter behind the artworks for sale, is a self-taught artist from Taytay, Rizal who has participated in a handful of exhibitions including 2017 Asia's Contemporary Art show in Hong Kong and has held a one-man show at Pinto Art Museum titled "Naynteen Kopong-Kopong" in 2018. 
Though his paintings preceded the cause, the collection's theme and subject matter nonetheless acquiesced with Bid for the Future's aim to look after underprivileged child cancer patients.
"The little kids in my paintings can also reflect the kids in PGH, that instead of playing around and enjoying how beautiful life is, they're stuck in the hospital fighting their own battle trying to survive cancer," Anchinges said.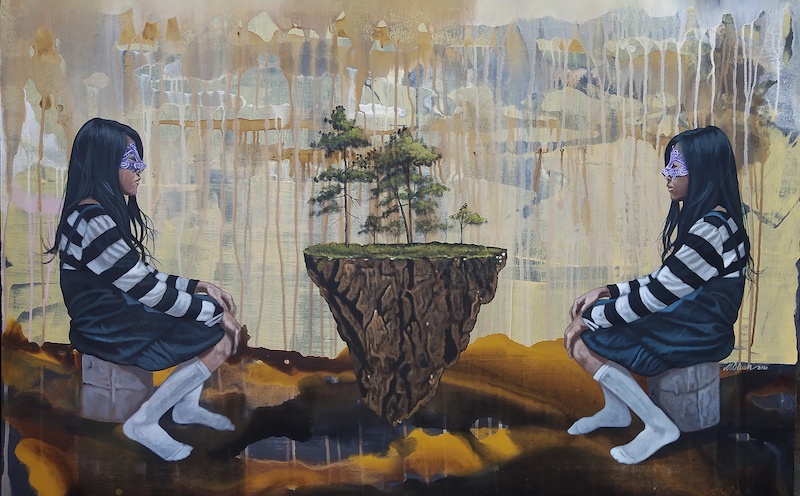 His paintings depict nature in an eerie and almost dystopian setting which, for him, is a growing and fast approaching reality given all the advancements we've been seeing. But it's often overlooked how children, even with their inability to fully comprehend it, do not remain unbothered by all of this—hence the recurrence of their fragile figures in Anchinges paintings.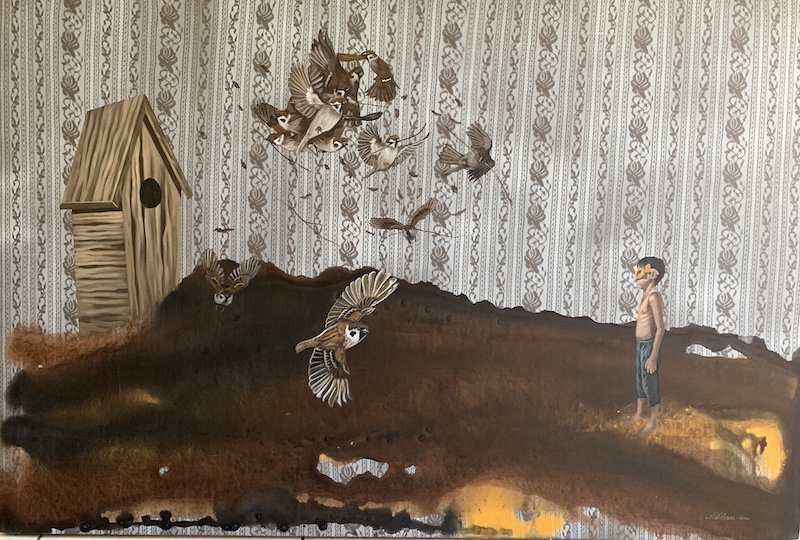 The striking appearance of masks give each child a sense of anonymity and further conveys how it could be anyone—even the children we know. Anchinges implies that these struggles are bound to be universal issues that will continue to affect future generations, that is, if we don't do something about it.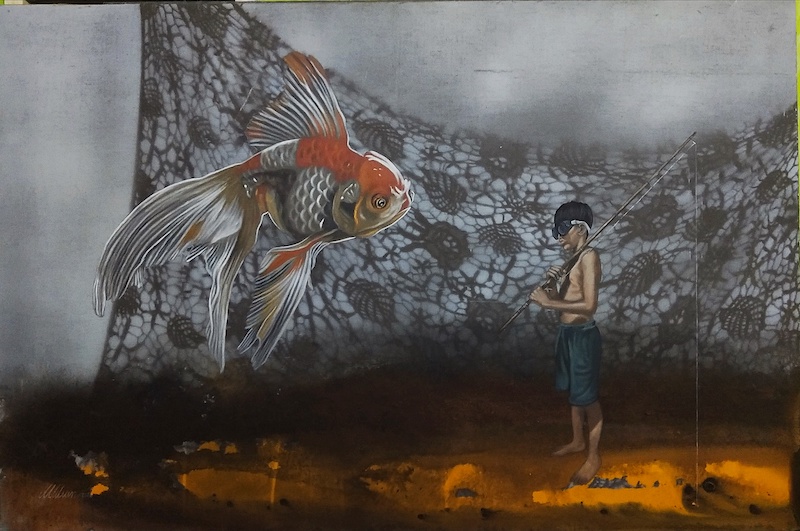 In a statement about the collection, Anchinges called out: "It is also up to us to change the situation. Nature has always been important to everyone and everything in the world. It provides nourishment and beauty for life. Simple changes can be made to better Mother Earth. So we need to start taking responsibility to make a difference, and leave a good legacy for generations to come."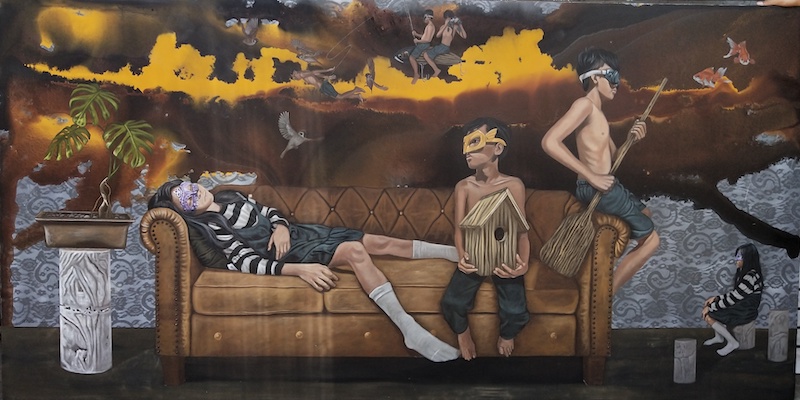 Despite the bleak backdrop of each painting, the determination and curiosity of the children along with the fact that they have been equipped with different tools allow them to stand resilient through it all and ultimately as they face a challenging future.
"I chose them to be a part of my exhibit so I could see smiles on their faces despite their everyday battle. I know it will be a big help, especially knowing that because of this God-given talent, I could help extend someone's life." Anchinges said when asked about choosing to help the patients of PGH Pedia Hema Onco.
Lerma also echoes the artist's sentiment. "Art is a unifying force in society today. It brings us all together under a shared culture, and allows us to communicate our challenges, dreams, and hopes," he said.
And so, the sale puts forward that as we embrace our frontliners and the public and private sector's efforts in combating this pandemic, we shouldn't forget the challenges that these kids continue to face every day. 
The exhibit-sale will be up until all the paintings are sold. View the rest of it and learn about how you can purchase or donate here. 
Get more stories like this by subscribing to our weekly newsletter here.
Read more:
Freelance artists, cultural workers can now apply for 10 days tax-free min wage aid
6 documentaries on art and history that you can watch for free
12 museums in Asia you can visit virtually anytime, anywhere
TAGS: acrylic paintings aldron anchinges art art exhibit bid for the future child cancer patients children covid-19 exhibit sale joaquin lerma little left to lose PGH Pedia Hema Onco philippine general hospital salcedo auctions