Duterte approves P50 billion wage subsidy for middle-income workers
This, however, only directly applies to registered micro, small and medium enterprise (MSME) workers
Apr 15, 2020
President Rodrigo Duterte has approved the roll-out of the P50.8 billion wage subsidy program for micro, small and medium enterprise (MSME) workers or middle-wage earners affected by the COVID-19 crisis.
In a virtual press briefing on Apr. 14, Tuesday, Cabinet Secretary Karlo Nograles said the president approved the Small Business Wage Subsidy Program to help 1.5 million small businesses in the formal sector and their 3.4 million employees affected by the implementation of  quarantine. 
Earlier, Duterte responded to Cavite Governor Jonvic Remulla's call to include the "overlooked" middle-class households in the government's social amelioration program by citing the appeal as valid. Since then the president has reportedly ordered his economic team to work on an assistance program for middle-income workers. 
The program is included in Duterte's third weekly report to Congress on the use of his additional powers to address the health crisis "Ito po 'yung sagot natin doon sa tinatawag na middle-income workers natin," Nograles said.
Furthermore, the said program for middle-wage workers will be the same as the government's emergency subsidy program for the 18 million low-income households with beneficiaries set to receive subsidies from P5,000 to P8,000 per household monthly for two months. 
Although, Finance Secretary Carlos Dominguez last Monday (Apr. 13) also clarified that the financial assistance to MSME workers was not directly for the "middle class" as those belonging to the middle class were already benefiting from loan moratorium, extension of tax filing and payment deadlines, and disallowing banks to charge interest on housing and credit card debts.
MSMEs are defined as businesses with an asset size of P3 million to P100 million, excluding land assets and with less than 200 employees. They also comprise almost 99 percent of business establishments and account for 60 percent of the country's total employment.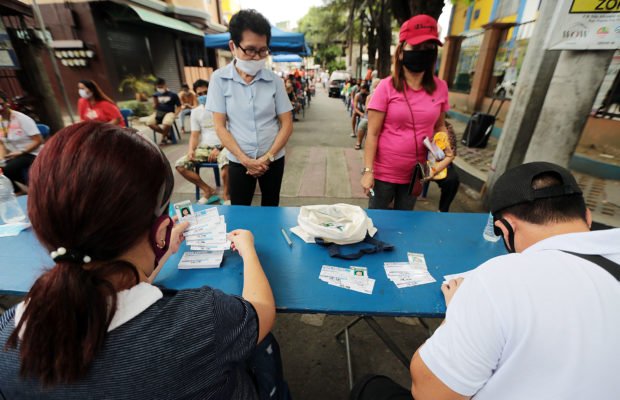 To avail of the cash aid, workers must be employed as of Mar. 1, 2020, and have not received their pay for the corresponding month. Thereafter, the cash aid will be distributed in two portions from May 1 to 15, and from May 16 to 30, Nograles added. 
In a meeting in Malacañang last Monday (Apr. 13), Finance Undersecretary Karl Kendrick Chua explains that the government will use the data from the Social Security System (SSS) and the Bureau of Internal Revenue to identify registered beneficiaries working in MSMEs.
That said, workers who are on leave or are already availing of the SSS unemployment benefits will not be covered by the program. Recipients of the grant may receive the cash aid through their SSS Unified Multi-Purpose ID cards which also serves as ATM cards, bank accounts, electronic wallets or remittance centers.
For Small Business employers,  you can verify if your enterprise is pre-qualified  by entering your Tax Identification Number here.
Meanwhile, half of the P200 billion allotted for the cash emergency subsidy program has already been disbursed and is currently being distributed to its low-income household beneficiaries.
Header photo courtesy of Inquirer.net
Get more stories like this by subscribing to our weekly newsletter here.
Read more:
Nolisoli quarantine guide: All you need to know on bills, groceries and more this ECQ
PH begins mass testing as COVID-19 cases near 5,000 mark
DepEd to roll out 'continuity learning plan' in a month, decide on school opening date
TAGS: BIR Cavite Governor Jonvic Remulla covid-19 Karl Kendrick chua Karlo Nograles middle class middle income workers msme workers philippines rodrigo duterte Small Business Wage Subsidy Program sss