This 16-year-old uses art, technology and his privilege to uplift communities
After three successful events which raised over P8 million and counting, the high school student also recently launched two fundraising initiatives to help combat COVID-19
Apr 15, 2020
Joaquin Lerma is making a name for himself in our local art scene by using the power of art to unify people under a cause. 
The 16-year-old junior studying in the International School of Manila wears many hats. He is currently the managing editor of his school's social studies journal, the ISManila Review while also taking on the role as vice president of their robotics club. And on top of it all, last November, he founded Bid for the Future, a social enterprise supporting non-profit, cause-driven organizations by putting together art sales.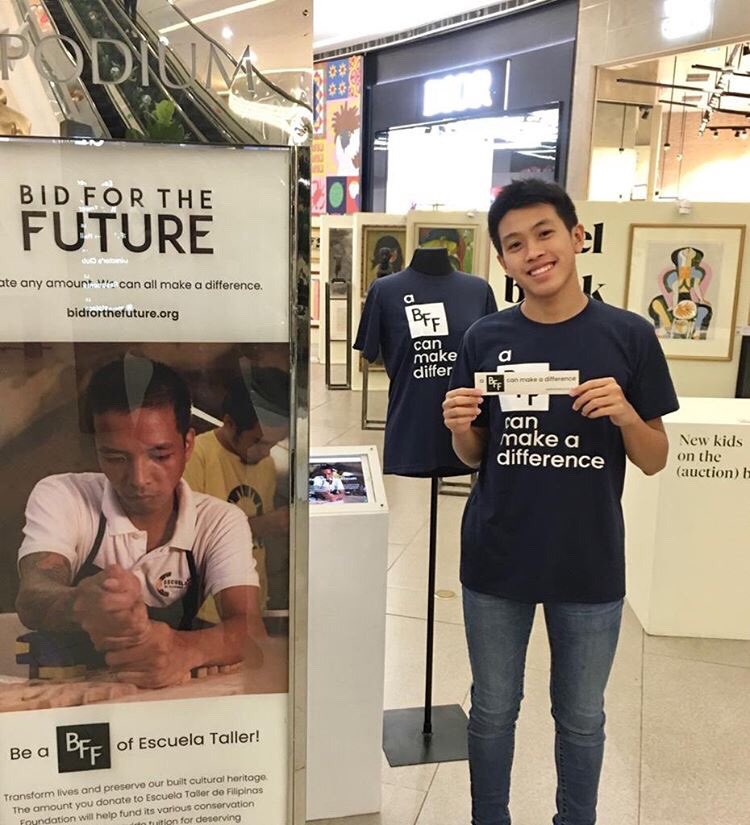 Operating primarily through its online donation website, Bid for the Future is an all-in-one platform for raising awareness on different charities while providing a convenient way for people to donate to these causes with just a few clicks. 
Bid For The Future | Support Escuela Taller

Escuela Taller's mission is to protect and conserve the built cultural heritage of the Philippines by training and developing the skills of underprivileged youth. Help us reach this goal by donating through bidforthefuture.org#CulturalHeritage#MakeABidPH#BidForTheFutureEscuela Taller de Filipinas Foundation, Inc.

Posted by Bid for the Future on Monday, November 18, 2019
Though some might question how a teenager could put up such an initiative, upon learning that he is in fact the son of Salcedo Auctions chairman Richie Lerma, parts of how it came about might make more sense. "I've been helping out in our family's business since I was 11, giving tours and now handling phone bids," Joaquin shares.
"What I've noticed is the increased development and maturing of the art industry, as the market shifts from a typical developing industry primarily controlled by galleries and dealers to a more international and developed art scene, where both primary and secondary groups have a more equal share," says Joaquin.
One could easily stop there and not look past the glamour of such a life of someone so young. But the younger Lerma recognized the need to use his privilege to contribute something to society, to be the voice of many overlooked causes. "Growing up, you can say that I've had an insider's view of the art scene that I realize not everyone has. Being able to harness these opportunities to help others is how I hope to make an impact."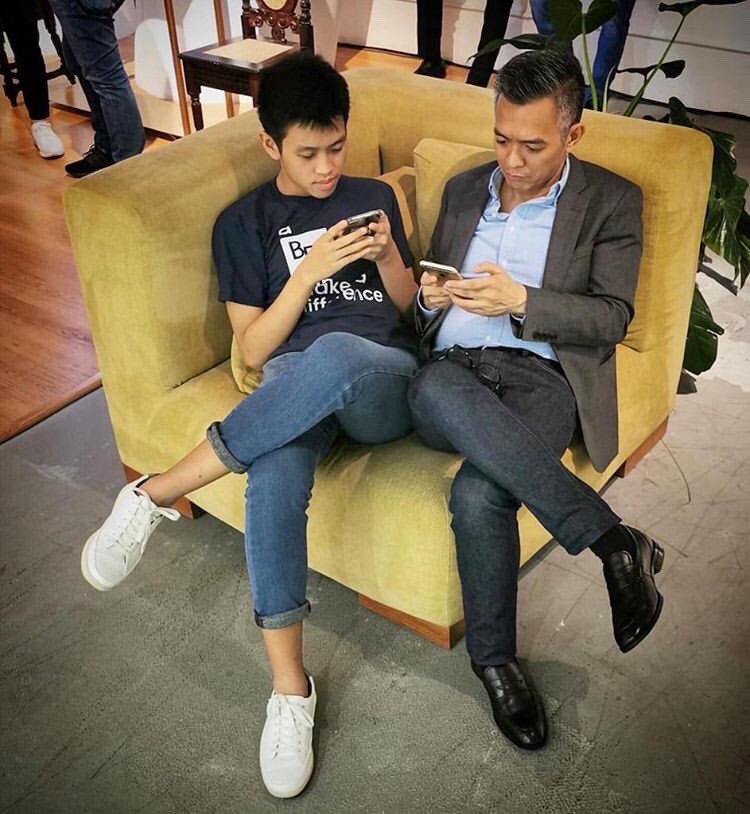 Though this endeavor might be framed as Joaquin following in his father's footsteps, a lot of other dynamics actually played out before Bid for the Future came about. 
"Being in junior year, I'm at the crossroads exploring my future endeavors, and I feel that Bid for the Future allows me to explore my different passions while also being able to make a difference in my community. As much as I spend a lot of time at school, I also try doing things outside," the 16-year-old says. He then goes on to recall the time when he worked at a retail shop when he was in Sydney, Australia. The then 14-year-old had gotten the job over older and experienced applicants–without any help from friends or family.
Aside from this, he also highlights doing volunteer work for a local library. "The valuable life skills I acquired there enabled me to gain the confidence required to reach out to others and the discipline to work hard to make my projects successful."
A turning point for Joaquin in terms of understanding how art could be utilized to help society was when he attended the very first Sotheby's Art Institute Art Business program for high school students in New York. There, he met the Duke and Duchess of Devonshire who shared their art collection with the public in an effort to raise awareness for the conservation efforts for Chatsworth House, their heritage property.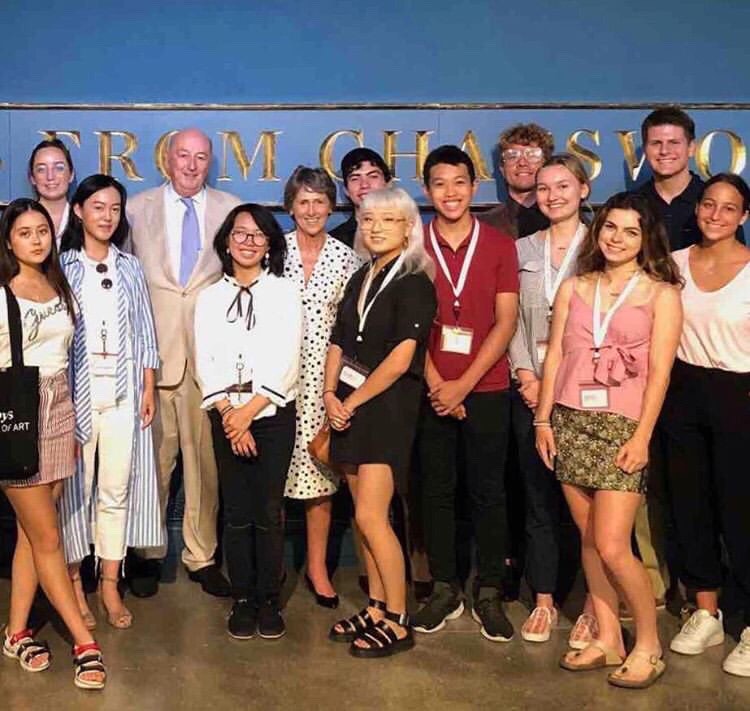 When he came back to the Philippines, a Spanish company specializing in fundraising websites came up to his parents. He immediately knew that he wanted to use the opportunity to put up his very own platform. "I thought about what my first cause would be and doing something history-based immediately came to mind. So I asked my dad for a list of reputable organizations working in heritage preservation"
True enough, Bid for the Future's very first project was a direct fundraiser for Escuela Taller de Filipinas Foundation, a vocational formation school, which, apart from providing a source of income, teaches underprivileged youth technical skills on the conservation and rehabilitation of the Philippines' heritage sites. 
[READ: Local heritage sites are being restored by this unlikely group of youngsters]
Aside from advocacies concerning culture, arts and education, Joaquin has also realized the pressing health issues that plague our country. Part of Salcedo Auctions' Important Philppine Art Sale last Mar. 14 was a collaboration between Bid for the Future and senior artist Justin Nuyda. Together, Nuyda's Search Mindscape series raised a whopping P7,750,000 for over 11,000 hospitalized children who are dealing with cancer and other chronic diseases that are being supported by Kythe foundation. 
[READ: Get to know the stories behind Ang Kiukok, H.R. Ocampo and Justin Nuyda's paintings at this auction] 
As of writing, the donation platform has three ongoing active fundraising events. "Little Left to Lose," which was launched last Apr. 1, is  an online exhibit-sale of seven of artist Aldron Anchinges' paintings for the benefit of the child cancer patients of the Philippine General Hospital  
[READ: This online exhibit will help fund child cancer patients of PGH amid this pandemic]
And last saturday Apr. 10, Bid for the Future announced two new fundraising initiatives that will help Anthology Festival Organization Manila, Inc. and  WTA Architecture + Design Studio build more emergency quarantine facilities (EQFs) in light of the COVID-19 crisis. The social enterprise partnered with self-taught Filipino painter Kenneth Montegrande who put up his "Healing Spaces" art collection for sale.  
The collection consists of eight acrylic on canvas paintings depicting horizons where light glistens through dark clouds. The imagery in these paintings could signify the ongoing challenges faced by our nation today as well as the hope and resolve to find solutions. 
The organization is also "waging war" against the notorious virus through its latest initiative "BFF vs  COVID-19." Drawing from Joaquin's background in technology and design, the platform is a game-like interactive page where you can select a specific virus icon which size corresponds to the amount you wish to donate with the smallest one starting at P100 and the largest at P3,000 though you can select multiple "viruses" to add up. 
Through it all, Joaquin cites time management as one of the most important skills to have in life especially given everything that's on his plate. With five  fundraisers in less than a year, the organization is yet another testament to the efficiency of the youth when it comes to channeling their energy, passion and curiosity to impacting change in various communities. Equally worth noting is his wise and consistent use of privilege to help bridge the gaps in society as well as uplift other people that may not have access to the same resources and opportunities.
"We've heard of countless occasions when people my age can make a difference and this time especially, I'd like to reaffirm it. During these challenging times, our generation's ability to network over vast distances and fully utilize the latest technologies presents a plethora of opportunities we can take full advantage of," he concludes in an essay about his organization.
Photos by Bid for the Future Organization
Get more stories like this by subscribing to our weekly newsletter here.
Read more:
From acting to DIY crafts: these creative online workshops will bring out your inner artist
Google Arts; Culture includes 9,000 Filipino artworks in their online exhibits
12 museums in Asia you can visit virtually anytime, anywhere
TAGS: aldron anchinges bid for the future covid-19 devonshire escula taller de filipinas joaquin lerma justin nuyda kenneth montegrande New York philippine art philippine art scene richie lerma salcedo auctions sydney australia visual art