UCC, CoCo Ichibanya and other Japanese restos now open for delivery and pickup
Have a coffee, burger and Japanese food feast at home with these restaurants' return
May 7, 2020
UCC Ueshima Coffee Philippines is the newest chain to open delivery and pickup services for their restaurants' selected branches in Metro Manila.
However, each will have limited menu selections. Thus, customers are advised to call the restaurants about their available dishes prior to ordering their takeout or placing an order through third-party providers like Grab and Lalamove.
All stores will also strictly observe "no mask, no entry" and social distancing policies for those ordering takeout.
UCC
UCC customers from Metro Manila can finally get a hold of the café's delectable coffee, breakfast meals and desserts by calling the following branches to inquire about available menu items: 
UCC Café Terrace in One Rockwell at 8856-0477 and 8478-7513

UCC Clockwork in Xentro at 8243-9257

UCC Clockwork Burgos at through 8828-1447
The three branches are open from Monday to Saturday only, and the Café Terrace and Clockwork Burgos Circle branches are accepting orders from Monday 9 a.m. to 4 p.m. only. Meanwhile, UCC Clockwork in Xentro is open from 9 a.m. to 3 p.m.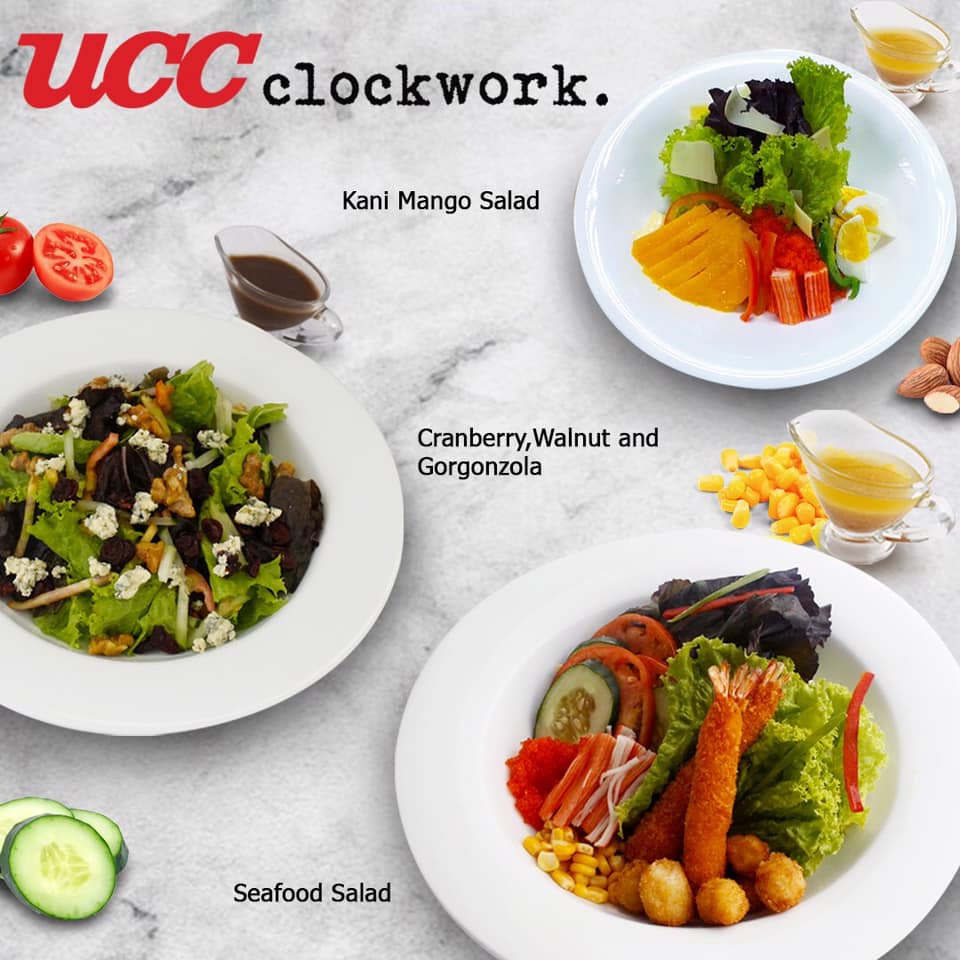 MOS Burger
Fast food chain MOS Burger, which is known for its Yakiniku rice and other Japanese-style burgers, will be serving its fresh cheeseburgers, rice burgers and lettuce burgers as well through takeout and third-party pickup (Foodpanda, Grab Express, Lalamove) services available at its Robinsons Galleria branch. 
They are open from 10 a.m. to 4 p.m. For inquiries, customers can contact MOS Burger at 7747-2695.
CoCo Ichibanya
Various Japanese restaurants under UCC Ueshima Coffee Philippines, Inc. are also offering delivery and pickup.
Best known for their pork and chicken cutlet curry dishes, CoCo Ichibanya has opened its One Rockwell and Kapitolyo Kitchen branches for orders made through Foodpanda. You can call 8815-4087 to inquire about their available menu items.
Mitsuyado Sei-men
For your Tsukemen cravings, Mitsuyado Sei-men is presenting their ready-to-cook Yuzu Tsukemen and Karashi Tsukemen kits as well as ready-to-eat gyoza and chicken karaage for takeout or third-party delivery via Foodpanda, Grab Pabili, Joyride Pabili and Mr. Speedy.
Open from Monday to Saturday only, the Japanese restaurant will be accepting orders from 10 a.m. to 5 p.m. Customers can also call 8511-1390 for further inquiries.
Tendon Kohaku
If you miss having tempura, Tendon Kohaku has good news for you as well. Its Burgos Park branch has opened its doors to customers with its takeout and pickup services. However, it will cater to the Forbestown community only from 10 a.m to 4 p.m. Inquiries can be made via 7914-0433.
Header photo courtesy of UCC Ueshima Coffee Philippines, Inc.
Get more stories like this by subscribing to our weekly newsletter here.
Read more:
Yabu and Ippudo now open for pickup and delivery
Kumori's melt-in-your-mouth Japanese cheesecakes are now available for delivery
ADB crinkles—er Margarita Forés's crinkles—are now available for delivery
TAGS: coco ichibanya coco ichibanya delivery japanese food delivery Mitsuyado Sei-men Mitsuyado Sei-men delivery MOS Burger MOS burger delivery Tendon kohaku Tendon Kohaku delivery ucc ucc delivery