It used to be just me and my co-worker Sam, who graciously helped me put together this list. And then one afternoon after a video conference, to our surprise we saw our bosses commenting "mine" or "mine next" to a post by our trusted Dapitan tableware Instagram shop. And just like that, we weren't the only "miners."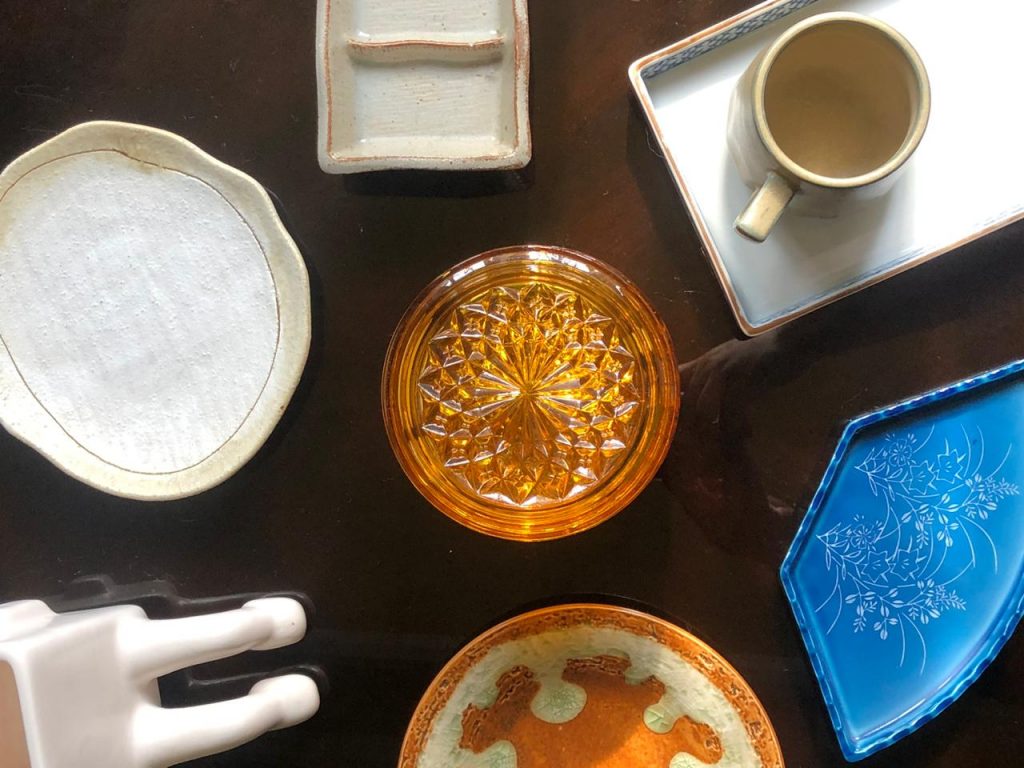 To be fair, by the time our superiors got in the game, we were deep in a mountain (okay, maybe a hill) of our previous finds. For me, celadon platters, stoneware dessert plates, irregular-shaped matte speckled dinner plates and the most delicate pair sake cups. For Sam, lots of mugs and some trinkets including jewel-toned soy sauce dishes that come free with a minimum purchase. And that was only two months into quarantine.
These online shops, most of them, at least, we assume are hunters. They too scourge Japanese surplus shops and sell their finds online at a margin. Of course, the art of Japanese thrift store hunts is nothing new, but its online counterpart is relatively a new platform. 
The art of online scavenging
The mechanics are pretty easy to follow. Each seller posts a date of release in advance and buyers patiently anticipate the drop. If you are well-versed in Instagram, you will set a notification for new posts and stories to make sure you get to call dibs on the items. If you see an item you like, you just comment "mine." The first commenter gets the item. But someone else could still comment "mine next" in case the first buyer backs out. 
If you come in late to the party, there are still gems to be found, too, as most sellers tag available items with a hashtag usually consisting of their shop name + the word "avail."
From there it's just a matter of settling your payment and arranging for delivery. But since there are strict border controls and travel restrictions (at least that was the case before) some deliveries take weeks or months even.
But with the enhanced community quarantine downgraded to general community quarantine, ordering and delivery is a breeze. No wonder there are suddenly many new miners and shops.
If you're worried about getting bamboozled by bogus sellers, let me tell you this: In my experience, I haven't been victimized by fraudulent online shops. How? Because I always choose those that have a reasonable following. The downside to that is you'll have more miners to compete with. But that's part of the fun of this market.
To get you started, here are some Instagram shops worth exploring, each with different pricing and offerings (most of the time). Once you find a shop you like, keep updated on their next drop and set an alarm or even a notification alert.
https://www.instagram.com/p/CBkfMLDHF4Z/
If you're in the market for unique trinkets and not just tableware, this is the place for you. They have amber-colored glass mugs and canisters, iridescent teacups and saucers, and that rare wine decanter/carafe that I still dream of to this day. 
https://www.instagram.com/p/CA5NopQnaBI/
This is heaven for those specifically looking for ornate Oriental-printed plates, saucers and bowls. But selections vary, too, every once in a while depending on the collection.
https://www.instagram.com/p/CBzcB_fnnPe/
If you're looking for something other than plates and materials other than ceramic, this Sampaloc, Manila-based shop has plenty of alternatives. They have cute tea sets alongside wicker baskets.
https://www.instagram.com/p/CBkSGCGljwZ/
Unlike other shops, this seller has a dedicated physical space in Dapitan aka home decor and kitchen paraphernalia haven. They have over 5,000 followers (ourselves included) so expect to fight for the ceramic piece you're eyeing.
https://www.instagram.com/p/CBpL83zne3B/
This shop's selection is a mix of eclectic pieces and minimalist wares. The good thing about them is they usually have items in multiples so there's a chance that you can still get one or two of the item you're eyeing even with 2,000 other followers.
https://www.instagram.com/p/CBUxyFGA98p/
This Davao-based shop is not so much about tableware but home decor or tableware that can pass as home decor: quirky saucers as jewelry dishes and oddly-shaped decorative vases. 
They also have an auction sales approach where buyers bid, so yes you can outbid anyone for your desired piece.
https://www.instagram.com/p/CAwgA2knRTQ/
This one has a pretty big market with 19,000 users vying for each item. That's partly because of its diverse selection that includes items as big as vases and tchotchkes as small as chopsticks rest.
https://www.instagram.com/p/CBz60gMA1pK/
Modern pieces are the bread and butter of this shop. These include glass sets, vases and planters in bizarre shapes like a bull's skull. 
https://www.instagram.com/p/B9bucelpyVh/
Unlike the usual online shop setup, Peacherino has its own website where it sells one-off ceramic pieces from vases to sake cups. 
https://www.instagram.com/p/B_pFJ2lJq8N/
Curated per collection, Alboe releases pieces per theme and makes them available through Google Form orders. Whoever submits an order form first gets to take the piece home.
https://www.instagram.com/p/CBwxQfDHCZT/
Their finds may not be as big as vases available in other shops, but Fab Finds by Tim pieces certainly have character. Take for example this pair of curved gravy boats, you won't find it anywhere else.
Get more stories like this by subscribing to our weekly newsletter here.
Read more:
6 vintage stores for every kind of collector
How to bid at auctions and start your own collection
A vintage shop in Poblacion with museum-quality Pitoy Moreno and Ramon Valera