That 40k COVID-19 cases prediction we just 'beat'? It might go up to 60k come July 30, says UP
We might want to hold off that "celebration" because by the end of July, the number of COVID-cases may double, according to this study
Jun 30, 2020
We may have beaten the prediction of researchers from the University of the Philippines (UP), who said that by the end of June, there will be 40,000 COVID-19 cases in the country, but that is hardly a cause for celebration contrary to Presidential Spokesperson Harry Roque who considered it a "win." With 36,000 cases as of today, a new UP study predicts that by the end of July, the number would nearly double to 60,000.
According to a UP study published Monday, June 29, if the current trends continue, there will be 60,000 COVID-19 cases by July 31 with 1,300 deaths.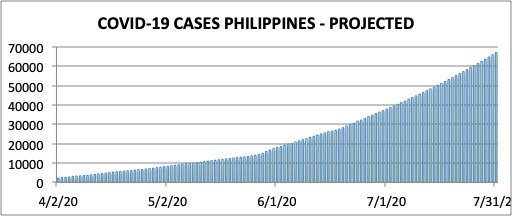 "In NCR, the projection is 27,000 cases by July 31, while in the province of Cebu, the projection is 15,000 cases by July 31, assuming a continued implementation of ECQ," the study's findings read. "We emphasize that the projected increase in cases and deaths can be prevented by rapidly identifying and breaking chains of viral transmission."
This is based on an assumed reproduction number Rt at 1.18, which is still lower than the current rate estimate at 1.28.
Although the researchers led by professor Guido David, Ph.D did acknowledge that the spike in numbers may be explained in part by the increase in testing capacity, one of their recommendations is still to ramp it up to at least 20,000 tests per day nationwide and at least 10,000 tests per day in NCR (considered a high-risk area), based on recommendations from a study in Harvard University.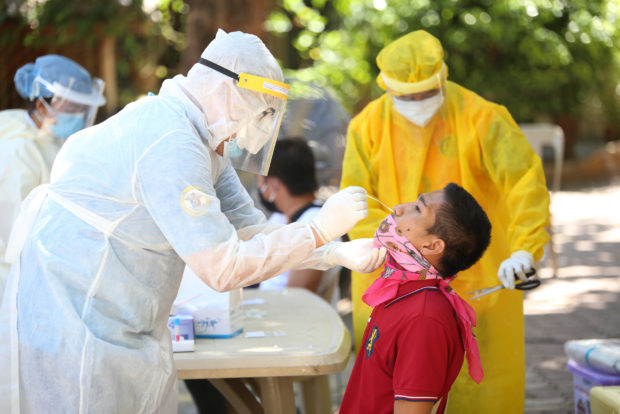 "These should be the average number of tests completed daily over a two-week period," the researchers said.
Their recommendation to the government outlined at the end of the report includes a review of the national strategy against COVID-19. "The government must re-examine and re-calibrate its strategies to ensure that the transmission of SARS-CoV2 virus does not further increase beyond the capacity of the health care system to respond."
President Rodrigo Duterte is expected to announce new quarantine protocols tonight as the last general community quarantine extension from June 15 will lapse today. 
The researchers commenting on the possible changes to current quarantine protocols said "The easing of quarantine restrictions must be matched with more pandemic surveillance, effective strategies for social distancing, and compliance with other health protocols including vigorous promotion of personal hygiene practices, wearing of masks and other personal protective equipment (PPE) and increased testing, tracing, and isolation as the working population increases their exposure especially in high-risk areas such as NCR and Cebu.
"Moreover, the further opening up of the economy or the changing of quarantine status are major government decisions that should be made with a clearer picture of the pandemic based on reliable data."
"Winning" against COVID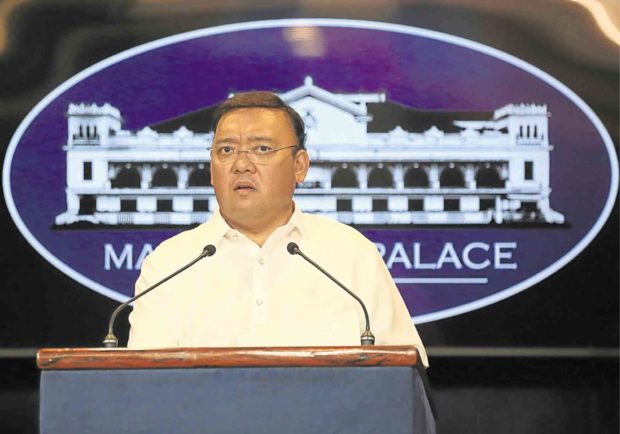 Earlier today, Roque at a virtual press conference said the fact that current statistics proved UP's initial 40,000 cases by the end of June prediction wrong is a "win." "Panalo na tayo. We beat the UP prediction. We beat it. Congratulations, Philippines," he said.
Roque on Monday also disputed the World Health Organization's report showing that the Philippines had the fastest rise in new coronavirus cases in the Western Pacific region.
"Of course, if you will look at the rise in cases, it should be in relation to your population. Why would we be compared to Singapore, when Singapore [has only] 5 million [people]," Roque said.
Sen. Risa Hontiveros commenting on the Malacañang's "winning" claim said that before celebrating victory, officials must be honest to themselves. "Hindi natin matatalo ang pandemiya kung hindi tayo magiging honest sa mga sarili natin.
"Paano tayo 'winning' kung may mahigit 36,000 kaso na tayo ng COVID-19, may 7.3 milyong Pilipinong walang trabaho at kulang tayo sa proteksyon at suporta sa mga doktor at health workers? To 'win' against COVID-19, first we need to be honest."
Header photo courtesy of Cebu City Public Information Office
Get more stories like this by subscribing to our weekly newsletter here.
Read more:
So who's to blame? Duterte's angry at Cebuanos for not following COVID-19 protocols
What happened to the COVID-19 funds, DOH? Ombudsman wants to know
Gov't eyes enforcing barangay lockdowns with high number of COVID-19 cases
TAGS: cebu coronavirus covid-19 Duterte Harry Roque mass testing ncr quarantine sen. risa hontiveros UP winning