MMDA: Bus-only EDSA lane being illegally used by PUVs—mostly with gov't personnel in them
An average of 30 vehicles per day has been caught using the bus-exclusive lane since June 1—gov't personnel included but they were not fined
Jul 13, 2020
When Metro Manila shifted to general community quarantine (GCQ) on June 1, EDSA reopened to vehicular traffic (not that it was ever closed), too but with a new structure: an inner lane exclusive for buses ferrying people from point to point.
Since it's implementation over a month ago, the Metro Manila Development Authority (MMDA) has caught 987 private vehicles (motorcycles included as per some social media posts) plying that lane that was supposed to be for buses only. 
LOOK: Members of PNP- Highway Patrol Group apprehend motorists using exclusive bus lane on EDSA-Main Avenue, Cubao, Quezon City on Thursday. (📷: Niño Jesus Orbeta/Philippine Daily Inquirer) pic.twitter.com/lZAXJB6yKp

— Inquirer (@inquirerdotnet) June 25, 2020
That's an average of 30 violators per day and half of them it turns out were uniformed government personnel.
"Half of those flagged were our colleagues in the government, driving their private vehicles," MMDA spokesperson Celine Pialago said. And get this, some of them were using official vehicles or motorcycles. 
Apart from social media shaming (which happens often now and which effectivity is debatable), a fine of P1,000, plus an additional P150 for disregarding traffic signs are imposed upon violators. 
But for these people in uniform caught in the act? "Some consideration" and a penalty for disregarding traffic signs will do, Pialago confirmed. Although, she added that "government personnel, especially uniformed ones, should be emulated by the public while on the road."
"We are not singling out our colleagues but if a private vehicle with government personnel inside was seen on the bus lane, other vehicles would follow suit. This will destroy the very concept of the EDSA busway," Pialago said.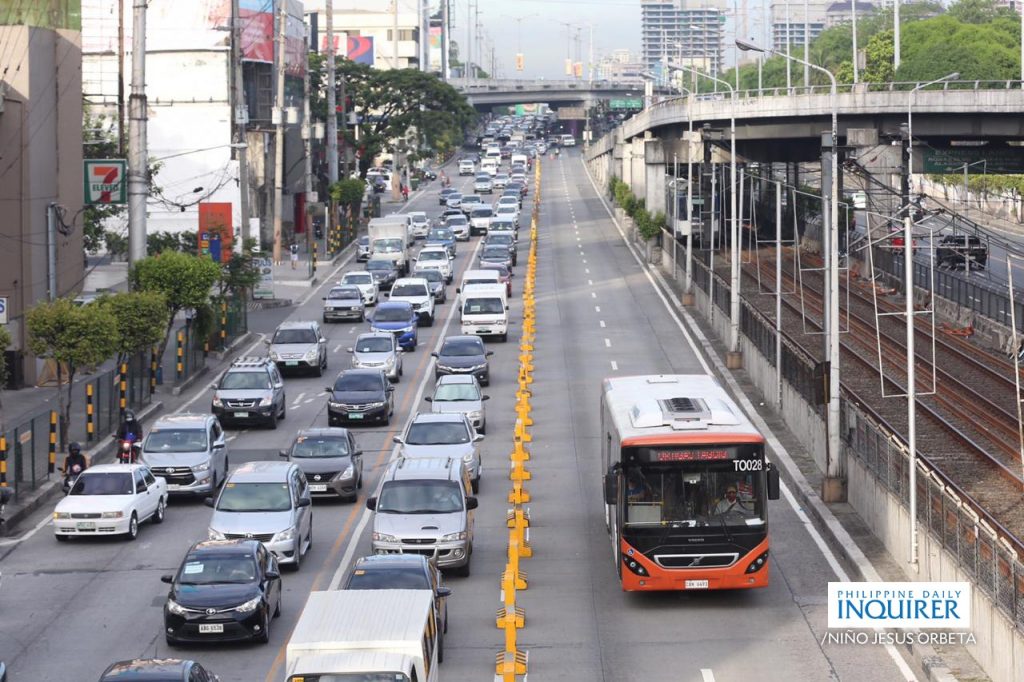 As if the name wasn't enough of a reminder, she had to remind these violators that the said busway was exclusively for city buses, although, in cases of emergency, it could be used by government workers in emergency vehicles like ambulances and "government mobiles with sirens and markings."
Header photo courtesy of Niño Jesus Orbeta/Inquirer
Get more stories like this by subscribing to our weekly newsletter here.
Read more:
Get home fast! Check these 31 newly opened bus routes for the quickest way out
Routes and regulations: A commuter's guide for jeepneys'; return on the road
Taking the LRT and MRT? Here are its operating hours during GCQ
TAGS: bus bus lane Edsa gcq government MMDA traffic violator