On the night of July 23, the Philippine Health Insurance Corporation (PhilHealth) came under fire after it was reported that an anti-fraud legal officer had tendered his resignation letter due to the widespread corruption in the agency.
The officer was later named and confirmed as Atty. Thorrsson Montes Keith. Aside from an alleged unfair job promotion process, Keith also claimed that his salary has been delayed since he started looking into the PhilHealth officers said to be involved in corrupt practices. 
In his letter, he also expressed opposition to PhilHealth's previous attempt to seek mandatory contribution payment from overseas Filipino workers, which President Duterte, later on, shot down and announced as voluntary.
"Earlier this evening, sa Zoom meeting ng PhilHealth, nagkabistuhan ng corruption, nagkasigawan!  As of now, three officers resigned because of disgust," said a source from an Inquirer report.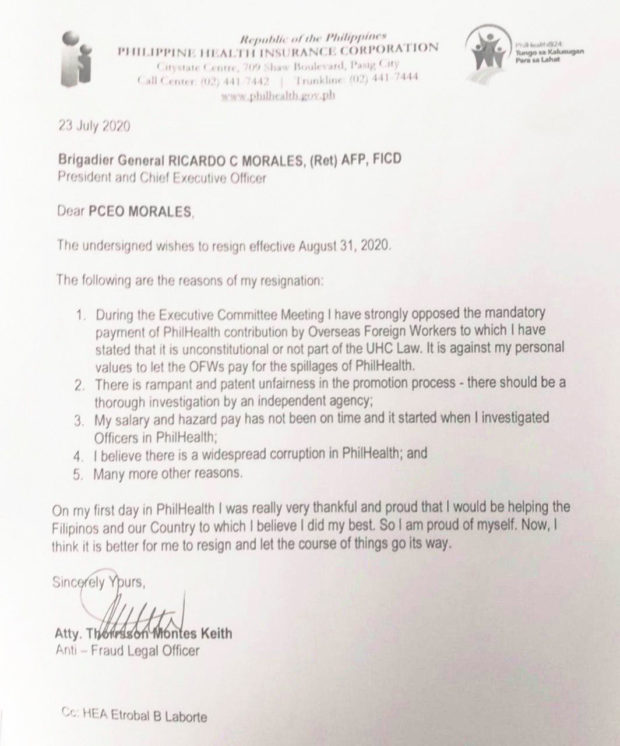 On July 24, PhilHealth addressed the reports through an official statement listing the resignation statuses of the three officers including Keith on social media.
"PhilHealth has yet to officially receive the letter of resignation of Atty. Thorrsson Keith. However, any grievances on promotion, which Atty. Keith applied for, can be resolved through its grievance machinery. Head executive assistant Etrobal Laborte has tendered his resignation in the middle of July and will take effect at the end of August 2020 to go back to taking his PhD, while corporate legal counsel Atty. Roberto Labe Jr. vehemently denied any news of his resignation," the agency said.
They added, "PhilHealth assures the public that it takes seriously any issue on corruption, and asks Atty. Keith to substantiate his accusations so proper procedures can be initiated."
Official Statement on the Resignations Of Three Officials of PhilHealth#MyPhilHealth pic.twitter.com/TScFZyomNH

— PhilHealth (@teamphilhealth) July 24, 2020

However, both the Palace and the Senate expressed the need to probe the agency. 
Senator Panfilo Lacson announced on July 24 that the Senate will call for an investigation of PhilHealth. Meanwhile, Presidential spokesperson Harry Roque said that the president has authorized the head of the office of the Special Assistant to the President, Undersecretary Jose Melchor Quitain to investigate the alleged corruption in the agency. 
The probe will look into the procurement of an overpriced information technology system, which reportedly caused the argument between the officials PhilHealth president and chief executive officer Ricardo Morales. According to Roque, the system costs over P2 billion.
Header photo courtesy of PhilHealth Region VI
Get more stories like this by subscribing to our weekly newsletter here.
Read more:
Move PhilHealth down your pay-off list, contribution deadline extended to June 30
Furious over PhilHealth OFW rates hike, members' online petition picks up steam
PhilHealth rolls out new rate packages for COVID-19 patients
Writer: YANN MAGCAMIT