Who let the ostriches out and is it even legal to have them as pets?
Just when we thought the world couldn't get any crazier, two ostriches ran wild in Quezon City. But isn't it crazier to think why they were there in the first place?
Aug 4, 2020
A much-needed break from the circus of news, a comic relief amid isolation—this is how most people perceived the news of two ostriches breaking loose in a private village in Diliman, Quezon City earlier today.
In a video first uploaded by Facebook user Dino Rivera, a tall creature can be seen running amid vehicular traffic and a number of people peacefully walking through Narra Ave. in Mapayapa Village 3. Motorcycles on one side of the intersection halt to behold this bizarre occurrence—this very picture will become a marketing ploy hours later for motorcycle service application Angkas.
Netizens would later learn that there were actually two ostriches as verified when these creatures were finally captured around 11 a.m. The towering birds were promptly returned to its owner, a resident of the village, as one would return a dog astray.
No one bothered to ask why there were two wild animals kept in a residential village in the middle of the city in the first place. Or why were both villagers who took the videos which circulated online more appalled about the ostriches running wild than the fact that they were there in the first place, living among them? This has prompted many to think that the villagers know the existence of the ostriches in the city. 
One of my co-workers asked, "Could there be that there is a zoo or a spacious grazing ground where more wild animals are being kept in the village?" 
The idea I likened to a "sanctuary" up north owned by a politician where apart from live animals, carcasses and bones of killed wildlife were on display.
Well, the idea is not far off. For starters, the owner could have a permit from the Department of Environment and Natural Resources called a Certificate of Wildlife Registration (CWR). It is pretty easy to obtain given all you have to do is go to the DENR office—a measly 10 km away from Mapayapa Village—prove you obtained the animals through registered breeders via valid documents, pass inspection and pay anywhere between P50 to P1,000 depending on the number of species you intend to register.
But even if the owner had successfully secured a permit, wouldn't they, as my colleague pointed out, need an expansive space for these ostriches? 
According to National Geographic Kids (yes, I trust them), an ostrich can grow anywhere from seven to nine feet and weigh up to 150 kg—and still run as fast as 60 kph, the general speed limit in the country.
An ostrich's stride can cover up to 4.9 meters aka it can jump over four average height Filipinos laid end-to-end without trouble. So imagine how much space is needed to raise them: a lot. So there is either a spare golf course in that village or a savanna we don't know about.
But assumptions aside, illegal wildlife trade is a serious threat to animals.
I don't need to go into detail as to how illegal trading and ownership can lead to species decline and in serious cases, extinction—we have all the news articles and documentaries for that.
Or do we?
After all, wildlife trafficking in the country is a notoriously difficult activity to track and crack down on. 
According to the data from DENR-Biodiversity Management Bureau cited in an Inquirer report last year, between 2013 and 2018, there were only a handful of apprehensions made, peaking at 58 in 2013.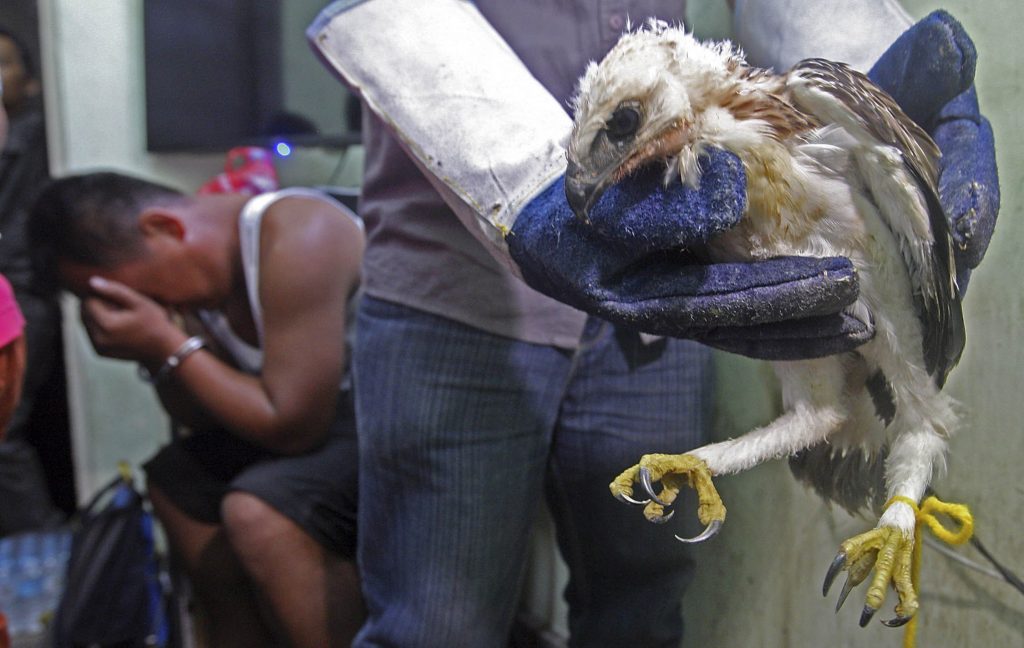 Of the over 100 operations made to recover these wildlife species and catch illegal breeders, traders and buyers, only 70 cases were filed with less than 30 convictions.
The trade has also been made more "smoother" and untraceable through online transactions.
[READ: DENR has developed a new app to help curb wildlife trafficking]
Just last week on Instagram, an animal food seller was exposed after a post of shark tail dog treats was unearthed from its page. When netizens call the owner out via direct message, they seem to have a template for an answer that was already on their IG Story highlights.
A prized delicacy, it is harvested by severing tails off a live shark resulting in its death.
Republic Act 8550 known as The Philippine Fisheries Code, amended by RA 10654 in 2014, states that "it shall be unlawful to fish or take, catch, gather, sell, purchase, possess, transport, export, forward or ship out aquatic species listed in Appendix I of the Convention on the International Trade in Endangered Species of Wild Flora and Fauna (CITES), or those categorized by the International Union for Conservation of Nature and Natural Resources (IUCN) as threatened and determined by the Department as such." A fine of up to P500 million and imprisonment of 12 to 20 years await those who skirt RA 8550—and there is a loophole that enables this: Only a few of endemic species of sharks (approximately 10 percent of the 200 endemic shark species) are listed in the CITES appendix.
So what can we do? 
Apart from signing and sharing online petitions—like this one calling to expand the coverage of the CITES appendix to include more shark species and this one for the strengthening of Republic Act No. 8485 or the Animal Welfare Act of 1998—we can also do our part by remaining vigilant and reporting instances of abuse or neglect to authorities.
One of the most frequently asked questions on the Philippine Animal Welfare Society (PAWS) website is "What can I do to help the exotic animal in my neighbor's care?"
According to PAWS, it is best to contact the Biodiversity Management Bureau (formerly known as PAWB – Protected Areas and Wildlife Bureau), the government agency tasked to handle wildlife and exotic animal concerns.
"Complaints about exotic animals in Metro Manila fall under NCR Regional Office and should be forwarded to the Chief of Biodiversity Management Bureau or BDM," said PAWS. However, the NGO reminds concerned citizens to make sure they have concrete information because one will have to submit a detailed written complaint/report about the owner of the animal (name, address, contact info), the location where the animal is kept, time and place of observations, etc.
Alternatively, you can also call in to check if your neighbors have the proper documentation and permit to keep these animals.
"If the person has no permit (or even if the person has a permit but conditions violate the Animal Welfare Act), the animal may be confiscated by BMB," said PAWS. "Confiscated animals will be confined in their Wildlife Rescue Center but it may be better to help educate the owner to provide improved living conditions and care instead."
DENR-BMB Ninoy Aquino Parks and Wildlife Center is located at 1100 Diliman, Quezon City. You may reach them through 8924-6031 through 35 or via email at [email protected]
Get more stories like this by subscribing to our weekly newsletter here.
Read more:
DENR has developed a new app to help curb wildlife trafficking
9 out of 11 endemic hornbill species now listed as threatened in DENR's updated red list
Foodies, please don't eat endangered animals
TAGS: DENR exotic pets illegal wildlife trade mapayapa village ostrich quezon city