8 short films to check out from Cinemalaya's roster of 70+ films this 2020
Last chance to catch up on almost 100 films, documentaries, and other videos hosted by the digital Cinemalaya Film Festival this weekend
Aug 14, 2020
It's a very different Cinemalaya this year, not only because we're celebrating the film festival in our homes amid quarantine, but also because the films in competition this year are mainly shorts.
There are almost a hundred videos currently available for viewing on Cinemalaya's Vimeo page—the venue of the festival's digital edition this year.
The Nolisoli team watched several of the main competition shorts, premieres and indie nation shorts. If you're overwhelmed by the wealth of choices the digital film fest offers right now, here are our picks to get you started.
"Fatigued" Dir. Robin Mayo
Main Competition Shorts A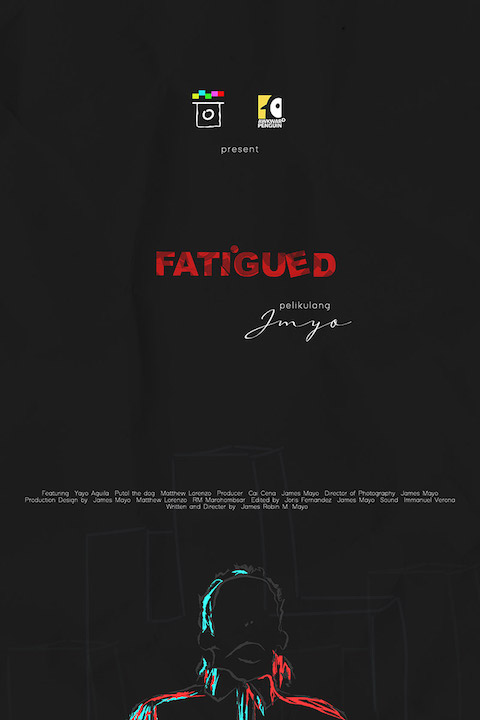 I've always wondered what it feels like to be the main character of a horror film. And "Fatigued" gave me just that. It is an interactive horror film portrayed as a game where I, an overworked employee, overslept and have to wake up from a nightmare that's slowly turning into a reality. Honestly, I'm not easily scared of any horror movie but this one made me flinch more times than I've ever done my whole life. Although it lacked trigger warnings, felt a bit rushed as I noticed some typographical errors and wasn't the best plot-wise, it's still arguably one of the most creatively produced entries this year. (Pro-tip: Watch it at night, turn off the lights, follow whatever the film is making you do and use headphones for full experience.) — Kleo Catienza, junior content creator
"Excuse me Miss, Miss, Miss" Dir. Sonny Calvento
Main Competition Shorts B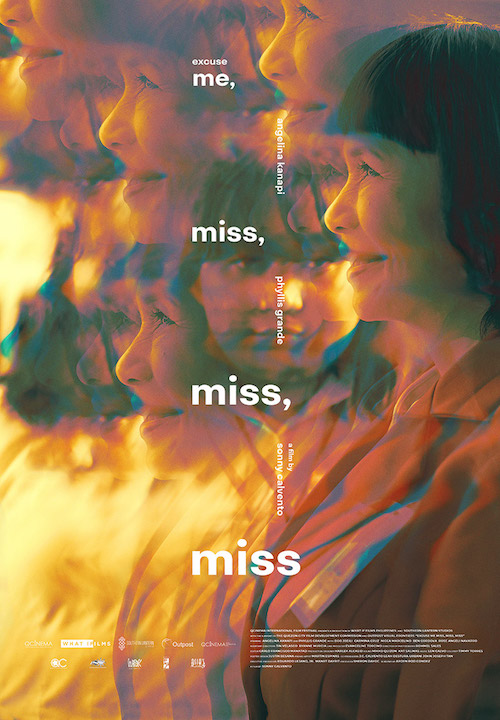 I hate to admit it but I always fall for the kind of Cinemalaya flicks where filmmakers tackle social issues through a comedic lens. This one tackles a pervasive culture of contractualization in the country specifically among those working in the mall service industry. How many times have we on our own outings to the mall (before COVID-19 obviously) uttered "Excuse me, miss" followed by a gentler "miss?" to address a sales person? One too many. A social commentary on the labor conditions experienced by many blue and pink collar (yes, such a thing exists!) workers, this short film excels in the caricaturization of overworking and what it takes to make it in an exploitative workplace. "If only I could split myself into two," the protagonist ponders. "What if you can?" her manager entertains the thought. Sometimes, it takes more than one body to accomplish so much for so little. — Christian San Jose, associate editor
"Ang Gasgas na Plaka ni Lolo Bert" Dir. Janina Gacosta and Cheska Marfori
Main Competition Shorts A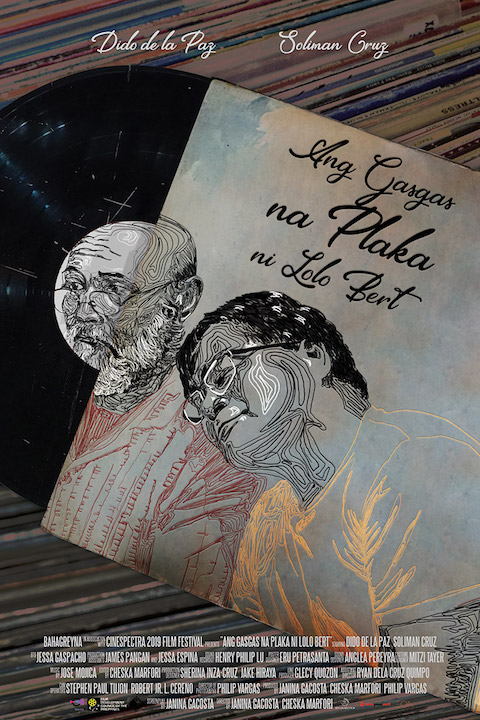 I've seen the trailer for this quite a while back and I've been lowkey looking forward to seeing the full thing ever since. Now it's here! "Ang Gasgas na Plaka ni Lolo Bert" is a quiet, poignant film that touches on themes of love, longing and memory. I also think the short film is rife with symbols and parallels—from the imagery of the broken record, and even down to the lyrics of the song which gets looped over and over thanks to the record's scratches. The film also subtly raises awareness for HIV. — Pauline Miranda, managing editor
"Tokwifi" Dir. Carla Pulido Ocampo
Main Competition Shorts A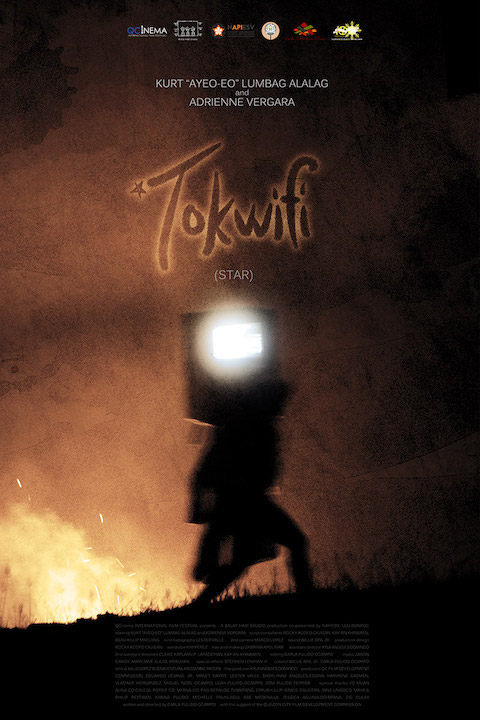 "Tokwifi" is this year's Best Film and NETPAC Jury Prize winner. It's a curious, almost sci-fi or magic realist tale of a 1950s actress, Laura, trapped in an old TV, crash-landing into the mountains like a meteor—found by a Bontok Igorot, Limmayug. The two interact despite not speaking the same language, and somehow form a connection. I think it also somehow touches on how the culture we grow up in affects how we also express ourselves. — Pauline Miranda, managing editor
"Ang Pagpapakalma sa Unos" Dir. Joanna Vasquez Arong
Main Competition Shorts B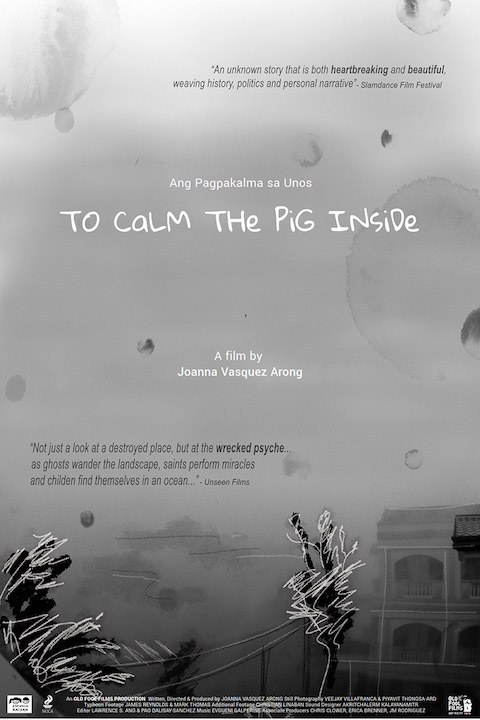 Eerie: That's how I would describe the first impression of "Ang Pagpapakalma sa Unos" to me. Shot entirely in black and white, the film presents the devastation left behind by Typhoon Yolanda in 2013—but unlike other documentaries, it doesn't simply dwell on the immediate destruction brought by one of the strongest typhoons to hit the country. No, just like the film itself, it revisits the scars left by the disaster that claimed so many lives and shows how it has remained to pain those who personally experienced its ravage even almost seven years after. Personally, Anna Rong's narration is what struck me the most about the film. There was something so raw and heart-wrenching about the way she spun myths that locals made about the typhoon together with contemplations based on experiences of both director Joanna Vasquez Arong and the local community. Remember how Filipinos are praised for resilience during natural disasters? This film shows how we do that through different coping mechanisms like making stories.
"Ang Pagpapakalma sa Unos" won the Special Jury Prize. — Yann Magcamit, junior content creator
"Heneral Rizal" Dir. Chuck Gutierrez
Premieres – New Short Films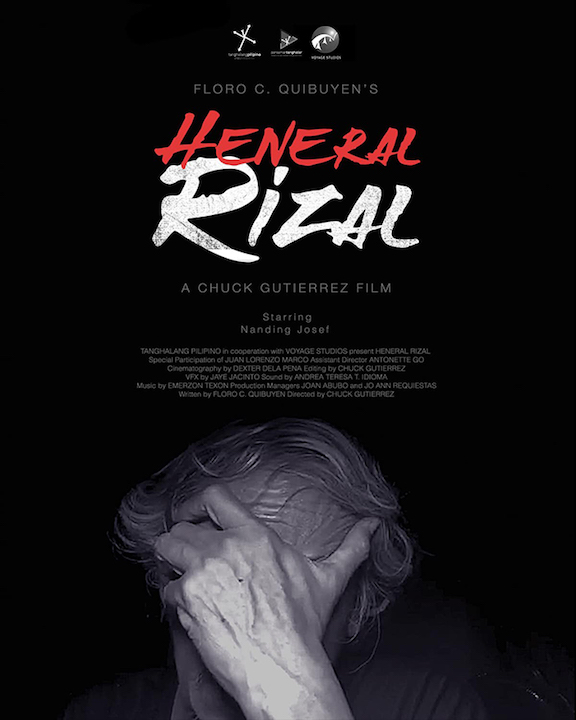 Count on me to be the one to watch the history film in the lineup. "Heneral Rizal," which is Tanghalang Pilipino's first foray into Cinemalaya, focuses on Rizal's brother Paciano (Nanding Josef), who airs his frustrations to the now-deceased hero. Most of his grievances are familiar, echoing other recent historical films, but when he talked about how we Filipinos (and they, ilustrados) are so concerned about what foreigners (particularly Westerners) think about ourselves—it hit hard. When he says that our worth or our capabilites are irrelevant when it comes to the issue of slavery, it really hits home. Is he talking about the colonial period or 2020, even? Paciano later challenges the younger Rizal to take action (which is ironic because he's dead)… but he does. That final scene, where history merges with the present, brought me to tears. — Pauline Miranda, managing editor
"Grand Gestures" Dir. Cody Abad
Indie Nation Shorts B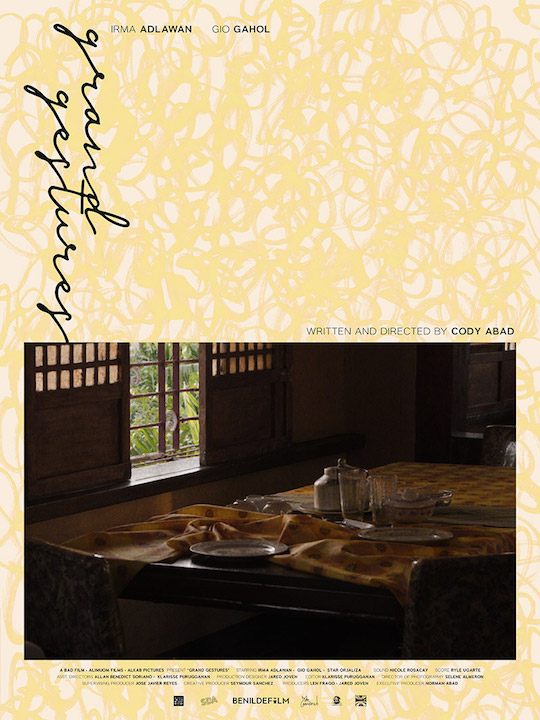 Silence even in its searing nothingness is a device often used in cinema to communicate something that is not quite there physically but audiences can see, feel and even relate to. Short film "Grand Gestures" exploits this. The film is about 80 percent ambient sounds of the setting: an ancestral house situated in the suburbs where a wake is happening. Whose? It's not quite clear. Is Irma Adlawan Gio Gahol's mother? Sister? No one knows for sure. What little dialogue we hear are but physical manifestations of awkwardness, which a real person would rather keep to themselves. But silence also allows for the audience to fill in what is not given. And it's not very hard to do that. A third family member mediates. A group of tsismosas provide some (dubious) context. Oh, and flowers. Shit tons of flowers. — Christian San Jose, associate editor
"Living Things" Dir. Martika Ramirez Escobar
Main Competition Shorts B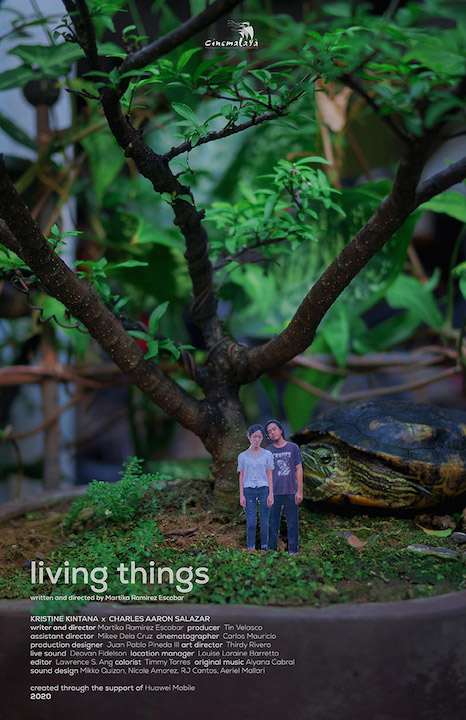 Not gonna lie, this film first caught my attention because it shares the same title as a section of our magazine. The film starts with a couple, Kints and Charles, playing a no-blinking game to see who'd take the trash out (just live-in couple things, right), which later evolves into a discussion on how the other has started to change, which then shifts into a discussion about their favorite things (along with the argument that "things" don't necessarily have to be objects, but can be feelings or circumstances, as in, "we became a thing"—that was a cool bit, for me). Later, Charles suddenly gets transformed into a cardboard standee who can still talk and feel. It's a simple film really, but I liked how it drops lines that are almost existential (like how, once you change you can never go back to how you used to be…), but without the heavy feeling of dread. It came across to me just light… perhaps like the cardboard standees themselves. — Pauline Miranda, managing editor
–
Aside from these short films, other features of this year's digital Cinemalaya worth checking out are five of this year's Virgin (Virtual) Labfest plays, the digitally restored classic "Minsa'y Isang Gamu-gamo," and tributes to the late director Peque Gallaga and actress Anita Linda. Hard-to-find short films from previous years are also available for viewing. 
Cinemalaya runs until Aug. 16. Purchase "tickets" for viewing bundles and packages here.
Posters courtesy of Cinemalaya website
Get more stories like this by subscribing to our weekly newsletter here.
Read more:
How to watch this year's Cinemalaya movies for a week for as low as P75
Indie film fans, catch your favorites on Netflix this June—start with award-winning 'Pamilya Ordinaryo'
6 local films you may have missed in cinemas are now streaming online
TAGS: 100th philippine cinema ang gasgas na plaka ni lolo bert ang pagpapakalma sa unos cinemalaya cinemalaya 2020 excuse me miss miss miss fatigued filipino films grand gestures indie film Living Things philippine cinema tokwifi