7 self-care practices an educator should adopt right now
We've already seen a lot of self-care lists on the internet but here's another one—exclusively for teachers
Aug 20, 2020
We're entering a new academic year with the implementation of a learning system everyone knows nothing about except that it's going to be virtual. Naturally, our educators are worried. Questions start to flood their minds and they're losing sleep over it.
"What if the module I'm writing isn't good enough for my students to understand?" "How am I going to make online classes interesting for them?" "Will all of them listen to me?" "How do I make sure they are physically and mentally healthy?" "What about my students who have no access to the internet?"
If it isn't obvious enough, students are always on top of their priority list, sometimes at the cost of forgetting their own wellbeing. While it's their nature to be selfless and giving, there will be times when they'll need to disconnect from their responsibilities. And just like the rest of us, they need to practice self-care.
But does prioritizing self-care make them selfish?
Wellness Check Series feat. #StartANewDay: A Forum for Educators

DepEd, Globe and Inquirer, together with the Philippine Mental Health Association, Inc., is back for another #StartANewDay webinar as part of the DepEd-DRRMS Wellness Check Series to discuss pressing issues concerning mental health of educational instructors. Join us as we identify different mental health behaviours and share ways to provide comfort and support to educators and their families amid the pandemic.Be part of the conversation and type in your questions in the comments section so our speakers may address them during the webinar.

Posted by Nolisoli.ph on Thursday, August 13, 2020
"Prioritizing self-care is not selfish. Do not feel guilty." These were the words of Dr. Carolina Una-Rayco, the national executive director of the Philippine Mental Health Association, Inc., last Aug. 14 during the latest installment of the Wellness Check Series Program led by the Department of Education Disaster Risk Reduction and Management Services (DepEd-DRRMS). It also featured the webinar campaign organized by Globe, Inquirer and Hope Bank, titled #StartANewDay: A Forum for Educators Part Two.
"Remember, you cannot give what you don't have. If you don't feel good about yourself, people will notice that. But if you feel good about yourself, you'll be able to give more and do more," she added.
Now that we got that out of the way, how does an educator properly commit to a self-care routine?
Think positive as long as it's genuine
There's a thin line between genuine and toxic positivity most of us aren't aware of. To put it simply, toxic positivity is making yourself believe there's nothing wrong when there actually is. Genuine positivity, on the other hand, is acknowledging negative emotions, doing something about it and recognizing when to seek help.
"Listen to your body. If you feel some aches and pains, stop for a while and take care of yourself. Acknowledge the not so good about yourself," professor and clinical psychologist Dr. Ronald Recio explained during the panel discussion.
Take breaks but don't quit
Dr. Recio emphasized that there really will be times when a teacher would feel like quitting but they have to rearrange their thoughts first before deciding on anything. "Why do you want to quit? Evaluate, doubt and question. Reorganize your thought content," he said.
Meanwhile, high school teacher Ruby Avelino shared that whenever she has the urge to quit, she always reminds herself of the determination and passion she had back when the pandemic hadn't hit the country yet: "Pahinga lang pero never quit."
Build a support system
According to the American Psychological Association, having emotional support can make problems more tolerable and easier to deal with. So it is important to develop a strong support system among your friends and family, especially amid the imposition of physical distancing and self-isolation.
Set boundaries
Sure, it's hard to set boundaries in a work from home setup but it should be done one way or another. Educators must make their family members aware of when they are available to talk and when they are not. This can greatly help with how a person balances their personal life and work.
Have time away from social media
Some may ask, "How can I stay away from social media when it's the only way I can communicate with my students?" Here's the thing though: You're staying away from social media to avoid infodemic, not to cut communication lines with your students.
There's a heavy influx of news these days and they can negatively affect your mental wellbeing. So it's always best to take time off the internet even just for a couple of hours.
Model positive behaviors
"I model positive behavior by posting positive thoughts, reading positive things and sharing it with colleagues. I always embrace positivity via reading books," said Avelino. An educator with a positive mindset can eventually influence their students to have the same mindset.
Promote help-seeking behaviors
A teacher can only deal with so much. Yes, it's important to let students know they're not alone by listening to their issues, but educators should also know when to seek professional help. "Tayo mismo, let's equip ourselves with information where to refer [students or colleagues with psychosocial concerns]," said Dr. Rayco.
"Kapag nakita nating hindi nakasabay ang bata sa klase, tawagan ang magulang o bata mismo. Hindi lahat ng bata kayang sabihin ang [kanilang] concerns. Dapat maging mapagmatyag," added DepEd-DRRMS coordinator Demosthenes Soriano.
How do we know if someone needs professional help?
There are many factors to consider before seeking professional help—absenteeism, changes in their mood and shift in the way they communicate with other people, among others.
Stress is normal. It's a person's natural reaction to pressure. However, it's not advisable to self-diagnose or impose on other people. The best we can do is reach out to these mental health helpline numbers whenever we or the people we know don't feel psychologically well.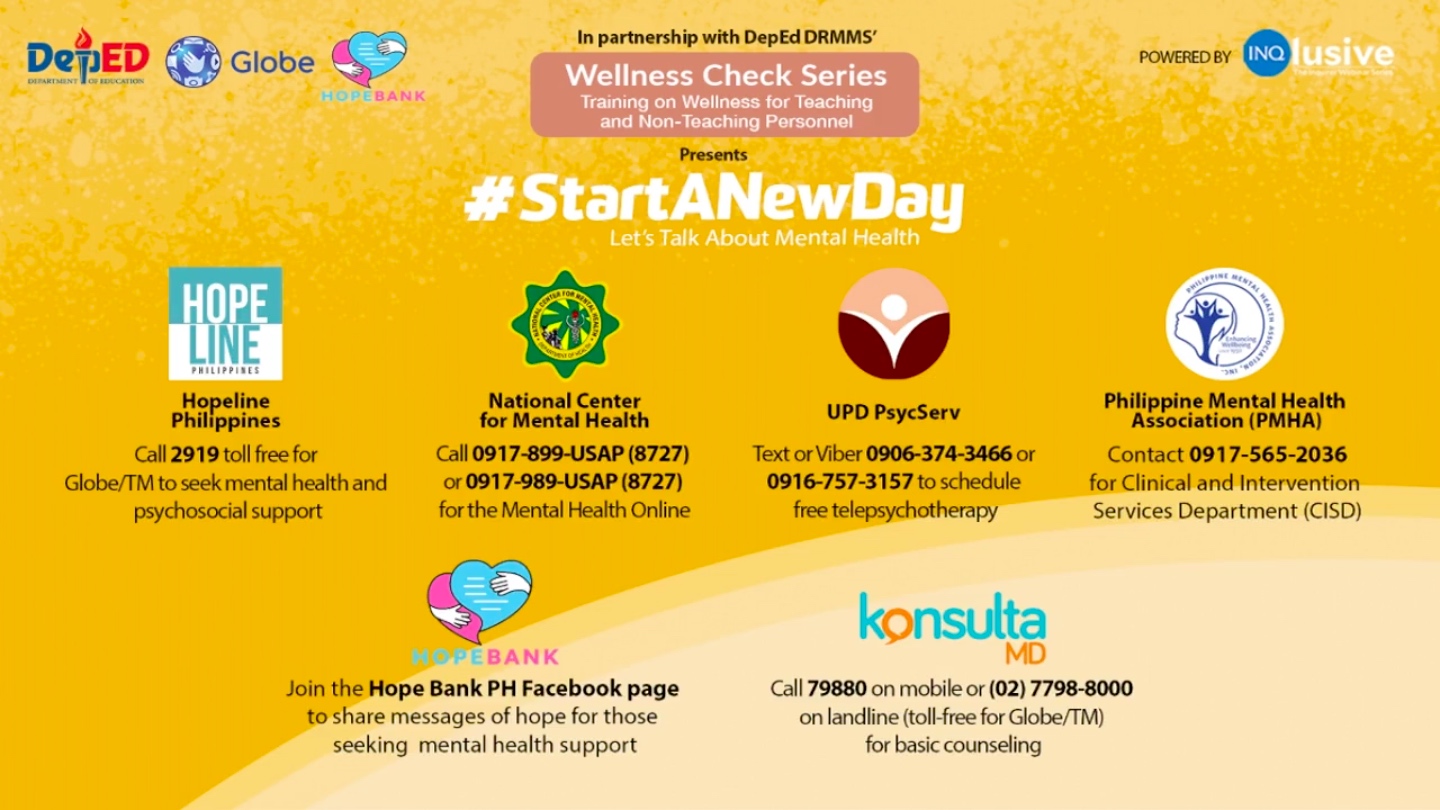 Both teaching and non-teaching personnel are invited to also join the Hope Bank community where members regularly post messages of inspiration and encouragement to help each other cope with psychosocial concerns.
Don't forget: "Be committed to self-care. We cannot pour from an empty cup," Dr. Rayco concluded.
Header photo courtesy of Mimi Thian on Unsplash
Get more stories like this by subscribing to our weekly newsletter here.
Read more:
Take note: The new school year will now begin in October
#AyudaPangEskwela makes sure that no student is left behind
#NoStudentLeftBehind is a call for inclusivity, not an excuse for laziness
TAGS: back to school deped drrms Globe hope bank Inquirer self-care students teachers webinar