After a renovation in 2011, which aimed to sanitize one of Pasig River's then-polluters, the over a century-old Paco Market is under construction to integrate a town center that will be located next to the wet and dry market.
Once the most modern market in the country designed by Manila Hotel architect William Parsons and opened in 1912, Paco Market was strategically located near a riverbank or an "estero" to allow for the smooth flow of commerce via boats. Prior to this, it made for "prolific breeding places of vermin and insects" with its bamboo construction and raw dirt floors, reads a record in the Bureau of Public Works Quarterly Bulletin published October 1914.
That's when Parsons stepped in, recommending a concrete and steel facade that would still be open to natural light and air sources. Not only did Parsons' design maximize waterborne commerce, according to research by the Center for Filipino Architecture, it is also "not far distant from the railroad station, where supplies of fruit and vegetables from nearby provinces arrived."
Parsons' modern market was home to over 500 vendors including those from the original Herran market. It remained that way for almost a century until its renovation in 2011.
A new town center
Nine years later, it is due for another shakeup. This time a full reconstruction that requires the demolition of most of its original structures, save for the iconic facades. 
The latest development will be led by architect Lan De Leon and associates of NPLAS Designs and will feature a town center that will be occupied by commercial businesses, alongside the reassembled wet and dry market.
https://www.facebook.com/permalink.php?story_fbid=3012089802236669&id=541595182619489&__xts__%5B0%5D=68.ARCuHd_CQ2CWcFRhPDfiGCHk2OJ_bCGktFjMeHOswClwVjwVwIPsHAcKWAVCpGo0s6jwBzA5D2gZUxZq8QT3XjVLtlrtsPCbN-wke4xeVXxwuaYOVi9pjWJ7xoII5qaQOZ9x2-Z3vxK7w75bXWXpSnHzcMuyAXbbr9vMo6evEYeBCzunG59TahX-7MDr-aFl2ZkpZ60_rl93mFcOjKrum0k8JqBdzcVZFn47IVJlUHYtyWp0jxuEH_B1v_I_KPaNE3Bd28Jy1S2j7kY_t288nIyTMwieERmp04QPPWaZqJHCxNqS45R82VknvusUrhUguaZvdg3NMDvN9sRvQdcTuhT80Q&__tn__=-R
In a Facebook post, De Leon said his design was approved by the National Historical Commission of the Philippines (NHCP) and submitted to the building officials of Manila within the last two years ("I need to check the exact date").
The design for the new complex has been uploaded on YouTube by De Leon's firm early this year. It features the 2011 facade replicated on the right side for the entranceway to the proposed Paco Town Center and the Paco Wet and Dry Market. According to the animated mockup, the town center will have a supermarket, a gym and a coffee shop among other tenants.
The modernist new look prominently features prominent roof structures propped by exposed beams and pillars as well as skeletal rectangular frames that seem to levitate in between peaks.
Modernist but not for all
Heritage advocate Ivan Man Dy shared a photo taken less than a month ago of the demolition, which only made the rounds yesterday in various heritage architecture conservation and appreciation Facebook groups.
One of the first pages to pick up on the topic is the Center for Filipino Architecture, which called the redesign a case of facadism.
"What remains of the historic Paco Market is its facade. If its walls could only talk, it will reprimand our generation for fetishizing surface over substance," read the statement from one of the seven standing committees of the United Architects of the Philippines.
"We are witnessing the absurd urban trend in Manila in which the entirety of a historic building is demolished apart from the exterior façade to allow a new building to be constructed behind it. While the act of building a new structure behind a historic façade of Paco Market may seem benevolent and propped with good intention, facadism unleashes the sad truth about how we value our past and how we allow the money-centric political and market forces to hostage our beloved city."
Architect Gerard Lico who spearheaded the rehabilitation of Rizal Memorial Coliseum last year, also shared his sentiments wrapped in a bit of nostalgia having grown up near the structure.
"We live in Singalong until I was 24 years old and Paco Market is part of my growing up. I know all its nooks and crannies. I especially love crossing the wooden bridge over the estero," Lico said. "The Paco Market made me who I am today! Its demolition makes me really sad and angry!"
Lico also shared the video of the NPLAS plans on his Facebook page with a caption "My gosh!" with most of his friends sharing his sentiment.
Members of different Facebook groups such as Advocates for Heritage Conservation received the news with mixed reactions. Some lauded the modernist treatment while paying homage to the facade. Others criticized the unnecessary ornamentation, which they deemed more appropriate for airport terminals. Still, others find that this new look may work if materials were to be appropriately chosen with "period-correct finish."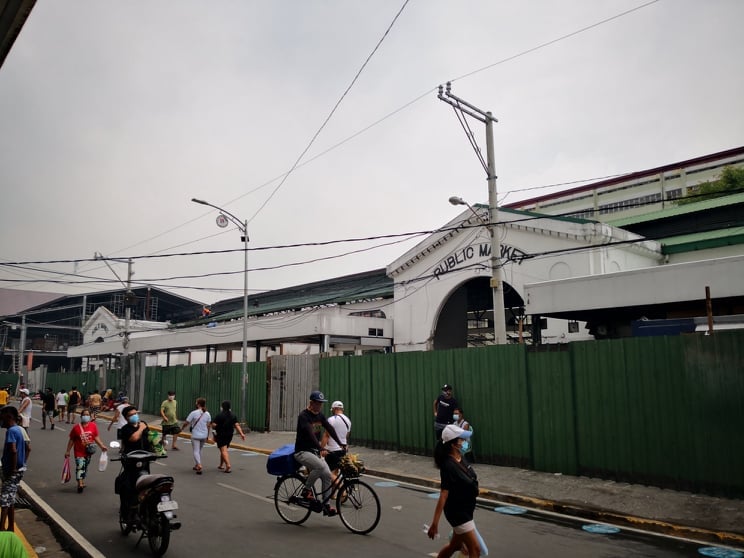 The Manila City local government has yet to release a statement on the matter. 
A Facebook page El Reportero on a post regarding the issue claims NCHP chair Rene Escalante said their agency "does not have any idea on the ongoing market renovation."
Under Republic Act 10066 or the National Cultural Heritage Act of 2009, Paco Market can be considered a presumed important cultural property under Sec. 5, where structures dating at least fifty (50) years old "shall be considered important cultural property, unless declared otherwise by the pertinent cultural agency."
Header image courtesy of Ivan Man Dy
Get more stories like this by subscribing to our weekly newsletter here.
Read more:
OPINION: Mayor Isko Moreno's idea of 'reviving' a park—a free public space—is putting up a coffee shop. Really?
Newly renovated Lagusnilad underpass has Baybayin signs but not all netizens are happy about it
It's officially goodbye to Escolta's Capitol Theater
Up next on 2020 casualties: The historic Philam Life Theater
Writer: CHRISTIAN SAN JOSE