What I miss more than dressing up for work, is dressing up for travel. Dressing appropriately for a specific locale and weather requires a certain amount of planning. "Could I wear layers or is it more of a linen kind of destination?" Of course, the pandemic took that away from us, too.
Gone was the month-long planning required to piece together a cohesive (but also luggage-friendly) wardrobe. Which leads me to ask after knowing where I could have been had the pandemic not happened, "What could I have been wearing?"
That is actually a lie. I know what exactly I could have worn to where. The same pieces I've lovingly purchased from thrift stores and sale bins. For a second there, quarantine made me forget I made a pledge not to buy brand new mass-produced clothes this year. But I always make an exception for footwear and I knew exactly what could've been my shoe of choice to an April beach trip.
They are these strappy sandals that I've always eyed from a store in Makati called Munimuni Studio. They were actually on everyone's wish lists last year—heck they were in our last print issue for Southern Living magazine.
The sandals are breathable—I know this because I tried it on many times convincing myself that I can blow a paycheck's worth of savings on a pair. They are, after all, braided abaca fiber painstakingly woven together to bring to life a pair of sandals where every step feels either like a funny tingling or a comforting sensation as if stepping a fuzzy rug.
Since those try-on times, Munimuni Studio has introduced many iterations of the design, including one with straps made of handwoven inabel fabric made by artisans in Ilocos province.
https://www.instagram.com/p/B1-NTo4J3CC/
The latest design called Bahaghari sandals is a collaboration with sustainability-oriented designer Mariton Villanueva, who specializes in natural dyes. Her label called Himaya explores the possibilities of hundreds of plant species and their different parts (leaves, stems, bark, roots, fruit and its peels) as an alternative to industrial dyes, which are known water polluters.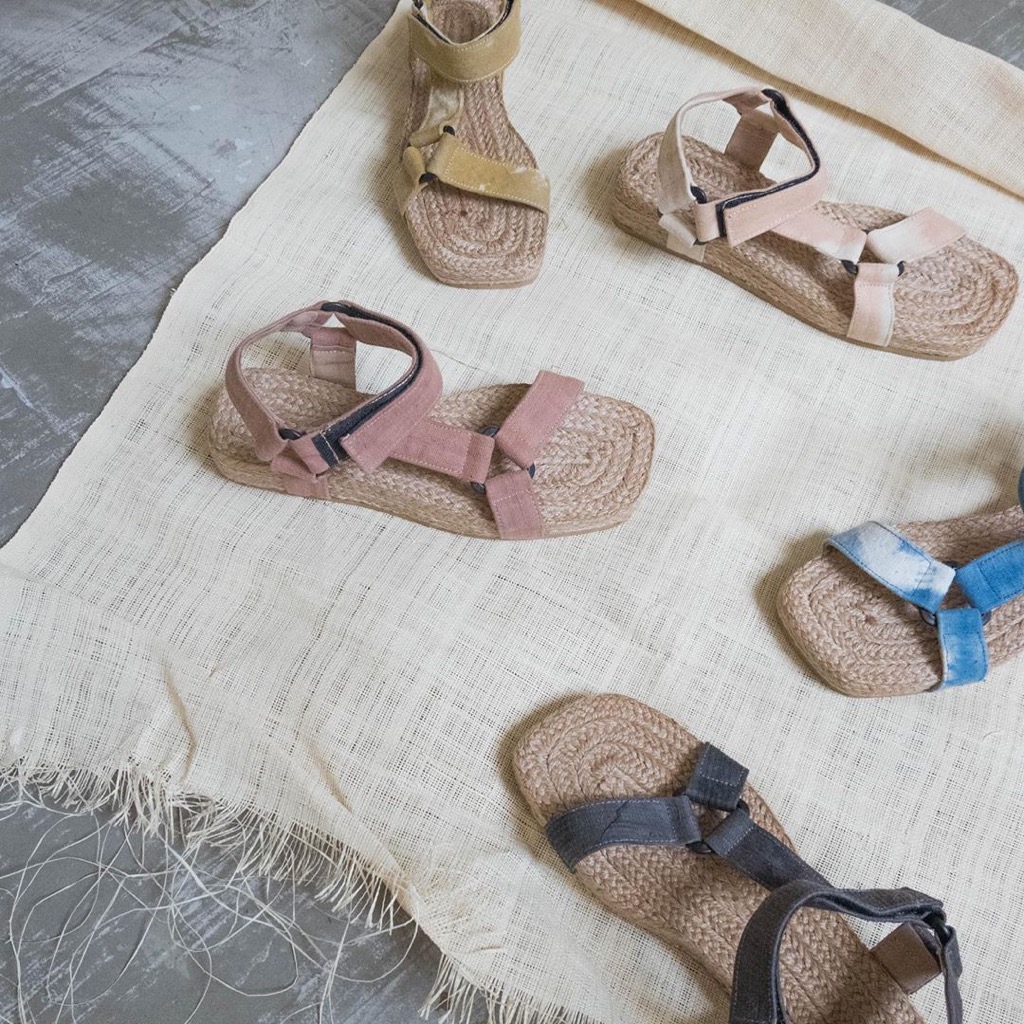 But more than her love for naturally-derived hues, the collaboration between the two brands is rooted in its use of deadstock fabric and scrap or retaso from Himaya's studio.
For this collection called Patungo, which also includes a few tops, Villanueva used mango and talisay leaves, avocado peels, atsuete seeds and tayum, a local indigo plant.
Stocks for this collection are extremely limited that by the first day of release, two of three tops have already sold out. But by shifting the means of production and supply, both brands aim to make us rethink how we consume and possibly shift to a more conscious way of going about selecting and planning the clothes we wear.
Bahaghari sandals retail for P2,550. They are available on Munimuni Studio's website.
Photos courtesy of Munimuni Studio and Himaya
Get more stories like this by subscribing to our weekly newsletter here.
Read more:
Pinta PH creates local watercolor from rocks and plant dyes
So you think you know your local weaves?
Catch that katsa trend: 3 brands selling upcycled flour sack clothes online