Tiger Sugar's black sugar popcorn just landed and we know where you can buy it
If black sugar milk tea and popcorn had a baby, it would be this new Tiger Sugar product that's available locally starting today at S&R Membership Shopping
Oct 7, 2020
While many quarantine food trends may have eclipsed Filipino's beloved drink, milk tea (have they really?), its purveyors in the country are not going down without a fight. 
[READ: Every quarantine food trend so far, explained]
Tiger Sugar known for its Taiwanese boba milk drink with black sugar, for one, is not comfortable just selling drinks. Earlier this year, it launched a brown sugar boba ice cream, which ultimately became a best-selling among milk tea lovers.
[READ: Where to get brown sugar milk tea in Metro Manila]
And now, here comes another creation from the beloved brand: black sugar popcorn.
Black sugar, an ingredient, which we have only recently caught on but has since been a staple in Taiwan and in traditional Chinese medicine for centuries, is best characterized by its dark color and rich flavor that is close to toffee.
Tiger Sugar, once a single shop in Taichung, west of Taiwan, popularized drinks laced with this sweet unprocessed sugar with molasses, potassium, iron, calcium and other minerals throughout its neighboring Asian countries.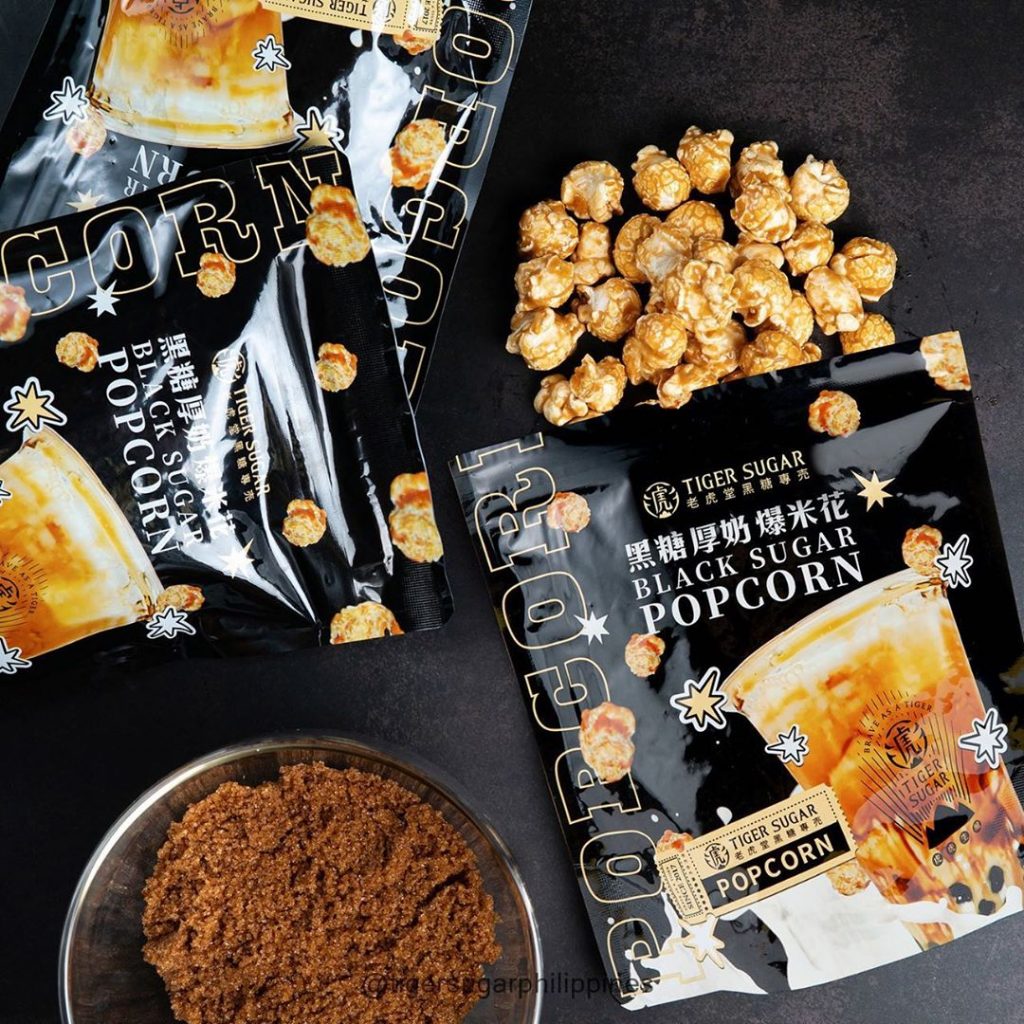 But back to their newest product, the black sugar popcorn. It is comparable to caramel-coated Chicago popcorn but early customers who've already tasted Tiger Sugar's version (it was released in other countries as early as June) say that it also measures up in terms of texture and overall mouthfeel. And apparently, this new product boasts a hint of cocoa to complement the buttery and caramel-y taste of black sugar.
So where can you get it? Tiger Sugar has recently made an announcement that their black sugar popcorn will be made available starting today, Oct. 7 at S&R Membership Shopping chains. It will retail for P799 for a 500-gram pack.
Would you buy this black sugar popcorn? How will you eat it? By itself? With a tall drink of Tiger Sugar brown sugar milk drink? 
Header photo courtesy of Tiger Sugar Philippines
Get more stories like this by subscribing to our weekly newsletter here.
Read more:
Where to get brown sugar milk tea in Metro Manila
Milk tea lovers, you can also score your favorite drink at S&R now
Bring back the hype for milk tea with these stores open for delivery
TAGS: black sugar black sugar popcorn Milk tea s&r membership shopping tiger sugar