We may still be in quarantine, but that doesn't mean finding a creative outlet will ever stop. Among the ways people are letting their artistic sides out (and filling their Instagram feeds up) is by conducting quarantine photoshoots, and God knows how many Instagram challenges it has led to. If you're looking for something more avant-garde than your usual selfies and #OOTDs though, Google Arts & Culture has crafted something you might want to try.
The application's latest update introduces a new self-portrait option that lets you use augmented reality (AR) filters to turn your selfie or video into historical art pieces. Currently, it has five filter options which include three famous portraits and two ancient artifacts. And of course, I didn't miss the opportunity to try it out.
The first filter that I used was Frida Kahlo's famous 1938 piece "Self-portrait with Monkey," which is currently housed at the Albright-Knox Gallery. The filter lets you have the same background as Kahlo's portrait while wearing her statement traditional bone necklace. The jewelry doubles as a "memento mori," an artistic or symbolic reminder about death being inevitable—yes, happy Halloween, indeed.
Another AR filter that will make you feel like a star lets you take the place of Vincent Van Gogh in his famous "Self-portrait" from 1889, which can be currently found at the Musée d'Orsay in Paris.
Of course, Johannes Vermeer's "Girl with a Pearl Earring" can't be missing in action from these stunning filters. Just like the painting, the filter shows a contrast between lightness and darkness—also called "chiaroscuro," which happens to be Vermeer's expertise.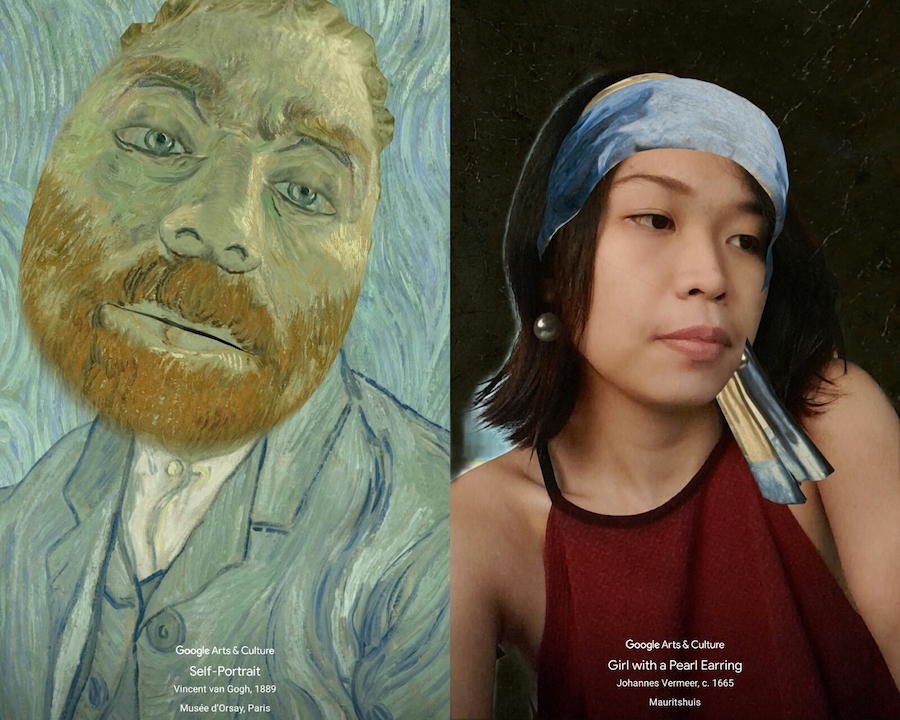 You can also "wear" the traditional Japanese helmet with Tengu mask and crows, which came from the 19th-century samurais. This piece can be found at the Metropolitan Museum of Art. Another artifact you can don from Google Arts & Culture's new set of filters is the Faience collar necklace from Egypt, which is currently housed in the Royal Ontario Museum and will give you a throwback to the glory days of pharaohs.
Aside from letting you pose like famous portraits and wear ancient artifacts, Google Arts & Culture also lets you learn about the pieces itself by displaying important information about it as you click on the filter's icon. In fact, everything that I've mentioned above came from the information that I learned while taking my selfies. Fun and educational, isn't it?
Get more stories like this by subscribing to our weekly newsletter here.
Read more:
Google Arts & Culture includes 9,000 Filipino artworks in their online exhibits
Reinvented mediums: A look into how the arts have been adapting to the new normal
Google walks you through Japanese cuisine with this digital exhibit
Writer: YANN MAGCAMIT