Your next iPhone will not come with 'free' adapter and EarPods. This is why
Apple just released the newest iPhone 12 and iPhone 12 Pro models. Unboxing these phones, you'll see that familiar tools are missing. Why?
Oct 14, 2020
In 2016, Apple released iPhone 7. Much to the surprise of die-hard fans and melophiles, the said model didn't have a 3.5 mm headphone jack to plug in their earphones or headphones. Instead, wired listening devices connected through the same lighting port/charging port making it impossible to listen and charge at the same time. 
But that, of course, seemed like a distant past now with the proliferation of wireless headphones and Apple's own AirPods.
Today, as the company launches its latest lineup of mobile devices, iPhone 12 and iPhone 12 Pro, fans will notice an absence. Not in the unit itself, which on the surface looks like just last year's model, but inside the box—and even the box itself that is now noticeably thinner based on newly released photos by Apple.
Unboxing the new iPhones, its new owner will find that there is no power adapter. Yes, that trusty cube that you plug your wire in for charging. But going back to the 3.5mm headphone jack story, you'll have to also bid goodbye to "free" EarPods that come with your new iPhone.
This might explain why the box is smaller. Apart from the unit itself, the manuals and the charging cable—a fast‑charging USB‑C to Lightning cable—there is pretty much nothing else.
It is the company's latest bid to reduce their carbon footprint. In the overview of the new models, Apple said, "Across the iPhone family, we're removing the power adapter and EarPods that often go unused." Whether they really go "unused," of course, is debatable.
"That shrinks packaging, and more boxes per shipment means fewer shipments overall."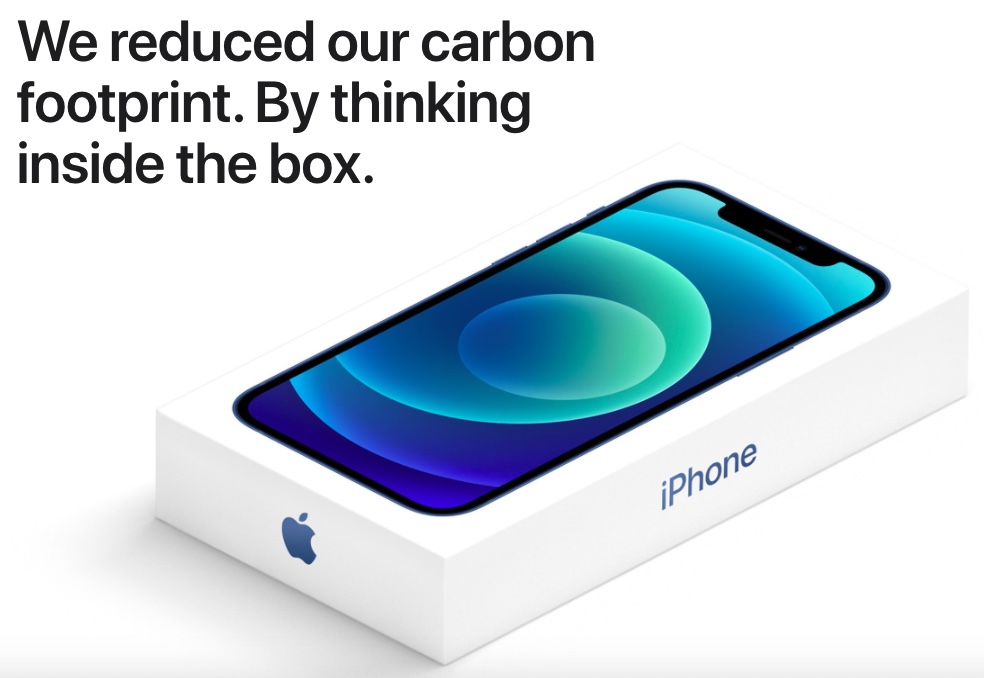 The tech giant also happily reported that they are transitioning their manufacturing partners to renewable energy. And by 2030, they announced that they will be transitioning their entire manufacturing supply chain to 100 percent renewable electricity. By their estimates, altogether, this eliminates over two million metric tons of carbon emissions annually, with carbon savings equal to 450,000 fewer cars on the road per year.
Not just that; even the new device itself, the company claims, might be its "greenest" mobile device yet (although the midnight green finish is ditched for Pacific blue, just saying), "[The f]irst smartphone with 100 percent recycled rare earth elements in all magnets." And it surely doesn't hurt (the planet) that it is apparently more energy-efficient than previous models, requiring 49 percent less energy used than the U.S. Department of Energy requirements for battery charger systems.
But back to the box—the thinner new packaging. The iPhone 12 Pro Max packaging, for example, is made with 100 percent recycled and responsibly sourced wood fiber, the company said.
One of the most satisfying parts of getting to know your new phone: peeling off the protective film from the display is also a different experience part of Apple's bid to reduce its use of plastic in packaging. Instead of a plastic film, the protective layer is now made from fiber. Do let us know what that feels like to peel.
To be fair, with the number of phones we've owned in the last decade since the invention of the smartphone, we've also collected a number of adapters. So really, missing a new one upon purchase of a new model isn't a big problem per se especially when it's for the greater good and reduction of carbon footprint.
But you know what will offset that more than a new model with "reduced" environmental impact? Not getting a new one and sticking with what you have. You'll just have to convince yourself that that's a better feeling than unboxing a new iPhone.
Header image courtesy of Daniel Romero on Unsplash
Get more stories like this by subscribing to our weekly newsletter here.
Read more:
Smartphone upgrade tip: go secondhand
Are "biodegradable" phone cases really biodegradable?
Your old phone can help students this school year. Just donate it to this store
TAGS: adapter Apple earphones iphone 12 iphone 12 pro