Rainy days call for a steaming (not piping hot, we love our taste buds too much to burn them) bowl of soup. More than just warmth through, what we also crave during colder days is a sense of comfort often derived from umami dishes.
Soba or buckwheat noodles are often served cold and yet it is just as soothing and satisfying as a bowl of ramen (fight me). The cold carb and savory broth combination is refreshing, the way Koreans describe the first taste of kimchi.
On its own, it makes for a fulfilling meal even in its simplicity. But for creative director and artist Paulina Ortega, plain cold soba is a blank slate that welcomes more flavors into the mix. In her case, pan-fried marinated tofu, fried egg and an assortment of Asian condiments.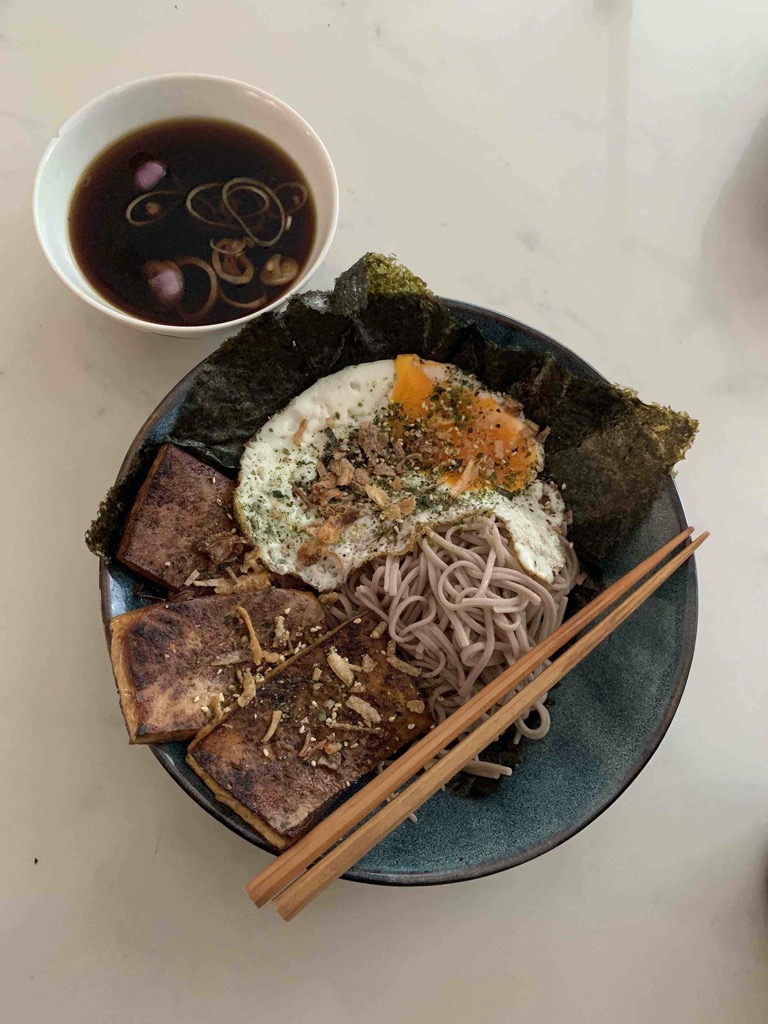 She shares her recipe for tofu marinate, which you can prepare ahead of time, in our Comfort Kitchen Instagram TV series.
Given that most of us are confined to our abodes this time, she also made it a point to offer alternatives for hard-to-find ingredients, listed in this recipe.
Cold soba with marinated tofu
Ingredients
Serves 1
For the tofu
¼ pack firm tofu
¼ cup soy sauce
2 tbsp mirin
1 tbsp sesame oil
1 tbsp rice wine vinegar
1 tbsp grated ginger
Grapeseed oil or any other neutral oil for frying
For the soba and dipping sauce
Soba noodles
1 cup chicken stock
¼ cup soy sauce
2 tbsp mirin
1 tbsp grated ginger
2 tbsp shallot or scallions, thinly sliced
Nori sheets
Fried egg, optional
Furikake, optional
Fried shallots, optional
Preparation
Mix all the ingredients for the tofu marinate and submerge 2-3 slices in the mixture. Let sit while you prepare the rest of the recipe

To make the dipping sauce, combine all the wet ingredients plus ginger and thinly sliced shallots in a bowl. Mix well then set aside

Cook the noodles according to package instructions. Once cooked, drain and rinse under running water

Fry the tofu in grapeseed oil under medium high heat while waiting for the soba to finish cooking. Cook thoroughly about 5 mins on each side

Assemble your bowl by topping the cooked soba topped with pan-fried tofu, nori sheets and fried egg. Season with furikake and fried shallots. Serve with dipping sauce on the side. Enjoy!
Nolisoli Comfort Kitchen comes out Monday and Thursday nights on our IGTV
Get more stories like this by subscribing to our weekly newsletter here.
Read more:
5-ingredient margherita pizza that's better than takeout
In this galette, tomatoes—even overripe ones—are the star. It's also vegan
Traditional Sagada cured meat etag finds its way into a modern quarantine-friendly pasta recipe
Writer: CHRISTIAN SAN JOSE