Tablea is a tried and true Christmas gift for many people. Holiday gift bags often include a few of these delicious cacao tablets tucked away among the canned goods and instant pasta. Churning out tsokolate eh may be the first thing that comes to mind, but there are so many other ways to include tablea in homemade treats to enjoy or give away this Christmas season. 
Here are a few deliciously creamy ideas:
Tablea sauce
Ingredients
1 pack NESTLÉ All Purpose Cream 250m
3/4 cup chopped tablea
1/4 tsp Nescafé Classic, dissolved in 1 tbsp of hot water
Sweetener, to taste
Procedure
Gently simmer NESTLÉ All Purpose Cream in a small pot. Turn off heat and stir in chopped tablea (3 mins)

Add coffee and sweetener, whisk until smooth (2 mins)

Transfer into a serving container. Serve chilled or warm
All you'll need is tablea, a pack of NESTLÉ All Purpose Cream and a sweetener of your choice. Although the recipe originally calls for chocolate chips, you can substitute that with the same amount of tablea mixed with three tablespoons of boiling water to make sure there are no lumps.
The addition of the cream makes the sauce even richer and luscious (especially when you add it to other desserts). If you've made too much, you can always use the sauce in other recipes or pack it in jars to give to friends.
Creamy biko with tablea sauce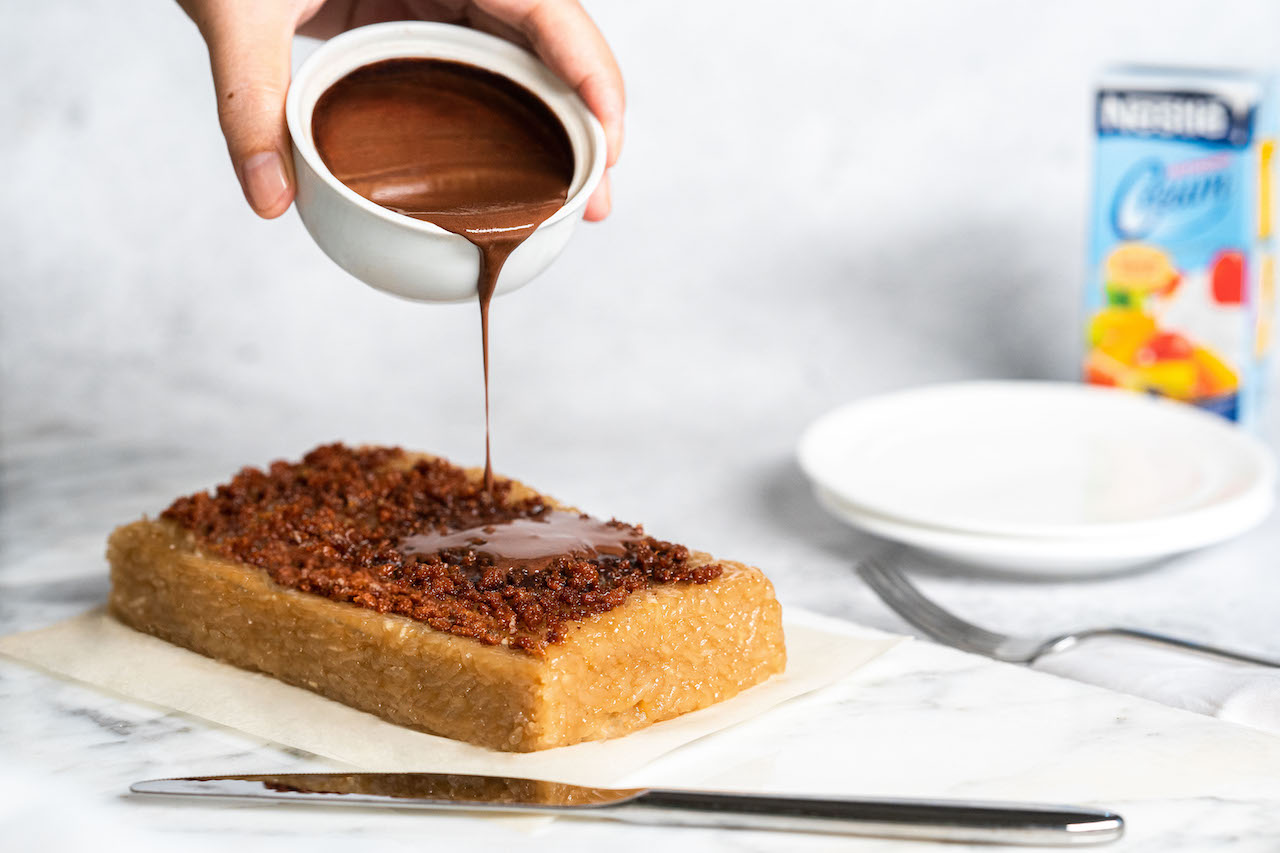 Ingredients
1/2 kg glutinous rice, rinsed well
1 3/4 cups water
2 pcs tied pandan leaves (optional)
1 cup freshly squeezed coconut cream
1 cup dark brown sugar
1 pack NESTLÉ All Purpose Cream 250ml
Procedure
Cook rice with water and pandan in a pot or a rice cooker. (30 mins)

To make latik, simmer 1/2 cup of coconut cream in a pan until curds start to separate from the coconut oil and turn golden brown. Strain and set aside (15 mins)

Combine remaining 1/2 cup of coconut cream, sugar, NESTLÉ All Purpose Cream and coconut oil in a large pan. Add cooked rice and gently incorporate until well-mixed (15 mins)

Transfer to a serving container and top with the golden brown coconut curd. Serve warm (5 mins)
Biko is a holiday staple, and pairing it with the tablea sauce you just made makes it even more delicious. This creamy biko recipe is easy to follow and even easier to finish in one sitting. Adding cream in this recipe will help your biko stay moist and gooey on the inside, especially when it's time to reheat it. You can slice it up and serve with a side of your tablea sauce, or layer it with chocolate topping.
Tablea revel bars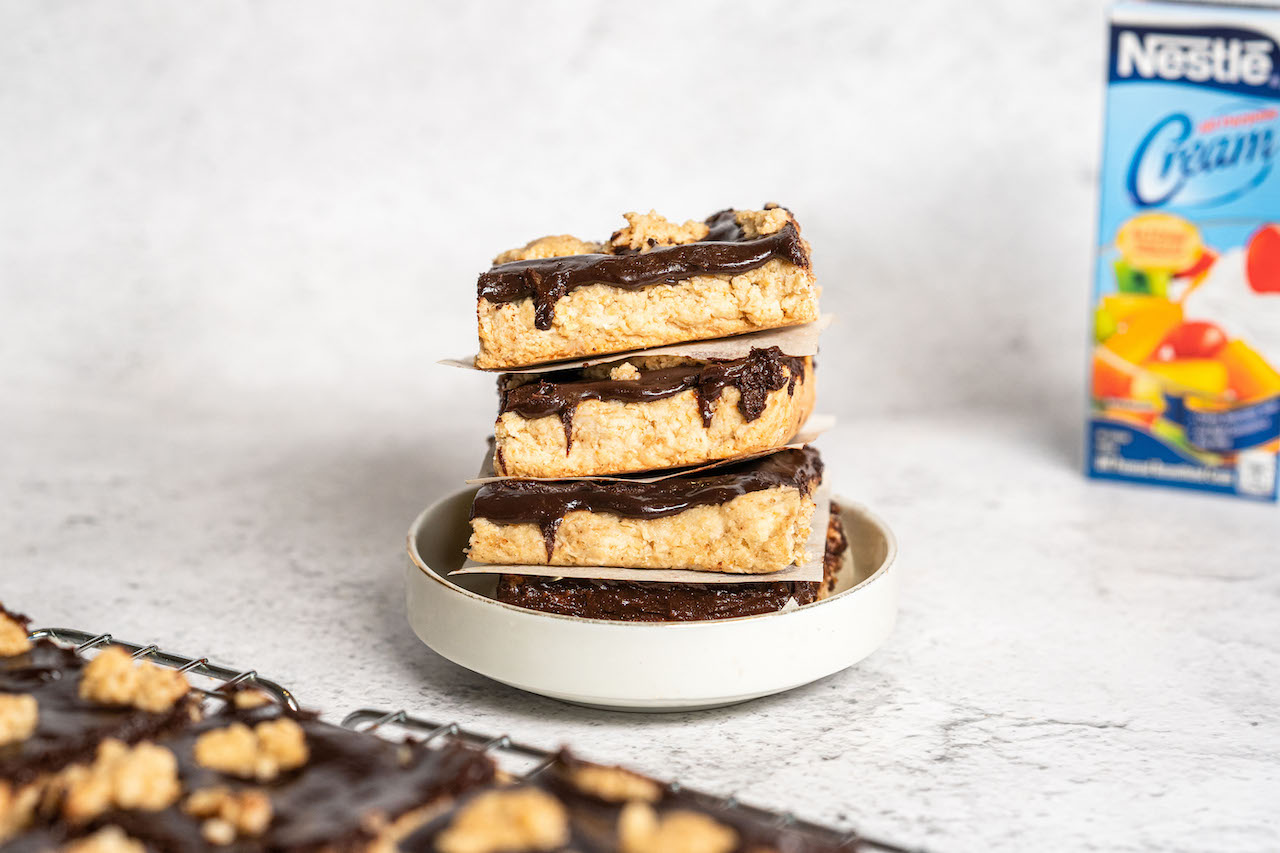 Ingredients
1 stick butter, cut into cubes
2 cups brown sugar
2 eggs
4 tsp vanilla extract
2 1/2 cups all-purpose flour
1 tsp baking soda
1/4 tsp fine salt
3 cups instant oats
1 1/2 cups chopped tablea, melted in a double boiler
2/3 cup condensed milk
1 pack NESTLÉ All Purpose Cream 250ml
Procedure
Preheat oven to 160ᵒC.

Using a whisk, mix butter and brown sugar until smooth. (2 mins)

Whisk in eggs one at a time and add vanilla extract. Whisk until smooth. (3 mins)

Sift flour, baking soda and salt into a bowl. Add the dry ingredients and instant oats to the wet ingredients until just combined. Do not over mix. Set aside (3 mins)

In a separate bowl, mix melted tablea, condensed milk and NESTLÉ All Purpose Cream (2 mins)

Grease a baking pan and line it with parchment paper. Transfer and press 3/4 of the oat mixture. Pour the chocolate mixture and spread evenly (2 mins)

Top with the remaining 1/4 of the oat mixture. Bake until a toothpick comes out clean when inserted in the middle (25-30 mins)

Set aside to cool completely. Remove from the pan and peel off the parchment paper. Cut into serving pieces and serve
Revel bars are always a hit, but making it with creamy tablea swirls add an extra layer of richness, warmth and flavor. Aside from serving these at home, you can wrap the tablea revel bars and send to people you're missing this holiday season.
Tablea mousse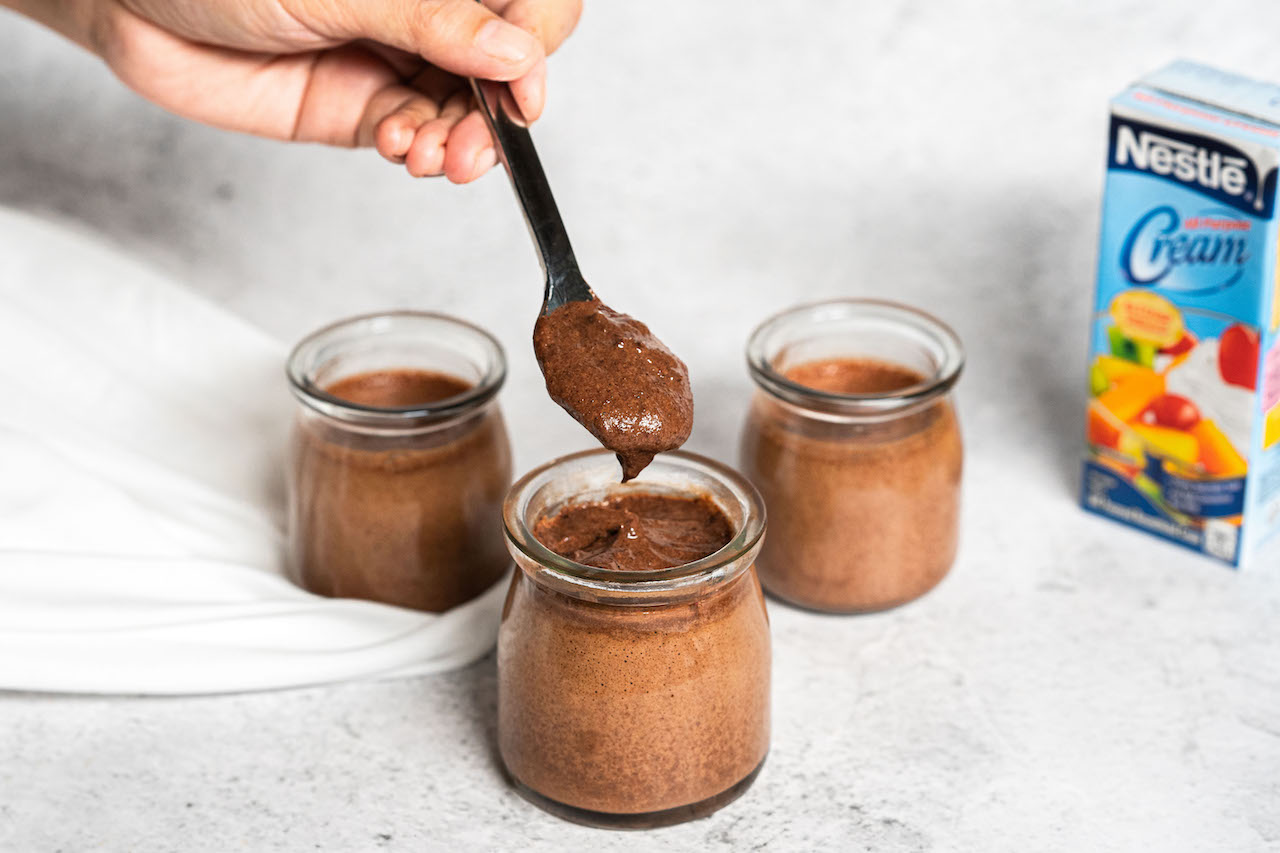 Ingredients
1/4 cup chopped tablea
1/2 tsp vanilla extract
1 pack NESTLÉ All Purpose Cream 250ml, chilled
2 tbsp sugar
Procedure
Place tablea in a heatproof container. Place over a pot with gently simmering water. Stir until melted. Stir in vanilla. Set aside to cool (10 mins)

Whip NESTLÉ All Purpose Cream until light and fluffy. Gradually whisk in sugar and whip until stiff peaks form. (10 mins)

Fold in whipped cream to melted chocolate (2 mins)

Refrigerate until ready to serve
Substituting typical chocolate with tablea in this recipe will give the mousse a darker and bolder flavor and the cream will give it a rich, luscious texture. For best results, make sure to chill your cream for at least an hour before whipping.
Tablea torte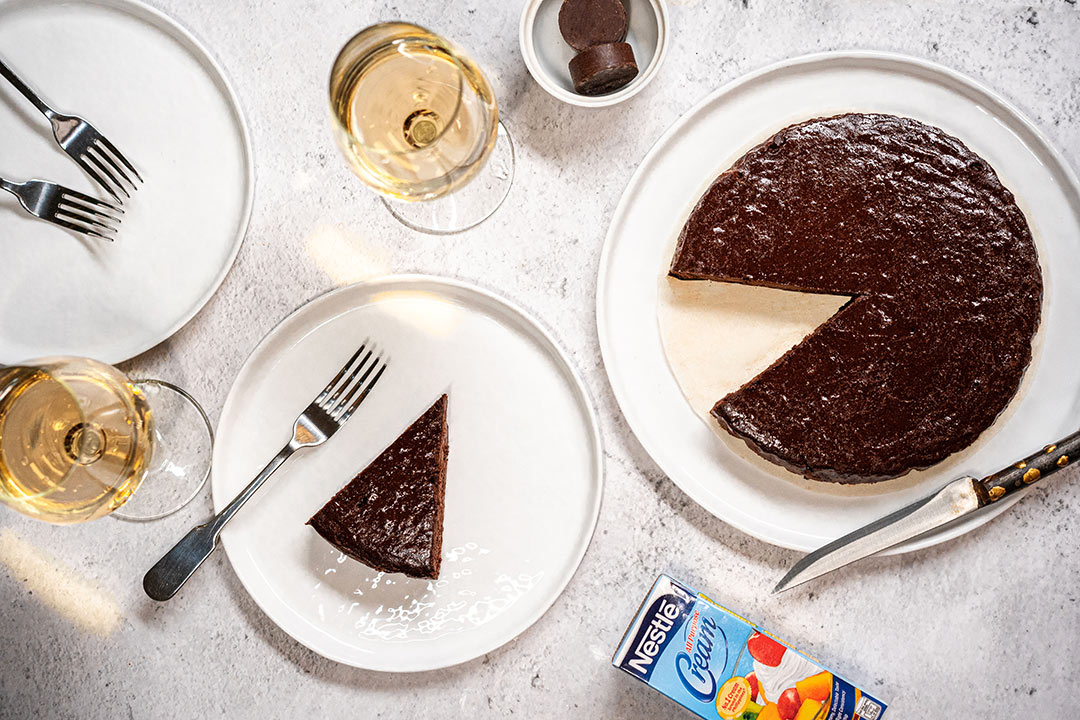 Ingredients
2 tbsp all-purpose flour
2/3 cup sugar
1/8 tsp fine salt
1 pack NESTLÉ All Purpose Cream 250ml
1/2 cup water
1 1/3 cups chopped tablea
1/3 cup cocoa powder
2 egg yolks
1 tsp vanilla extract
3 egg whites, room temperature
1/8 tsp cream of tartar
1/4 cup sugar
1 tsp butter, softened for greasing
Procedure
Preheat the oven to 175ᵒC. Boil water in a kettle to be used in a hot water bath while baking (5 mins)

Combine flour, sugar, salt, NESTLÉ All Purpose Cream and water in a pot. Stir and gently heat until slightly thick. Turn off heat and stir in chocolate chips and cocoa powder (10 mins)

Once the mixture is cool, stir in egg yolks one at a time. Add vanilla extract and mix until smooth. Set aside (3 mins)

Whip egg whites with cream of tartar until frothy. Gradually add sugar and whisk until stiff peaks. Fold in egg white mixture to the chocolate batter until well combined (7 mins)

Grease a cake pan with butter and line with parchment. Pour chocolate mixture into the pan (2 mins)

Place the cake pan into a roasting pan and pour hot water from the kettle until it reaches half of the cake pan. Bake until a toothpick comes out clean. Set aside to cool completely (25-30 mins)

Refrigerate overnight before serving
If you're looking for a rich and dense pastry, a torte is the way to go. This recipe originally calls for cocoa powder and chocolate chips, which you can easily replace with tablea powder or tablea chunks. The best way to prepare this sweet treat is by garnishing it with a whipped NESTLÉ All Purpose Cream topping to balance the cake's dense texture.
Some tips
Tablea is darker and bolder than regular milk chocolate, so make sure to taste it by itself before incorporating into your desserts. If you find it's a little too bitter for your taste, you can always add some NESTLÉ All Purpose Cream to mellow it out. 
Adding spices like cinnamon, nutmeg and ground ginger can also enhance the flavor of cacao, but make sure you add any of these a little at a time to avoid any mishaps.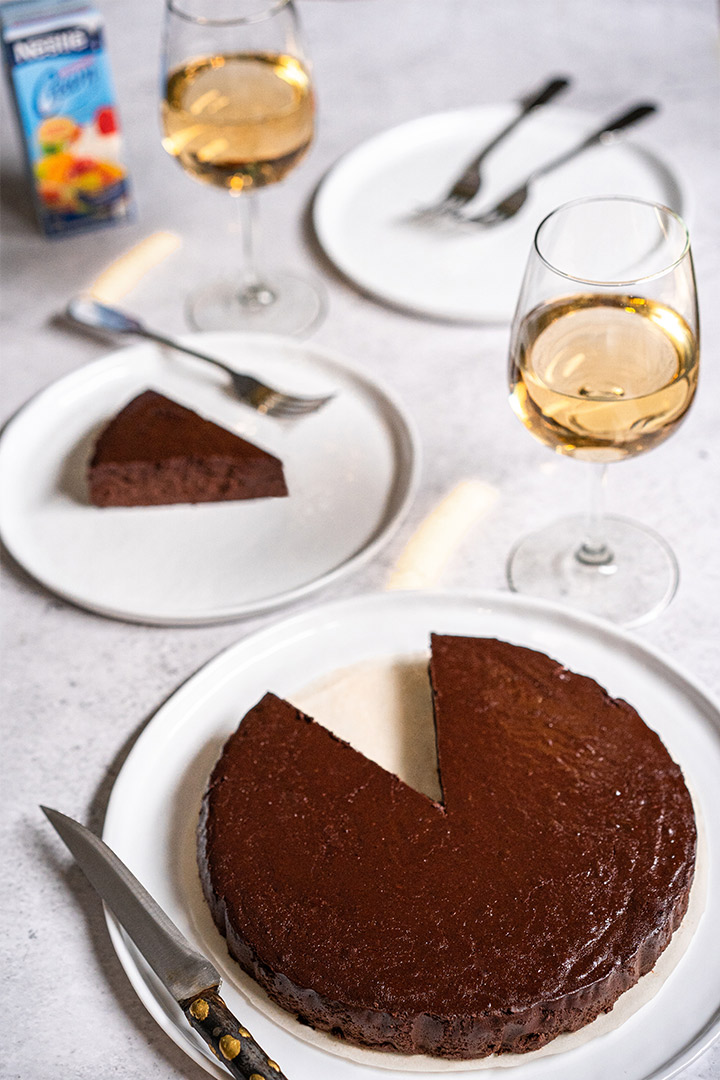 Aside from being an all-around kitchen helper, adding cream to your desserts can improve its texture. When you use your NESTLÉ All Purpose Cream for whipped toppings, make sure to chill it in the refrigerator for at least 30 minutes before whipping to achieve more volume and a fluffier texture. The addition of NESTLÉ All Purpose cream can also mellow out flavors for young family members or add another layer of richness to your recipe. 
Christmas is usually for spending time with the people who matter the most. This isn't possible for all of us due to present circumstances, but we can always make our love felt by sending some delightfully creamy treats.
Get more stories like this by subscribing to our weekly newsletter here.
Read more:
Forget the flour, this chocolate cake recipe doesn't need that
The Christmas food trend forecast
Hold on to your leftover lechon and make this post-Noche Buena pasta dish
Writer: ANDREIANA YUVALLOS
PHOTOGRAPHY LEVENSPIEL SANGALANG