"What's making us happy" is our weekly list of things we are drooling over or things we bought by impulse or purposefully as of late—anything to distract us from this gloomy quarantine and maddening real world
***
Quarantine may have gotten the best of some (or most) of us, but creative Samantha Nicole is taking things one step at a time. As a co-founder of the beloved queer safe space Today x Future, online radio broadcast service Manila Community Radio, events company UNKNWN, live experience organizer CC: Concepts and Poblacion watering-hole Futur:st—where she also serves as the events director for the last three concepts, with the added bonus of being Futur:st's music director—Samantha never really runs out of things to do.
During the earlier days of the lockdown, she was kept busy by new projects and online events of her brands' new projects.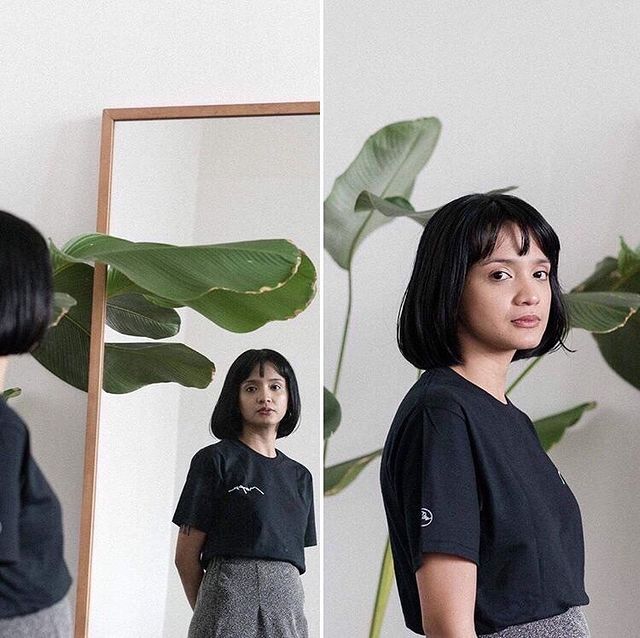 "I [was] preoccupied doing online activations primarily for and with UNKNWN, Today x Future and Futur:st during the earlier part of lockdown. Then [I] started Manila Community Radio with some mates. Currently, relaunching Futur:st with partners has taken up a chunk of my time," she says. 
Futur:st is currently gearing up for their latest show, "F.L.A.M.E.S." featuring the work of Jeona Zoleta and Willar Matteo.
View this post on Instagram
It's not all work for her, though.
"Reading, cooking, and learning to care for plants also helped me get through this clusterfuck. Pretty lucky I live with my wife and two dogs too!"
[READ: Being plantitos and plantitas is actually good for our mental health]
Aside from an enviable repertoire of projects (and an equally enviable domestic setup), her daily routine is something most of us wish we had. 
"I wake up as early as I can, anywhere between 6 a.m. and 8 a.m. then hang around with the dogs. If I'm feeling there's a bag of extra effort with me when I wake up, I exercise. Then I walk around and check out our plants, make some tea and get to work," Samantha adds.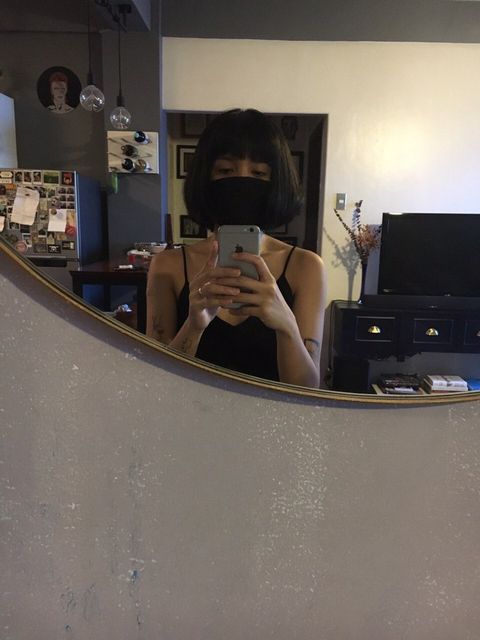 "It's mostly more random from there. Work calls, wife duties, online catch-ups in between, lunch in fluctuating hours, a light dinner, but definitely, a glass (or a bottle) of something alcoholic by the end of the day. A good show to binge, and eventually sleep. "Fleabag" and "[The] Queen's Gambit" were revelations!" she continues. 
"Quarantine blues hit me hard pretty late," she explains. "It's only these past two months that my insides feel a lot wonkier, like how it is when you've been tricked into riding the Space Shuttle in Enchanted Kingdom for the first time, not knowing it's going to flip over and you'll need to swallow your vomit upside down."
On the list of what's been making her happy, literal things have been a lifesaver.
"I admit: I'm quite materialistic. I spend way too much on things that clutter up space but still spark joy. Some, more than others, are cradling me through this pandemic."

Friend-lent and auction-won books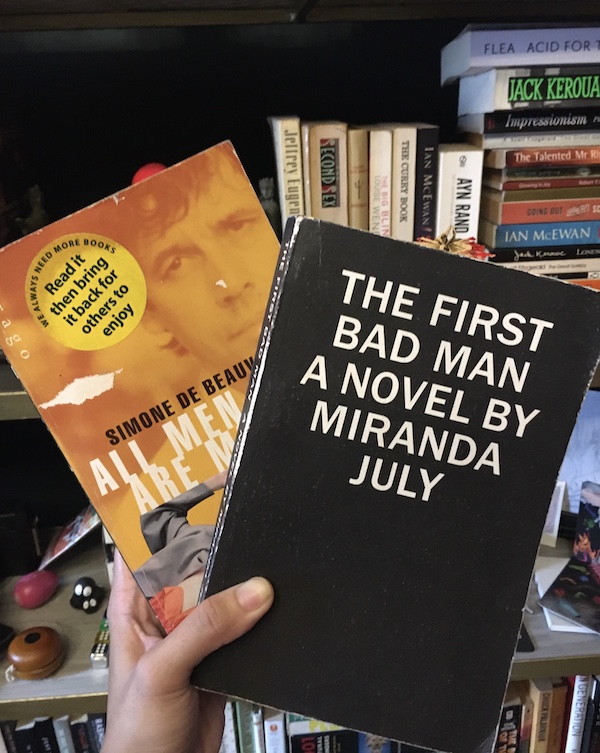 "Books remain closest to me. Growing up, I was always happiest when my mom would drop me off at  Powerbooks, Alabang Town Center with some scrunched up thousand peso bills. More when it was my birthday. My shelf remains my refuge, my pride and what I show off every time we have guests over. 
I'm currently hooked on "The First Bad Man" by Miranda July. The book was lent to me by a dear friend, and it's one I haven't put down for consecutive days after a long time. (P.S.: Do watch her latest and ever the anti-ordinary film, "Kajillionaire"). Currently alternating this with Simone de Beauvoir's "All Men Are Mortal," a book I earned after zealously awaiting for an online auction to go live a couple of months back."
Cooking for my sanity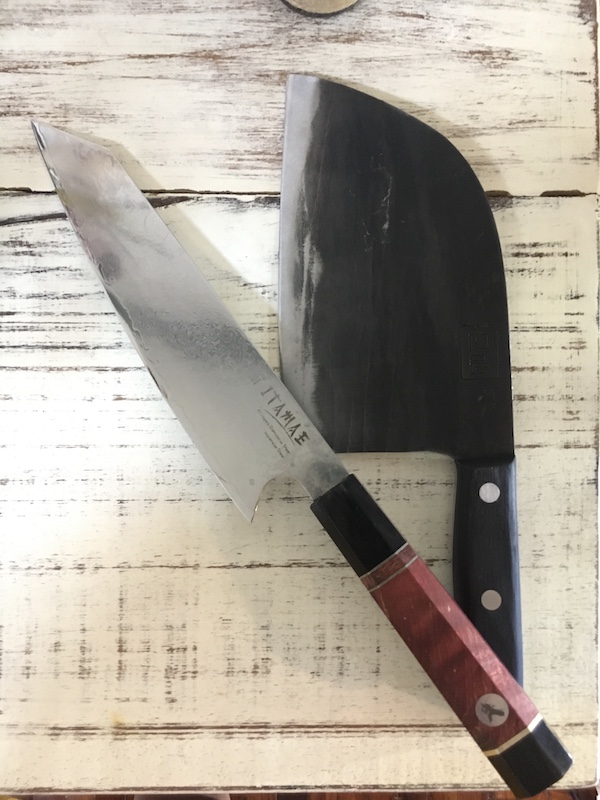 "I didn't grow up cooking. In fact, I served my then-girlfriend, now-wife fried egg without salting it when I was 19. Thankfully, everything about this bit worked out—including discovering the joy of cooking.
I get kilig each time I use my knives. They're the sexiest ones in the kitchen, next to the one I'm actually serving the meals to ;). They've been teaching me better skills, and I'm steadily earning their trust, albeit all the cuts and nicks my skin's fashioning now. While I have you here, please remember to cut the roots of your coriander, place them in a jar with a bit of water and cover them with a plastic bag then store in the fridge. Coriander for dayssss."
Wine, lots of it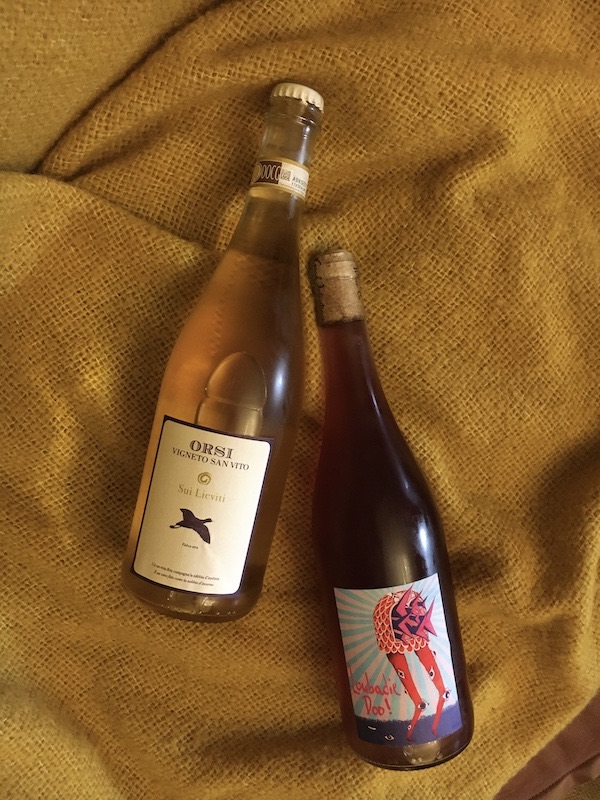 "I've doubled—okay, tripled—my alcohol intake since this shitshow started. That's a lot, even coming from someone who works in the events and nightlife industry. Wine in particular. Along the way, I've begun to appreciate them a lot more (on top of drinking them), and I am scared I am turning into a pretentious snob. There's a thought process here: learn from your pleasures.
A very long way to go, but I've been learning more about wines. I'm a sponge and I accept healthy pours and spills. Just squeeze me a bit and I'm ready for absorption all over again."
Futur:st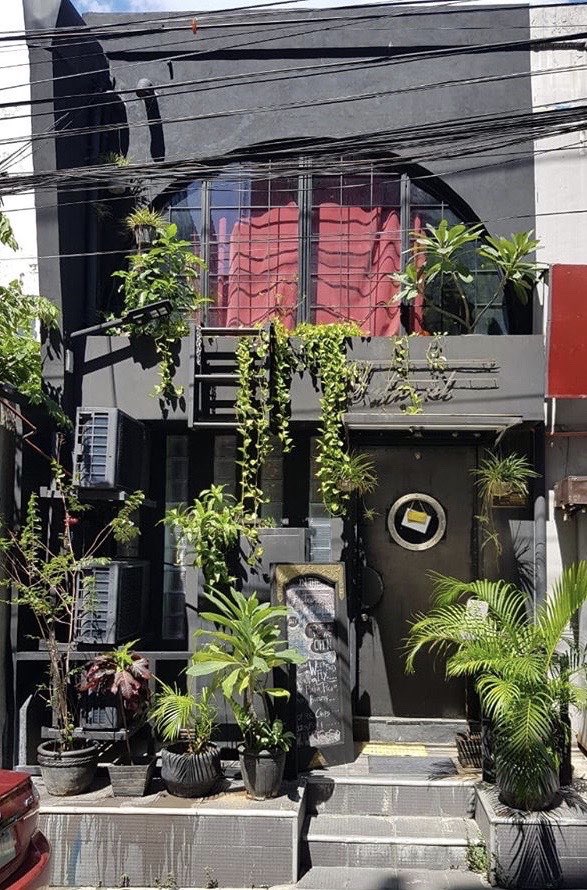 "We lost Today x Future last July, and it is still the tenderest spot I don't want to get into right now, like this deep, soft wound that's taking a long time to heal. Reopening Futur:st last October has definitely helped us cope with the loss. It feels like the space is breathing new air; we're almost certainly hopeful we can keep this going for a longer time. 
The idea is creatives helping creatives, and frankly, I'm quite proud of this pivot. Also, I'm very thankful for the support we've been receiving."
My dogs
"Meet my bosses: One named after a Studio Ghibli character, the other, after a porn star. Without these two, I feel like I would've completely lost it. 
There are days when you want to just curl up in bed, cover yourself from head to toe with a thick blanket, and let the day turn to night. All of a sudden, you feel a gentle, singular lick on your foot. You uncover your face and see these demanding eyes staring you down: 'I need to eat my homemade chicken with virgin coconut oil, gluten-free tamari, and grated carrots.' Depression can wait. A dog's hunger? Never."
***
For everyone mercilessly working themselves to near death, Samantha has a few words for you. 
"Go at your own pace, one thing at a time. I really should follow my own advice, considering how I am always too much of a restless workaholic multitasker. But really, this is one tip that I really hold on to and try to consciously remind myself of, whether it's for work or pleasure," she says. 
At the end of the day, what we're all really waiting for is the end of this pandemic. Samantha's post-pandemic plans are simple (and extremely relatable). 
"[I want to] get out of the city and stay somewhere far away for a long time!"
And to that, we wholeheartedly agree. 
Get more stories like this by subscribing to our weekly newsletter here.
Read more:
What's making this creative consultant happy? Handmade loafers and his new food business
What's making this filmmaker happy? #latergram, sparkling tea and home scents that signal the end of day
What's making this editor happy? Reading, rediscovering DVDs and offsetting screen time with vinyls
Writer: ANDREIANA YUVALLOS