Here's a statistic we should all be made aware of in light of the pandemic and the government response: the number of people who received the COVID-19 vaccine.
While the Department of Health (DOH) is not making these figures part of its daily bulletin just yet (a tracker was supposed to be launched this week), chief implementer of the National Task Force Against COVID-19 Secretary Carlito Galvez Jr. said on Tuesday that at least 240,297 medical frontliners have received their first vaccine shot. This is out of the total 1.7 million health workers in the country.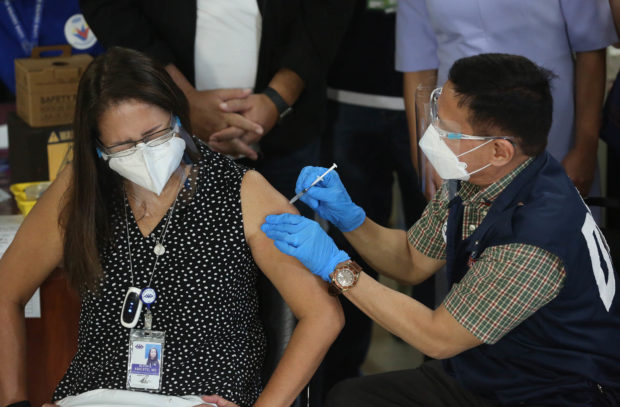 Even before the first batch of COVID-19 vaccines arrived this month, the government has been clear on prioritizing doctors, nurses and other health workers. By mid-April, Galvez said, they are looking to inoculate all of 1.7 million medical frontliners.
The demographic waiting next in line for their turn at the jab are the elderly, indigents and vulnerable sectors.
If you belong to this group, here's what to know next if you are planning to get the shot.
On Wednesday, DOH released vaccination guidelines outlining the restrictions based on factors like age, exposure, reaction to the first dose and existing health conditions.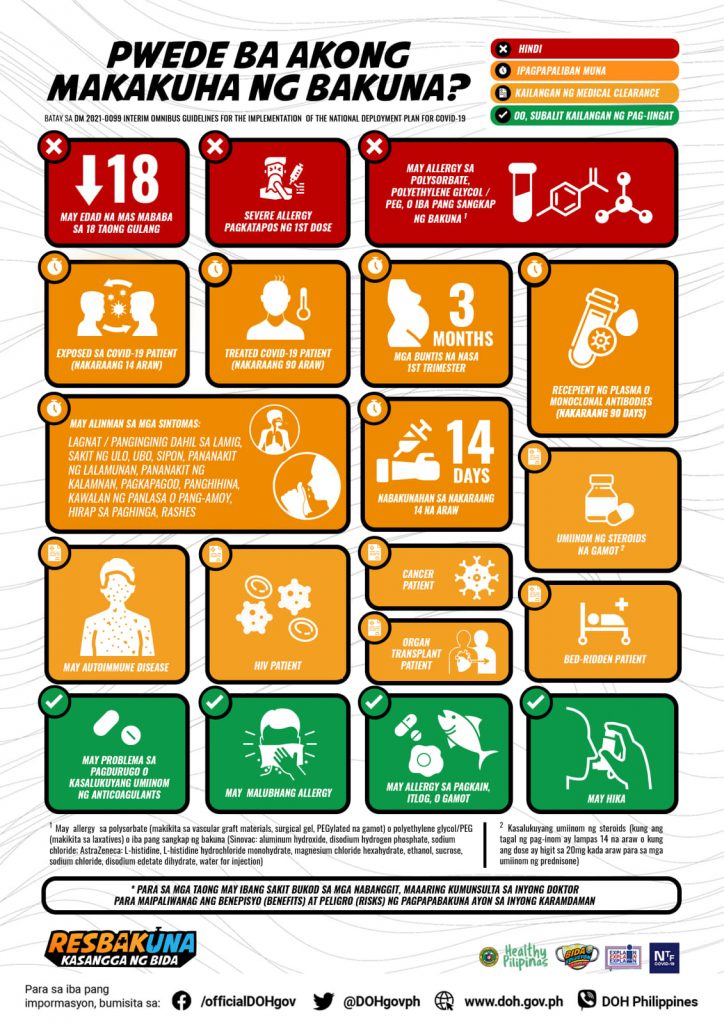 Who can get the vaccine?
Those who have the following medical conditions, but subject to further precaution:
Bleeding-related diseases or those who have been taking anticoagulants
Anaphylaxis or severe allergy
Allergic to certain foods like egg or medication
Asthma
Those diagnosed with the following health conditions, given they are granted medical clearance from a physician:
Autoimmune diseases
Human Immunodeficiency Virus (HIV)
Cancer
Undergone organ transplant
Taking steroids for longer than 14 days or with a dose higher than 20mg per day for those taking prednisone
Bed-ridden or diagnosed with an illness and with only six months to live
Who might not get the vaccine?
Those who have the following conditions are advised to postpone their vaccination:
Experiencing COVID-19 symptoms like colds, headache, cough, sore throat, digestive problems, difficulty breathing and loss of sense of taste and smell
Exposed to a suspected or confirmed COVID-19 patient in the last 14 days
Treated for COVID-19 in the last 90 days
Received convalescent plasma or monoclonal antibodies against COVID-19 in the last 90 days
Three-months pregnant
Received any kind of vaccine in the last 14 days
Who will not be vaccinated?
Ages 18 and below
Allergic to polysorbate, polyethylene glycol or other components of the vaccine
Experienced severe allergic reaction to the first dose of COVID-19 vaccine
For those whose medical conditions were not included in the guidelines, DOH suggests consulting with your doctor first to know the benefits and/or risks of vaccination.