Before #LugawIsEssential came to encapsulate the ongoing confusion at enhanced community quarantine (ECQ) checkpoints all over NCR Plus, almost a year ago, there was the whole thing about enforcers refusing "physicians" entry because they didn't know these are doctors.
Professional Regulatory Commission (PRC) identification cards indicate a doctor's profession as a physician, which confused the hell out of some policemen, traffic enforcers and barangay tanod. At one point, a doctor had to show her stethoscope to prove this.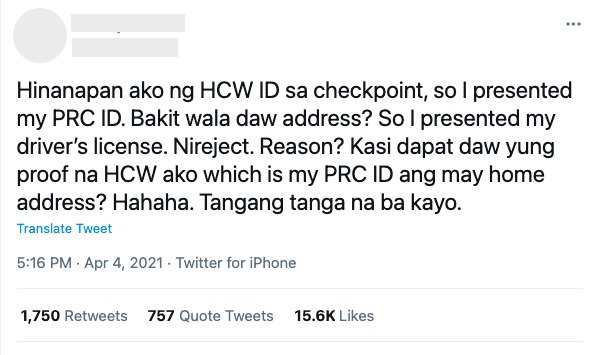 This time another healthcare worker (HCW) was stopped at a checkpoint in effect after the government extended ECQ to Apr. 11. The culprit: his PRC ID.
A medical technologist working as a molecular analyst at a COVID-19 molecular laboratory, who refused to be identified following the backlash on the GrabFood driver in the #LugawIsEssential incident, took to Twitter to tell his encounter yesterday, Apr. 4.
"Hinanapan ako ng HCW ID sa checkpoint, so I presented my PRC ID. Bakit wala daw address?"
("The enforcers asked for my HCW ID, so I presented my PRC ID, then they asked why my address is not on it.")
To prove that he lived in the area, he showed them his driver's license, but even that was rejected. "Kasi dapat daw 'yung proof na HCW ako, which is my PRC ID, ang may home address?"
("They told me my HCW ID, which is my PRC ID, should be the one containing my address.")
He just laughed off the incident, which is one of the many cases of confusion at checkpoints that essential workers had to endure while working outside in quarantine.
HCWs, financial institution employees, utility service (water, energy, waste management, telecommunications internet providers) providers, funeral parlor workers, religious workers, and security personnel are just some of the workers considered essential and allowed to go out of their residence by the Inter-Agency Task Force on Emerging Infectious Diseases and the Department of Trade and Industry.
They are advised to bring their company IDs or certificate of employment and show them at checkpoints, of which there are currently over 1,000 of, securing major thoroughfares in Metro Manila, Rizal, Bulacan, Cavite and Laguna.
These authorized persons outside of residence (APOR) are also given a two-hour window after curfew set at 6 p.m. Philippine National Police Spokesperson Brig. Gen. Ildebrandi Usana told the media he is confident that there will be no difficulty in terms of passing through checkpoints for APOR and essential workers as there are instructions in place to let them get through so they can go home immediately.
Perhaps these enforcers didn't get that memo.