Tofu has a bad rap—in the Western hemisphere, at least. While most westerners balk at a pasty block of jiggly soybean paste, the rest of the world sees tofu for what it truly is: a blank canvas. One of the many reasons tofu has mass appeal is because it serves as a forgiving base for whatever spices and garnishes your heart desires. It also serves as a great protein substitute for vegans, vegetarians and people who just want to eat more tofu (yes, we promise they exist).
So if you're curious to know what one of our favorite jiggly food items can turn into when placed between two buns, here's a list of some tofu burgers you should definitely try. 
Scam chicken sandwich – Fowlbread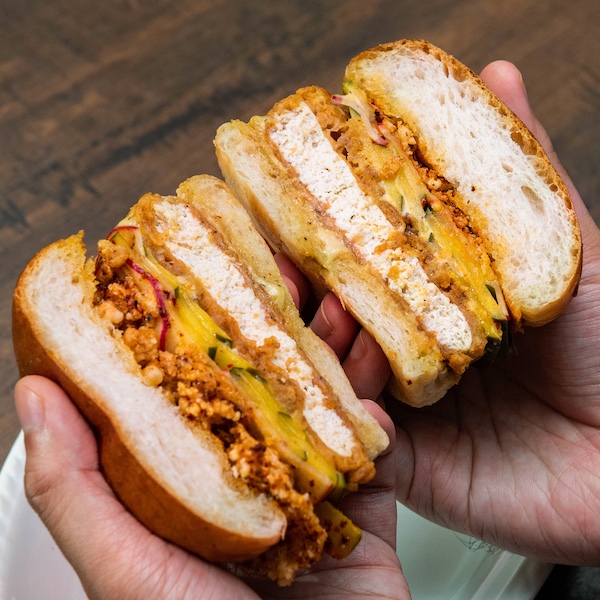 After honing their chicken sandwich skills, Fowlbread is setting its sights on something more challenging—a not chicken chicken sandwich. For this scam chicken sandwich (or scamwich), it has utilized all the methods and ingredients in its OG chicken sandwich with a block of seasoned, crisp, battered tofu as the star of the show. 
Instead of the chicken skin the sandwich is usually paired with, the restaurant has ingeniously recreated a convincing copycat by deep-frying tofu skins instead. The "chicken" skin is so convincing, you probably won't believe what you taste at first bite.
But dear vegan friends, be warned. This sandwich is prepared in the same fryer as their chicken so it may not be the right one for you. 
Corner Tree Cafe is one of the go-to restaurants for most vegetarians and vegans in Manila. If you haven't already tried their baked tofu walnut burger, you're definitely missing out. The tofu walnut pattie (P375) is housed in a whole wheat bun and topped off with your choice of vegan mayo or mint yogurt sauce. The generously portioned burger is also served with either a side of sweet potato fries or greens.
If you're looking for a hearty, vegan friendly meal, this is it. 
Mushroom tofu burger – Greens 
Dear QC friends, please don't think we've forgotten you. Tucked away in the Scout area is Greens, a plant-based restaurant that's been around for literally 20 years now. One of the dishes you can't miss out on is their take on the classic mushroom tofu burger (P150).
No dry flavorless patties here, either. This burger is seasoned generously and cooked until just right, then topped with all the usual burger accoutrements like cucumbers, tomatoes, lettuce and a pickle slice right through the toothpick on top.
An absolute classic. 
Veggie Guys (also located in Quezon City) cooks up some of the most diverse vegan meals, including this vegan take on the classic summer sandwich—tofu fillet sliders (P139). The quintessential summer finger food gets the vegan treatment with a fried tofu slab dressed in their version of slaw and sandwiched in between some soft rolls.
Aside from their tofu filled sliders, they also sell a wide array of veganized Filipino classic dishes, like sisig (P194+), caldereta (P204+), kare-kare (P194+) and veggie isaw (P119), to name a few. 
Barbecue tofu sandwich – Green Bar
Barbecue sauce goes well on most things, including (and arguably especially) on tofu. Green Bar in Legaspi Village marinates their barbecue tofu sandwich (P320) in their savory barbecue sauce and piles it high with a buttermilk slaw for some richness and crunch. Freshly baked pan de sal from Green Bar's kitchens is the vessel this sandwich is temporarily housed in—just before making its way into your stomach.
Another honorable mention on Green Bar's menu is their crispy fried chicken tofu pan de sal sandwich (P300). It's got all the classic chicken sandwich fixings like ranch, romaine lettuce and tomato to add a bit of acidity and sweetness. Our suggestion is to order both and split it with a friend (or you know, enjoy a tofu feast for one like we would).