I'm always a bit wary about trying recipes and food hacks from TikTok. Because while there are some interesting and genius ideas, there's also a lot of questionable stuff. I mean, have you seen Gordon Ramsay's reaction videos?
But after one of my favorite OPM bands posted a video trying one of the latest TikTok food trends, I decided it was time to take the plunge. After snooping around a bit on TikTok, I've found that this easy "mayo ramen" hack apparently originated in Japan—the home and holy land of ramen itself.
What I like about this hack is that it doesn't involve "heavy" cooking. It's still essentially instant ramen, with just a few additional ingredients to kick the flavor up a notch. I mean look, I'm still after the "instant-ness" of these noodles, I'm not after learning an entirely new recipe (unlike some of the other TikTok "hacks" that involve cooking SO MUCH. I still want my ramen in less than five minutes, thanks).
[READ:
Here's a pancit canton hack: add cheese and chicken
]
All you have to do is whisk together an egg, some Kewpie mayo and a minced or grated clove of garlic with the seasoning powder that comes with your instant ramen. Cook the noodles in boiling water the regular way. Once cooked, pour the hot water into the earlier mixture, then add the noodles. Mix it up, and bam, you're done.
The result: a hearty bowl that's still spicy but with a new layer of flavor thanks to the garlic. And although initially the idea of mayo in ramen sounded weird, it did help mellow out the spice. It's rather addicting. I'm likely going to do this with all my instant noodles from now on.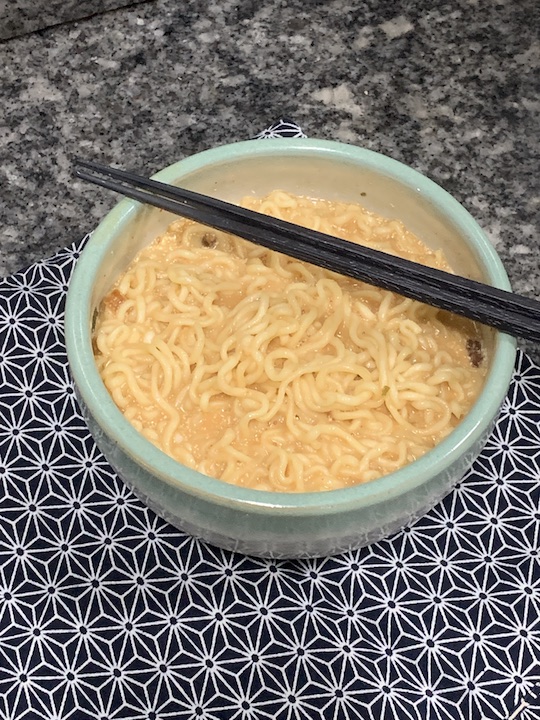 My mom has also approved of this TikTok hack, and honestly, whose food opinion matters more than our mothers', right? She has also since deemed me fit for marriage, so if anyone wants to take me and my newfound instant ramen skills, well… "I do."