A 59-year-old scavenger was found dead in Tayuman St. in Manila on Saturday, Aug. 7 after a tanod shot him dead.
The shooting reportedly happened at 9 p.m., past the current curfew implemented throughout NCR during the two-week duration of enhanced community quarantine (ECQ).
According to a report from the Manila Police District (MPD), the suspect was Cesar Panlaqui, 55, a resident of Tondo, Manila. He has been arrested by the MPD.
The tanod reportedly accosted the victim, Eduardo Geñoga, because he was slamming doors and gates, causing noise in the area.
Initial investigation by MPD Station 7 revealed that Geñoga suffered from a mental condition, according to his brother.
Panlaqui shot the victim in the chest after Geñoga reportedly approached him with a stick.
Why is a tanod carrying a gun?
The suspect was later found to be carrying a revolver gun with no proper document and an unknown caliber. According to Panlaqui, he was carrying a gun because of goons in their area.
Tanods or village guards are not allowed to carry ammunition, other than nightsticks. Republic Act No. 10591, known as the Comprehensive Firearms and Ammunition Regulation Act, was enacted in 2012 and revoked the authority of police auxiliary units members such as tanod to carry firearms. It was previously allowed by Circular No. 2008-013 of the National Police Commission.
However, in 2018, at the height of President Rodrigo Duterte's war against illegal drugs, the president made a statement that might have empowered tanods to arm themselves amid the law.
"Pag-aralan muna namin sa Cabinet. I will consult (the Cabinet) halos mga military man sila tanan is, no heavy firearm, just shotgun," Duterte said. (We are still studying it with the Cabinet. I will consult the Cabinet since most of them are military men. [My proposal is] no heavy firearm, just shotgun.)
"O mga tanod siguro ninyo, .22 (caliber). Basta may panlaban lang," the president told a crowd of Western Mindanao barangay chairpersons who gathered in Zamboanga del Sur in January 2018. (Your barangay officials should probably carry a .22 caliber handgun. As long as they have a weapon.)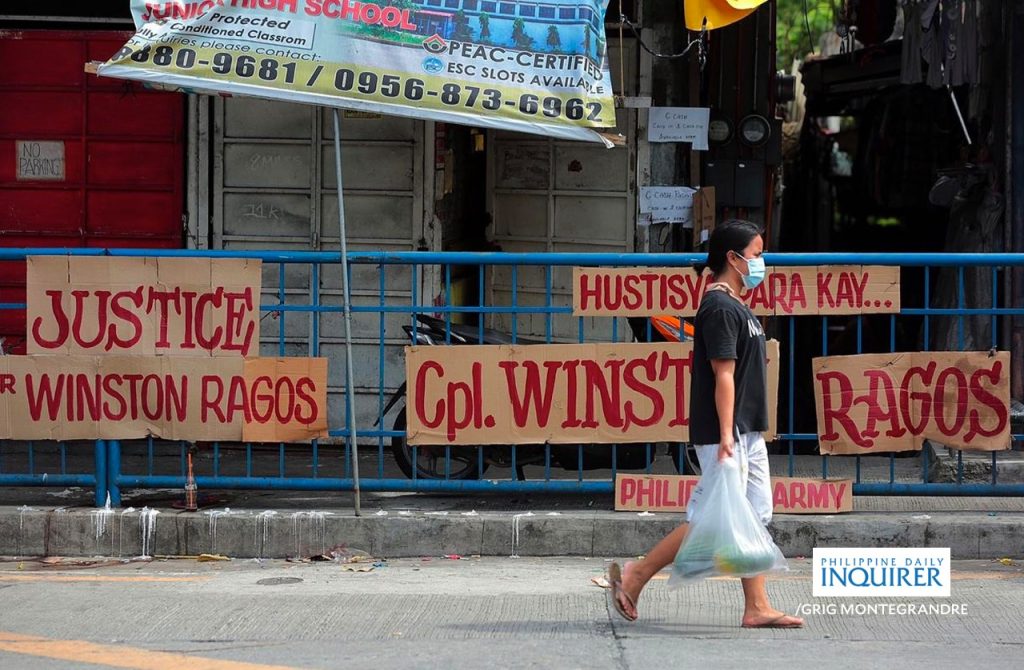 Not an isolated incident
Over the course of the quarantine, incidents of authorities exerting too much force resulting in the death of quarantine violators have been recorded.
On April 21, 2020, Winston Ragos, an ex-soldier, was shot dead by a police officer after allegedly drawing a gun from his bag. Bystanders claimed, however, that Ragos was not carrying a firearm. According to the family, Ragos was suffering from post-traumatic stress disorder (PTSD) after battling in Marawi.
[READ:
Justice for Ragos: Police in fatal shooting face charges for murder, perjury and planting of evidence
]
A year after that, 28-year-old Darren Manaog Peñaredondo died after being forced to do 300 rounds of pumping exercise in Barangay Tejero, General Trias, Cavite. Barangay tanods apprehended him after he was seen buying water after the 6 p.m. curfew.